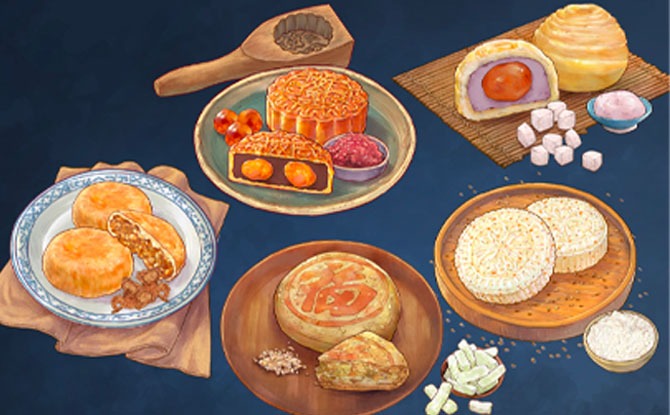 From its various creative fillings to the different shapes and sizes, Mooncakes are undoubtedly one of the main highlights of the Mid-Autumn Festival. This sweet and often indulgent treat is traditionally shared among family and friends as a symbol of reunion.
The Ministry of Culture, Community and Youth has shared a graphic showing the difference between five types of mooncakes from the various dialect and ethnic groups in Singapore.
Here are the various types of Mooncakes that are commonly enjoyed in Singapore and the differences that each of them has. The various art and illustrations are done by Terra Ten and PeyWen Chin.
---
Guide To Different Types Of Mooncakes
Teochew mooncakes
Many would be familiar with the Teochew mooncakes. It has a crispy, spiral-layered crust that crumbles easily. It originated from the Chaoshan (潮汕) area in Guangdong Province and typically consists of yam paste and a salted duck egg yolk. There are also alternative fillings include red bean, mung bean or lotus seed paste. There is also a steamed version of the typically-baked Teochew mooncake, called La Gao (朥糕). It can either be served plain or with a mung bean filling.
---
-- Story continues below --
Hokkien mooncake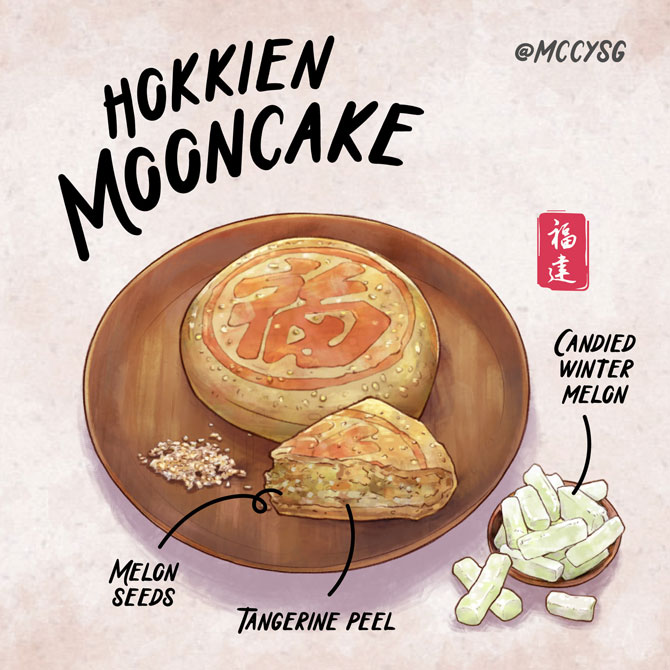 Once known as "scholar cakes, these Hokkien mooncakes are decorated with a red stamp of Chinese characters on the top of the crust. It is usually made with a sweet filling that is made of candied winter melon, tangerine peel, melon seeds, sugar, and cooked with lard or peanut oil. There is also a savoury version with minced meat filling.
---
Hainanese mooncake
A mooncake with various flavours such as rich, savoury-sweet and peppery, the Hainanese mooncake, also known as Su Yan is traditionally filled with ingredients such as fried shallots, lard, salt, white pepper, rose-flavoured white sugar, sesame seeds, melon seeds and dried wild tangerine skin peel. The filling is encased in a thin crust made with flour, salt and lard.
---
Hakka mooncake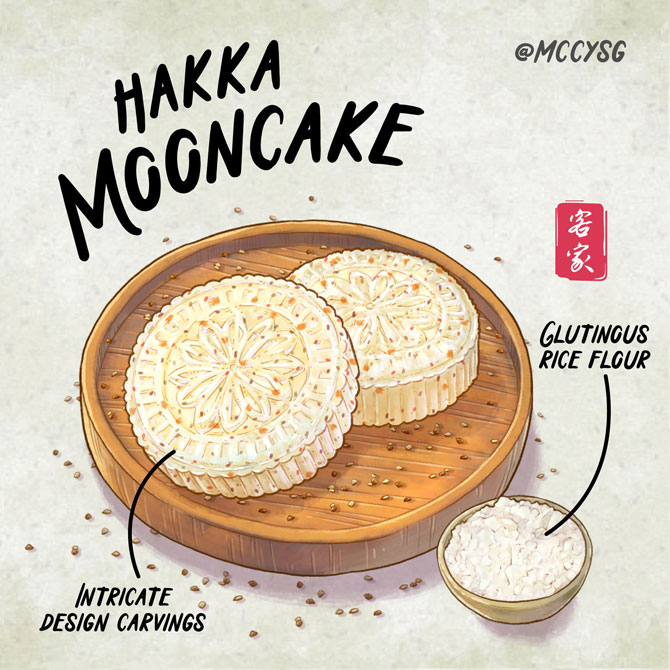 The Hakka Mooncake is also called Yu Gao and is a flat, snow-white disc that is typically made with cooked glutinous rice flour and sugar, giving it a crumbly and powdery texture. It is usually embellished with more intricate designs, often with animals and flowers. Although it doesn't usually contain any fillings, some come with candied winter melon, desiccated coconut and sesame seeds mixed with glutinous rice flour, sugar, margarine and water.
---
Cantonese mooncake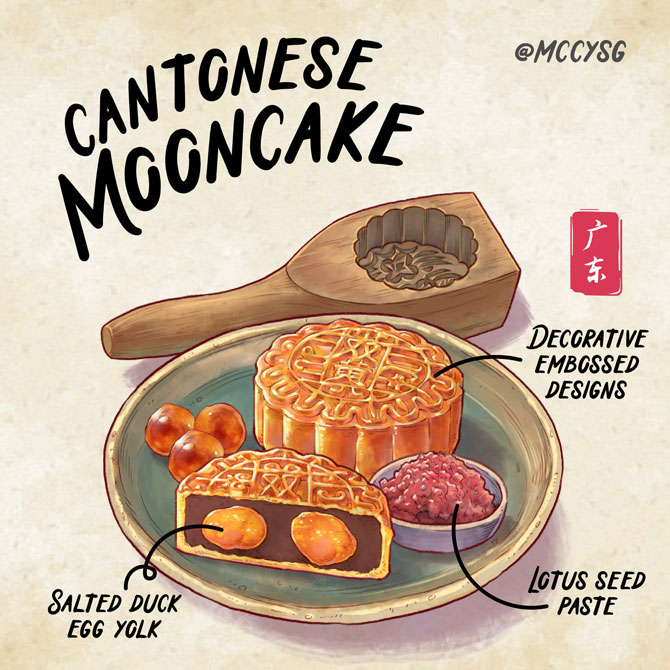 The Cantonese mooncake is the most commonly found traditional mooncake in Singapore. Its fillings consist of lotus seed or red bean paste and usually include one or two salted duck egg yolks. Many would also be familiar with the snow skin variant that was created in Hong Kong in the 1960s as a healthier alternative to traditional baked mooncakes.
See the original illustrations and more interesting facts at the site here or here. The Ministry of Culture, Community and Youth also shared a similar series of drawings for the dumpling festival which can be found here.