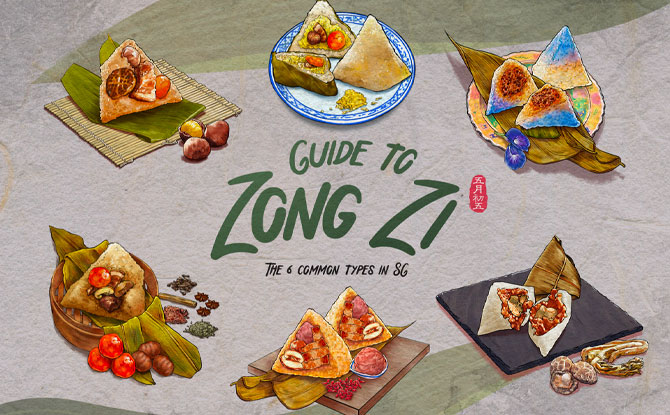 Did you know that not all rice dumplings are the same? A dish that is most commonly consumed during the Dumpling Festival or Dragon Boat Festival, this dish was also a form of "fast food" for many farmers in the past who were too busy to head home for a meal.
The Ministry of Culture, Community and Youth has shared a graphic showing the difference between six types of popular Zong Zi from various dialect and ethnic groups in Singapore.
Here are the various types of Zong Zi or Rice Dumplings and the differences that each of them has. The various art and illustrations are done by Terra Ten, CheaYeau Chin & PeyWen Chin.
---
Varieties of ZongZi or Rice Dumpling
Hokkien Zong Zi
One of the most common Zong Zi that can be found in markets and stores, the Hokkien Zong Zi is wrapped in bamboo leaves is recognised by its dark appearance from soy sauce infused rice and distinct aroma from the five-spice seasoning.
---
Cantonese Zong Zi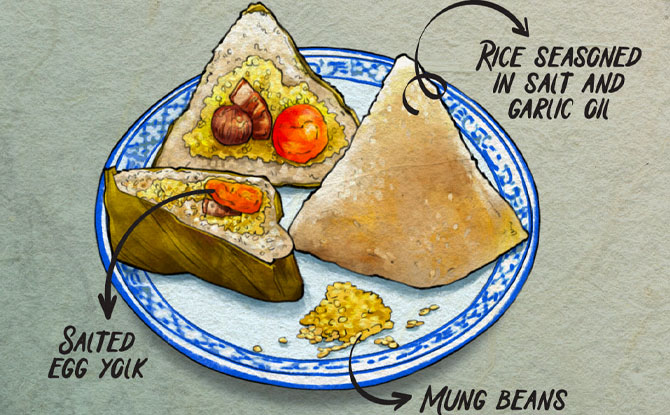 The ingredient that sets Cantonese Zong Zi is the filling of Mung beans or green beans. One can also order a variation with a salted egg yolk. The rice is also seasoned with salt and garlic oil instead of soy sauce.
---
Nyonya Zong Zi
The Nyonya Zong Zi is the most distinguishable rice dumpling for its bright blue tip that is typically made by dipping it in butterfly pea flower water. It is also sweeter in taste and aroma because of its pandan leaf wrapper and candied winter melon.
---
Teochew Zong Zi
The savoury yet sweet taste of a Teochew Zong Zi comes from various ingredients such as Red bean paste or lotus paste, fatty pork belly, earthy mushrooms, and dried shrimp. Chestnuts are also added to the dumpling for texture.
---
Hainanese Zong Zi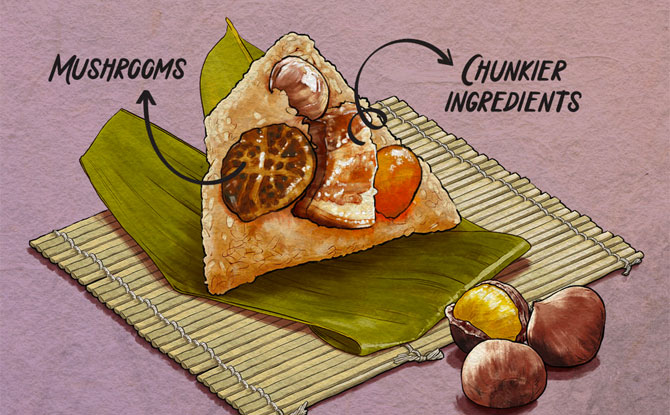 The Hainanese Zong Zi's most distinctive trait lies in its portion. It is filled with generous chunks of pork belly, whole chestnuts, mushrooms, and seasonings of savoury additions like five-spice powder, dark soy sauce, and black pepper. It is also usually served with a dollop of palm sugar syrup, adding a nice balance of sweetness to its savoury and slightly spicy flavour.
---
Hakka Zong Zi
Steamed in bamboo leaves, the Hakka Zong Zi consists of preserved vegetable filling, juicy pork belly strips and savoury mushrooms. It is also sometimes filled with beans.
See the original Facebook post at the link here.
If you enjoyed this story, you may also enjoy this on where to buy rice dumplings in Singapore.