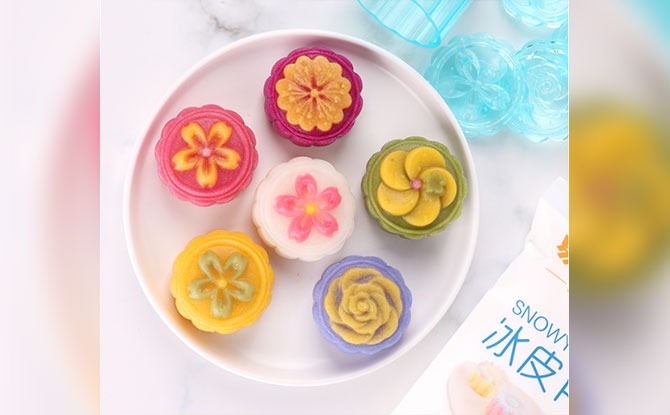 It's the time of the year to feast on mooncakes, and make your own mooncakes. It does not have to be intimidating and in fact can be an annual bonding affair for the family. We explore how to make mooncakes at home with 3 easy no-bake mooncake recipes. Yes that's right, no baking needed. And they promise to be a sensory, hands-on experience if you are planning to make the mooncakes with kids.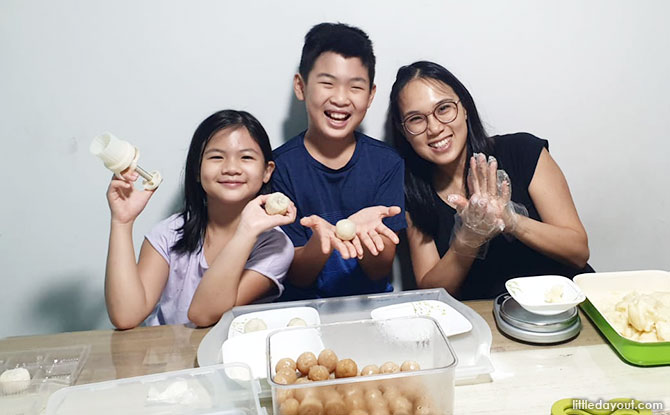 Since the mooncakes will be special and unique, they will be perfect for gifting friends and family. So try your hand at these DIY mooncake recipes!
How to Make Mooncakes: Three Easy No-Bake Mooncake Recipes to Celebrate Lantern Festival
---
1. No-bake Snowskin Mooncakes with premix
Making mooncakes do not need to be a complicated affair. If you value the tradition of making mooncakes with the children, premixes are a lifesaver. Making snowskin mooncakes with premix at home saves you time and energy. You can even prepare the ingredients in advance for the children to make these with their friends or neighbours.
Ingredients for six snowskin mooncakes:
290g Snowskin premix
56g Shortening
140ml water
150g lotus paste
Food colouring of choice
Mooncake mould
Some corn flour
Pour 290g of snowskin premix into a bowl. Measure out water and put 10g of food colouring in it and mix well. You can choose to split the water into different containers for a mixed colour option.
Pour coloured water into premix. If you choose to use different colours, the ratio of water to flour should be 1:2. Knead well. Add in shortening and knead somemore until it becomes a dough.
Divide lotus paste into 24g each, round them into balls. Divide dough into 20g each and round them into balls.
Roll out the dough with a rolling pin, or bottle, place one ball of filling into one flat piece of dough and pinch it to close. The dough should form an outer covering around the filling.
With your palms, roll the dough with filling into a ball. Place it into the mooncake mould dusted with corn flour. Press firmly and then invert to let it fall out gently.
Here's a video with the instructions on how to make the mooncakes here.
---
2. Snowskin Mooncakes without Shortening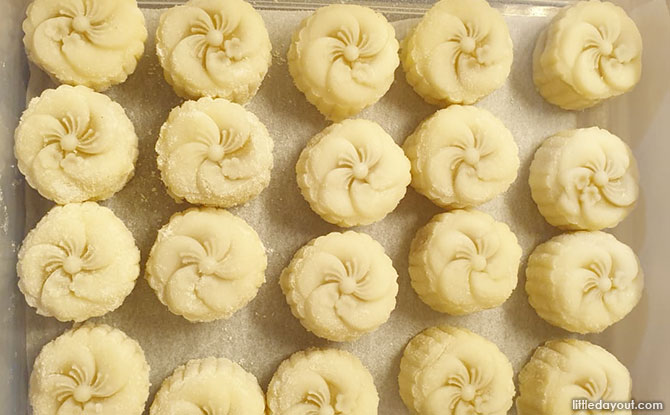 If you prefer snowskin mooncakes without shortening, try this recipe adapted from here and here.
Ingredients for the snowskin (yields 8 mooncakes):
40g glutinous rice flour
20g rice flour
8g wheat starch
12g All Purpose flour
35g caster sugar
160ml milk
35ml condensed milk
30ml oil (olive/MCT)
3tbsp cooked glutinous rice flour
Ingredients for filling, your choice:
If you like an oreo filling:
250g cream cheese, softened
50g oreo biscuits, crushed
30g icing sugar sifted
Other types of filling: store bought lotus paste, red bean paste
To make the oreo filling, first crush them. Then mix softened cream cheese and icing sugar together. Chill for about 1 hour.
When oreo mixture is firm, divide into 40g portions and roll into a ball. Freeze them when preparing the snowskin dough.
Sieve all flours into a bowel, add sugar, milk, condensed milk and stir well. Then add in the oil. Sieve it into a large and shallow pan. Cover with foil, steam for 15 to 20 minutes. Wait for it to cool.
Knead until combined with excess oil. Divide portion into 8 portions, roll into a ball of 32g each. Use plastic gloves when making the mooncakes, it is going to be an oily affair!
Wrap filling with dough, seal coat with cooked glutinous rice flour and press it into the mould. Invert to remove it, place in airtight container and chill overnight.
Thaw mooncakes in the fridge 2 hours before serving.
---
Jelly Mooncake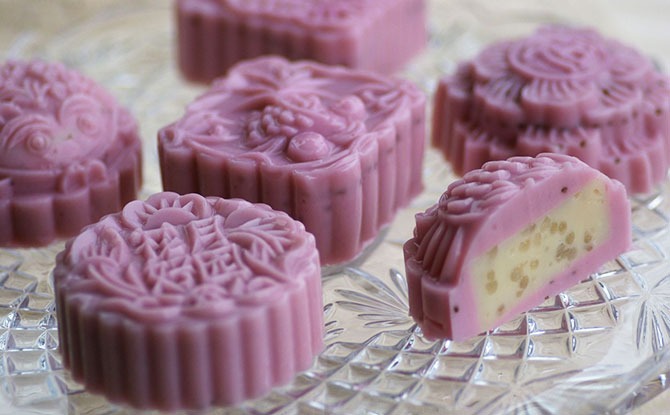 Jelly mooncakes are unique and takes a spin on mooncakes. This will be a crowd pleaser, especially the children. This recipe is adapted from here.
Ingredients for filling
40g sago (soaked till expanded)
300ml water
100g sugar
2tbsp agar-agar powder
10g cornflour
¼ tsp salt
70g evaporated milk
Ingredients for skin
500ml water
3 pandan leaves knotted
120g sugar
2.5 tbsp agar-agar powder
¼ tsp salt
100ml thick coconut milk
2 tbsp whipping cream
1 to 2 drops food colouring of choice
2 tbsp chia seeds soaked
First prepare the filling, boil water and add soaked sago. Keep boiling until sago is transparent. Strain and rinse sago under cool running water and drain well.
Combine water, sugar, agar-gar powder, cornflour and salt in a pot. Stir and cook over medium low heat until it comes to a boil. Add in sago, evaporated milk and cook for 20 seconds.
Pour mixture into smaller plastic moulds and leave to set, chill it till it is firm and remove the filling from the mould.
Time to prepare the skin! Place water, pandan leaves, sugar, agar-agar powder, salt in a clean pot. Cook over medium low heat until it comes to a boil.
Add coconut milk, whipping cream and colouring. Stir well, continue to cook for 1 minute until mixture is thick. Discard pandan leaves and remove pot from heat. Mix in chia seeds.
Take a tablespoonful of agar-agar mixture into a wet plastic jelly mooncake mould. Set aside for 2 minutes. Place filling in centre of mould, add more agar-agar mixture to fill up the mould. Set it aside to cool and then place in the refrigerator to chill and set completely.
Happy mooncake making!
This story contains affiliate links. This means we earn a small fee if you purchase something through a link from our website. There is no additional cost to you and goes towards supporting Little Day Out's efforts to deliver the best news and reporting for families.