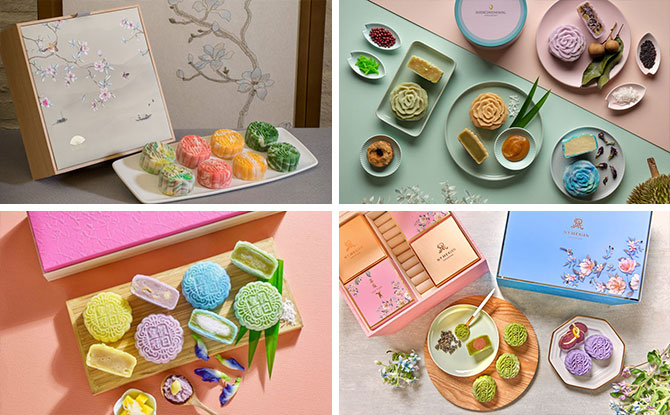 With the Mooncake Festival or Mid Autumn Festival coming up on Thursday, 1 October in 2020, it is an opportune time to buy mooncakes 2020 in Singapore. There is the choice of baked mooncakes made with traditional fillings such as lotus and yam as well as snow skin mooncakes with new and creative flavours.
Here are some of the mooncakes for 2020 in Singapore that have caught our attention.
Mooncakes 2020 In Singapore
---
St Regis
If you're looking for a mooncake box fit for any Mooncake Connoisseur, look no further than St Regis's Signature Snowskin Mooncake Box. Other than 8 delicious tea-infused flavoured mooncakes such as Royal Milk Tea with Honey Osmanthus Truffle and Green Tea Paste with Oolong Tea Truffle, they have a sophisticated customer designed glass box mooncake box that doubles up as an elegant jewellery chest holder. Find out more.
Simple Indulgence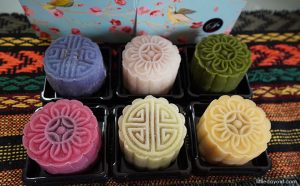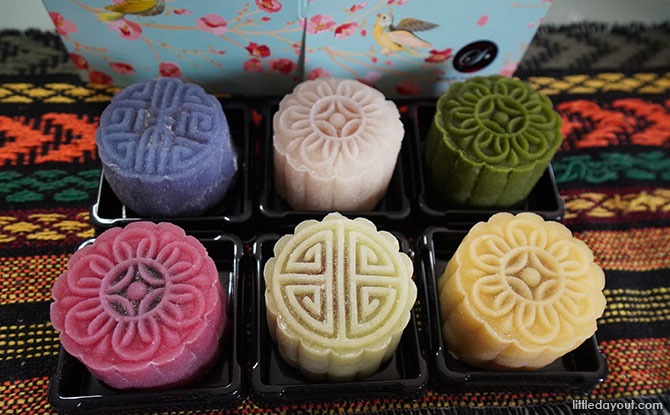 Staying true to their philosophy of all-natural ingredients, Simple Indulgence's snow skin mooncakes allow you to indulge in handmade mooncakes using only natural colours and flavours. They are releasing two new flavours this year: Pandan Salted Egg Yolk Lotus and Butterfly Pea Gula Melaka Coconut Truffle. They also have a few other flavours in their signature collection. Read our full review here.
---
Paradise Group
Following the theme of "Gems of the full moon", try Paradise Group's Fruity Liqueur Snow Skin Mooncakes that comes in a box of 8 and consist of 4 satisfying flavours. Try their Japanese Yuzu with Sake, Passionfruit with Choya, White Peach with Crème de Pêche and Red Cherry Griottine. The Passionfruit with Choya and White Peach with Crème de Pêche was our personal favourite flavours. Check out their early bird promotions on mooncakes 2020 in Singapore which give up to 20% off. Website.
---
Shangri-La
For those who are on a vegan diet, you don't have to miss out on the festivities with Shangri-La's Vegan mooncake! This might also be a great option if you aren't a fan of mooncakes with egg yolk.
Another flavour that you can look forward to trying is their Peranakan-inspired gift box set which has four pieces of Baked mooncakes filled with bak kwa, pork floss and nuts. These are all packed in a beautifully designed Peranakan box.
If you're ready to spoil your tastebuds with premium ingredients, treat yourself to Shang's signature mini baked custard with Bird's nest.
---
KELE
KELE's Snowskin Mooncakes have always been a delightful treat to enjoy. They have four collections for their 2020 Mooncake release. Their CELESTIAL and DIVINE collection are durian filled mooncakes with Mao Shan Wang and D24 respectively. We are big fans of their TROPICAL FRUITS collection which has Avocado Macadamia Snowskin Mooncakes and Mulberry Cream Cheese Snowskin Mooncakes. Their ASIAN collection features creative flavours such as Strawberry Cream Cheese, Mango Cream Cheese, Adzuki Gula Melaka and Rose Cream Cheese Snowskin Mooncake. The COCKTAIL collection has the flavours of Rum & Raisin as well as Lychee Martini. You can place your orders on their website.
---
Mandarin Oriental Singapore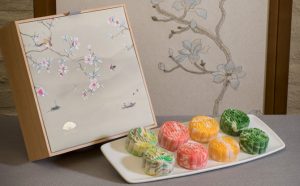 Crafted to symbolise the rich culture of Chinese traditions, Mandarin Oriental has four flavours and are bringing in a new flavour of oolong tea-infused mooncakes with dried apricot and pumpkin seeds. The other flavours in this 8 piece box include osmanthus and walnut exotic passion fruit, candied pineapple and mango mochi as well as their ever-popular lychee martini and chocolate truffle. All these mooncakes come in an elegant box adorned with oriental floral motifs and boats. Website.
---
Yàn
One mooncake unique to Yàn is Thousand Layer Yam Mooncake. Available with and without the egg yolk, this mooncake has delicate, crispy folds of pastry around an aromatic filling of sweet earthy yam paste. They also offer a traditional baked option with White Lotus with Macadamia Nuts and White Lotus with Single or Double Yolk variations. If you still can't decide, get their Mix-and-match Mooncake Box option that comes in a two-tiered box embossed with an elegant geometric fan motif. Website
---
Crowne Plaza Changi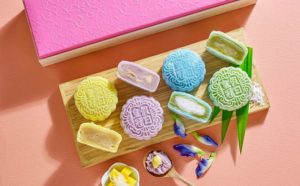 Besides assorted baked mooncakes for 2020 in Singapore, Crowne Plaza Changi is offering their assorted Mooncakes in a limited edition plum luggage box (in keeping with being an airport hotel). Their snowskin mooncake flavours this year are inspired by favourite local desserts such as Mango Pomelo, Orh Nee (Yam Paste with Ginkgo Nuts), Kueh Sala and Pandan Kaya. Use the code "MA45" at checkout to get 45% off. Website.
---
Singapore Marriott Tang Plaza
A treat for all who love elegance and beauty to be the main inspiration behind their dessert, Marriott Tang Plaza's Rose Tea Snowskin Mooncake with Champagne Truffle is a new flavour that is sure to delight. Other new flavours include Almond Custard Snowskin Mooncake with Osmanthus Truffle and Mandarin Orange Snowskin Mooncake with Caramel Sea Salt Truffle. Website.
---
Goodwood Park Hotel
Satisfy your tastebuds with high-quality earthy ingredients such as Japanese Sweet Potato and pumpkin in Goodwood Park Hotel's Japanese Sweet Potato with Pumpkin-Coconut Centre. They also have an intriguing new flavour of an "Orange with Grape" snowskin mooncake which features juicy bites of grapes nestled within a citrusy mousse. There are a variety of early bird discounts that can be found on their website.
---
Intercontinental Singapore
Inspired by the Peranakan culture, Intercontinental Hotel's Heritage Mooncake collection comes in a teal and pink tingkat and contains four heritage flavoured Snowskin Mooncakes with a delicate rose silhouette exterior. The flavours in the mooncakes are Chendol, Pulut Hitam, Durian Pengat And Pandan and Coconut Kaya. Website.
---
Mdm Ling Bakery
It's no secret that the mooncake boxes are a big factor when it comes to purchasing mooncakes. Mdm Ling Bakery's mooncake tin design this Mid-Autumn Festival features a Snake and Ladder-themed interactive board game which is practical for bonding while eating some delicious mooncakes. Their best selling mooncake is the Mao Shan Wang Snowskin Mooncake is halal and suitable for vegetarians. They also offer a mix-and-match bundle where you can choose from their cookie inspired mooncakes and traditional baked mooncakes. Website.
---
Oddle Eats Online Food Festival – Mooncake Edition
Want to get access to a selection of mooncakes 2020 in Singapore from popular restaurants and bakeries including Pan Pacific Singapore, Summer Pavilion and more? Check out the Oddle Eats Online Food Festival – Mooncake Edition. You will find Pan Pacific Singapore's White Lotus Paste Mooncake with Double Yolk and the Peony Jade's Flaky Orh Nee Mooncake with Double Yolk here. Check out the mooncakes for 2020 found here.