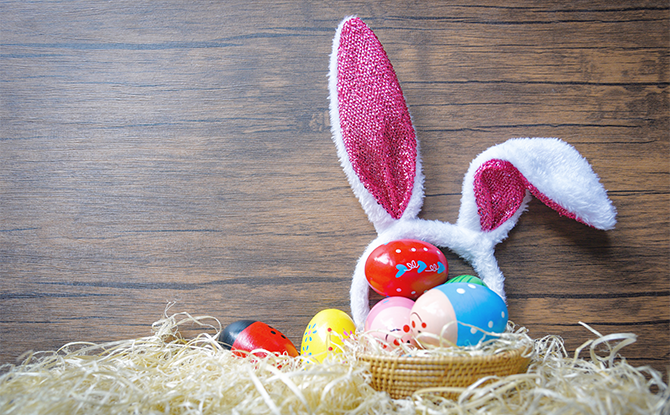 Easter egg hunts in Singapore are a great way for kids and families to have some fun. They can also a great way for kids to test their awareness and observation skills. They are very much an Easter tradition, just like hot cross buns.
So where can you go for an Easter egg hunt in Singapore? Besides organising your own Easter Egg Hunt, there are a number of places where kids can pick up the proverbial basket and hop along to a fun Easter egg hunt around Eastertide.
We're on the trail for Easter egg hunts in Singapore 2023.
---
Where to Find Easter Egg Hunts in Singapore 2023
Children's Museum Singapore Easter Egg Hunt 2023
---
-- Story continues below --
In the past, the Singapore Philatelic Museum's Easter Egg Hunts used to be highly popular activities for families.
Children's Museum Singapore has taken over the mantle and is keeping up the tradition of having an Easter egg hunt around Fort Canning Park. This year's hunt will also extend to the museum's galleries. There will also be prizes as well as a meet and greet at the end of the programmes.
The Children's Museum Easter Egg Hunt takes place from 7 to 9 April 2023 and is recommended for ages 5 to 10. Get more details about the Easter Egg Hunt taking place at Children's Museum Singapore and Fort Canning Park.
---
Easter Egg Hunt at Sing See Soon Floral & Landscape
Want a reason to pay a visit to Sing See Soon Floral & Landscape at Simei and shop for some plants? Make your way down for an Easter egg hunt on Sunday, 9 April, afternoon. Get more details here.
---
The Polliwogs Grand Easter Egg Hunt
On the 8 April at Polliwogs VivoCity and 9 April at Polliwogs Clarke Quay Central, kids can participate in the Easter Egg Hunt and stand a the chance to win $116 worth of prizes, including a Park Hopper Pass worth $90 that will give them and their accompanying parent free entry to The Polliwogs at Vivo City, The Polliwogs at Clarke Quay Central and the Jumprrocks. Book tickets to the event at Clarke Quay Central and VivoCity.
---
Aqua Egg Hunt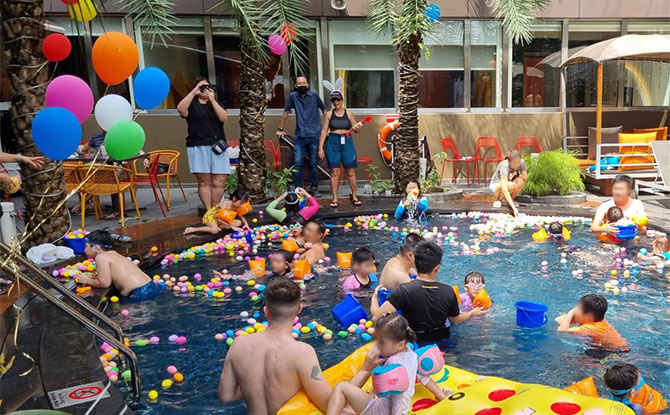 ibis Styles on MacPherson is having an Easter Carnival on 7 and 8 April 2023 with an Aqua Egg Hunt. There will be over 2,000 Easter eggs to find around the pool area, along with food. Find out more about the Aqua Egg Hunt and how to make a reservation for a stay here.
---
Cadbury Easter Egg Hunt at River Wonders
Talk about an exciting Easter Egg Hunt in Singapore – there is going to be 100 prizes up to be won at the Easter Egg hunt taking place at at River Wonders on 1 April, including an Apple iPhone 15 and Nintendo Switch!
To stand a chance to attend the event, you will need to purchase a minimum about of Cadbury products and submit the ticket to Cadbury for a chance to win tickets to River Wonders. Get the full details here.
---
City Sprouts
Make your way down to City Sprouts for their Farmers Market on 1 April.
Beside shopping from amongst 30 vendors with part of the proceeds being donated to charity, there will also be a Kids Scavenger Egg Hunt. There are chocolate bundles to be won as well as a grand prize of a workshop. Get more details here.
---
Minions Easter Egg Hunt at HSBC Singapore Rugby Sevens 2023
In addition to the scrummage on the field there will be minions at a Minions Easter Egg Hunt at the Singapore Sevens. This Easter Egg Hunt takes place on 8 and 9 April 2023 at two time slots. It is a ticketed event and part of the various family-friendly activities at the HSBC Singapore Rugby Sevens. Get more details here.
---
Kampong Bugis Cosmic Market – Easter Weekend
Stop by the old building along Kallang Riverside Park for an eco-friendly weekend market on Saturday, 8 April 2023.
Purchase farm-fresh produce from Singapore's farms and buy locally-designed and made sustainable products. Additionally, a temporary arts gallery showcasing regional artists and small-batch independent farmers will be set up. Plus, there'll be an Easter Egg Hunt too. Find out more and RSVP for this free event here.
---
Wildings Annual Easter Party and Egg Hunt
Wildings is holding it annual Easter party and egg hunt from 7 to 9 April at two different time slots at Loewen Road, Dempsey. The Easter Egg Hunt will have spaces dedicated to younger (5 and under) and older children (6 to 10). Purchase a ticket, priced at $48 for children and $10 for adults, before they run out. More details here.
---
Wheeler's Market Egg-cited Egg Hunt
After a long three years, the Wheeler's Market egg hunt is back! Taking place on Sunday, 9 April, the Easter egg hunt is organised into three sessions. These are at 11 am, 1 pm and 3 pm.
When you finish the Egg Hunt, you'll receive a lovely goodie bag. And if you manage to locate The Golden Egg, thee is a prize in store.
It is a BYOB event – bring your own basket, and kids 5 and below will need to be accompanied by an adult. Register here before tickets are sold out.
---
LPB Easter Egg Painting and Egg Hunt
LPB Market is a purveyor of artisanal cheese, cold cuts and groceries from European farms. On 8 April 2023, they will be hosting an Easter egg painting and Easter egg hunting session at the LPB wine cellar at their premise at Kensington Park Road, at Serangoon Gardens. Get more details here.