As we turned right onto Clementi Road, my husband jutted his chin towards his right. "Over there, Salt & Light Archery," he said.
My daughter and I looked in wonderment at the bright green turf grass, colourful target boards and the flurry of activity – under the protective shelter of the West Coast Highway Flyover! What a cool place to be learning archery!
A Unique Setting – Archery under a Flyover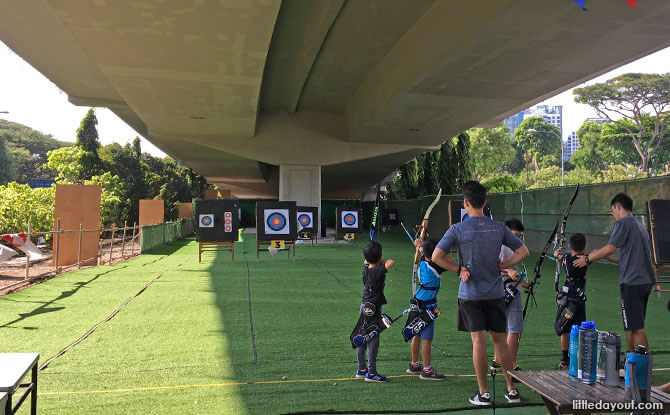 We parked our car at West Coast Park Carpark 2 and walked over to Salt & Light Archery for our Funshoot, which is a one-hour guided session, with Coach Jian Qi. The closer we got to the range, the more thrilled we felt. It was like discovering a hideout – there was a whole different world under the viaduct!
Kids and adults alike were shooting arrows, some learning in groups while others took individual lessons. On both sides of the range, a safe distance away, cars whooshed past, seemingly oblivious to this community of Robin Hood's and Katniss Everdeen's.
Safety First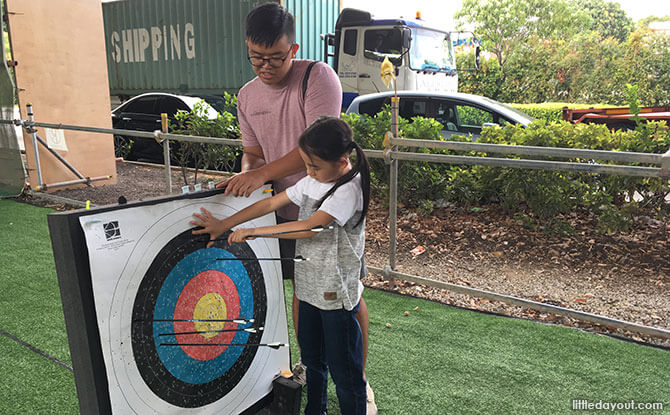 Our Funshoot started with the most important instruction: safety rules. There were three basic rules that we had to observe, which covered shooting subjects (basically don't shoot at people!), shooting position (one leg in front of and one leg behind the starting line) and arrow retrieval (wait till everyone at the range has shot their round of arrows before moving towards the target board to get yours back).
Coach Jian Qi also taught us how to remove our arrows safely from the target board and to place them facing downwards in the holder.
"Archery is one of the safest sports," said Coach Jian Qi, if we follow the safety rules.
Time For Some Cool Action
Having listened attentively to the instructions, our eight-year-old was raring to shoot! But first, we had to learn how. Coach Jian Qi taught us total novices with great patience and encouragement, even answering all of our inquisitive child's questions.
You know that cool pose that Katniss Everdeen strikes in the Hunger Games series? One arm straightened, the other pulling back with the elbow up, till the hand brushes past the cheek. Aim, and release. Yes, that is how you shoot.
It wasn't as easy as Katniss makes it look though. My daughter and I didn't have enough strength to pull the arrow and string far back enough, so Coach Jian Qi had to give us lighter bows to use. He did mention that archery uses a muscle that most people rarely exercise, so even big burly men could find it difficult to shoot – that made me feel a little better!
A Funshoot Programme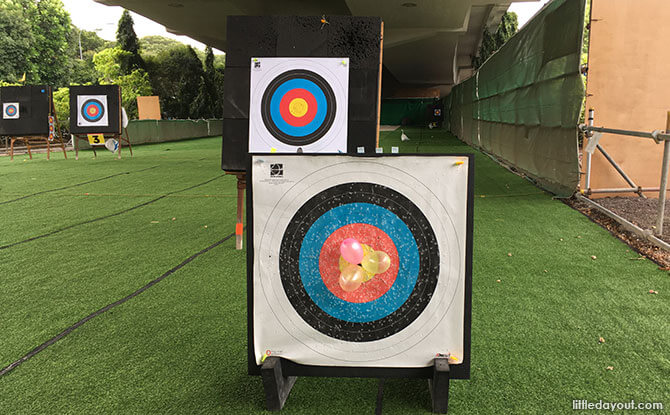 Salt & Light Archery's Funshoot programme was as its name suggests – fun! After the first few rounds of trying and adjusting, we had two proper rounds of practice, where we got to shoot five arrows each time.
Then it was time to play to score! We learnt that landing your arrow in the yellow circle in the middle and the surrounding ring gives you 10 points; each ring that expands further outwards earns you one point less, all the way to the outermost white ring, which is worth one point.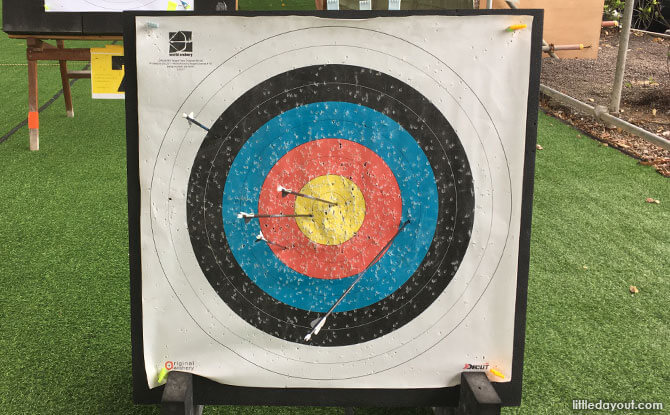 So, looking at this target board, the total score would be 35.
According to Coach Jian Qi, Funshooters get different souvenirs to bring home based on how well they score. But before we got ours, there was another game instore for the little one! She was tasked to shoot and burst three balloons attached to the centre of the target board! Though she only managed to burst one, it was good fun!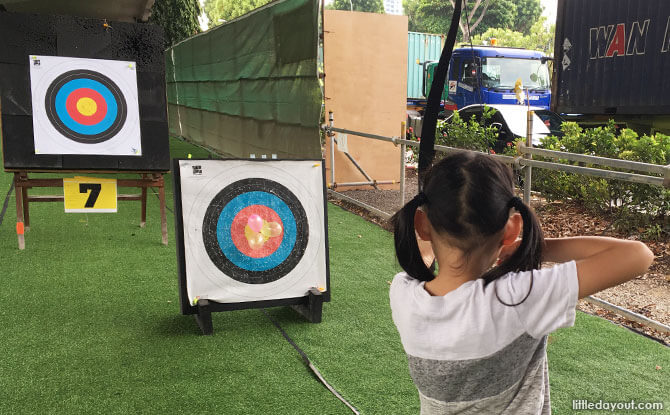 Our souvenir was a target that we all got to shoot at and decorate thereafter with markers, so we could bring a piece of our experience home for display.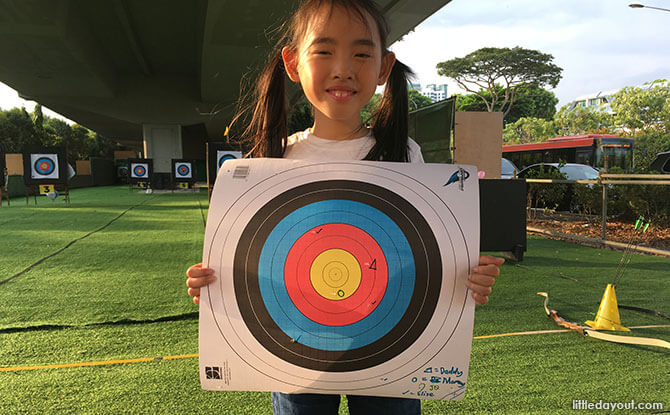 Look how happy the little one was!
Continue Playing Around The Area
The fun didn't end after our one-hour shoot. From Salt & Light Archery, we walked over to West Coast Park, cycled around on rented bicycles and spent some time at the huge playground as well. It was a fruitful trip to the West for us.
Salt & Light Archery
Where:
West Coast branch – 2A Clementi Road, Singapore 129803, West Coast Highway Flyover along Clementi Road
SAFRA Punggol branch – SAFRA Punggol, 9 Sentul Cres, #01-04, Singapore 828654
Website
Read:
West Coast Park has one of the best playgrounds in Singapore. Find out why.
Meandering around the cycling course at West Coast Park.