Sembawang Hot Spring Park has opened and it is even more inviting than ever. The new park, the first to open in 2020, retains the site's rustic feel while having been updated to make it more enjoyable for even more people to enjoy.
History of the Site
The Sembawang hot spring were first discovered in the early 1900s. Throughout its history, the unique site and its water has gone through different phases – from having its commercially water bottled to having been promoted as a tourist attraction.
In 2002, the hot springs were opened to the public with pipes bringing up the naturally heated waters. In 2018, National Parks Board started to redevelop the site to enhance the visitor experience, turning it into the Sembawang Hot Spring Park in 2020.
Sembawang Hot Spring Park has new features which showcase the geothermally heated ground water.
Cascading Pool
The centrepiece of Sembawang Hot Spring Park is a Cascading Pool. At the Cascading Pool, the 70 degree Celsius water is cooled through a series of pools which bring the temperature down to 40 degree Celsius, the recommended temperature for contact with the skin.
Visitors can sit around the edge of the Cascading Pool to soak their feel into the warm hot spring water.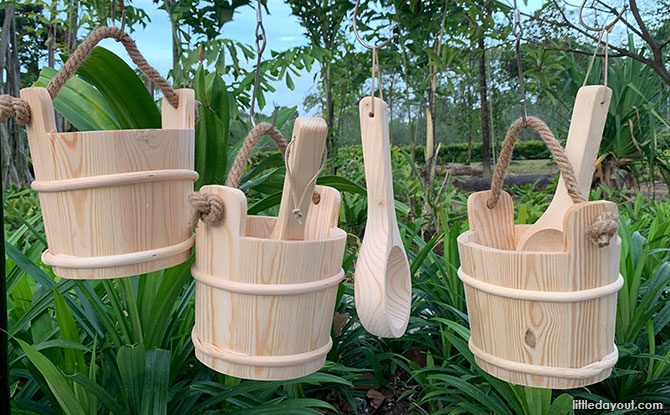 For those who didn't bring their own buckets, there are communal buckets and scoops available.
Main Water Collection Point
Long-time visitors to the Sembawang Hot Spring will remember the many pipes where the spring water could be collected.
Now, this experience has also been thoughtfully enhanced with a Main Water Collection Point.
Featuring five taps, the Sembawang Hot Spring Park Main Water Collection Point is where the hot water can be collected. The taps are located at different heights to make the collection of the water more accessible, even for wheelchair-bound visitors.
Educational Zone
Children and families can learn about the hot spring and geology at an Educational Zone.
The water here is cooler and the a little "play table" allows young children to play with the water.
Rustic Greenery
Surrounding the hot spring, the park's landscape hints at old kampung life.
Fruit trees line the path leading up to the spring.
A naturalised stream, flowing from the hot spring, also runs through the park. This provides another play spot for families and children. But do take note that the water here is very warm too!
Other amenities at Sembawang Hot Spring Park include an eatery serving local fare and restrooms.
Sembawang Hot Spring Park is all set to welcome new generations of visitors to Singapore's only geothermally heated ground water.
Sembawang Hot Spring Park
Where: Accessible by Gambas Avenue.
There is no car park at the park. The closest car park is at 114 Yishun Ring Road, around 400 metres away.
Opening Hours: 7 am to 7 pm