Sembawang Hot Spring Park is a uniquely charming spot for everyone to enjoy. Revamped and reopened in 2020, it was then closed during the pandemic before reopening in December 2021. Read on for some tips to best enjoy the hot spring.
---
History of Sembawang Hot Spring Park
The spring was discovered by a Municipal ranger in 1908 and at the time of discovery, the land was owned by a Chinese merchant Seah Eng Keow. The merchant sent samples of the spring water to Europe for testing, hoping to capitalise on this and established Singapore Hot Springs Limited. In 1909, a plant was built to bottle the water and also touted as a tourist attraction.
In 1921, Fraser & Neave (F&N) bought over the company and concocted recipes using the spring water naming it "Zom" and "Vichy". A modern plant was then built later to improve production.
During the Japanese Occupation, Sembawang Hot Spring was a recreational area for the soldiers as they became thermal baths. However it was damaged in 1944 due to an allied bombing. The spring resumed in 1960s for bottling.
In 2002, pipes were built to bring up the spring water. In 2018, National Parks Board redeveloped the site turning it into the Sembawang Hot Spring Park, which opened in 2020.
---
Cascading Pool
The centrepiece of Sembawang Hot Spring Park is a Cascading Pool. At the Cascading Pool, the 70 degree Celsius water is cooled through a series of pools which bring the temperature down to 40 degree Celsius, the recommended temperature for contact with the skin.
Visitors can sit around the edge of the Cascading Pool to soak their feel into the warm hot spring water.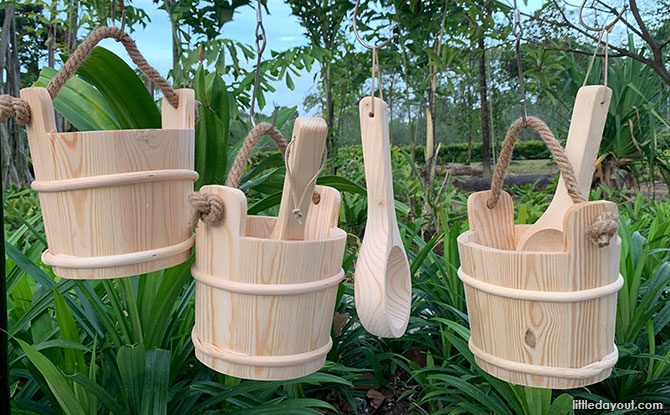 For those who didn't bring their own buckets, there are communal buckets available.
There is a queue system in place now for the Cascading Pool. Seating is limited and be sure to follow the safe distancing markings which are laid out by yellow and red tape. Expect to queue for a spot as there are limited spots at the pool.
I would suggest bringing your own buckets so you can skip the queueing and enjoy your own foot spa.
---
Main Water Collection Point
Long-time visitors to the Sembawang Hot Spring will remember the many pipes where the spring water could be collected.
Now, this experience has also been thoughtfully enhanced with a Main Water Collection Point.
Featuring five taps, the Sembawang Hot Spring Park Main Water Collection Point is where the hot water can be collected. The taps are located at different heights to make the collection of the water more accessible, even for wheelchair-bound visitors.
---
Egg Cooking Station
I found the egg cooking station a considerate add-on by the authorities. Do follow the queue system for either water collection or egg-cooking. Do be considerate when making use of these facilities.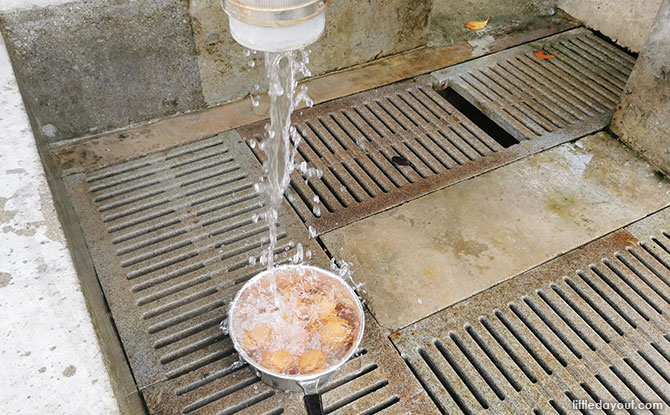 Eggs are not provided, do bring your own egg-cooking containers, raw eggs and utensils. Children will be delighted to try cooking their own onsen eggs!
---
Educational Zone
Children and families can learn about the hot spring and geology at an Educational Zone.
The water here is cooler and a little "play table" allows young children to play with the water.
---
Rustic Greenery
Surrounding the hot spring, the park's landscape hints at old kampung life. Interestingly, there was a village in the area called Kampung Ayer Panas which translates to kampung hot water.
Look out for the huge Banyan tree that forms a beautiful backdrop of the pools.
There are also many birds roosting in the trees.
However, do wear your hat or bring an umbrella as the pool area is not shaded. It can get scorching hot at midday, adding to the heat that you would probably feel while soaking your feet.
Fruit trees line the path leading up to the spring. Look out for Air Jambu plants, edible plants like lemongrass, pandan, fruit trees like Rambutan and Chiku.
A naturalised stream, flowing from the hot spring, also runs through the park. This provides another play spot for families and children. But do take note that the water here is very warm too!
Visitors will also hear the passing of the helicopters as Sembawang Air Base is a stone's throw away. Children who love military transportation will be thrilled to know that they can spot helicopters which fly low enough to take a closer glance, as well as peer into the military camp with many military vehicles parked right next to Sembawang Hot Springs Park.
Other amenities at Sembawang Hot Spring Park include "Sembawang Eating House", which serves local fare, and restrooms.
Sembawang Hot Spring Park is all set to welcome new generations of visitors to Singapore's only geothermally heated ground water.
Visitors to Sembawang Hot Spring Park are reminded to wear their masks at all times and keep their distance from other groups or individuals.
---
Visiting Sembawang Hot Spring Park
Where: Accessible by Gambas Avenue.
There is no car park at the park. The closest car park is at 114 Yishun Ring Road, around 400 metres away.