Travelling seems possible only in the distant future. However, you can still embrace the spirit of adventure with a road trip to explore the less-trodden neighbourhoods in Singapore.
We recently drove to three of our favourite far-flung spots around Singapore for a little escapade. With our boot packed and the kids all excited, we got into our trusted vehicle of choice – Hyundai VENUE – and set off.
---
Family Road Trips Around Singapore
Neighbourhood One: Sembawang Park
While Sembawang is a sprawling urban neighbourhood in the North, it is also home to inviting green spaces which exude rural charm. One of our go-to spots for a family outing for a dose of nature is Sembawang Park, at the edge of the Straits of Johor, with Malaysia in sight in the distance. It is definitely worth exploring – on wheels!
---
-- Story continues below --
As we made our way there, we grooved along to our favourite songs with the Hyundai VENUE's infotainment system, which easily pairs with any devices via Bluetooth, Apple Car Play or Android Auto. Getting ready the family's sing-along tunes is highly recommended to amp up the fun for your drives!
Our reliable set of wheels quickly whisked us to Sembawang Park. With Hyundai's Smartsense technology, drivers are aided with alerts such as forward collision avoidance and driver attention warning which keep those behind the wheel on their toes, especially when ferrying family members.
As we approached Sembawang Park, the shade of the trees served as an invitation to slow down the pace and enjoy the moment. Bring along your bikes, soccer balls and frisbees because the park's sprawling lawn allows for plenty of space to frolick.
At the beach, kids can get their feet wet as they explore the shoreline. Needless to say, Sembawang Park's iconic Battleship playground is a sure-fire hit that will energise the kids.
The surrounding area is also worth exploring either within the comforts of your vehicle or on bikes. Spot roads named after Commonwealth nations and admire the grand colonial styled housing which was once home to the British and Australian naval forces.
We also enjoyed dining at Beulieu House, a colonial-era building that was once the home of the most senior British naval officer in Singapore.
If you want to give your feet a treat, have a soak in the natural waters of mainland Singapore's only hot springs at Sembawang Hot Spring Park, a short drive away from Sembawang Park.
Places to visit
Sembawang Park
Sembawang Beach
Battleship playground
Beulieu House
Sembawang Hot Spring Park 
---
Neighbourhood Two: Changi Village and Its Surrounds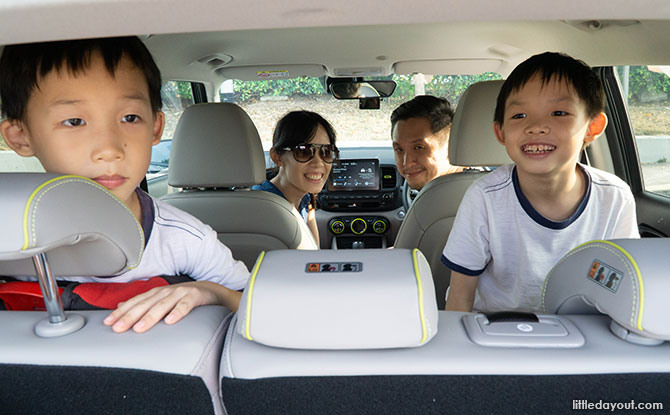 In years gone by, Changi was known for its coconut plantations and as a laidback resort area. Today, this ethos is best preserved at Changi Village which draws visitors with its serene shores, scenic views, sumptuous food and as the gateway to offshore islands. It has everything to engage all members of the family and expend some energy.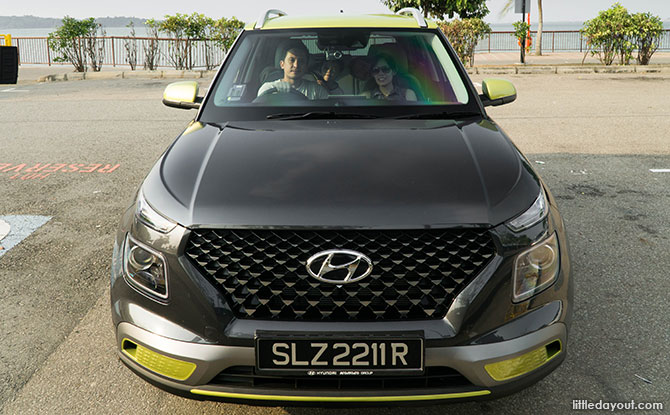 Even though a road trip to Changi Village ate up some miles as we travelled from the West, Hyundai VENUE's excellent fuel efficiency of 5.8L/100km got us there with the fuel gauge having barely budged.
We recommend visiting the Changi Beach Park playground with its irresistible climbing nets overlooking the sea, then checking out the Inscription of Island sculpture at Changi Point. Take your pick of either hawker cuisine at Changi Village Hawker Centre, or chill out at some of the smaller establishments like Chock Full Of Beans.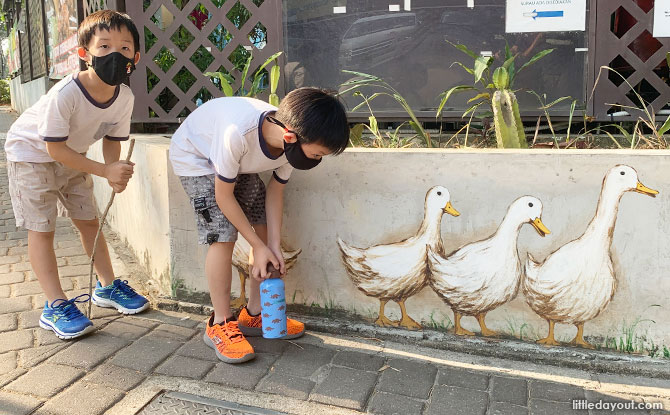 Changi Village still retains its laidback charms and there are cute little spots such as a mural of farmyard ducks outside the Tang Teahouse.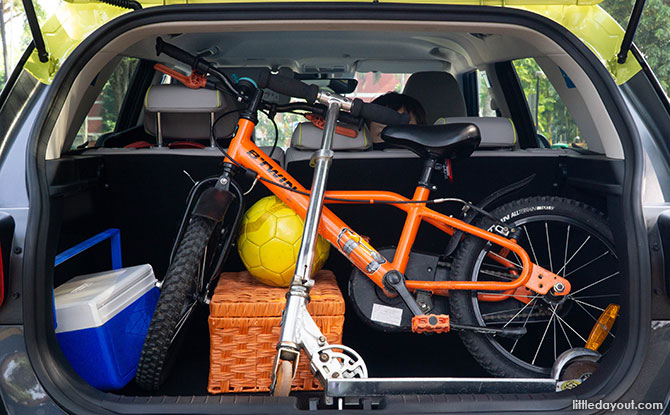 To burn off excess calories, pack your car boot with bikes and scooters for a leisurely and scenic exploration of the coast along the water's edge.
The boot comfortably fit in a child's bicycle, kick scooter, picnic basket and more – which means we are well-equipped for our adventure. While the VENUE is a compact SUV, it offers plenty of room for comfort and essentials for long drives.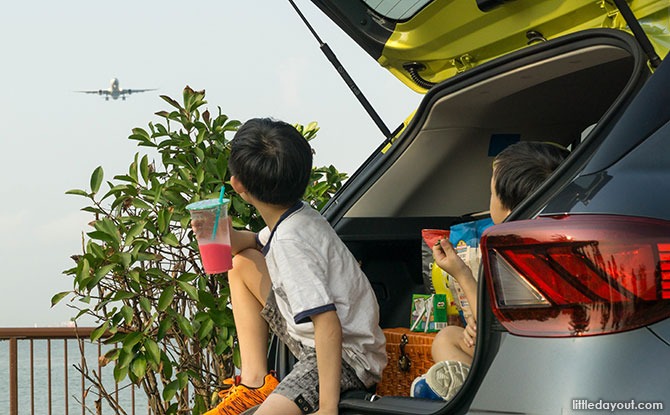 The park is also a great spot to catch views of airplanes flying overhead. Be sure to pack some refreshments for the kids to take a break. The Hyundai VENUE's boot even doubled up as seating for the kids.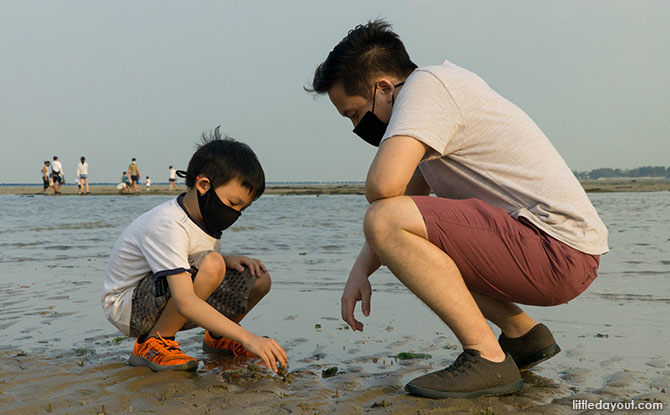 Changi Beach is also home to one of the East's best kept secrets – Coconut Grove. Located along Nicoll Drive, this area has a beach where you can bring the kids to see marine life like Tube Worms, pink Sea Cucumbers, Sand Dollars and more.
End the day of exploration by checking out Johore Battery which was once part of the coastal defence system. Have dinner at one of the atmospheric restaurants like Little Island Brewing Co. or The Coastal Settlement, a vintage themed restaurant that will transport you back to the 60s.
Changi Village can seem like a long drive away but our nimble buddy, the Hyundai VENUE, kept us driving safely with radar and prompts to assist our drive. Hyundai's cutting edge SmartSense Advanced Driver Assistance Systems technology stays ahead of unexpected scenarios by providing alerts when there is another vehicle in the blind spot and uses smart lane detection technology to help the vehicle stay in-lane. In the compact SUV, we were assured of smooth journeys for our family adventures.
Places to visit
Changi Beach Park and Playground
Inscription of Island sculpture
Changi Village Hawker Centre
Changi Point Coastal Walk (Take note that sections are currently under maintenance)
Intertidal walk (tide permitting) at Changi Beach
Johore Battery
---
Neighbourhood Three: Seletar Aerospace Park
Seletar might be known for its airport which serves mainly private jets but it is an enclave of atmospheric dining, children's play spots and a nature area that draws droves of birding enthusiasts.
The area is named after the Orang Seletar who were among the earliest settlers in the area. Seletar housed the prominent Royal Air Force base in the past, the area still sees planes in flight with aviation schools, hangars and aviation companies in the vicinity.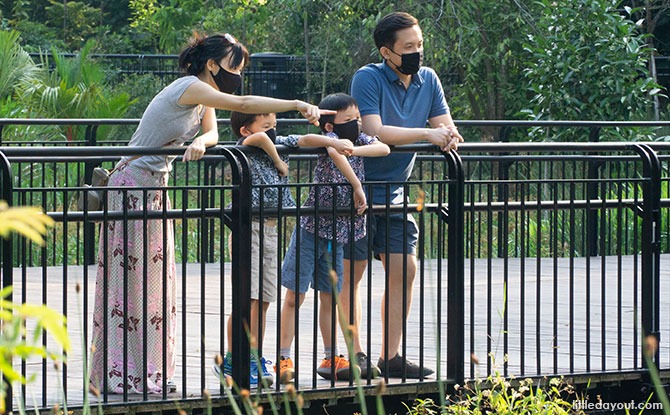 Hampstead Wetlands Park is rich in nature with collared kingfishers, bee-eaters, a resident owl and other kinds of flying wonders. From the Wetlands Park, the aeroplane-themed playground is just a stone's throw away at The Oval. See if you can find the plane made of logs!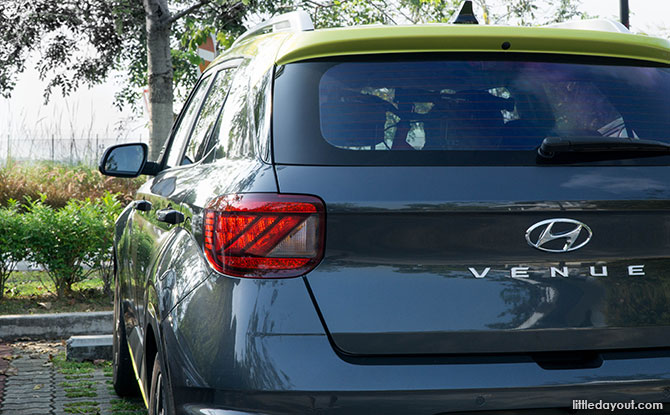 Since The Oval is right next to Seletar Airport, park your car and pack some snacks to the Boardwalk to watch the planes taking off.
It is a good chance for kids to let their imaginations take flight. Once they have worked up an appetite, they can tuck in a meal at the bicycle-themed Seok Seng 1954 Café, which is a short drive away, where many cyclists make their pitstop to refuel.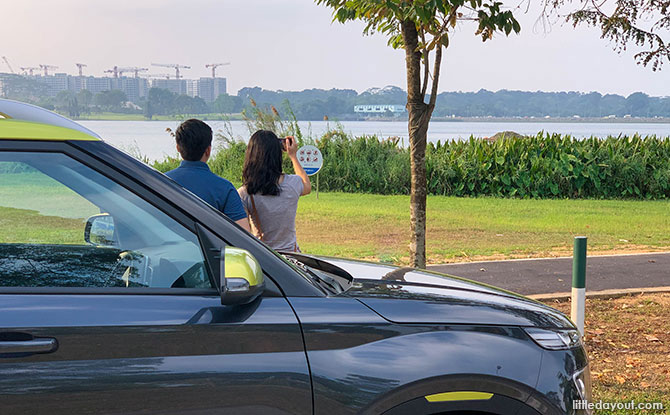 End your road trip at Rower's Bay at Lower Seletar Reservoir where you can catch a beautiful sunset.
Places to visit
Hampstead Wetlands Park
The Oval & Aeroplane Playground
Boardwalk
Rower's Bay
---
Hyundai VENUE – Safety First for Every Family's Adventures
The best neighbourhoods to explore are within reach with a trustworthy ride. The Hyundai VENUE, which we drove all over the island for these road trips, is the perfect companion for family adventures. Its cabin fit all four members of our family comfortably with plenty of headroom and legroom.
Hyundai's SmartSense safety features, fuel efficiency and comfortable cabin makes it an excellent driving buddy for all far-flung family road trips around Singapore. With sporty good looks and a flexible internal space with back seats that can be folded down, the Hyundai VENUE is a flexible compact SUV that can adapt to the demanding needs of a family with kids.
This feature is brought to you by Komoco Motors.