Away from Sentosa's beaches and attractions is a quiet waterside nature walk. The Sentosa Coastal Trail is a secluded walking and cycling trail facing northwards towards Singapore. It has several reminders of the island resort from days of yore.
The Sentosa Coastal Trail is located close to Siloso Point. It has two entrances, one along Siloso Road near the bus stop at Siloso Point and another at the start of the road that runs up to Fort Siloso.
The trail runs through the secondary coastal forest found at the northwestern coast of Sentosa.
---
Under the Greenwood Trees
Entering in from Siloso Road, the Sentosa Coastal Trail meanders under the shady, green trees.
Along the way, there are some remnants of old Sentosa to be seen.
Eventually, you will arrive along the waterfront. The path runs along the water's edge.
---
Totem Poles at Sentosa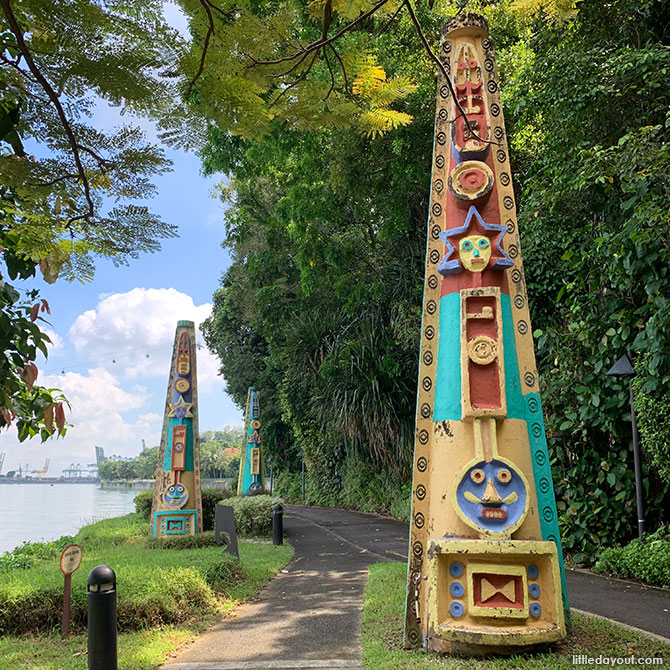 There are some totem poles which, according to the Sentosa website, were salvaged from the old ferry terminal. Another reminder of old Sentosa – when the only way to access the island was to board a ferry to cross the waters of the Keppel Harbour.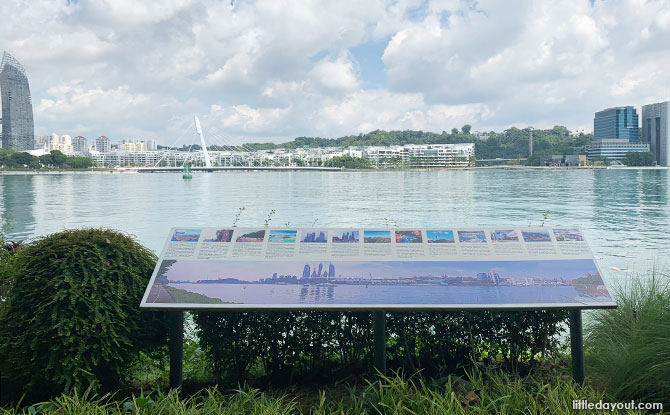 Now, you can look out across the water to view the modern buildings like Reflections at Keppel Bay and other landmarks at Keppel and Mount Faber.
---
Monoliths
Along Sentosa Coastal Trail, there are also stone pillars which look as if they could be reflecting the shape of Reflections at Keppel Bay.
However, on further reflection, we would like to believe that both the monoliths and Reflections at Keppel Bay are taking the cue from the original monolith at Keppel Harbour, the Dragon Tooth's Gate.
A replica of this once-navigational landmark still stands at Labrador Nature Reserve.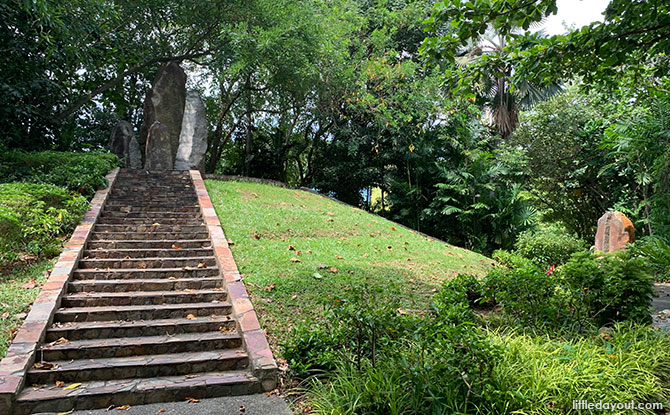 Sentosa Coastal Trail also has a mound with several stone structures around them. There are even instructions for a now-gone stone stacking game.
---
Old Jetty at Sentosa Coastal Trail
Following the trail past the old Underwater World site leads you to Fort Siloso. You can even see the old pylons of the old jetty from which soldiers at the fort used to embark boats to get back to mainland Singapore for a night out.
Sentosa Coastal Trail is a hidden side of Sentosa, one which not many people visit but one that provides a look into its past. You never know what you may find there. We suggest pairing a visit to it together with a visit to Fort Siloso.