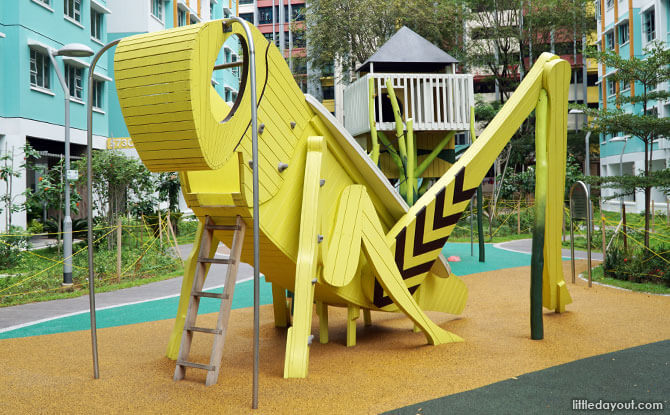 If Aesop's fable of the Ant and the Grasshopper is about the virtue of hard work and play is the work of a child, you can expect kids to be working very hard at the Ant and Grasshopper playground in Woodlands.
Situated between Block 573B and Block 573C at Woodlands Glen, the Ant and Grasshopper playground was completed in June 2017. It has two distinct sections, a giant grasshopper structure for older kids and a giant ant for younger ones.
---
Giant Grasshopper Playground
The green, giant grasshopper stands at one end of the playground with its wings smartly folded by its side.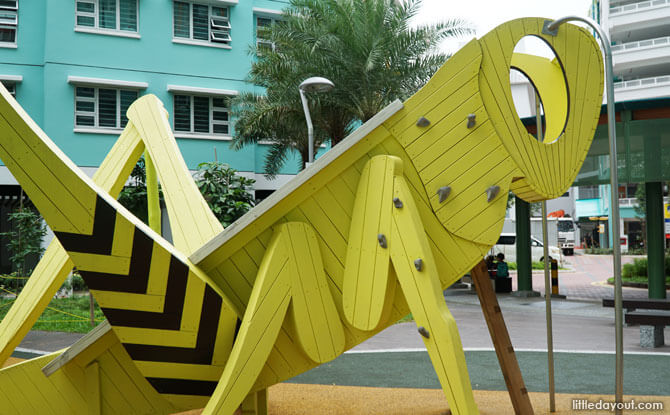 The innovative playground design features a ladder which leads to where its mouth should be.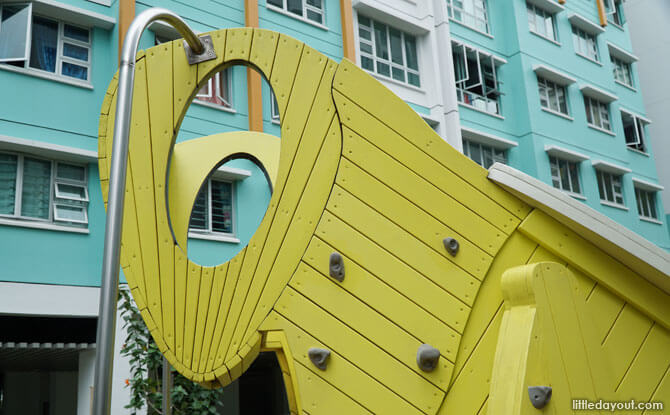 Once inside the grasshopper's head, older kids can step out of its eyes and use its "feelers", cleverly disguised as firemen poles, to slide down to the floor again.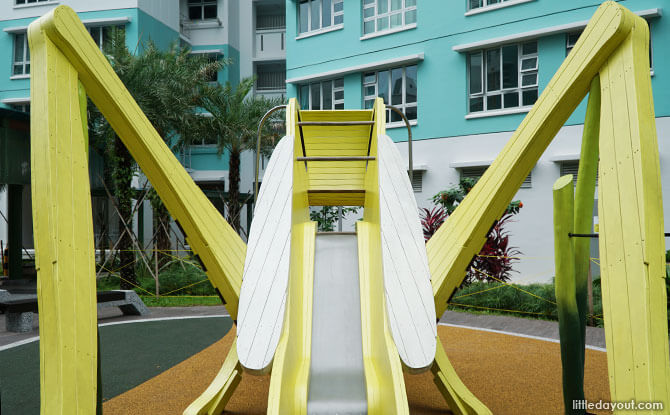 The alternative way to get down from the grasshopper playground is via the slide on its back.
Behind the Grasshopper playground structure are a series of poles that look like blades of grass. With rope strung between them, it acts as a climbing element that leads to a nearby treehouse tower.
Kids can also enter the treehouse tower by using a ladder or climbing holds.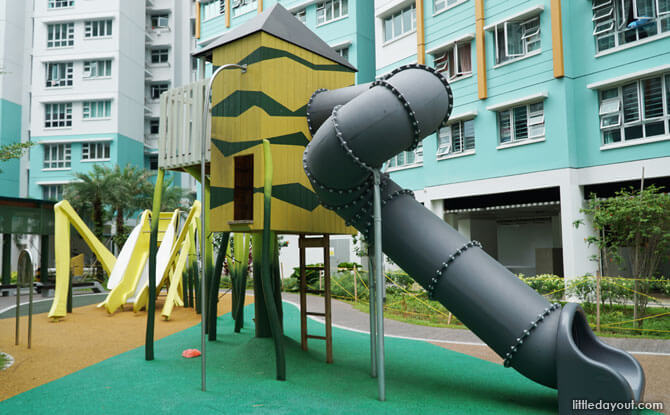 The treehouse has a viewing deck and a slide for a quick exit too.
---
Playing With An Ant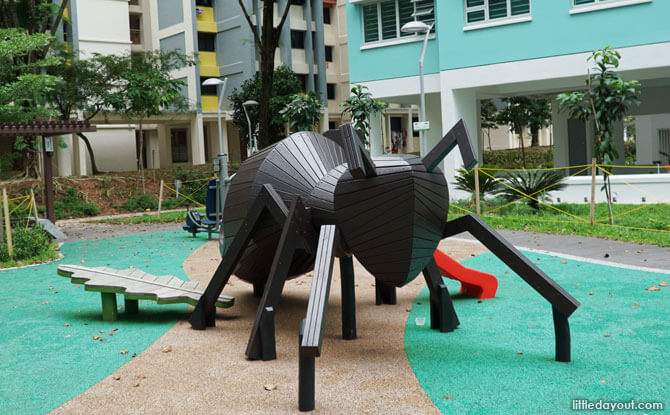 At the other end of the park is the ant playground. Designed for younger kids, the industrious ant has a climbing slope that kids can navigate their way up.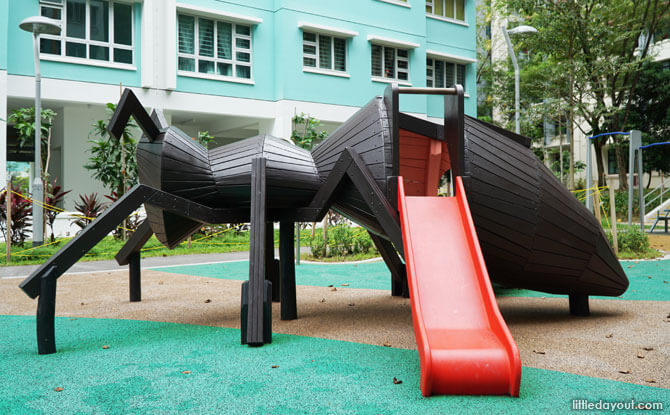 A bright red slide comes out from its side.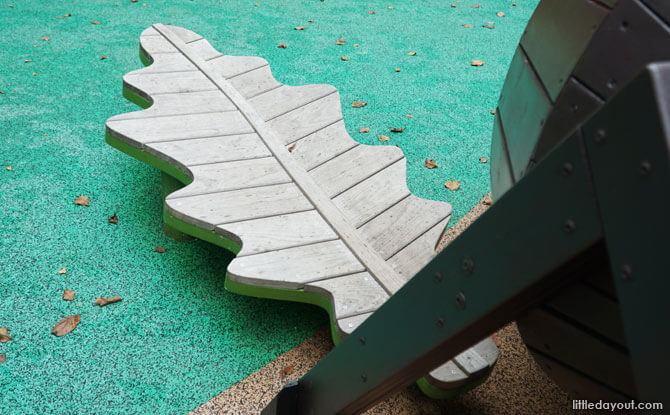 A leaf bench provides a resting spot for kids who are tired out from having too much fun.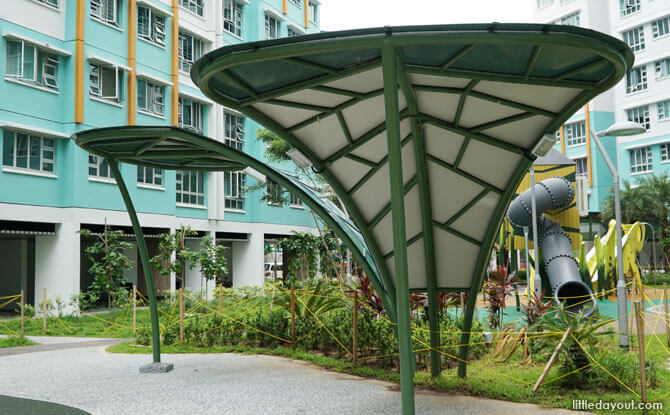 The leaf motif also gets carried through to other elements in the park such as the nearby shelter.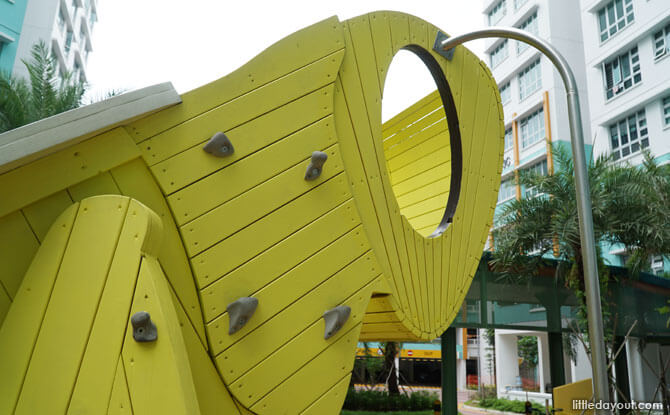 The Ant and Grasshopper playground at Woodlands Drive is part of the Housing & Development Board's new generation of thematic playgrounds. The choice of the two insects for the Woodlands playground is a reference to the time when the town was a heavily-wooded area and home to many common insects.
---
Ant and Grasshopper Playground, Woodlands Drive
Where: Between Blocks 573B and 573C Woodlands Drive 16