Planning a day out to St John's and Lazarus Islands just got easier. Gogreen @ St John's Island is opening on 14 October 2022, making it easier for visitors to explore and enjoy the two beautiful offshore islands.
Gogreen @ St John's Island is a new permanent attraction on the southern island. This follow a successful trial run in 2021 and the award of a tender by Sentosa Development Corporation, which manages St John's and Lazarus Islands.
---
Gogreen @ St John's Island: Bike Rentals & More
St John's Island and Lazarus Island are both relatively large to explore on foot. Especially for those who arrive at St John's Island and wish to make their way to the fabled crescent-shaped beach on Lazarus Island, there would be a fair bit of walking.
Now, it will be possible to rent a bicycle from the Gogreen @ St John's Island outlet, departure point close to the St John's Island Pier, to explore the islands' different paths. For those who don't cycle, there'll also be the option to rent a kick scooter instead. The minimum age for kick scooters is 3 years old and for bikes, it is 5 years old.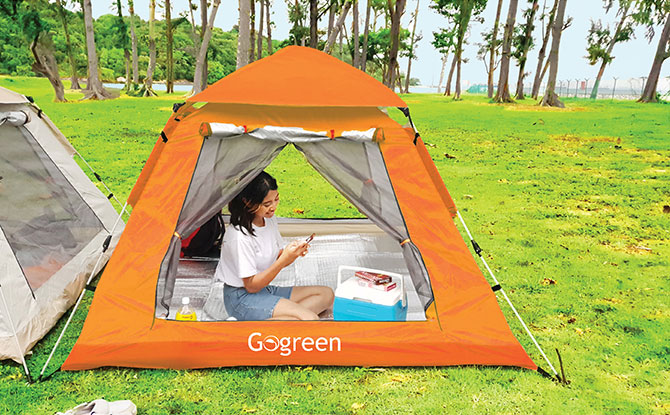 In addition, besides the mobility devices, Gogreen @ St John's Island will also have kites, beach mats and beach tents available. What's more, the outlet will also sell drinks – something that will be welcomed by visitors.
---
Booking Bike Rentals at St John's Island
If you are planning to head down to St John's Island and wish to rent the bikes, it is best to book ahead in advance. There are several ways to do so.
Bookings can be made at the Gogreen Eco Adventure website for two-hour rentals and optional add-on retail items like the tents, kites and beach mats.
Alternatively, Gogreen has partnered with Klook to offer an exclusive two-hour rental with kite flying at $35 per person.
On 8 November 2022, Gogreen will be releasing special packages on the Sentosa Fun Pass and Sentosa Online Store for those travelling to Lazarus Island via the ferry that departs from Sentosa Cove.
The operating hours of the bike rentals at St John's Island, from 14 October 2022 onwards, are:
10 am to 4.30 pm (Monday and Friday)
10 am to 5.00 pm (Saturday and Sunday)
Operating days and hours may differ on school holidays and public holidays
Find out what it is like to visit St John's Island and Lazarus Island.
This story contains affiliate links. This means we earn a small fee if you purchase something through a link from our website. There is no additional cost to you and goes towards supporting Little Day Out's efforts to deliver the best news and reporting for families.