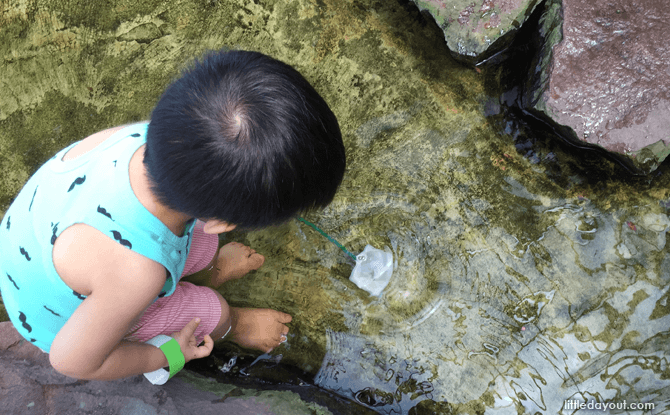 Longkang fishing in Singapore is a fun activity for families and children. Armed with a bucket and simple fishing net, kids get to go about scooping little fish from a waterway designed to resemble a longkang or drain.
This activity is reminiscent of a popular childhood activity from the 1950s and 1960s, before the advent of electronic devices, where kids would venture to drains and canals in search of little fish to catch for amusement. Nowadays, if you wish to go longkang fishing in Singapore, there is no need to head down to the drain (although there are people who do at the naturalised river at Bishan-Ang Mo Kio Park). Instead, you can visit one of the places in Singapore that offer longkang fishing as an activity.
So, where are these places where children go to experience longkang fishing in Singapore? We round them up below.
Where to go Longkang Fishing in Singapore
---
Qian Hu Fish Farm
Qian Hu Fish Farm is one of the largest exporters of ornamental fish. Pay a visit to their premises at Sungei Tengah, close to Farmart, and you will find ponds specially set up for kids and families to go longkang fishing. It costs $6 for 30 minutes and $10 for 60 minutes to go longkang fishing at Qian Hu Fish Farm.
---
-- Story continues below --
Address: No. 71 Jalan Lekar Singapore 698950
---
Mainland Tropical Fish Farm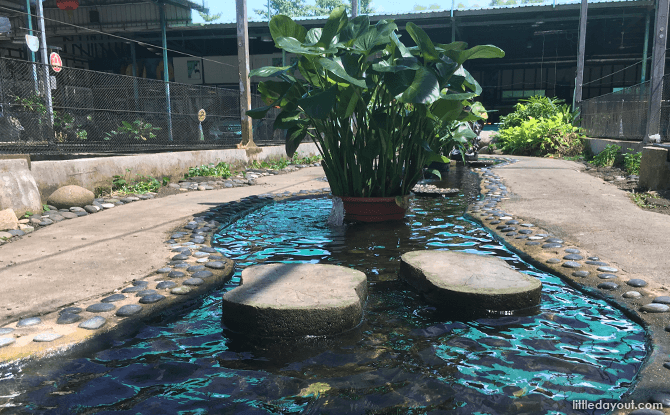 Found along the Pasir Ris Farmways, Mainland Tropical Fish Farm is a seller of ornamental fish. Within their compound, besides admiring and feeding fish, you can find a longkang fishing area designed to look like a stream. The activity costs $4 per child.
Address: No. 1 Pasir Ris Farmway 1, Singapore 519352
---
Fish@Bugis+
Hidden away on the rooftop of a shopping mall, Fish@Bugis+ has small ponds for kids between two and 12 to go longkang fishing. In the water are fishes such as guppies and swordtails. It costs $12 for an hour of longkang fishing at Fish@Bugis+.
Address: 201 Victoria Street, #07-05, Bugis+, Singapore 188067
---
Fish@Aranda
Fish@Aranda is the sister outlet to Fish@Bugis+. Located within the Aranda Country Club at Pasir Ris, Fish@Aranda is another outdoor spot where kids can go longkang fishing in Singapore.
Address: 60 Pasir Ris Drive 3, (Inside Aranda Country Club), Singapore 519497
---
Prawning at ORTO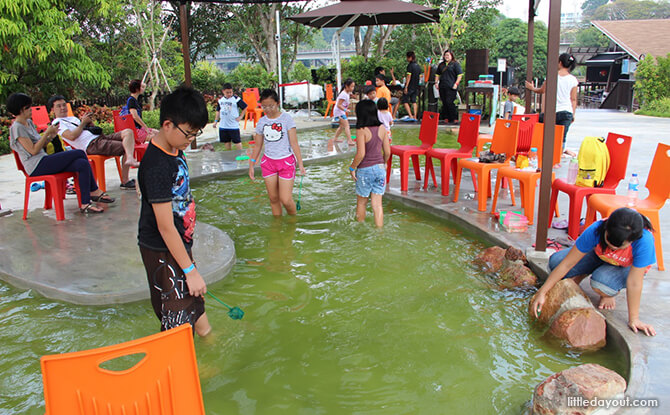 Experience longkang fishing at ORTO. Kids can splash about as chase down the fish in the outdoor ponds. Longkang fishing at ORTO costs $12 per child, inclusive of the tank and fish caught.
Address: #01-09 81 Lorong Chencharu, Singapore 769198