Heading outdoors for fresh air is always welcome, this time we chose to kayak as a family to Sungei Khatib Bongsu! Since it is a seasonal activity subject to the tides and time of the year, we decided to explore the wilder part of Singapore which has little human traffic. Yes, we meant no wheels of any kind, no pedestrians but just the occasional fishermen and kayakers!
We loved our kayaking expedition with KayakAsia to Sungei Khatib Bongsu and here are 6 reasons why you may want to embark on one!
---
Six Reasons Why You Should Go Kayaking at Sungei Khatib Bongsu
Sungei Khatib Bongsu – See Singapore's largest mangrove riverine habitat
Kayaking to Khatib Bongsu was a chance to see the mangroves of the north spread along the coast and through its estuaries. It consists of both mangroves and mudflats and used to be designated for prawn farming. There are plans for its conservation and transformation into a nature park by 2024, so it was timely to visit before the changes.
---
-- Story continues below --
Mangroves in Singapore have an important role to play in protecting the coasts and house rich biodiversity. Sungei Khatib Bongsu is also home to many types of Mangrove forests, including endangered plants and animals.
Be wowed by the serenity of the mangroves where everything is still, calm and quiet. From the tiny splashes made by hopping frogs, mudskippers or jumping fish, to the calls of the kingfishers and tailorbirds, one can just immerse in the sounds of nature. Revel at the different kinds of roots of the mangrove trees, see the tree-climbing crabs or the periwinkle snail as you kayak up close (usually unintentionally) to them.
---
Exclusively seasonal trip
Sungei Khatib Bongsu is accessible during the monsoon seasons when tides are ideal between September to March. Since there is an exclusive window, why not seize the opportunity to explore the Northern coast and mangroves? In other seasons, it is simply a swampland full of mudflats that might be impossible to explore.
---
Discover a part of Singapore's history – Orang Seletar and Evidence of Prawn Farming
Sungei Khatib Bongsu used to be teeming with Orang Seletar. The Orang Seletar are one of the earliest settlers in Singapore and practised a nomadic way of life within the mangrove forests and marshes. Living on both sides of the strait, they freely moved from one shore to the other mainly to fish. Now, we can still see fishermen from across the straits fishing in the rivers. Watch for their fishing nets suspended in the water!
Although much of the mangrove forests that used to dominate the coast in the 19th century have mostly been cleared, you can see a semblance of what the coast used to look like in the past.
Closer to recent times, the area was for traditional aqua-culture and orchards with mostly durian and rambutan plantations. We could see some of the prawn and fish farming structures standing and we also had to navigate through them which was an exciting bit of our exploration.
---
Parent-child Bonding, or should we say Forced Labour
Kayaking together as a family was great for bonding. We had to coordinate our paddling to move the kayak efficiently. The children enjoyed attempting to steer and navigate through the narrow waterways and there were plenty of moments we kayaked into branches, roots and river banks. It was good fun despite the ill-timed manoeuvres.
The 4km distance back to Sembawang Park where we launched might have been a struggle for the children, with parents having to bear most of the load kayaking. This is a fair warning for those who like me, struggled to keep up with the waves with an exhausted child on board.
---
Well-organised Kayaking Trip, with Warm Food and Filtered Coffee Served
Don't worry if you forget any essentials for the trip because Kayakasia's kayaking trips are known to be well-organised. Everyone had life jackets on, even the youngest in the group who was just 4 years of age. We were given a quick lesson on how to hold the paddle as well as basic SOS signals. And then off we went!
We were provided with a sumptuous breakfast and coffee break during our expedition. I have not been so well-fed on a kayaking expedition before! The curry puffs served were still warm, and we even had freshly brewed coffee in the middle of the mangrove forest. We also had bananas and mandarins for refuelling. This was much needed especially before we kayaked back to shore.
---
Adventure is Out There, Across the Sea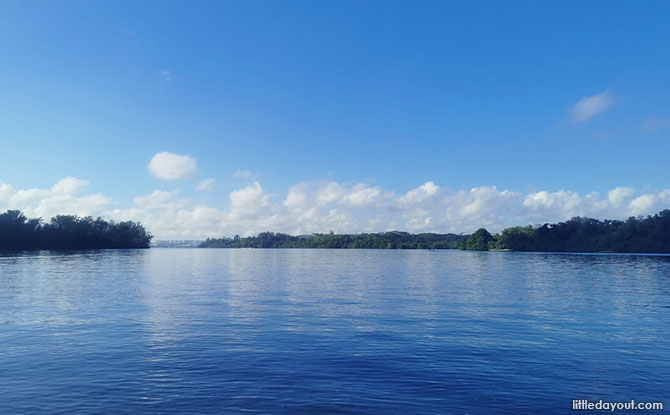 You don't have to go overseas to find an adventure, adventure awaits around us! Kayaking is a great way to explore the lesser-known places in Singapore and even see a different side of sights you have been to. Through kayaking up close to the mangrove forests at Khatib Bongsu gave us a closer glimpse of the forests and their inhabitants.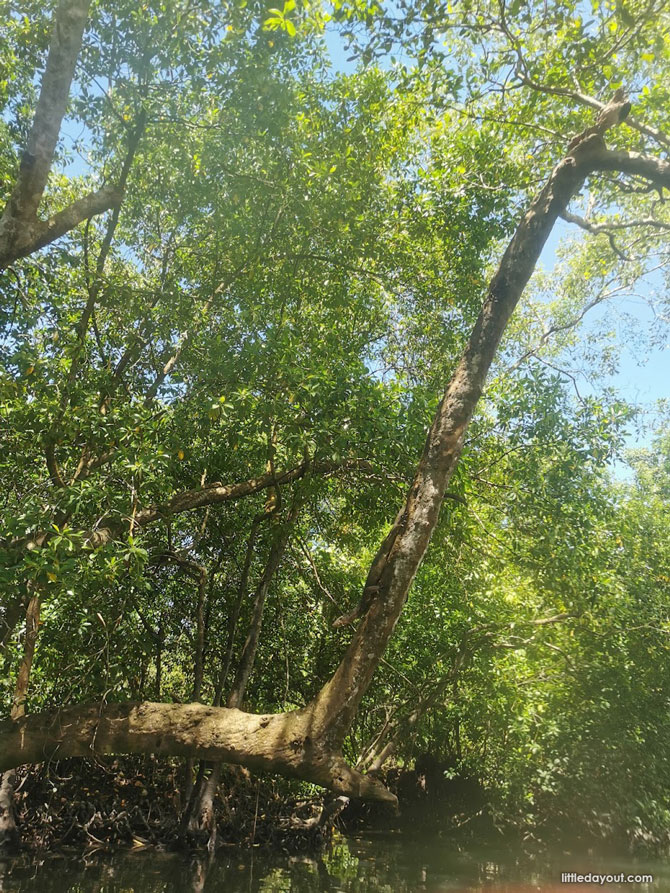 We saw various fruits, flowers, snails, eagles, kingfishers and huge mudskippers startled by our passing kayaks, a huge beehive and even a large monitor lizard sunbathing on a branch.
The highlight for the children was definitely the otters which were swimming a short distance away.
---
Tips for a Fantastic Kayaking Adventure
To ensure a safe, sunkissed adventure, do remember to bring along sunscreen, insect repellent, waterproof pouches for your phone, a pair of binoculars and a cover to prevent it from getting wet, a hat and a poncho.
We also recommend snacks for the kids who may need more frequent breaks and refuelling stops. For more information on kayaking at Khatib Bongsu, click on this link.