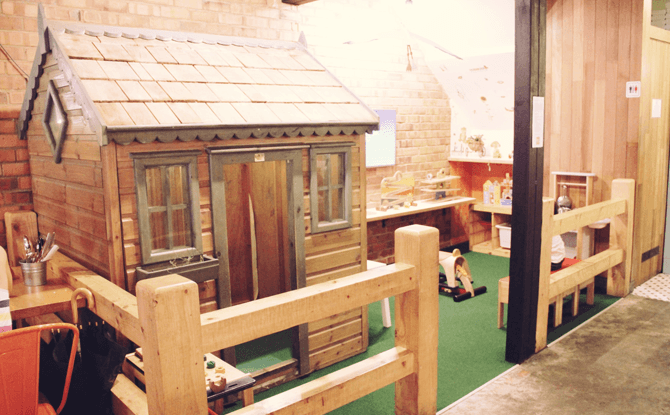 Better known as a haven for Peranakan food and home to the famous Katong Laksa, the Katong neighbourhood also offers cool spots for families with kids to stretch those legs and fill some tummies.
The Katong residential area is traditionally the preserve of Peranakan culture. Filled with rich history and heritage buildings, its previous location close to the seafront (which has now been pushed out to East Coast Park) made it home to many mansions and villas owned by the wealthy who made their fortunes in the Far East in the late 19th to mid 20th centuries.
Today, Katong stretches out from Mountbatten Road, East Coast Road, to Siglap and Joo Chiat. It is home to everything from old-style, traditional eats to new businesses offering hi-octane fun.
During the weekdays, a sleepy-town lull presides over Katong. However, when the weekend rolls by… Kazaam!…the hungry and happy crowds stream in to eat, play and shop.
Follow Little Day Out to the top places to bring the littlies in Katong!
---
Ho2T Playland
Housed in the newly refurbished shopping mall, Katong V, this indoor playground is a cosy, small-ish affair. Don't expect a sprawling play area. Designed for kids aged two to 12, Ho2T Playland would be best appreciated by younger ones aged up to eight.
The highlight of Ho2T Playland is its two-storey fully-padded play area, safe even for toddlers to explore. There are ball pits, make-believe guns, trampoline, swings, and slides (which whoooosh! into the ball pits). Don't forget to bring your socks!
Those with younger tots can head to the corner playroom filled with toys that little hands can handle.
Tired of zooming around? Dads and mums can relax at the adjoining cafe with a cuppa' java or browse in the retail area.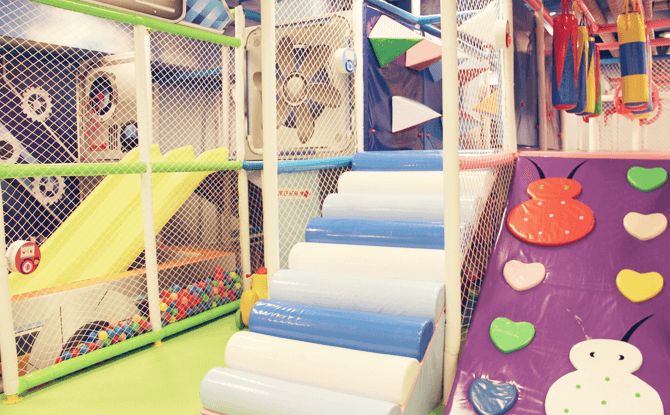 Ho2T Playland
Address: Katong V, #03-09/12, Singapore 428751
Opening Hours: Monday – Friday: 10.00 am – 8.00 pm; Saturday – Sunday: 10.00 am – 10.00 pm
---
Family Staycation at Village Hotel Katong
Dreaming of a weekend getaway with the kids? Village Hotel Katong, located behind Katong V, is currently running a Family Weekend Saver promo at $295++.
The package includes a family room that accommodates four (comes with two Queen-sized beds), breakfast for four, complimentary Wi-Fi, and a choice of one family activity at Big Splash (either LilliPutt Indoor Mini Golf for a family of four, Urban Inline's two-hour inline skates rental for four, or a Quadcycle rental for an hour at the Integrated Recreation Centre.)
Smaller families with a baby can opt for the Weekend Savers promo. At $175++, this includes a room, breakfast, and activities for 2 adults where the little one can tag along. Fancy inline skating while pushing a stroller, anyone?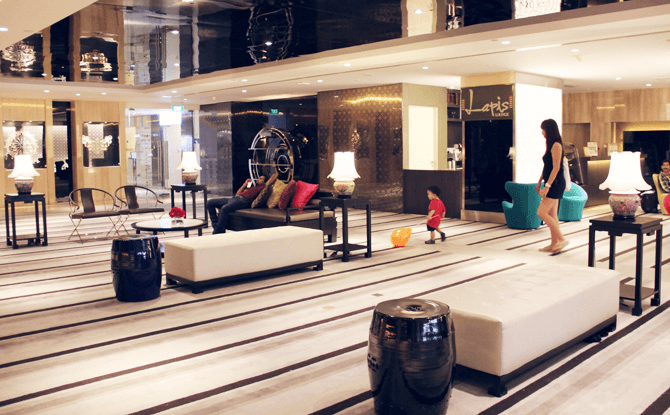 Village Hotel Katong
Address: 25 Marine Parade, Singapore 449536
Tel: 6344 2200
---
Art Zone
Want to get your hands dirty and some elbow grease going? Let your kids tap into their inner Picasso at Art Zone.
Kids aged four and above can start with a package of three lessons at $95, inclusive of materials, where they will be taught to draw and paint using different mediums.
Those who don't want to commit to weekly lessons can choose flexi-time one-off art-and-craft lessons. Children will learn to make fun crafts such as wall clocks, picture frames and coasters. Be sure to call a day in advance to book the one-off art-and-craft lessons.
Art Zone
Address: Katong V, 30 East Coast Road, #03-07/08, Singapore 428751
Tel: 6440 7968
---
PlayDate Books
What could be better than curling up and having a read-in with your tot? Well, a reading playdate, that's what.
You can spot many award-winning children and parenting books at PlayDate Books.
But what's really fun about this bookshop is its cosy corner full of cushions where they conduct weekly storytelling and arts and craft sessions for two- to six-year-olds. They even have sessions for tots 12 months to 24 months old on Baby Tuesdays.
Remember to register ahead of time to join one of these!
Playdate Books
Address: Katong V, 30 East Coast Road, #03-21, Singapore 428751
---
Splashing fun at I12 Katong
Have some splishy-splashy water fun at the free water playground at the rooftop of I12 Katong.
The water park is clean, the flooring is soft and shock-absorbent, making the play area suitable even for very young ones. The water features are full of fun for ages ranging from very tiny tots (think crawling babies) to older kids (especially if they like huge buckets of water being dumped on them).
The only downside to the playground is that the toilets and changing areas are rather far away from the water park. You will have to traipse into the cold air-conditioned mall to get to the toilets at the other end of the building. Instead, we recommend that you come prepared with a changing mat or towel to change your babies by the fringe of the water playground. Older kids will have to wrap up warmly and make their way to the shopping mall toilets.
After you're done with the water playground, you can take a stroll through shops in the mall like Babyonline, Babyshop, and stylish kids apparel store, Camouflage.
If everyone has worked up an appetite, you can head to Charly T's for lunch, where you can dig into some juicy roasted chicken, among other kid-friendly dishes. There is even a well-stocked play corner at the restaurant. Useful for distracting junior while mums and dads to finish their meals in peace. One Sunday a month, Charly T hosts a kids' event led by an instructor at their play corner. This is free for kids who are there with dining adults.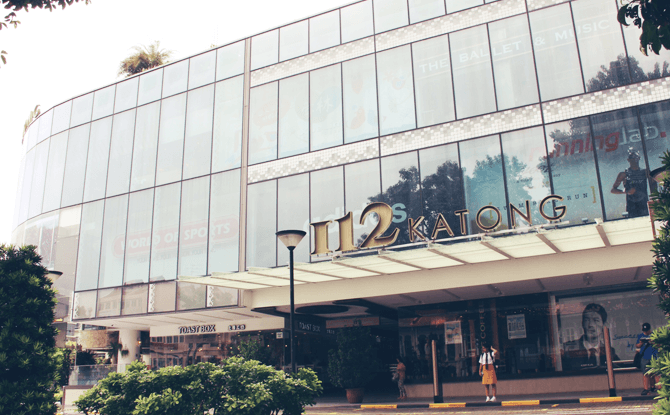 Charly T's
Address: I12 Katong Mall, 112 East Coast Road, #03-15, Singapore 428802
Opening Hours: Monday – Friday: 11.00 am – 10.00 pm; Saturday – Sunday: 9.00 am – 10.00 pm
---
Cafe Melba
Overlooking an inviting stretch of green – and a sand pit – Cafe Melba serves up scrumptious breakfasts and other Australasian fusion meals at the Goodman Arts Centre.
On a cool day, you can laze around the alfresco terrace area while keeping an eye on your giggling littlies having a good dash around the green field. Brunch classics and good coffee will keep dad and mum happy. There is lots of space for strollers and high chairs, and Café Melba even dishes up colouring sheets with colour pencils to keep the kiddos entertained at the table.
The indoor space is smaller but cosy, furnished with a rustic wood décor and warm cushions.
Be sure to wake up early on weekends if you want to get a table in the alfresco area. Then relax and watch your little ones having fun on the bouncy castle that springs up on weekends.
Cafe Melba
Address: Goodman Arts Centre, 90 Goodman Road, Block N #01-56, Singapore 439053
Tel: 6440 6068
Opening Hours: Monday – Friday: 10.00 am – 10.00pm; Saturday – Sunday: 8.30 am – 10.00 pm
---
La Barca Ristorante and Wine Bar
Near Cafe Melba, within the compound of the Goodman Arts Centre, is a gem of a late weekend brunch spot offering Italian cuisine. La Barca is a quiet spot with a cool, classy interior and welcoming outdoor seating.
But its real strength is its kids' entertainment area. And we know that any restaurant with a dedicated play zone or playroom is worth its salt – because it means a more leisurely meal for mums and dads.
On weekends, La Barca throws the doors to its playroom wide open. Toys, rockers, and books abound. Some items look a bit worn, but most of the toys will keep your little ones entertained – especially the mini toy kitchenette. La Barca's playroom is open on Saturdays and Sundays from 10.00 am to 3.00 pm.
Did we also mention there's ample space for kids to run about or zoom about on scooters?
La Barca
Address: Goodman Arts Centre, 90 Goodman Road, Block C, Singapore 439053
Tel: 6346 5813
Opening Hours: Tuesday to Sunday: 10.00 am – 11.00 pm
---
Zaffron Kitchen
Little Day Out is always on the lookout for 2-in-1 gems, where kids have a corner to play and the adults can keep chatting away after a good dinner. Zaffron Kitchen is one place that fits the bill.
Offering Northern and Southern Indian cuisine, the restaurant also serves up non-spicy and not-too-spicy alternatives for the kids.
Watch your kids light up when you enter the restaurant. The wooden playhouse, kids' kitchen and assorted wooden toys in the generously-spaced corner will keep the kids playing house for ages.
Zaffron Kitchen
Address: 135 East Coast Road, Singapore 428820
Opening Hours: Monday – Thursday: 11.30 am – 10.00 pm; Friday – Saturday: 11.30 am – 11.00 pm; Sunday: 11.30 am – 10.30 pm