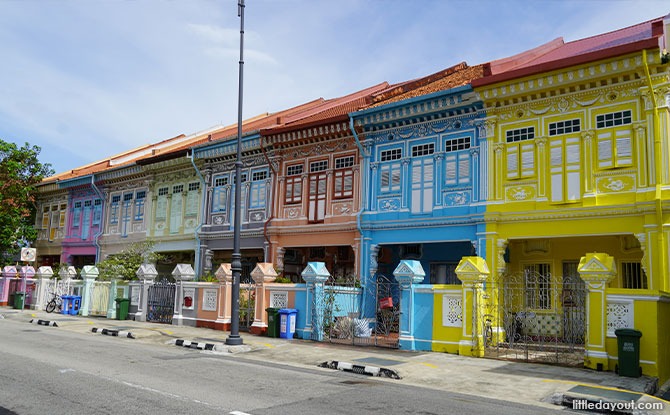 Known for its association with many things related to the Peranakan Culture as well as home to the famous Katong Laksa, the Katong neighbourhood (and nearby Joo Chiat) also offers cool spots for families with kids to stretch those legs and fill some tummies.
The Katong residential area is traditionally the preserve of Peranakan culture. Filled with a rich history and heritage buildings, its previous location close to the seafront (which has now been pushed out to East Coast Park) made it home to many mansions and villas owned by the wealthy who made their fortunes in the Far East in the late 19th to mid 20th centuries.
Today, other than the many Instagrammable buildings and shophouses, there are many other things that one can explore the next time they are in the area. Here are some of the places to eat at and things to do in the Katong and Joo Chiat neighbourhoods.
---
Exploring Places To Eat In Katong and Joo Chiat
328 Katong Laksa
The first and most obvious place and the dish on the list is the famous 328 Katong Laksa. Although visitors no longer have to travel to East Coast just to try the Laksa since it has branched out to multiple areas across Singapore and even in Taiwan, it is still one of the most iconic places to dine at when visiting Katong. Website.
---
-- Story continues below --
---
Ah Yee's Soon Kueh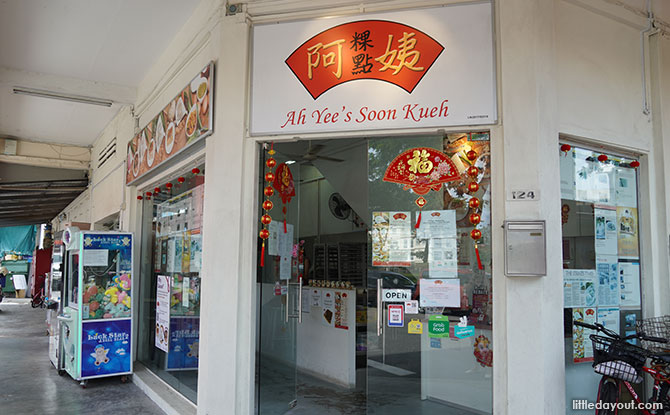 Selling various types of kueh such as Soon Kueh, Peng Kueh, as well as Steamed Yam Cake and Steamed Pumpkin Cake, various reviews have said that they kuehs were delicious and the fillings of the cake were generous and tasty. They also sell homemade kaya and achar. Website.
---
Chin Mee Chin
The Old-school bakery Chin Mee Chin closed down for a while but, good news, it is going to be making its return in 2021. Diners will still be able to a walk down memory lane and get a taste of the old-styled coffee and bakes when they reopen. They are most known for their kaya buns that are slabbed with butter. Other favourites include the custard tarts and chocolate cupcakes. Occasionally you might be able to find Sugar rolls, cream horns and sugee cakes. Read more the Chin Mee Chin experience.
---
Canvas Gelataria
Hoping to bring the taste of authentic, 100% natural gelato to Singapore, Canvas Gelataria serves gelato made with high-quality raw ingredients without any pre-made mixes, artificial flavourings or preservatives. Flavours they offer include Cendol, Rose Coconut With Peanut Praline, Dragon Fruit Mint and many many more. Website.
---
Chilli Padi Nonya Restaurant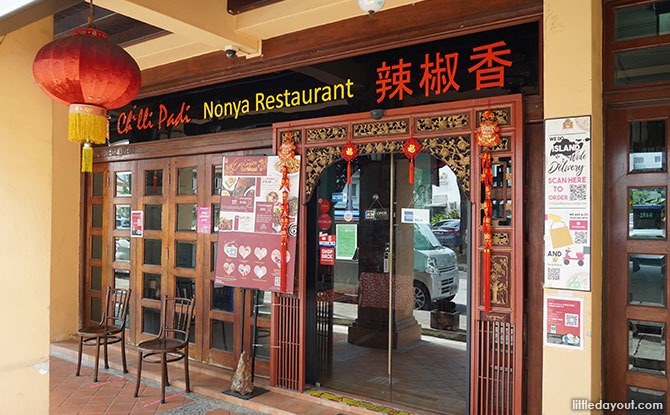 With one of the phrases being 'authenticity in every bite", except to find a variety of dishes at the Chilli Padi Nonya Restaurant that keeps to its Peranakan roots. There are various bento sets to fit different budgets one can order on their site. They do event catering, confinement catering and caterings for birthday celebrations too. Website.
---
Mr and Mrs Mohgan's Super Crispy Prata
Located at Joo Chiat Road, at the junction of Dunman and Joo Chiat. Mr and Mrs Mohgan's Super Crispy Prata is another famous and well know spot if you're craving freshly made Prata. Although usually seen with long queues, some must-try items include their prata kosong, or plain prata, as well as their coin prata and egg prata. Website.
---
Home of Seafood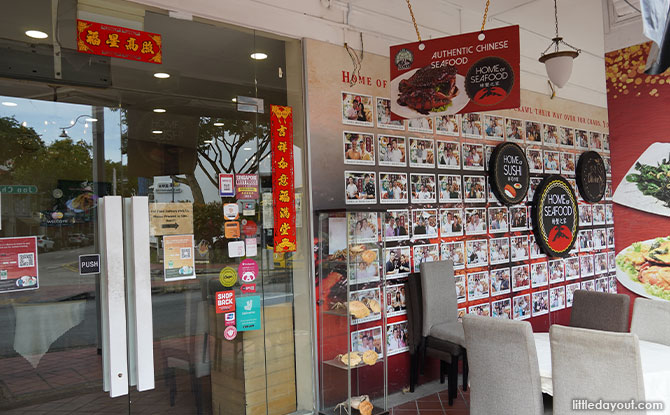 Serving halal seafood and visited by many, Home of seafood was established in 2009. Since then, it has become a food icon and the famous brand in the seafood restaurant industry in Singapore and overseas. Their fresh crab is a must-try amongst the other flavourful seafood dishes. Website.
---
Breadwerks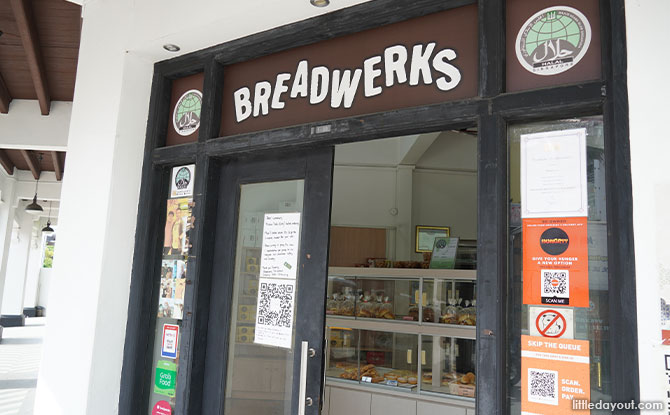 Halal certified Breadwerks serves freshly made bakes such as article cakes with various fillings, block cakes and of course, bread. The flavours of the pastries here are very varied and you can also order the products for a gift hamper. Website.
---
Sinpopo
From the same folks who started and continue to run Awfully Chocolate, Sinpopo is a café that serves many local-inspired mains as well as cakes and coffee. The Sinpopo menu features local and Peranakan food like Nasi Lemak set for 2, Crab Bee Hoon and Wontons, and crowd favourite, Har Jeong Kai. Lastly, there are desserts such as locally inspired sliced cake assortment that includes flavours of Gula Melaka, Pulut Hitam, and more. Website.
---
Micro Bakery & Kitchen – Red House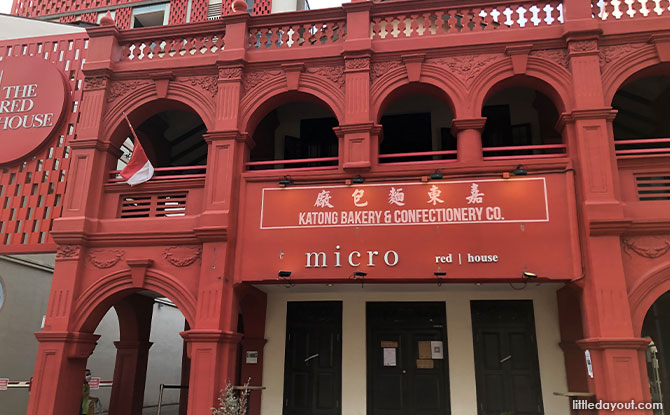 The former Katong Bakery & Confectionary also known as the Red House Bakery, was famous for its Swiss rolls and curry puffs and was the first in Singapore to bake three-tier Western-style wedding cakes in the 1920s. It is now housed by Micro Bakery and Kitchen who serves housemade bread that is naturally leavened using organic and sustainable flour, using natural ingredients and no additives. Website
---
Things To Do In Katong and Joo Chiat
Pay A Visit To The Intan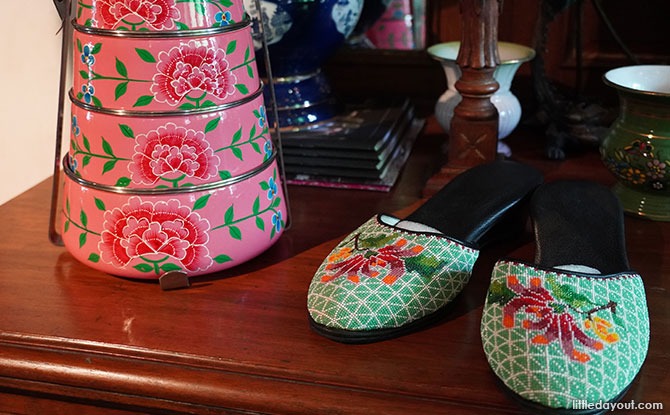 An iconic independent museum, The Intan is translated to mean "rose cut diamond" and is a private museum owned by Alvin Yap. A collection of all things Peranakan and more take a visit to this museum set in a home of owner and founder, Alvin Yap. Hear the unique stories told by Alvin himself. Read more here.
---
Shop at Cat Socrates
Founded in 2008, Cat Socrates is an independent retail shop offering a huge variety of well-designed products including books, home decor, plants and pots, as well as fashion accessories, vintage memorabilia, and homemade jams. They also have cat shopkeepers which you can say hi to when you visit! Website.
---
Kiddles
A place for kids aged 6 months to 7 years, Kiddles is an indoor playground filled with a variety of play areas for them to enjoy. They have a trampoline, kitchen, ball pit and more. The play area is specifically designed with kids' favourite things-to-do in mind with the intention to enhance their fine motor skills, keep them moving and engaged. Read more about Kiddles.
---
Visit the Eurasian Heritage Gallery
After it's renovation, the newly named Eurasian Heritage Gallery is now open from 10.00 am to 5.00 pm from Tuesday to Sunday including public holidays. It's a great place to immerse in the Eurasian culture, learning about the origins, history, lifestyle and contributions of the Eurasian community, through the guided tour of the three galleries. It is free entry for Singaporeans and PRs and is closed on Monday. Read more here.
---
Kaboodle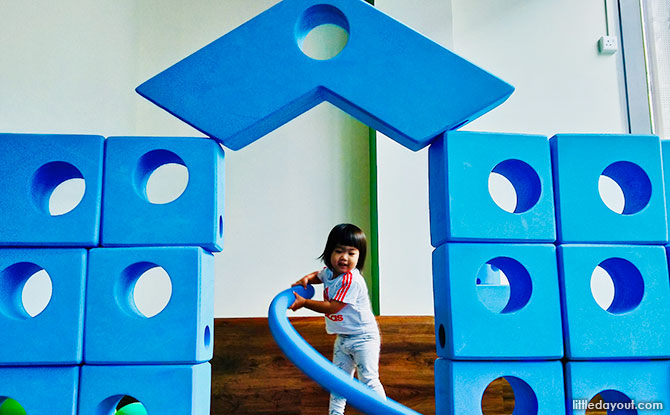 Introducing themselves as the only creative indoor play space in Singapore, Kaboodle aims to provides development for creative intelligence and growth for children from ages 1 to 12. They have both creative free play and structured programs for kids and the young at heart to go wild through imaginative play. Conducting facilitated creative play, Kaboodle introduces the elements of designing, brainstorming, experimenting and risk-taking through the activities and games kids will play. Find out more here.