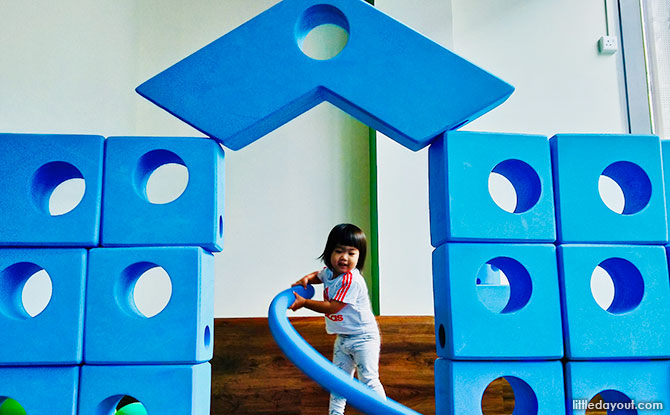 Researchers have long known that playing with blocks helps children develop cognitive and social skills. In Kaboodle – an indoor play space designed to develop the creative intelligence of children ages 1 to 12 – that is exactly what your children will get to play with. Blocks, and life-size ones at that!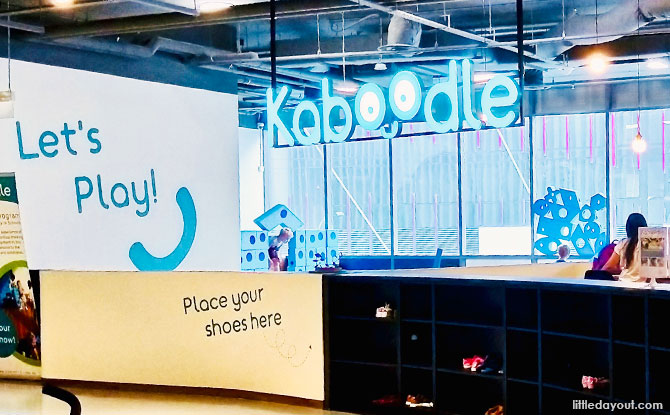 Kaboodle, located on the second floor of the newly-renovated Katong Square, is not a traditional playground by any means. You will certainly not find a climbing frame, nor monkey bars here. What you will find, however, are loose parts – lots, and lots of loose parts – so that the children can transform the environment they're in and make it their very own.
Main Play Area and Imagination Playground Blocks at Kaboodle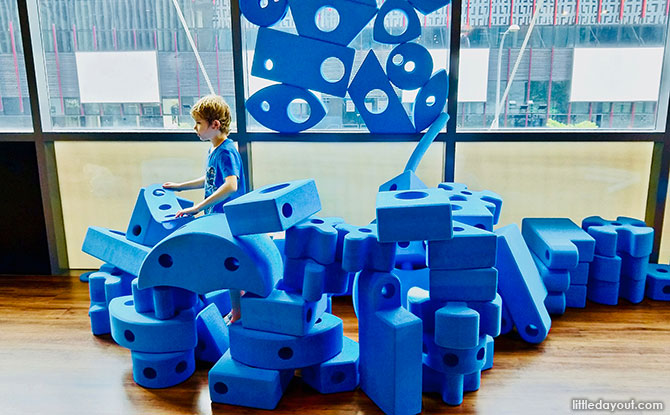 The main play area is spacious and flooded with natural light. Here, children will find large and medium size waterproof foam blue blocks from Imagination Playground, a brand conceived by award-winning American architect, David Rockwell. There are cubes, bricks, cogs, curves, and cylinders – a wide variety of pieces that fit together to become anything the children can think up! The only thing holding them back would be their imagination.
My daughter hasn't quite developed that interest in building and construction, but she was thrilled just being able to stack the blocks up high, and then knocking her tower down. She also enjoyed watching the older children create forts out of the blocks, and then running in and out of them.
---
-- Story continues below --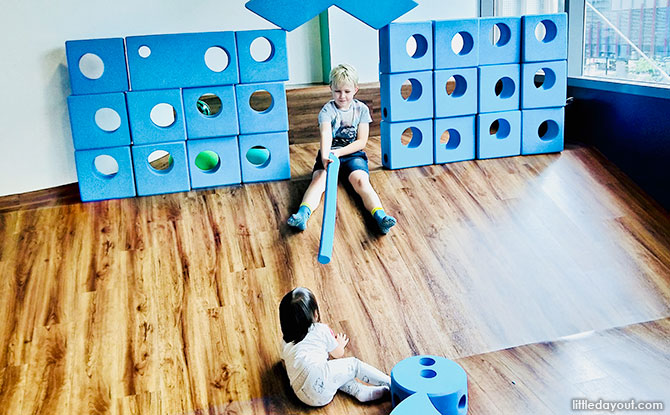 There's a slight slope off to a corner of the Main Play Area that she creatively – or conveniently – turned into her slide! Mind you, the space isn't padded or carpeted, so anti-slip socks are highly recommended.
Parents with crawling babies might also like to know that the Main Play Area is fine for crawling babies to explore as it's sizeable, but please watch out for excitable children and falling blocks, of course.
Creative Play Area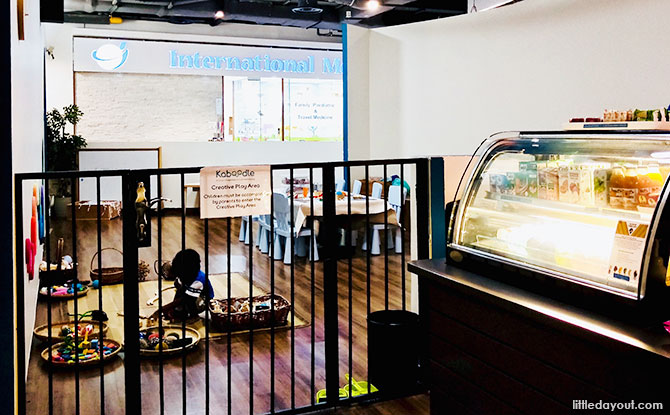 There is a sectioned-off Creative Play Area in Kaboodle – just behind the reception – where children can engage in some sensory free play, if it isn't in use for structured programmes that take place during the week. There is, for example, a Mandarin playgroup for 2 to 3 year olds conducted by Hanziland, and Creative Theme Play sessions organised by Muckypups, which require an additional fee, on top of the cost of admission.
We couldn't enter the Creative Play Area as there was an activity by The Tinker Yard in session then. From what I could see, it looked like fun! There were craft tables set up, and baskets filled with open-ended materials on the floor for the little ones to explore.
Turns out there's a purpose-built wet play room within the Creative Play Area where little ones can play with troughs of ice cubes, or water – depending on what's available that day. If you think that's where you'd like to play during your visit, give Kaboodle a call beforehand to make sure the space isn't going to be occupied then.
Sensory Play Area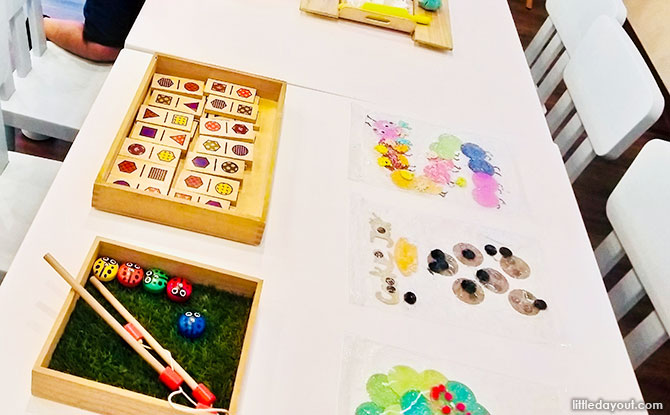 There were some low tables set up right by the entrance of Kaboodle where children could play with homemade play dough, puzzles, and other table-top toys. It was a good escape for us from the busyness of the Main Play Area, and perfect for a quick snack.
Although there isn't a full-service cafe in Kaboodle, they do sell ice-cream, and mini boxes of raisins. They also have a drinks menu with coffee, tea, and organic smoothies on offer. The cafe-style seating is right by the Sensory Play Area and overlooks the Main Play Area, so mummies and daddies don't have to be in the thick of the action and still supervise.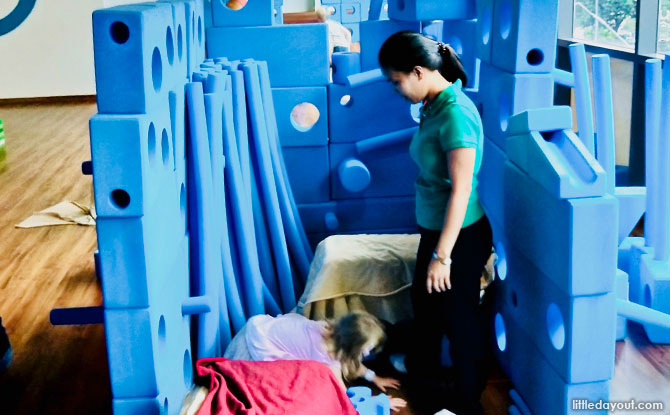 Find out more about Kaboodle here.