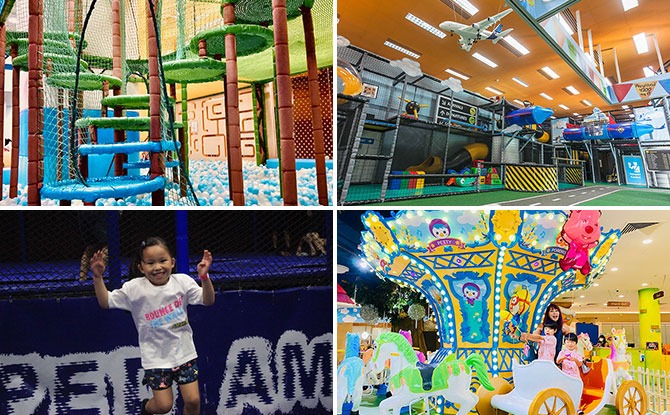 Indoor playgrounds are super-fun for kids. They offer a chance to enter a world filled with adventure and to exercise their powers of play in a safe environment. For us in Singapore, there are plenty of options to choose from but we've put together an updated list for 2022 of some of the best indoor playgrounds in Singapore where kids can have loads of fun.
Whether you are looking for specially-themed centres, or those which offer an overload of excitement, here are some of our favourites and picks for the best indoor playgrounds in Singapore where kids (and parents too) can simply enjoy themselves on a wonderful day out.
---
Our Favourites & Picks for Best Indoor Playgrounds In Singapore
T-Play at HomeTeamNS Khatib
As Singapore's first indoor playground with a Peranakan theme, T-Play at HomeTeamNS Khatib mixes a tinge of tradition with boundless fun. We love HomeTeamNS' nod to Singapore's old playgrounds that is showcased through the designs at the playground, with the Dragon-themed slide and Pelican playground designs on the equipment. There are super-fun racing slides for kids to go head-to-head, ball pits, and a shooting gallery. Kids can test their reactions on an interactive trampoline while the toddler play area even has a ninja course. T-Play at HomeTeamNS Khatib truly lives up to its motto of "Fun in Motion" and is a must-visit indoor playground in Singapore. Read more about T-Play at HomeTeamNS Khatib.
---
-- Story continues below --
On 17 March, T-Play at HomeTeamNS Khatib is holding its SkillFest holiday programme for children between 5 and 12 years old. Through engaging games and activities, kids will learn about emotions and social relationships. A highlight of SkillFest 2021 is a fun art jamming session, Recognizing Emotions Through Art, where kids will get to express themselves through colour and creativity! Find out more about SkillFest here.
Where: 2 Yishun Walk, Singapore 767944
---
Pororo Park Singapore
Pororo Park Singapore is perfect for kids between 1 to 6. The themed indoor playground features Pororo the Little Penguin and his friends from the famous Korean cartoon series. With 11,000 square feet of space, it is home to fun attractions like the Pororo Express train ride, Pororo House and Shark Ball Pool. Its latest addition is a new Instagrammable whimsical carousel ride, Pororo & Friends' Gallop Station. Kids can go on unlimited rides on one of its eight colourful horses or two carriages. With meet-and-greets with Pororo & Friends, Pororo Park Singapore is one of the best indoor playgrounds in Singapore for the younger age set.
Find out more about Pororo Park Singapore.
Where: 6 Raffles Boulevard, Marina Square #02-29, Singapore 039594
---
T-Play at HomeTeamNS Bukit Batok
Take your kids for a fun-filled "holiday" at the transportation-themed T-Play at HomeTeamNS Bukit Batok. After picking up a "boarding pass" (admission tickets), various exciting play structures await them. Kids can enjoy a two-storey play structure with a "plane" tunnel they can climb through. We love the attention to detail with the departure flip board with flight information and a wind sock at the top of the play structure. There is a mini rope bridge and rock climbing room which will bring out the sense of adventure in kids too. Expect to have loads of fun at this exciting indoor playground.
Find out more about T-Play at HomeTeamNS Bukit Batok.
Where: 2 Bukit Batok West Ave 7, Singapore 659003
---
Tayo Station
Kids will have an absolute blast at Tayo Station. Themed after the Korean animated series Tayo The Little Bus, this indoor playground is more like an indoor play park! A highlight of Tayo Station is Tayo's Road Circuit. Designed to look like a street scene, kids can zip along the marked out roads, complete with road signs, and pay a visit to the child-sized gas kiosk and car wash. It is a kids' dream come true. Other play features of Tayo Station include a hinoki play area that emulates a sand pit, Tayo's Bouncy Garage and three-storey play system.
Find out more about Tayo Station.
Where: E!Hub, Downtown East, 1 Pasir Ris Close, Level 3, Singapore 519599
---
Clip 'n Climb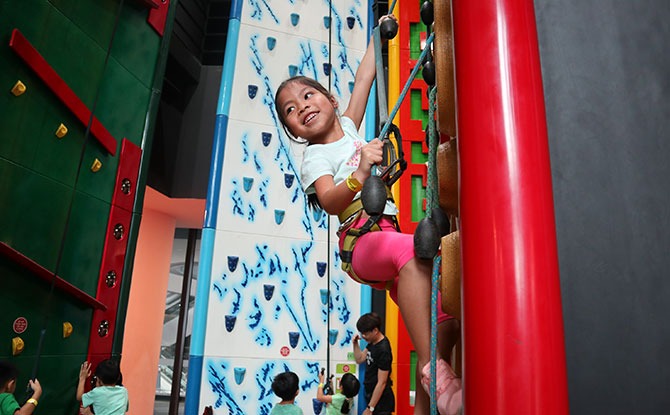 With walls like Big Cheese, Tree Trunk and Lightning Crack, Clip 'n Climb is not your typical indoor rock climbing gym. Clip 'n Climb at Our Tampines Hub has 19 themed walls with multiple routes of ascent! You can literally visit it over and over and have a new experience every time. The family-friendly climbing playground caters to climbers of all levels, from beginners to experts. Young ones can scale the colourful climbing walls independently with Clip 'n Climb's safe auto-belaying system while parents can also join in the vertical fun.
Read more about Clip 'n Climb.
Where: 1 Tampines Walk, #03-03 (Our Tampines Hub) Singapore 528523
---
Amped Trampoline Park
Pick a fight with gravity at Amped Trampoline Park! Parents and kids can have loads of fun together on its 35 inter-connected trampolines, and with activities like dodgeball, slam dunk, a parkour wall and foam pits. The trampoline park has a newly renovated interior and party room from April 2021 making it ideal for hosting your little one's birthday party. What's more, there are special sessions for under 5 year olds on Tuesdays and Wednesdays, 9 to 11 am. Older kids and adults can join recreational trampoline classes starting mid-2021. You can be sure of adrenaline-fueled, family fun at this massive trampoline wonderland.
Find out more about Amped Trampoline Park.
Where: 46 Kim Yam Road, #02-11, Singapore 239351
---
buds by Shangri-La
buds by Shangri-La is the first interactive play space for children to open in an Orchard Road hotel. It has both an indoor and outdoor areas. Some of the play elements which kids can enjoy at the indoor playground include pools with balls and slides. But there's more. Head over to activity areas like the Stage where hidden talents can come to the fore, and Muddy where kids can play on the wall. Kids can also participate in organised activities such as baking and fish feeding. Find out more here.
Where: 22 Orange Grove Rd, Singapore 258350
---
Bouncy Paradise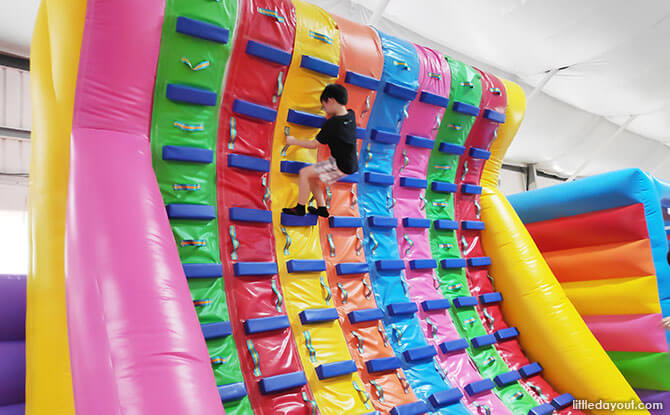 If you are looking for a place where kids can expend their energy, check out Bouncy Paradise. The place is huge with 20,000 square feet of space. It is filled with an unbelievable number of colourful bouncy castles, ball pits and fun obstacles on inflatables for kids and parents to challenge themselves. It is great fun for the entire family, making it one of our picks for the best indoor playgrounds in Singapore. Just be sure to check the opening times first before you head down and pre-book your timeslot. Read more about Bouncy Paradise here.
Where: 200 Pandan Gardens (PeopleUp Enrichment Hub), Singapore 609336
---
Future World at ArtScience Museum
At ArtScience Museum's Future World, child's play is a matter of creativity and imagination. While not the traditional indoor playground with climbing frames to scramble over, Future World offers kids, both young and old, a chance to interact with more than 15 cutting edge digital installations. Kids can put their creativity to good use as they immerse themselves in indoor play with a City in A Garden, a Park filled with lighted balls, a galaxy of lights and more. Read about it here.
Where: 6 Bayfront Avenue, Singapore 018974
---
Kidz Amaze at SAFRA Jurong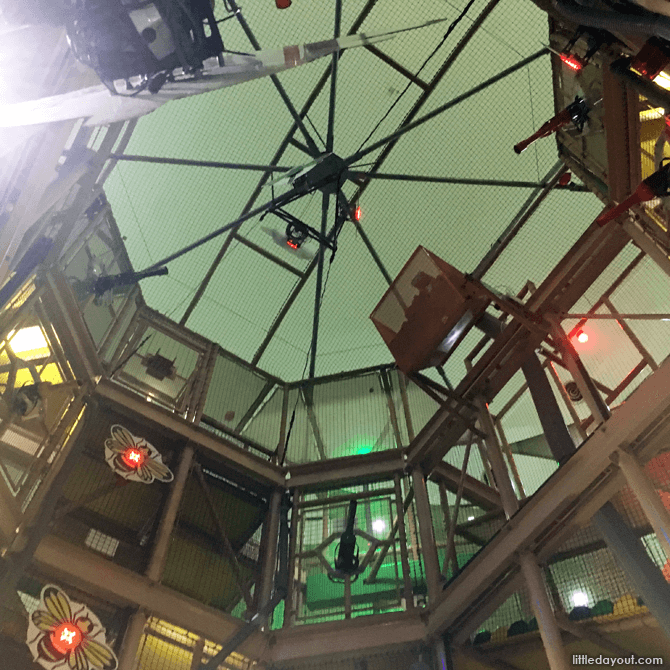 Kidz Amaze at SAFRA Jurong lives up to its name. It is easy to be awed by the indoor playground's towering play structure. You can go round and round, ascending the vertical, five-level colossus. And the centre of the tower is a foam blaster! Once at the top, there is a fun spiral tube slide that takes you down three storeys in a jiffy. It has also added a Rainbow Maze as one of its play elements. This is a knitted playground which can enjoy climbing through. Read more about it here.
Where: 333 Boon Lay Way, Singapore 649848
---
Canopy Park
Bringing the outdoors indoors is the aim of Jewel Changi Airport's Canopy Park. That's what makes this indoor playground so unique. From the part-playground, part sculpture Discovery Slides to the Hedge and Mirror Mazes, there are fun activities at every corner. And the Walking and Bouncing Nets are something to be experienced too. It is an indoor playground that the whole family (kids, tweens, teens and adults) can enjoy together. Our only gripe with Canopy Park is that the costs can add up quickly, especially if you wish to do all the activities. Find out more details here.
Where: Level 5, Jewel Changi Airport, Airport Boulevard, Singapore 819666