With our little red dot's unpredictable weather, the many indoor playgrounds in Singapore are very welcomed! Not only do the children get to run wild – rain or shine – while developing their gross motor skills at that, but mummies and daddies also have the chance for a little breather as kids have fun. And when it comes to an indoor playground Singapore has many of them!
Here at Little Day Out, we've done the hard yards and put together a list of indoor playgrounds Singapore has to offer. Ready to head for your little day out? Start with our list below!
Best Indoor Playgrounds in Singapore
---
The Artground
The Artground is a play space at the Goodman Arts Centre which aims to provide a positive arts experience for children. This is done in part through an accessible play space which hosts interactive art installations which change every few months. At this indoor playground, children can engage in non-directed, open-ended play together with their parents.
The Artground also conducts arts-related activities and programmes throughout the year. Admission to the main play space, and its revolving set of art exhibitions, at The Artground is free. Other programmes may be ticketed.
Find out more about The Artground.
Waka Waka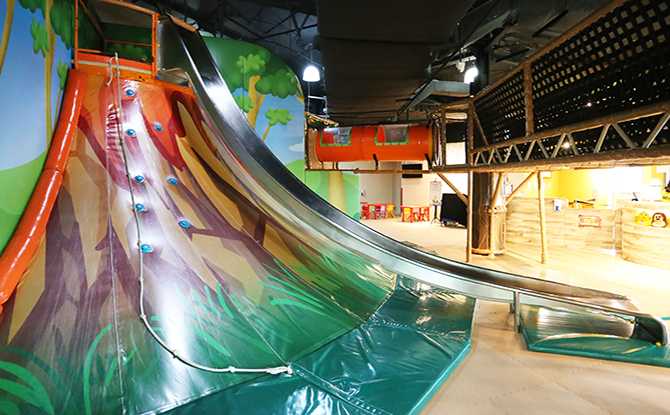 Located at Annex@Furama – right beside Furama Riverside Hotel – Waka Waka is a Safari-themed indoor playground complete with volcano slides, trampolines, a maze-like climbing frame, and even a Bistro Cafe.
There is also an all-new dedicated Toddler Area in Waka Waka. Launched recently as the Waka Tots Club, this toddler-friendly area includes padded slides, soft play blocks, mini gym and a mini ball pit guaranteed to entertain and ignite the senses of your cubs safely for hours.
For added adrenaline at Waka Waka, you'll have to check out the Ropes Adventure! For an additional fee, children who meet the minimum height requirement of 90 cm can put their coordination skills to the test at the specially-designed rope adventure course.
---
Pororo Park Singapore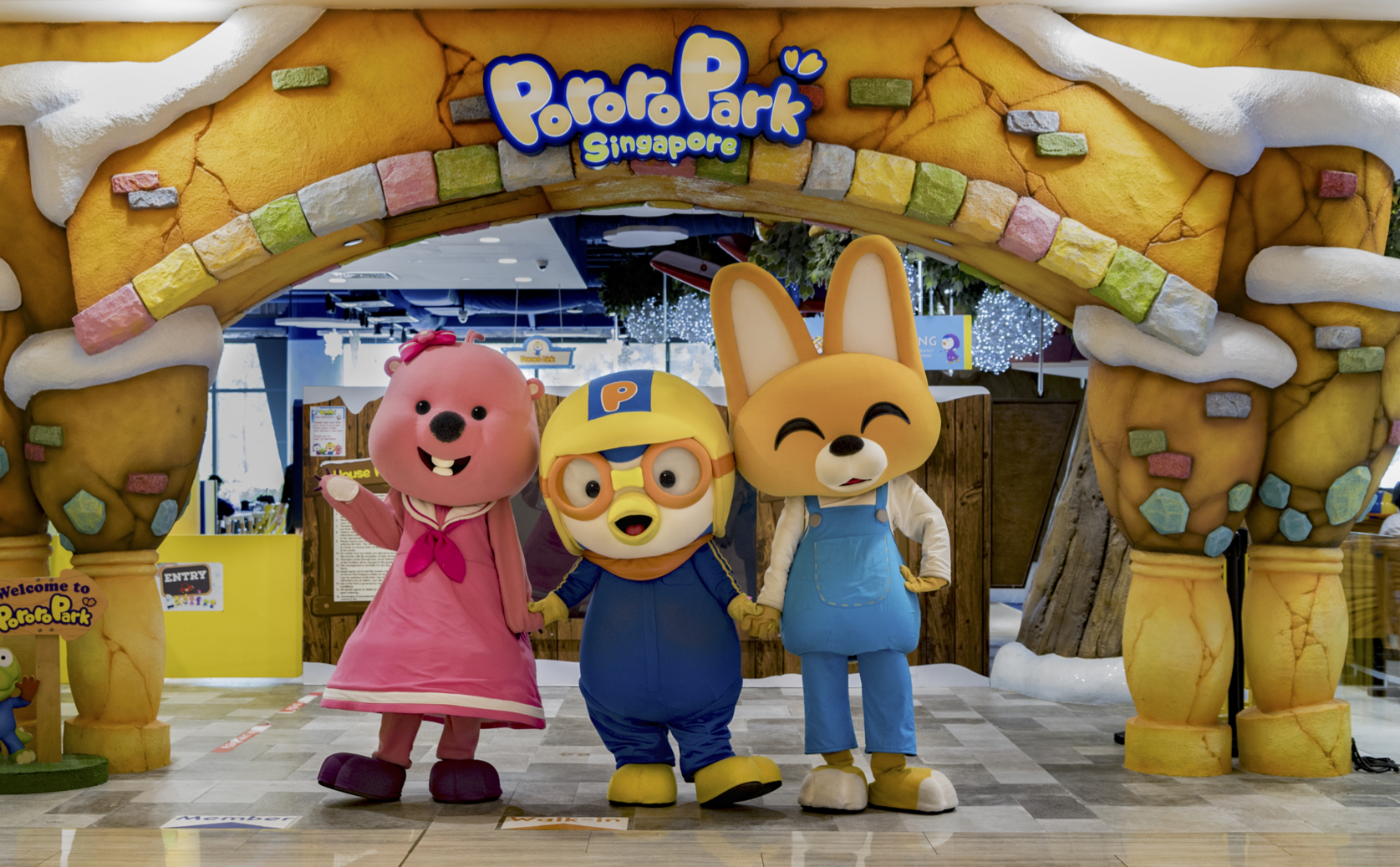 Being the first character-based indoor playground, Pororo Park Singapore is a wonderland where every little one can meet their favourite Korean characters – Pororo & Friends.
The fun-filled 11,000 square feet indoor playground at Marina Square has indoor play features such as the Pororo Express Train that runs hourly through the day, Petty Supermarket for a spot of pretend-play shopping, and even Tong Tong's Little Theatre where you can sing and dance together with Pororo and friends. It is little wonder why Pororo Park Singapore is the indoor playground of choice! In between all the fun, recharge at Loopy's Café for a bite and a drink before hitting the slides and ball pit once more!
---
Blue House Infant & Toddler Atelier
As pioneers of the Reggio Emilia approach to early childhood education in Singapore, Blue House Infant & Toddler Atelier offers families the flexibility to play in their beautiful Reggio Emilia-inspired ateliers at Bukit Timah and UE Square, via Drop In time slots from Monday to Sunday (except for Bukit Timah).
Not your typical indoor playground, the Blue House Infant & Toddler ateliers are all about sensory exploration. Designed for kids ages 6 months to 3 years, the ateliers are wonderfully sunlit spaces filled with little nooks, mirrored walls, light boxes, natural materials, and ordinary everyday things, like zippers on a table, a wall of plastic bags, and wire baskets hanging from the ceiling!
The Blue House Infant & Toddler Atelier Drop In sessions are lovely for a couple of quiet hours as your little one entertains himself creatively and independently.
---
Canopy Park, Jewel Changi Airport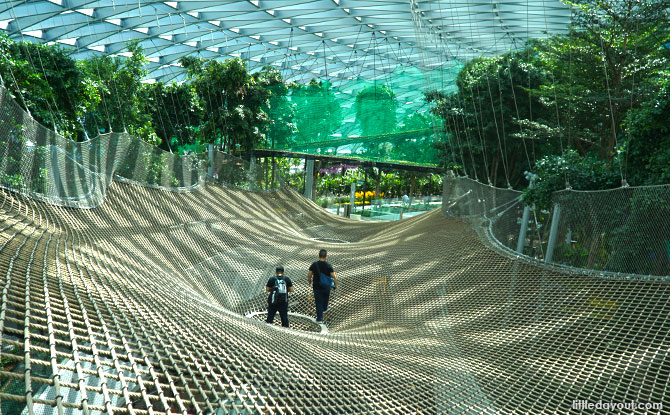 With the Discovery Slides, Foggy Bowls and, Walking and Bouncing Nets, Canopy Park at Jewel Changi Airport brings outdoor activities under the glass roof of the mega mall. There is a charge to enter Canopy Park and additional charges for some of the activities. Nonetheless, it is an indoor play spot that offers something out of the ordinary for visitors.
Read more about what you can find at Jewel's Canopy Park.
---
Cool De Sac
Located in Suntec City, Cool De Sac was designed with both adults and children in mind. Cool De Sac envisions to meet the needs of parents who would like a place where their kids can enjoy self-directed play, before the entire family has a delicious meal together.
Children will be suitably engaged for hours on end in a wide variety of activities and unique play stations. At Cool De Sac, you will find your usual indoor playground suspects such as an impressive climbing frame for the older children, and a separate toddler play space for the under 3s. In addition, there are quiet play areas for the children to paint, draw, build, or sing! Aspiring performers will definitely gravitate toward Backstage where they can play dress up and have their face painted.
Cool De Sac is a one-stop indoor playground in the heart of the CBD not to be missed! Read more about Cool De Sac.
---
Tayo Station
Tayo Station at Downtown East is a must-visit indoor playground in Singapore for both Tayo and non-Tayo fans alike. Tayo Station is the first indoor playground in Southeast Asia to be based on the hugely successful South Korean cartoon series, Tayo The Little Bus.
Tayo Station has a climbing structure of epic proportions, mind-blowing slides, and a true-to-life road circuit in place. Crawlers and pre-walkers will not feel left out as they have a go at the mini Tayo slides and zen out with some Hinoki cubes in the sensory play space. This vibrant and spacious indoor playground in Singapore really has something for the littles and the littlest!
Read our review of the Tayo Station indoor playground.
---
KidZania Singapore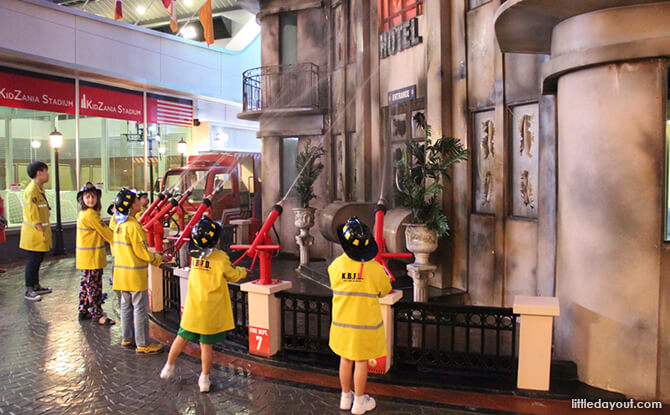 KidZania Singapore is a kid-sized city, complete with buildings, paved streets, vehicles, and a functioning economy, where children, particularly those who are four and older, can learn through role-play about different careers, thus developing the life skills and confidence to become great global citizens.
Located on Sentosa Island, KidZania Singapore prides itself on offering children experiences that are true to life and relevant to the region, culture, and geography. Aspiring to be a pilot, or a fire-fighter; or dreaming of becoming a chef, or even a tour guide? Experience it all at KidZania Singapore.
Get more info about KidZania Singapore.
---
Buds by Shangri-La Hotel – Indoor Playground Singapore
One of the newest indoor playgrounds on the block, Buds by Shangri-La Hotel is definitely an indoor playground in Singapore to be in the know about! Spanning over 1,872 square metres in total – 572 square metres indoors and another 1,300 square metres outdoors, the different immersive and curated play spaces allow children to learn through play.
With the indoor playground divided up into two main play zones – Explorer and Toddler – and themed activity rooms, there truly is something for every child. Leave the curious toddler to crawl and explore the Toddler Zone, as the big brother whizzes through the enchanting Explorer Zone. Or watch the show pony sing up a storm in Stage, while little Van Gogh freestyles in Muddy. There even are baking classes for the budding patissier in Bake on the weekends.
As the first hotel on Orchard Road to design and build an indoor playground, Shangri-La Hotel Singapore has gone above and beyond with Buds. Read more about the Buds by Shangri-La indoor playground.
---
Kidz Amaze – SAFRA Toa Payoh
With a climbing frame that rises almost eight metres off the ground, to call Kidz Amaze at SAFRA Toa Payoh "big" would be a gross understatement. This 12,700 square feet indoor playground in Singapore is massive and has a maze of tunnels, passageways and slides that will have children playing and exploring for hours and hours!
Kidz Amaze, SAFRA Toa Payoh is made up of three zones – The Cave, Treetops and The City. These zones are interconnected via the second level, thus forming a continuous loop for children to run through and around, in and out, without ever having to exit the climbing frame.
It is worth mentioning that SAFRA Punggol and SAFRA Jurong also boast impressive indoor playgrounds. Splash @ Kidz Amaze, with its floor space of 24,000 square feet, is Singapore's first indoor water playground – perfect for the Lion City and it's unpredictably hot spells! Kidz Amaze in SAFRA Jurong has a three-storey high spiral tunnel slide, one of the highest slides to be found in an indoor playground in Asia!
If you're looking for an indoor playground Singapore close to home, you're sure to find one in either SAFRA Toa Payoh, SAFRA Punggol, or SAFRA Jurong.
Get more information about Kidz Amaze at SAFRA Toa Payoh.
---
Kidzland
Located at The Grandstand, Kidzland is an indoor playground, a games arcade, and an arts and crafts zone all rolled into one. If you've struggled to keep all your children happy while meeting their ever-changing likes and dislikes, Kidzland is the place for you!
This indoor playground Singapore even has a sand pit. Alternatively, if you're not keen on finding sand in pockets for weeks to come, head to the sensory play tables for some kinetic sand. While baby brother or sister is busy exploring the foreign texture of sand, the older siblings can knock themselves out in the arcade centre or go wild on The Forest climbing frame.
The most unique feature of Kidzland would have to be the Rainbow Net, a beautiful and whimsical rainbow weave that stretches from wall-to-wall and is almost two-storeys high. Young and old alike will have a blast climbing in and out of the highly-Instagrammable Rainbow Net. Find out more about Kidzland.
---
KidsSTOP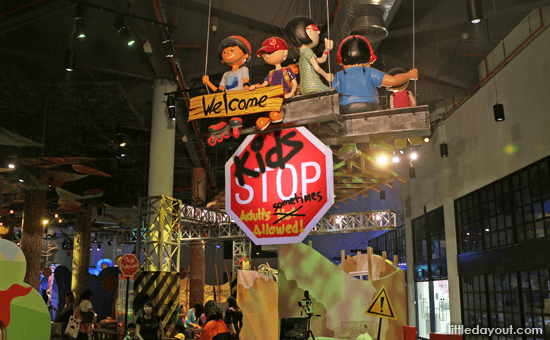 KidsSTOP is Singapore's first and only children's science facilitiy that caters to kids between the ages of 18 months and 8 years. Created with young children in mind, KidsSTOP seeks to cultivate a lifelong love and appreciation for science and technology in the younger generation.
KidsSTOP covers over 3000 square metres of space and is open to parents and children. With more than 20 exhibits spread throughout themed zones, such as Small World, Built Environment, Tinkering Lab, and Oceans' Buddies, there are so many different ways through which the young visitors can learn basic Science, Technology, Engineering, and Mathematics (STEM) principles.
Some highlights include uncovering dinosaur fossils in the Dino Pit, coming face-to-face with mice, chicks and tree frogs in Critters, and creating their own constellation in Flight and Space. There is also a 7-metre tall slide and a 9-metre high climbing frame in KidsSTOP for the child with a little more energy to expend after all that learning! Visit KidsSTOP today for an all-rounded play experience like none other.
Read more about KidsSTOP.
---
Pirate Land
Located conveniently on Orchard Road at The Centrepoint, Pirate Land is the only pirate-themed indoor playground in Singapore.
The race car-obsessed – I'm looking at you, Daddy – will be excited to find a remote-controlled tank driving course in Pirate Land indoor playground Singapore. Behind that is a Scalextric-style racing car circuit setup.
Race cars aside, there is a myriad of play options at Pirate Land. Enjoy a climbing frame and ball pit. Role play at Supermarket and Kitchen Square, or flex those artistic skills in the Ocean Animal Projection Drawing area – there is something for every child at Pirate Land.
Read more about the Pirate Land indoor playground in Singapore.
---
AirZone Singapore
For something different, head down to Airzone Singapore at City Square Mall. Experience being suspended in mid-air in a central void at the mall. There are multiple layers of nets to explore. These literally act as a safety net.
Find out more about what to expect at AirZone Singapore.
---
Playeum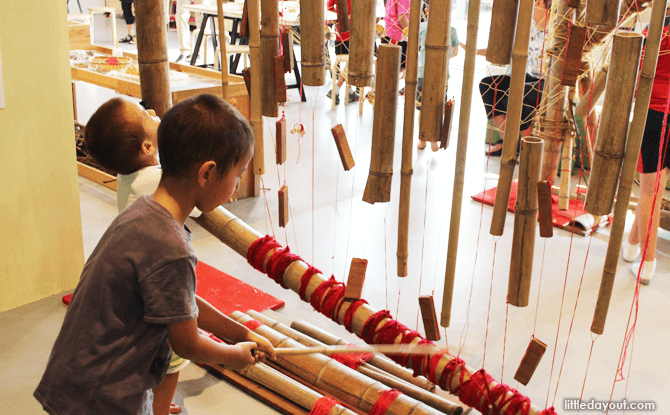 Playeum at Gillman Barracks is a dedicated creative space for children aged 1 to 12 years old. Also known as the Children's Centre for Creativity, the space welcomes all children and families to come together to play, create and build creativity through the arts. The Centre features a hands-on exhibition that is refreshed once a year.
This indoor playground Singapore has exhibits that are designed to allow children to use their imagination while exploring different spaces. The result is an exciting play space to get creative with!
Playeum is located in Gillman Barracks, alongside other home-grown galleries, arts organisations, and an array of bars, restaurants and cafes.
Get more information about Playeum.
---
The Petite Park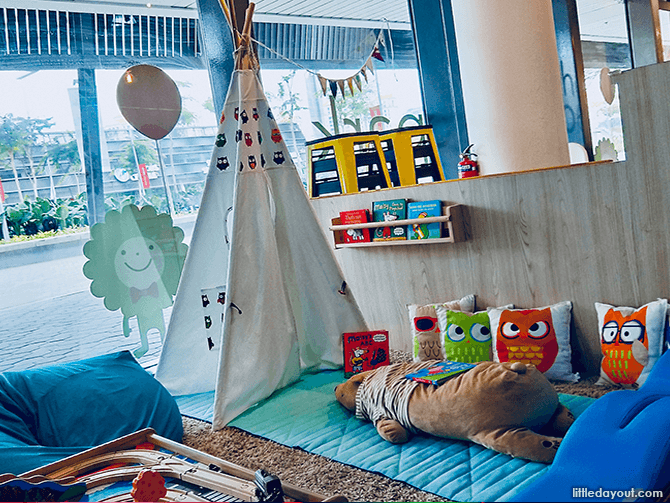 Parents of babies, toddlers, and pre-schoolers – rejoice! In The Petite Park, our children can safely zip around without fear of accidentally getting mowed down by far bigger or taller children. Located at Kallang Wave Mall, The Petite Park caters only to children less than 1.3 metres in height, or are younger than 7 years old.
If your child wants it, he'll get it at The Petite Park, save for a wall-to-wall climbing frame which he isn't going to miss, what with all the ride-on cars, baby-friendly bouncy castles, pretend play stations, train tracks, and LEGO bricks! Your child will be effortlessly entertained for hours. Trust us when we say it'll be hard to get junior to leave The Petite Park voluntarily.
Find out more about The Petite Park indoor playground.
---
T-Play
If airplanes and rocketships are all your child talks about at home, you cannot pass on a visit to T-Play at HomeTeamNS Bukit Batok. With transportation as the premise for this Swedish-made indoor playground, we're certain your children will have their fill of vehicles and such for a long time to come.
Fasten your seatbelts and prepare for take-off! Make sure your tanks are full, mummies and daddies! This is one indoor playground Singapore you might think of returning to, without being prompted!
Find out more about T-Play.
---
Sunshine Childhood Playland – Indoor Playground Singapore
The children in Singapore sure have it good, what with indoor playgrounds at all corners of the country! In the north of Singapore – Yishun, specifically – is Sunshine Childhood Playland which has found its home in the newest megamall to the neighbourhood, Northpoint City.
This indoor playground Singapore is quietly tucked away in the South wing of the shopping centre. Sunshine Childhood Playland is a pleasant and vibrant indoor playground with the works. Children will be kept busy running in and out of the role-playing cubby houses, the baby-friendly climbing frame, the sensory play area, and getting in and out of the ride-on cars available. Small but mighty, Sunshine Childhood Playland is certainly worth a visit, especially if you live in the vicinity.
Find out more about Sunshine Childhood Playland.