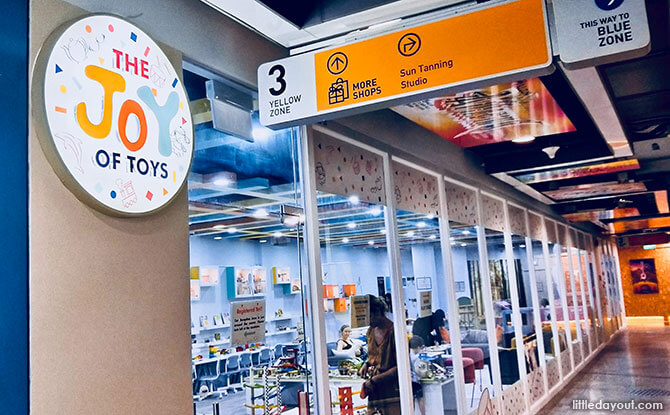 At just a year old, the Joy Of Toys has become a firm favourite in the hearts of many parents in Singapore. A specialty indoor play area in Singapore, The Joy of Toys is equipped with a remarkable selection of fun and educational toys housed in clean and conducive environments. Not your run-of-the-mill indoor playground, you will not be shadowing your child through an obstacle course, nor will you find a single slide, ball pit or trampoline here.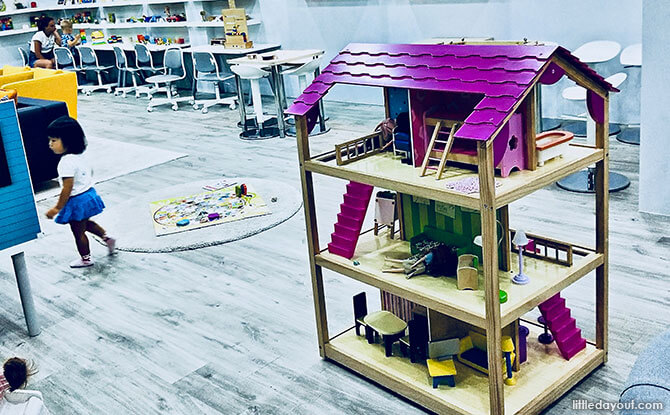 Which begs the question: can such a novelty indoor playground still bring immense joy to a child? Yes, you bet it can!
Safe and Stimulating Toddler Play Space
Tucked away on the third floor of Clarke Quay Central, the Joy of Toys is a unique concept which focuses on open-ended play in relaxing and homely spaces. Sectioned off into two main play rooms – the Main Play Space and the Toddler Play Space –  the Joy of Toys features a wide variety of high quality toys suitable for babies, toddlers, and school-going children. Wooden developmental toys, brain teasers, family games, trains, doll houses – you name it, they've got it!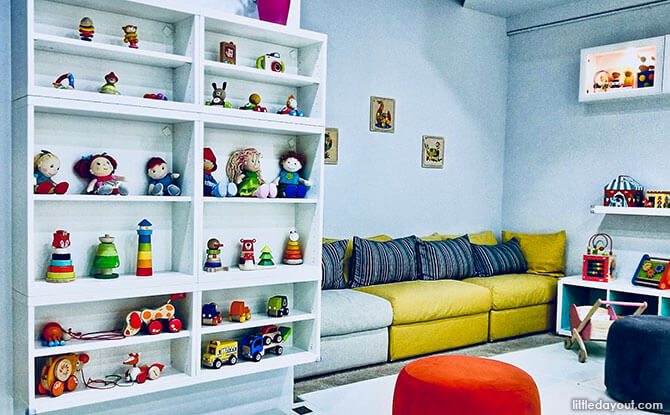 My daughter's eyes absolutely lit up when we stepped in to the Toddler Play Space where you go to register. I mean, imagine entering a toy store and being able to touch EVERYTHING. As she got into the zone, I made myself comfortable on one of the plushy couches and watched as she excitedly flitted from toy to toy, before deciding that it was in the play kitchen she wanted to be.
In addition to the mini play kitchen, there are dolls, a play cot and pram, wooden pull-along toys, a small world farm set-up, and puzzles. The choices are seemingly endless, and will certainly keep babies and toddlers busy for a long while!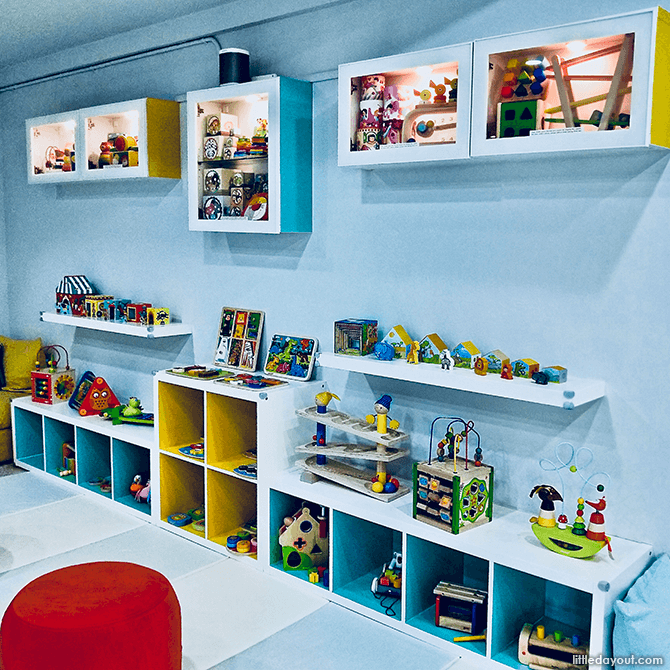 Crawling babies and active toddlers will be very safe atop foam-padded play mats in the Toddler Play Space. What struck me was the design of the play space which really allows and encourages children to discover the toys as they are accessible while being neatly displayed, but not to a point where you would feel guilty for making a mess.
Another great thing about the Toddler Play Space is that it is restricted to children under the age of 3 and in a space all its own, thus making it hard for older children to access and simply stumble into. If you're thinking of a venue for a baby or toddler play date, I highly recommend the Joy of Toys where you're not going to have to anxiously hover around your babies to fend off bigger children.
Fun and Engaging Main Play Space
The Joy of Toys' Main Play Space – which is just around the corner from the Toddler Play Space – integrates Structured Play and Open-Ended Play zones. If your under-3 would like to have a play here too, you'll have to pay an additional fee, and we say go for it! If you thought the Toddler Play Space is good fun, wait until you see the Main Play Space!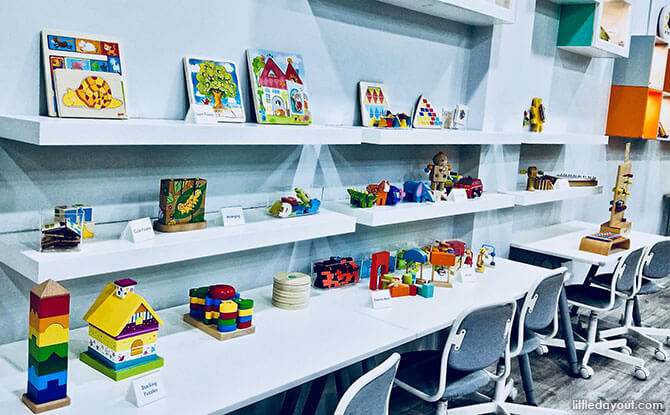 The Structured Play zone focuses on manipulatives, construction, as well as games like table soccer, and hand-held magnetic mazes. There even are instruction leaflets placed alongside the various puzzles and games to ensure that you can enjoy it all to the fullest.
The Open-Ended Play zone is all about pretend and role play. You will find here the most amazing life-size doll houses and realistic real-world set-ups – we're talking mini Weber-grills, a Japanese cafe, and even a little cake shop. I was so taken by the toys, I was happy to play house with my daughter for as long as wanted!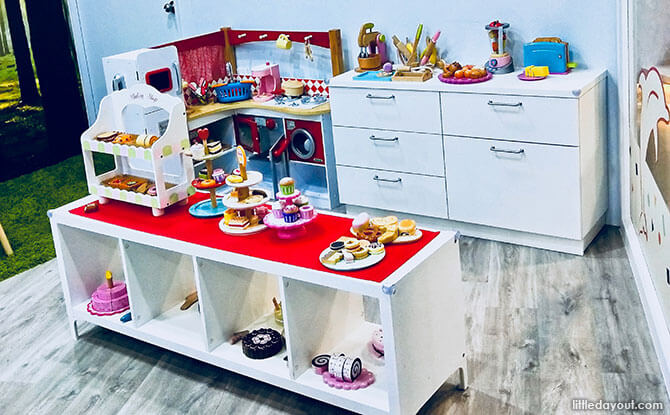 You may find that the Main Play Space could be a little cramped on a busy day but with something happening in every corner of the room, the children aren't going to notice being shoulder-to-shoulder with others. The Joy of Toys is so well-equipped, you don't have to worry about children getting territorial; there is more than enough to go around!
Family-friendly Amenities
The Joy of Toys does not have a cafe attached but you are welcomed to eat in the designated beverage area in the Main Play Space. There is a vending machine from which to buy snacks and soft drinks, a hot and cold water dispenser, and a coffee machine – the coffee pods for which you'll have to buy from the playground.
There are lockers available in both play rooms, if you would like somewhere secure to deposit your belongings, and a babycare room at the reception for nappy changes.
Open-Ended Fun at The Joy of Toys
I personally find it challenging to ensure that my daughter has enough of the right stimulation, while not accumulating a room full of toys that would make Geoffrey the Giraffe proud. The Joy of Toys truly is a godsend in that respect – it's a destination that plugs a gap in the current indoor playground market. Although given the slightly pricier admission fees, it may not be a play space you go to frequently but it is certainly worth repeat visits.
To learn more about the Joy of Toys' opening hours and location details, go here.