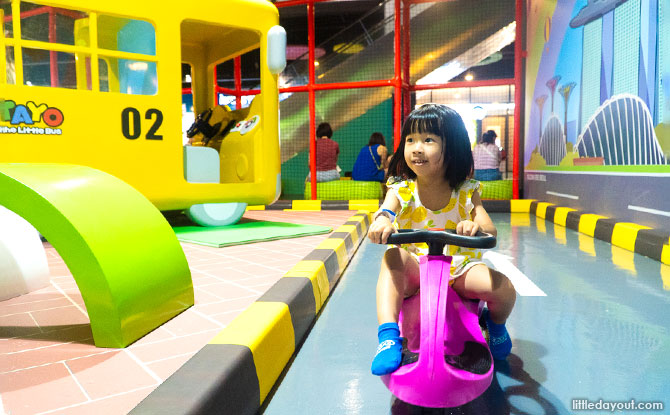 Tayo Station at Downtown East was the first Tayo character-based indoor playground in Southeast Asia, and has recently relaunched on 6 September 2023. Based on the characters of the South Korean animated series, "Tayo the Little Bus", Tayo Station can be found at level 3 of the E!hub.
Spanning a vast space of 10,000 square feet, Tayo Station is suitable for children ages 0 to 12 years old, and is home to plenty of indoor play activities, providing more fun and learning for kids.
---
Whizzing through Tayo Station at Downtown East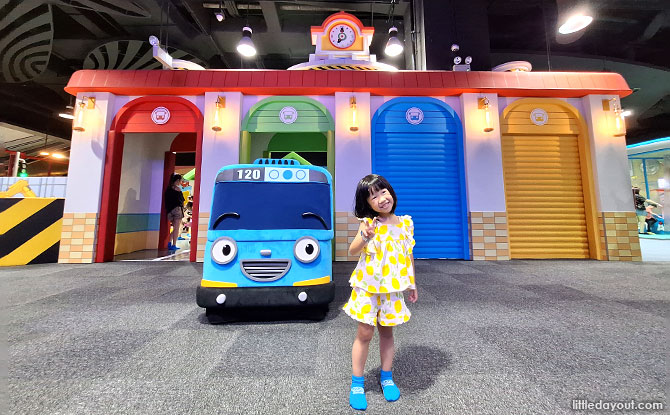 For any child who loves the Tayo animated series, Tayo Station at Downtown East will be a wonderland of fun and excitement. It is sure to get little eyes opening wide and having kids all geared up to explore the wonderful world of Tayo.
---
-- Story continues below --
---
Road Safety School
School is in session but kids will love this one. Over at Tayo Station's Road Safety School, kids can learn all about Road Safety signs.
You need not have to head out to the Road Safety Park at East Coast Park. Instead, they can pick up some tips in air-conditioned comfort.
---
Tayo Road Circuit
The highlight of Tayo Station has got to be the Tayo Road Circuit. This has been expanded so that now kids have even more opportunities to get driving around a realistic cityscape.
There are also pedestrian crossings and traffic lights where they can put their knowledge learnt at the Road Safety School to good use.
Kids can even pull over into the garage and pretend that they need to change a tire or drop off the car for servicing.
And since Tayo is a the friendly bus, there is a bus stop at the Tayo Road Circuit too!
For even more fun role playing, kids can show off their skills and earn their very First Tayo Licence. They can use their Tayo Licence for treats and rewards in the future.
---
Gani's Playground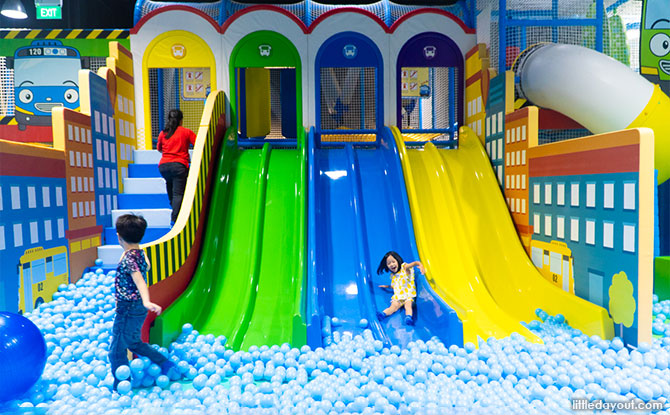 Gani's Playground, the play frame has been completely overhauled to create a brand new experience for children at Tayo Station.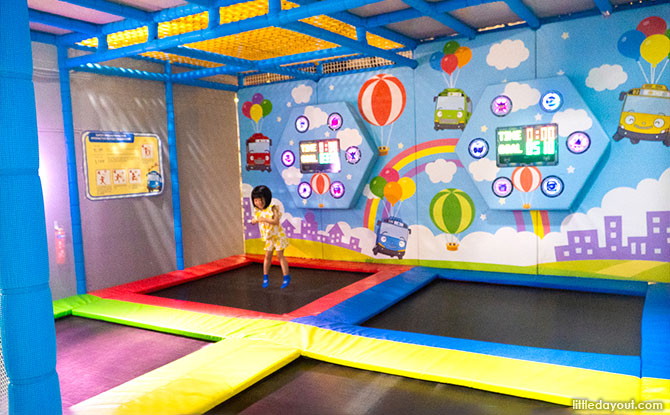 Kids can bounce away on a trampoline and slip away on slides and spiral tube slides.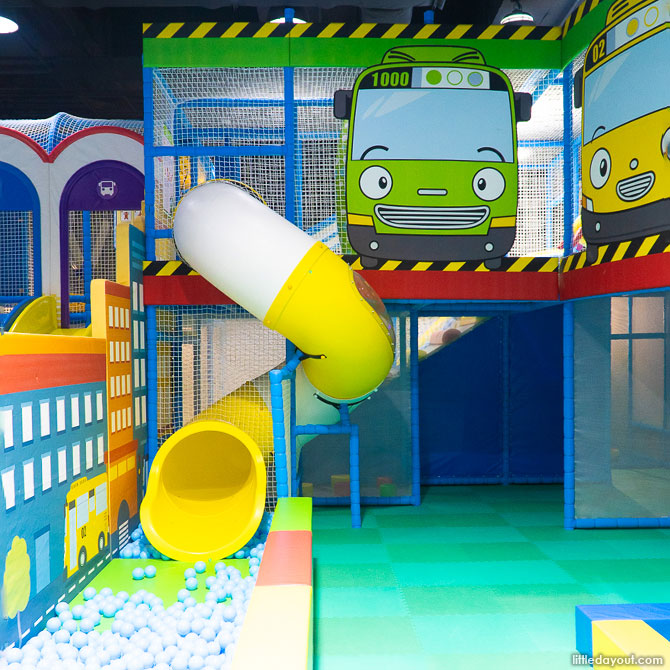 In addition to the many areas where kids can climb and scamper about, there is also a ball-pit that is suitably large to accommodate both children and adults.
Want to get a bit of friendly competition going? How about have a basketball contest?
Or race over to the race ramp to see who can set the speed record.
---
Toddlers Space
The Toddlers Space is a fun spot for little ones too.
Parents of little ones will be glad to know that the Hinoki Pit at Tayo Station is still around. This is a fun place for little ones to have simulated sand play without the mess.
---
Party Rooms at Tayo Station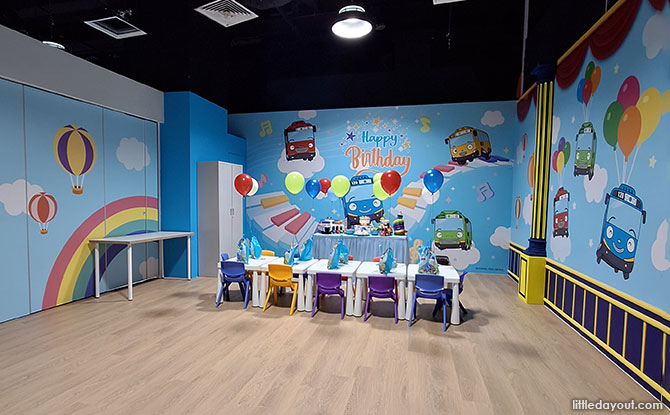 Tayo Station has also renovated their party room. The Lani and Rogi party rooms are available for bookings for birthday party celebrations.
---
Shop for Tayo & Friends Merchandise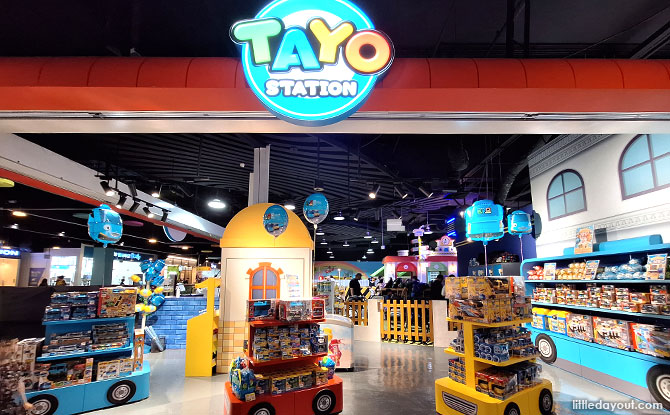 When it is time to leave, you can take a piece of Tayo Station back with you but purchasing something from the indoor playground's retail area.
Amongst the merchandise available are Tayo & Friends plushies, while stocks last.
One final tip: Take note that grip socks must always be worn inside the Tayo Station premises.
---
Ticket Prices for Tayo Station
Thinking of paying a visit to Tayo Station? Here are the ticket prices that you should be aware of:
| | | |
| --- | --- | --- |
| Ticket Type | Off Peak | Peak (Weekends / PH / School Hols) |
| Two-hour Child Ticket (incl. one Adult) | $27.90 | $31.90 |
| Three-hour Child Ticket (incl. one Adult)* | $33.90 | $37.90 |
| Additional Adult | $8 | $8 |
| 30-min playtime top-up (on-site) | $5 | $5 |
| Baby (<9 months) | $10 | $10 |

*Three-hour tickets are only available online, 24 hours before the visit date.
There are also membership and saver passes available.
Tickets for Tayo Station are also available on Klook, including a "Bundle to Save" Admission Ticket. Visit the Klook website for Tayo Station tickets.
---
Joyful Learning, Exuberant Play, and Delightful Memories at Tayo Station
"We are very pleased to invite parents and children back to Tayo Station," adds Carolyn Chia, DreamUS Group's General Manager. "As a parent myself, I am always looking for ways to make learning fun & effortless for my kids. With this latest Tayo station reboot, we aim to deliver more Joyful Learning, Exuberant Play, and Delightful Memories to our guests."
---
Tayo Station at Downtown East
Address: 1 Pasir Ris Close, Level 3 E!Hub, Singapore 519599.
Website
This story contains affiliate links. This means we earn a small fee if you purchase something through a link from our website. There is no additional cost to you and goes towards supporting Little Day Out's efforts to deliver the best news and reporting for families.