X-Scap8 at Orchard Centre is an exciting new entertainment centre in the heart of Orchard Road. Located high up on Level 7 of the mall, it offers families and people of all ages a variety of fun and exciting activities for different ages, and even has a restobar to boot!
---
X-Scap8: High Adventures for All
X-Scape8, pronounced "escapade", is a multi-experience "fun centre". It offers something for everyone.
Adrenalin junkies can take on a high obstacle course. Need to let off some steam? Pick up a wrench and smash something. The cool and collected ones can take a swing on virtual links and there's a retro arcade zone and "warrior" course too.
---
Infinity & Beyond High Element Obstacle Course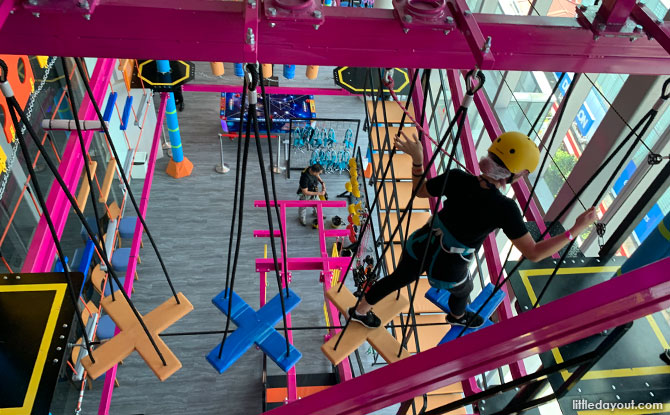 ---
-- Story continues below --
Do you think you have the stomach to brave a high elements obstacle course seven-storeys above street level? Make the ascent up the stairs to reach the top of the the 10-metre-tall course and conquer obstacles laid out across three levels.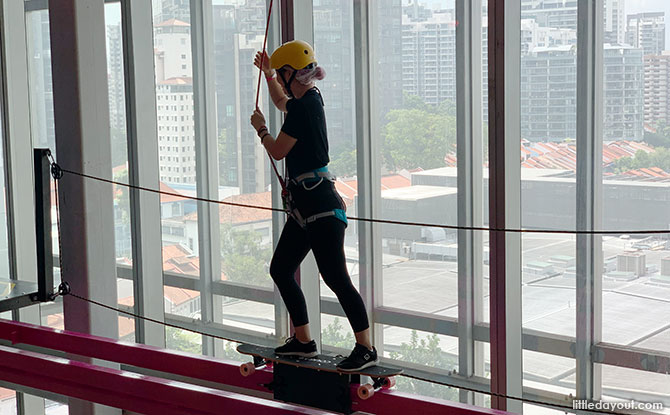 One of the interesting elements at X-Scap8's high obstacle course is a skateboard. Try to balance on as your push off from one platform to another.
Once you've conquered that, the bicycle one level below should be no problem!
Take note that you need to be at least 120 cm tall and less than 120 kg to go on the Infinity & Beyond High Element course. Those under 10 need to be accompanied by an adult. Covered shoes are also required. Prices for this experience start from $35 per person.
---
X-Warrior Challenge: Ninja Obstacle Course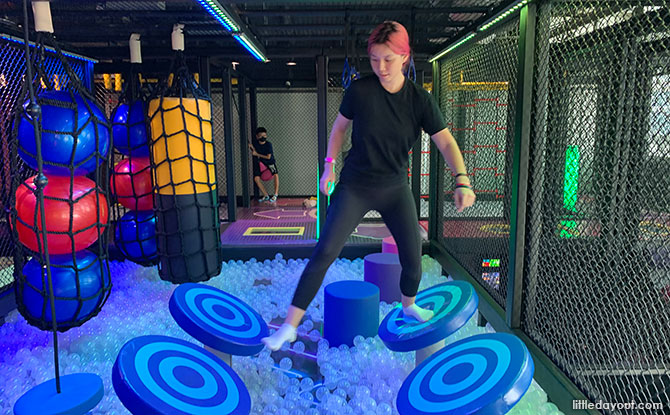 If high elements are not your thing, you can take on the X-Warrior Challenge instead. It is like American Ninja Warrior, but over a ball pit instead of a pool of water.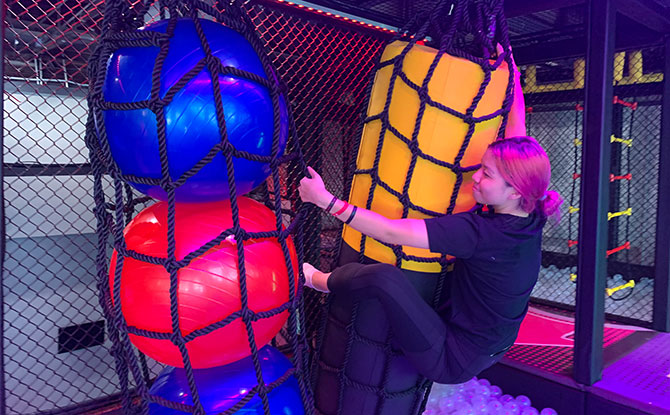 Speed run your way through various obstacles. Hang on to swaying hanging obstacles and make a jump across sloped stepping stones. Think it is easy? Some of the obstacles may be more of a challenge than you expect.
Take note that this is a shoes-off area and socks are compulsory. Children are recommended to be accompanied by adults. The X-Warrior challenge is currently complimentary with $30 spend per person at the "Eat-Play-Laugh' RestoBar.
---
Smash Lab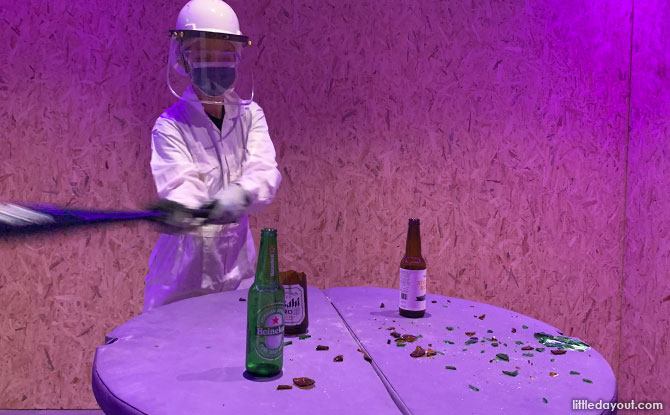 Shout, shout, let it all out! That's what you can do at Smash Lab. Pick your instrument of choice – a baseball bat, hammer or spanner – and go crazy in this sound-proof concrete room.
Inside the Smash Lab, after suited up, you will get a set of bottles to smash away. Our favourite was the wrench and crowbar!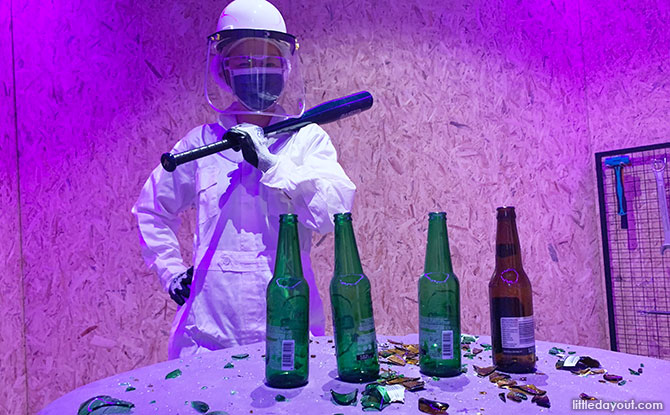 Smash Lab is priced at $35 per session for one person and $65 per session for two. You add on more "smashables" like cupboards and tvs at an additional charge. A maximum of two persons are allowed in the X-Scap8 Smash Lab at any time. The minimum age is 18 years old (sorry kids, you can't let our PSLE frustration here; maybe moms and dads can give it a go instead).
---
Birds & Birdies Virtual Golf Sim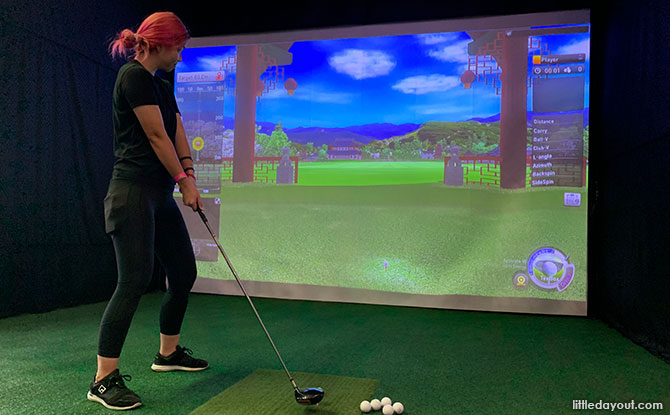 The skies are always fair at the Birds & Birdies Virtual Golf Sim. Whether you are a pro or completely new to golf, step inside and take a swing at golf.
There are complimentary use golf clubs available and gloves are also available for purchase. Hit the links as a group of up to four and swing away! The Birds & Birdies Virtual Golf Sim is priced at $60 per session and capped four people per session.
---
Retro Arcade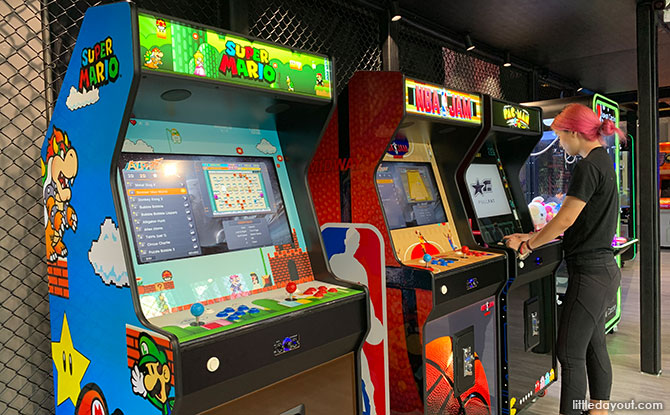 Feel like playing Super Mario Bros, zipping along on Super Bikes 2, or taking down the baddies in Ultra Firepower? Head over to the retro arcade for some fun.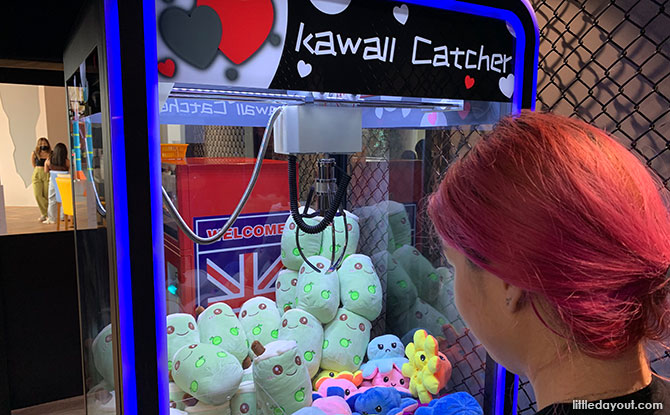 There are also cute UFO catchers with plushies to be won. Tokens are priced at $1 each.
---
Eat-Play-Laugh Restobar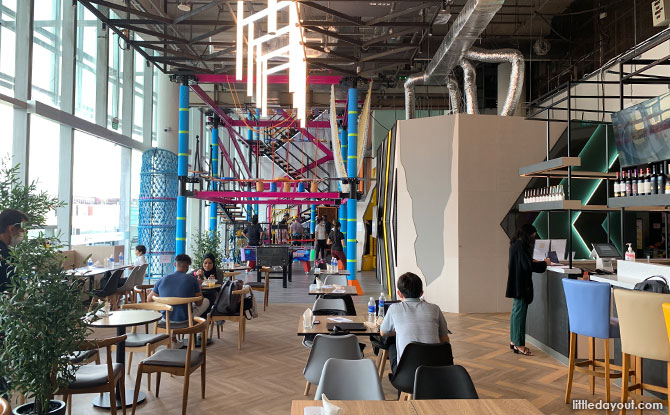 When all the activities work up an appetite, you don't even need to leave X-Scap8 to satisfy it. The Eat-Play-Laugh Restobar offers a variety of bites to fill you up.
Choose from its menu of pizzas and pastas (including their signature Laksa Aglio Olio with Prawns), or get bar bites like fries and Har Cheong Gai Wings and Crispy Fish Skins too. There is beer available too.
You can enjoy your food out on the open-air patio which overlooks Orchard Road. And being on the 7th floor, it also offers some nice views, especially in the evening.
---
Visiting X-Scap8 at Orchard Central
If you're looking for something fun to do with family and friends, check out X-Scap8 at Orchard Central. It's convenient location along Orchard Road makes it easily accessible too.
You may also be interested in these other climbing spots in Singapore.
Where: 181 Orchard Road, #07-03, Singapore 238896
Opening Hours: 11 am to 10 pm, daily
Website