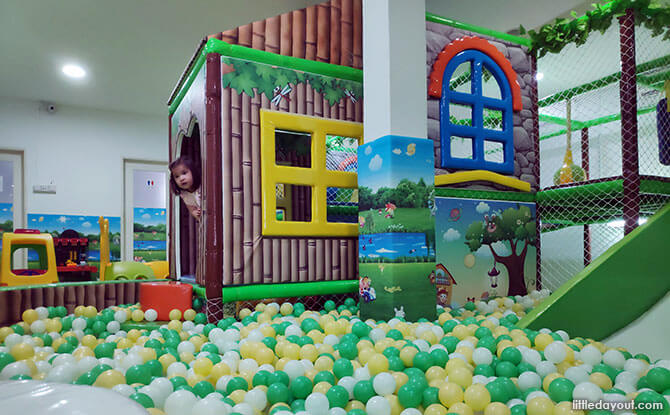 Are you an Eastie looking for more fun in the neighbourhood? Kiddles opened its doors last month and we ventured to this Katong playground to see what it's all about. Conveniently located above Ninethirty by Awfully Chocolate across I12 Katong, Kiddles is an indoor playspace ideal for children ages two to six. Parents and caregivers can lounge at the seats at the café which offers cakes, pastries and coffee.
Kiddles – A Cosy & Convenient Katong Indoor Playground for Families
We had a "cousins' playdate" at Kiddles for a nearly 2-year-old and a 5-year-old, which was great fun for both.
There are six main play areas in the cosy playspace – the sensory pit, ball pit, trampoline, padded obstacle course, play-pretend corners with toy kitchens, ride-on cars and a space for building LEGO-like blocks.
---
-- Story continues below --
It was a well-planned space with various areas to choose from. This is great for children with different interests and different ages – those who love bouncing, sliding, ball-pit swimming, play-pretend and also quieter spaces for reading, playing with dolls and sensory play.
While most indoor playgrounds located in malls have washrooms and diaper changing rooms a distance away, Kiddles has nursing rooms and cubicles located right next to the playspaces. Diaper change is convenient and just a hop away, then it's back to play!
---
The Kids' Favourite Play Areas at Kiddles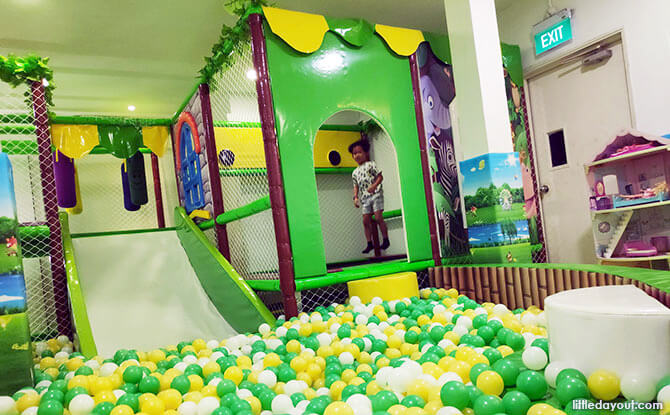 The biggest draw at Kiddles for both children was the ball pit. It was reasonably big and linked to a padded obstacle course, slide and trampoline. Given that Kiddles opened its doors just a month ago, everything was in a tip-top condition and not grimy or germ-infested. This assures germophobic parents that their children wouldn't catch any strange viruses from the playground.
While the older kids would enjoy the obstacle course, slide and trampoline, their younger counterparts would love playing with the balls or even bouncing.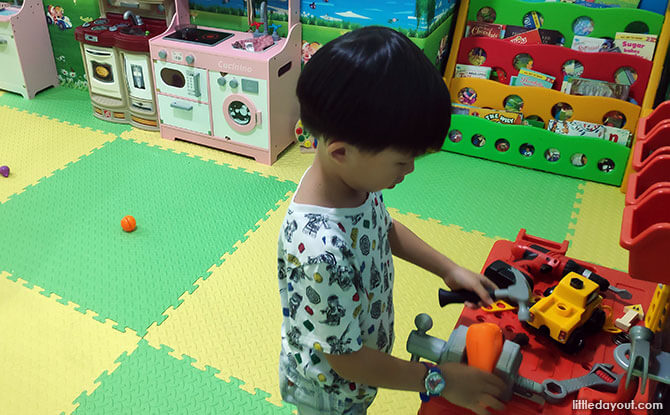 The other draw at Kiddles is the area with toy kitchens and work bench for the aspiring chefs, fixer-uppers or Bob-the-builders. There were three toy kitchens well-equipped with play-pretend ingredients, pots, pans and kitchen equipment, chef costumes as well as a work bench with tools.
As play pretend is always a highly sought-after activity, there are more than enough toys for the young to imagine and create! Our little ones enjoyed cooking and fixing so much they focused on this part of the playspace for a good twenty minutes.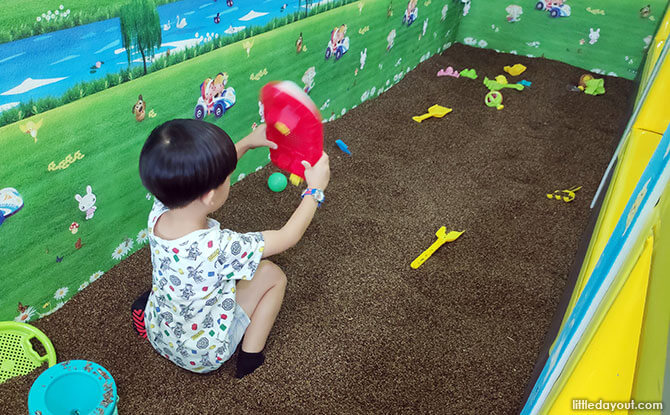 While the sensory play pit did not receive much attention from both kids, I think it was a lovely space to dig, scoop and pour.
---
What Parents Will Appreciate About Kiddles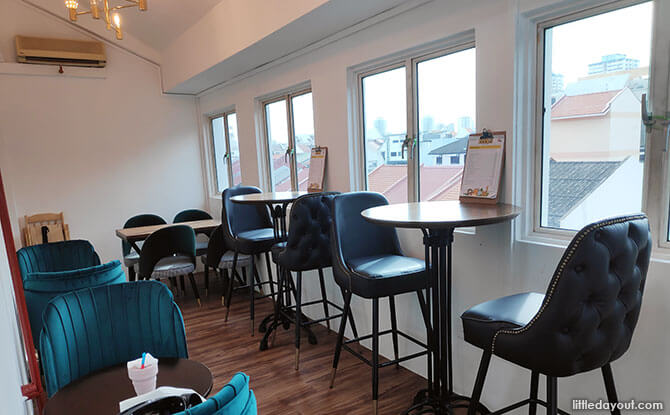 Good news is there are no additional fees for parents and caregivers to watch or play alongside their children unlike some playgrounds. Apart from good coffee, parents can enjoy their coffee break within the same area at Kiddles.
However, it can be difficult to keep an eye on the kids while sipping a cuppa as the seating area is in a different corner. There is a variety of cakes, donuts and pastries to choose from, as well as other food options in the vicinity.
Kiddles is also an easy option if you are thinking of organising a party, and various packages can be found on their website. We think it is going to be a popular choice for birthday parties! Kiddles can provide birthday cakes for selected birthday party packages as well.
---
New Family Play Area in the East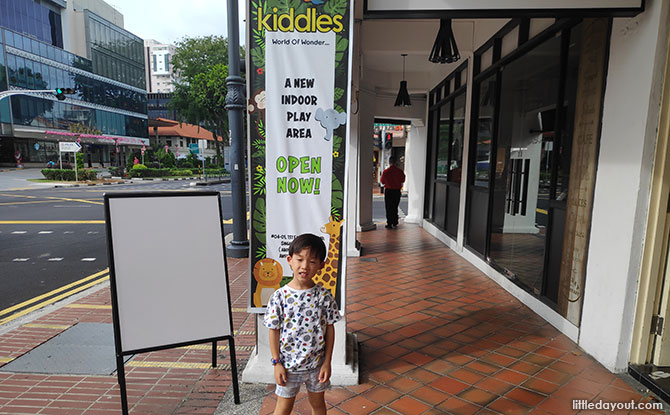 Kiddles offers some screen-free fun and lots of sensory stimulation. Each hour of play costs $15 on weekdays and $18 on weekends and public holiday. For more details click here.
Kiddles
Where: 04-01, 131 East Coast Road, Singapore 428816
Website