Christmas dinners have always been a personal favourite aspect of Christmas as it is truly then that you feel the spirit of Christmas as you are surrounded by the people you love while enjoying some good food. If you are planning for places to pick up Christmas takeaways like turkey and hams for your home Christmas celebrations, here are some of the spots.
Be sure to put in your order for Christmas takeaway early!
---
Christmas Takeaway in Singapore
Jeffrey's Christmas Kitchen
Jeffrey's Christmas Kitchen is Singapore's one and only Christmas feast speciality store. They offer one of the best choices for those looking for hassle-free and value-for-money Christmas turkeys ($139.90) and meats. Value bundles include their Christmas Roast Meat Bundle, (from $106.92) and Yuletide Greetings Value Bundle (from $154.53).
Their turkeys are free-ranged and air-flown to them daily. The fresh and never frozen before meats are hand-rubbed with a special blend of seasonings and roasted over a 12-hour preparation process. Customers can choose to have their festive feast delivered chilled or heated. This is especially ideal for those who do not have an oven large enough to fit big roasts.
To make it even more convenient, Jeffrey's Christmas Kitchen offers same-day turkey delivery in an hour and a refund for late deliveries. Get more details here.
---
Holiday Inn Singapore Atrium
Enjoy a Whole Traditional Holiday Turkey from Holiday Inn Singapore Atrium. They have a traditional in-house marinated turkey and a Mongolian Turkey that is marinated with a sweet and buttery sauce made with a combination of crushed black pepper, evaporated milk and brown sugar with a hint of garlic and ginger with chestnut stuffing served with brussel sprouts, mixed butter vegetables, thyme jus and Mongolian sauce.
---
Singapore Marriott Tang Plaza Hotel
Singapore Marriott Tang Plaza Hotel's dazzling bounty of Yuletide goodies is sure to delight all who get to join in the feast! Create your own feast with Guinness Malt-Beer Roast Whole Turkey with Sage & Walnut Stuffing, Black Truffle Lobster Thermidor with Lobster Bisque Risotto, Roast Pork Saddle with Pistachios, Raisins, Mixed Herbs & Honey Mustard Sauce; Honey & Clove Glazed Ham, and more. 
---
Shangri-La Hotel Singapore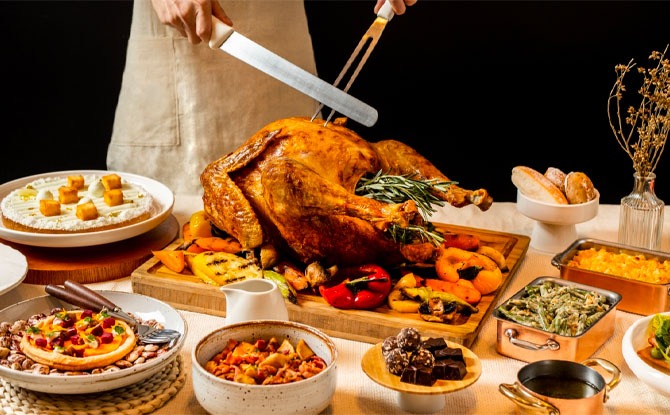 Make time to enjoy the Christmas season with Family Feast that includes Whole Roasted Turkey with roasted La Ratte potatoes and fresh herbs, butter mixed garden vegetables, roasted pumpkin, cranberry sauce, giblet sauce, chestnut stuffing or opt for the Honey Mustard Glazed Roasted U.S. Turkey.
---
Fairmont Singapore
Fairmont's Decadent Christmas Collection with roasts such as Slow Roasted Tom Turkey with Truffle and Chestnut Stuffing, Madeira Infused Giblet Sauce, Cranberry Chutney, Wood-fired Roasted Poulet, and Juniper Maple Glazed Ham. Sides include a Xmas Wreath Salad, Roasted Winter Root Vegetables and more.

---
Pan Pacific Singapore
Elevate home celebrations with minimal preparation but maximum flavours with Pacific Marketplace's hassle-free Christmas bundles. Featuring combinations of signature festive highlights like Christmas Turkey with Foie Gras Paté Stuffing (contains pork). Or order the slow-roasted Australian Beef rib eye with Glazed Winter Vegetables, Yorkshide Pudding and Bordelaise Sauce. Order it here
---
York Hotel Singapore
Share the warmth of Christmas over hearty reunions with York Hotel Singapore's York's Festive Gourmet Bundle' that comes with a 'Seafood Harvest in a Bag', Salt-Crusted Salmon, Herb Roasted Chicken with Truffle Jus, Crab Bisque with Cognac and Vegetable Lasagne and the 'York's Celebration Bundle' with Oven-Baked Chicken Fajita, Slow-Smoked Barbecued Pork Rib, Vegetable Lasagne, Homemade Mushroom Soup and Roasted Potatoes with Caramelised Onion.
---
Ryan's Grocery
Ryan's grocery offers quality organic and free-range meats and aims to cater to those who have specific food allergies so that they too can enjoy wholesome and healthy foods. Their current Christmas sets let you choose from a variety of combinations such as classic turkey and pork set, a turkey and beef set, a Christmas roast pork collar and more. They also have an Organic Carbon Neutral Lamb Rack, as well as a wholesome Pumpkin Bourbon Pie, which is made with high-quality butternut pumpkin squash. Each pie is finished with a dollop of fresh bourbon cream that is infused with a generous amount of hand-scratched vanilla beans! 
---
Cold Storage
At Cold Storage, it is beginning to taste a lot like Christmas! From seafood and meats brimming with the natural freshness of the America and Australia to mains that embrace European and local traditions, Cold Storage makes it convenient to pick up any ingredients that you might need to prepare a Christmas dinner. They have a Christmas feast with Rosemary Roasted Chicken with Chestnut Stuffing, Honey Turkey Ham, Smoked Garlic Chicken Sausages and Ribeye Roast Beef with Italian Herbs. 
---
NTUC FairPrice
Besides Cold Storage, you can also preorder Christmas takeaway at NTUC FairPrice. Its Christmas catalogue includes a range of party essentials and festive items.
---
Little Farms
From the biggest showstoppers down to the smallest trimmings, Little Farm's butcher has got the different festive meats all covered! Some items on the menu include a mushroom-stuffed turkey breast and a ready-to-cook whole turkeys. If you want cooked Thanksgiving and Christmas meals, you can also check out the Little Farm's café site.
---
Huber's Butchery
Huber's Butchery is a Swiss-styled premium speciality store that offers directly-imported meats, hams, sausages that are produced in-house and much more! Their Christmas selection makes Christmas shopping a breeze! From Christmas turkeys, stuffing and chipolatas, to ducks and geese, hams, beef, veal, pork and even venison, satisfy all possible Christmas food needs at this one-stop.
---
The Butcher
This Australian style butcher brings high-quality cuts of various meats from Down Under and their Christmas selection ensures that you can pick up needs such as Christmas poultry, beef, ham pork lamb and even stuffings in various cuts and seasonings. At The Butcher, they lay claim in offering the largest selection of handmade gourmet sausages in Singapore that are filled with Australian meat in all-natural casings!
---
Oh Deli
Oh Deli's ready-to-cook Christmas roasts let you choose from Christmas items such as Turkeys from France, Australian beef, lamb & pork roasting cuts & more. They also have the option of allowing you to customise a Christmas hamper as a gift for a loved one colleague or even for yourself! Fill your hamper with a variety of specialty Australian baked goods, wines, teas, jams, condiments, snacks, sweets & confectionary. They also have Christmas hams and smoked salmon which are ready to eat, perfect for assisting in the busy rush of Christmas morning.
---
The Foodie Market Place
If you're looking for a wallet-friendly option yet one with quality ingredients, The Foodie Market Place is a great option to check out. They offer variations of beef such as Australian Wagyu Striploin and Australian lamb. They also offer a range of different cheeses such as burrata and in case you wish to do up a cheese board for family members and guests to enjoy. They have various outlets around the island that you can shop at.
---
Swiss Butchery
Get the Swiss Butchery's Christmas sets which include Roasted Whole Turkey, Pork Chestnut Stuffing, Honey Baked Ham and Spicy Italian Pork Sausage. Other sets include Australia Grass Feb Tomohawk, US Oven Prepared Rib, Lamb Rack and Japanese Miyazaki Striploin Wagyu.