Christmas dinners have always been a personal favourite aspect of Christmas as it is truly then that you feel the spirit of Christmas as you are surrounded by the people you love while enjoying some good food. If you are planning for places to pick up Christmas takeaways like turkey and hams for your home Christmas celebrations, here are some of the spots.
Be sure to put in your order for Christmas takeaway early!
---
Christmas Takeaway in Singapore
Holiday Inn Singapore Atrium
Holiday Inn Singapore Atrium is taking the spotlight with their new creation – Roasted Masak Lemak Turkey! Inspired by the heritage origins of our beloved hawker favourites and the flavourful spices used in Malay cuisine, the Masak Lemak Turkey is marinated with lemongrass, turmeric powder, coconut cream and chilli padi to exude the flavours of Asia. Every order is served with Sayur Lodeh (a vegetable soup in coconut curry), Nasi Goreng and Cashew Nut Sauce.
---
Grand Mercure Singapore Roxy
This holiday season, try Grand Mercure Singapore Roxy's handmade signature gourmet takeaway: Signature Roasted Turkey with Buah Keluak Gravy from 20 November to 3 January 2021.
Paying homage to the unique heritage of Katong, where the hotel currently resides, the Signature Roasted Turkey with Buah Keluak Gravy is inspired by the food culture of the Peranakans. A popular Peranakan dish is the Ayam Buah Keluak, which is an important ingredient in this Roat Turkey. The gravy is made from scratch, purely with the flesh of the Buah Keluak fruit which results in a fragrant and nutty aftertaste with every dip.
---
Singapore Marriott Tang Plaza Hotel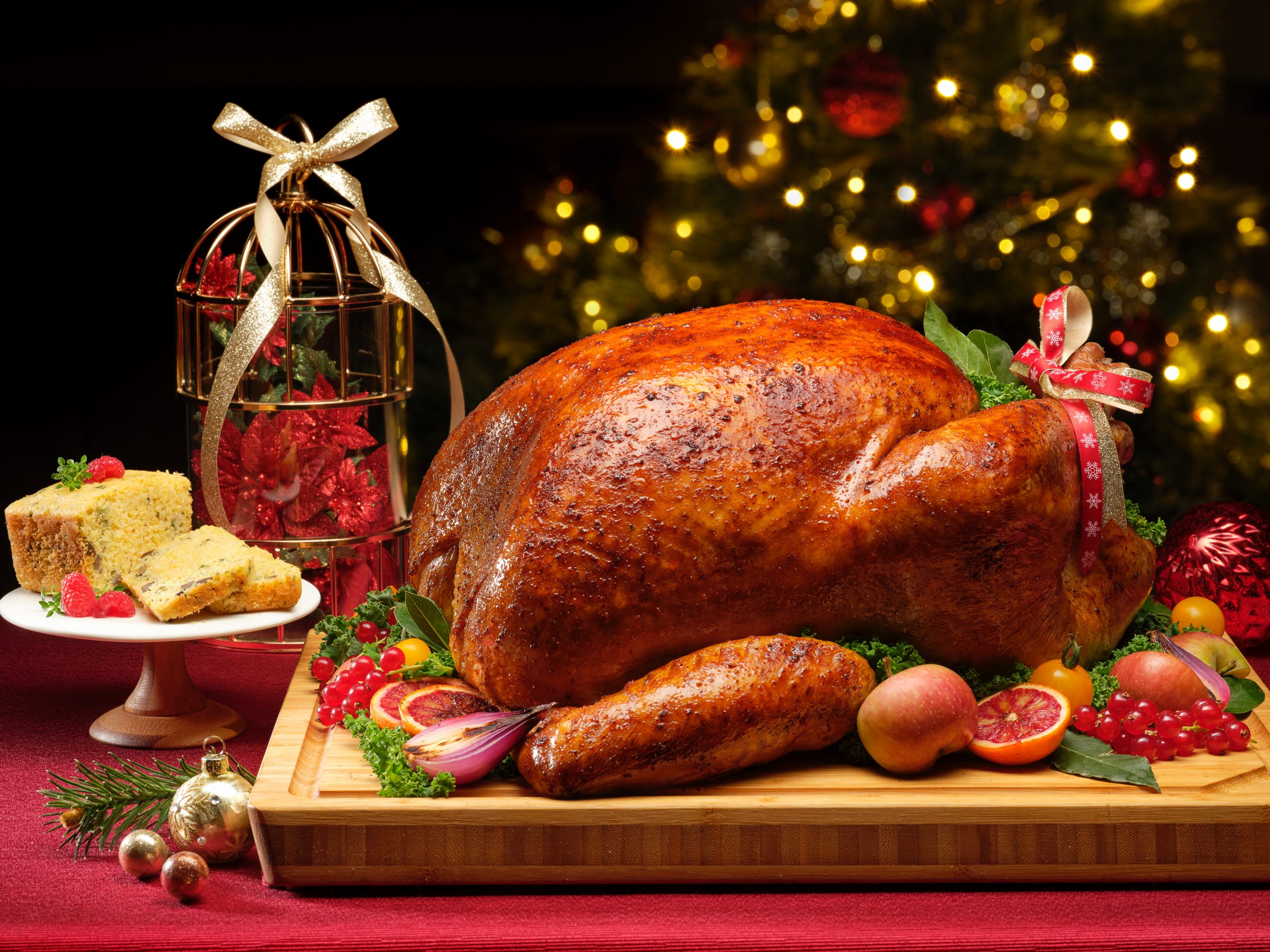 Singapore Marriott Tang Plaza Hotel's dazzling bounty of Yuletide goodies is sure to delight all who get to join in the feast! There are four new items to choose from such as the Roasted Tea Smoked Turkey with Assorted Roasted Root Vegetables & Old-Fashioned Giblet Gravy, a Sous Vide Mustard Mint Roast Lamb Leg (Bone-in) with Chimichurri or a Baked Whole Halibut with Artichokes, Fennel & Lemon Herb Sauce. They even have a Lobster Thermidor with Lobster Bisque Risotto!
---
Shangri-La Hotel Singapore
Origin Grill's is a restaurant in the Shangri-La Hotel that offers fresh and authentic flavours. Their Origin Grill Festive Family Takeaway comes with delicious dishes such as Potato Bread, Black Garlic BBQ Angus Short Rib or Roasted Australian Pork Belly with CinnamnApple Sauce and dessert such as grand marnier blueberry crumble and mince pies. Each set serves a family of 4.
---
Fairmont Singapore
On Fairmont Singapore's Christmas takeaway menu this year are a variety of traditional holiday dishes like Parma Ham & Honey Melon; Villi's Beef Pie Roasted Winter Root Vegetables, Sticky Toffee Pudding, and more.
For diners looking for a more fancy experience, choose Fairmont's Decadent Christmas Bundle which includes Prego's finest selections of homemade antipasti, cheese and charcuterie, Crab & Lobster Mango Ginger Salad, Slow Roasted Turkey With Truffle & Chestnut Stuffing, an assortment of hearty side dishes, desserts, wines and more.
They are also selling their Slow Roasted Tom Turkey which comes with truffle & chestnut stuffing, Madeira Infused giblet sauce and cranberry chutney and two choices of ham: the Juniper Maple Glazed Ham with apple sauce and sweet onion jus or the Glazed Gammon Ham with cherry, cinnamon and cherry Brandy Jus.
---
Pan Pacific Singapore
Elevate home celebrations with minimal preparation but maximum flavours with Pacific Marketplace's hassle-free Christmas bundles. Featuring combinations of signature festive highlights. such as an antibiotics-free Christmas Turkey, Sustainably-sourced Baked Sea-Farmed Barramundi and Green Asparagus and Pickled Mushroom Salad with Pear Confit and Citrus Dressing.
They also have a Premium Christmas Bundle featuring a Traditional Roasted Turkey, Australian Free Range Pork Rack, Slow-roasted Australian Beef Rib Eye and Matcha Hazelnut Log Cake.
---
Novotel Singapore On Stevens
Novotel's Christmas Takeaway Menu this year brings the signature turkey and ham dishes alongside a seafood dish which is back by popular demand! The Winestone's Traditional Roasted Turkey comes with Christmas stuffing, roasted festival vegetables, Brussels sprouts, baby potatoes, mesclun green, giblet gravy and cranberry sauce. As for their Signature Honey Glazed Gammon Ham which is served with roasted festival vegetables, Brussels sprouts, baby potatoes, mesclun green and pineapple raisin sauce.
Lastly, many will be pleased to hear that the Classic Coulibiac of Salmon will be making a special appearance as requested by many. This dish is made with a fresh piece of salmon stuffed with spinach and oven-baked inside a layer of flaky puff pastry. It is served with roasted festival vegetables, Brussels sprouts, baby potatoes, mesclun green and tarragon beurre blanc.
---
York Hotel Singapore
Share the warmth of Christmas over hearty reunions with York Hotel Singapore's 'Yuletide's Delight'. Get mouths watering at the table with other hearty treats such as Roasted Thai Marinated Chicken, Honey Glazed Smoked Ham with Pineapple Sauce, Slow-Braised Beef Cheeks with Red Wine Sauce, and the hotel's highly-acclaimed Chicken Pie and Curry Puff.
---
Four Seasons Hotel Singapore
Get a Roasted Turkey with Cranberry Sauce, Turkey Jus, Bread and Chestnut Stuffing from Four Seasons Hotel Singapore. They also have dishes such as Honey-mustard Glazed Ham "Boneless" with Pineapple Raisin Sauce and Dijon Mustard, Mesclun Mix Greens with Roasted Pumpkin, Nuts, Pomegranate and Soya-Yuzu Dressing, Heirloom Tomato with Buffalo Mozzarella and some yummy pecan pie.
Pre-order now with promo code 'Festive10' to enjoy 10% off on your order, applicable only for Festive Packages, Roasts and Patisseries and valid from now to 26 November 2020 or while stock last.
---
Hotel Indigo Singapore Katong
Ever tried Laksa Turkey Pie? You can try that and a few more dishes with a local twist at Hotel Indigo Singapore Katong. Another interesting dish to try is their Turkey Ngo Hiang Golden Pillow, a turkey roulade baked in beancurd sheet and stuffed with minced turkey, pork, water chestnuts and vegetables. Don't miss out on their Baba's Beef Rendang either, which is made with prime beef short rib, stewed in a fragrant spicy paste, coconut milk and gula melaka.
---
The Meat Club
The Meat Club makes it easy for you to celebrate Christmas at home with their range of Christmas turkey and ham that is delivered right to your doorstep. Choose from classics such as honey baked ham and a whole turkey. The Ranched Raised Young Whole Turkey is basted with gluten-free turkey broth and seasonings only with no added fats, oils, sugars or MSG. The Meat Club's ham is also pre-cooked so it need only be heated through, sliced and served. You can also check out two specials that they are offering: their Award-Winning Bone-In Barossa Ham and an all-new tomahawk steak.
---
Farmers Market
The Farmer's Market was established in Hong Kong in 2016 and opened in Singapore in 2019 to bring high-quality products to the retail market at an affordable price. Their products are naturally and sustainably farmed, 100% traceable and of restaurant quality. For Christmas, items you can check out include a Whole Frozen Turkey from Norbest in UD and guaranteed to be antibiotic and hormone-free. The Farmer's Market also has almost every other protein that you would want such as beef, lamb, pork, chicken, seafood, sausages, and deli cuts. You can even pick up wine for that extra splash of fun at the Christmas dinner!
---
Ryan's Grocery
Ryan's grocery offers quality organic and free-range meats and aims to cater to those who have specific food allergies so that they too can enjoy wholesome and healthy foods. Their current Christmas sets let you choose from a variety of combinations such as classic turkey and pork set, a turkey and beef set, a Christmas roast pork collar and more. They also have an Organic Carbon Neutral Lamb Rack, as well as a wholesome Pumpkin Bourbon Pie, which is made with high-quality butternut pumpkin squash. Each pie is finished with a dollop of fresh bourbon cream that is infused with a generous amount of hand-scratched vanilla beans! Place your Christmas orders before 4th December for a 10% discount.
---
Cold Storage
At Cold Storage, it is beginning to taste a lot like Christmas! From seafood and meats brimming with the natural freshness of the America and Australia to mains that embrace European and local traditions, Cold Storage makes it convenient to pick up any ingredients that you might need to prepare a Christmas dinner. They have an online exclusive Christmas feast with a Burgers' Smokehouse Smoked Turkey, Cheese Platter, Turkey Gravy and Cranberry Sauce. If you order any of the items online, you can get free delivery at $59 or opt for a store collection that is free of charge with no minimum spend!
---
NTUC FairPrice
Besides Cold Storage, you can also preorder Christmas takeaway at NTUC FairPrice. Its Christmas catalogue includes a range of party essentials and festive items.
---
Little Farms
From the biggest showstoppers down to the smallest trimmings, Little Farm's butcher has got the different festive meats all covered! Some interesting items on the menu include a mushroom-stuffed turkey breast, gluten-free pork sausages filled with roasted pistachios, apricots and sage and of course a ready-to-cook whole Norbest turkey that is bursting with robust, juicy flavours. If you want cooked thanksgiving and Christmas meals, you can also check out the Little Farm's café site.
---
Huber's Butchery
Huber's Butchery is a Swiss-styled premium speciality store that offers directly-imported meats, hams, sausages that are produced in-house and much more! Their Christmas selection makes Christmas shopping a breeze! From Christmas turkeys, stuffing and chipolatas, to ducks and geese, hams, beef, veal, pork and even venison, satisfy all possible Christmas food needs at this one-stop.
---
The Butcher
This Australian style butcher brings high-quality cuts of various meats from Down Under and their Christmas selection ensures that you can pick up needs such as Christmas poultry, beef, ham pork lamb and even stuffings in various cuts and seasonings. At The Butcher, they lay claim in offering the largest selection of handmade gourmet sausages in Singapore that are filled with Australian meat in all-natural casings!
---
Oh Deli
Oh Deli's ready-to-cook Christmas roasts let you choose from Christmas items such as Turkeys from France, Australian beef, lamb & pork roasting cuts & more. They also have the option of allowing you to customise a Christmas hamper as a gift for a loved one colleague or even for yourself! Fill your hamper with a variety of Specialty Australian baked goods, wines, teas, jams, condiments, snacks, sweets & confectionary. They also have Christmas hams and smoked salmon which are ready to eat, perfect for assisting in the busy rush of Christmas morning.
---
The Foodie Market Place
If you're looking for a wallet-friendly option yet one with quality ingredients, The Foodie Market Place is a great option to check out. They offer variations of beef such as Australian Wagyu Striploin and Australian lamb. They also offer a range of different cheeses such as burrata and in case you wish to do up a cheese board for family members and guests to enjoy. They have various outlets around the island that you can shop at.
---
Swiss Butchery
Get the Swiss Butchery's Signature Spice-Rubbed Whole Turkey with Giblet Sauce and Cranberry as the centrepiece of this year's Christmas feast! They also have a pork and chestnut stuffing that you can add to your turkey.
Give your Christmas ham an upgrade by getting their Sake Kurobuta Ham! Japanese kurobuta pork originates from the Kagoshima Prefecture and is described to be exceptionally sweet, juicy and tender. Finish it off with some honey glazed chicken wings and you've got your very own memorable and decadent Christmas feast that you and guests are sure to remember.