Think "Christmas Dinners" and the following visual of a huge turkey as a centrepiece will probably come to mind. In fact, if you are planning your party, we've got the lowdown on where to buy the best turkeys in Singapore. But what happens when all the guests are the ones that are stuffed and you're left with too much turkey? We're here to help with five easy and healthy ideas of what to do with your unfinished turkey (amongst the millions of turkey leftover recipes that you can find on the interweb) so that you can reduce food wastage and happily gobble gobble your leftover turkey post-Christmas.
---
Turkey Sandwiches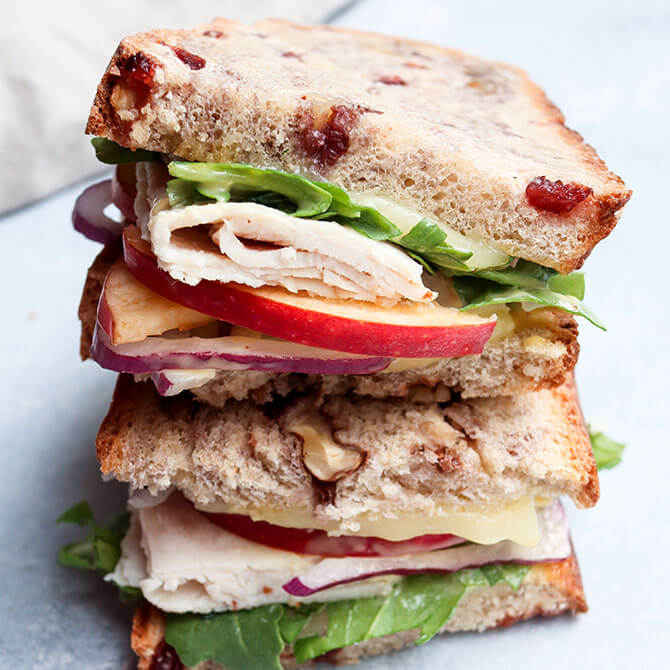 This is the classic recipe when it comes to leftover turkey. However, sandwiches have the versatility of cai fan, and you can put literally anything you please in between two slices of bread and call it a sandwich.
We are loving this turkey apple cheddar sandwich which takes just 10 minutes to prepare and has servings of fruits and vegetables. #Yesplease. Feel free to swap out the bread for a wrap if that suits your taste buds more. Here is the the recipe from Cait's Plate.
---
Turkey Salad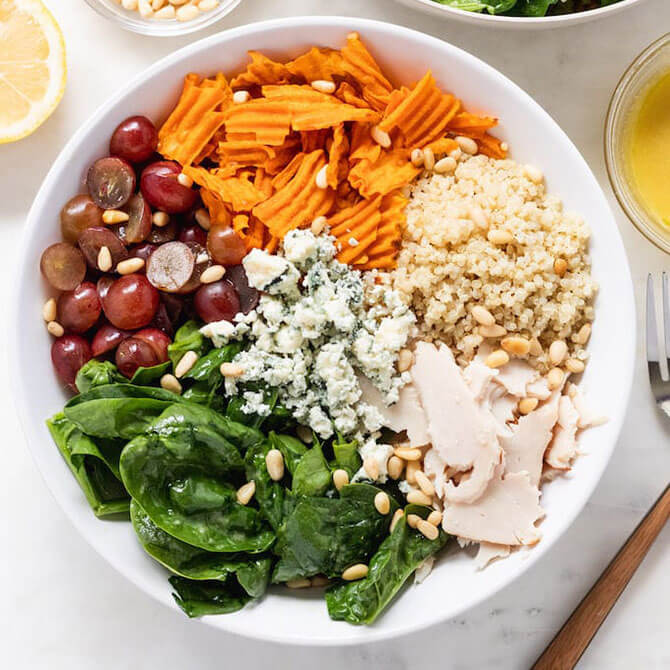 Get rid of all myths that say salads have to be tasteless and boring! This mouth-watering shaved turkey salad bowl is packed with good fat and proteins along with all the servings of green that you want. The special ingredient in this recipe? Blue cheese. Either way, having a home-made salad is way cheaper than buying one from the store and for this salad recipe to be skinnier, swap out the blue cheese for another type of cheese or hummus for that same creamy mouth-feel. Check out Meals with Maggie's turkey salad recipe here.
Turkey Soup
After hosting all the guests over Christmas dinner, this leftover turkey soup is a fuss free dish that requires dicing, slicing and putting everything into one pot. You can use the left-over bones to make a stock and make the soup even more flavourful. Get the leftover turkey soup recipe from The Clean Eating Couple's website.
---
Turkey Stuffing Mushrooms
We don't usually think of turkey stuffing, and honestly not many store-bought turkeys include stuffing to start with, but in case you do have some stuffing leftover, we really like this creative idea on putting it in some mushrooms. You can also make it into savoury muffins or even soup dumplings. Here is the turkey leftover recipe from Cook in Canuck.
---
Turkey Brown Rice Congee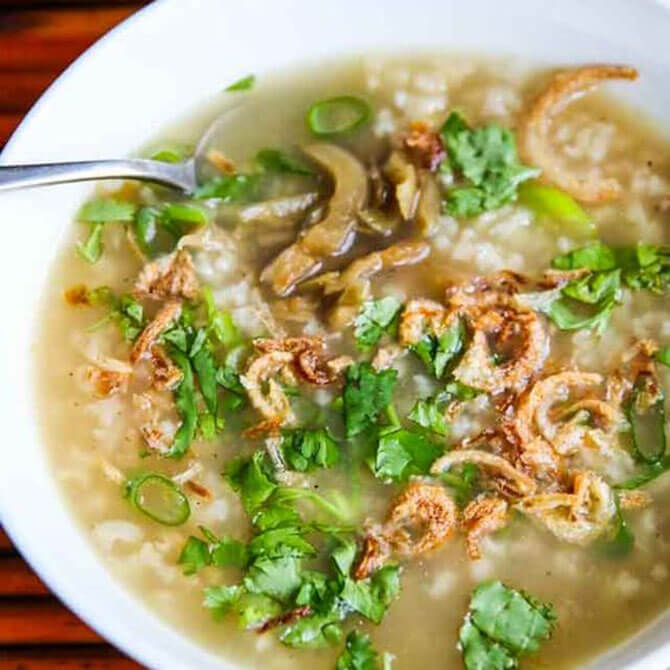 This turkey brown rice congee recipe calls for a four-hour cook time, but its only because it factors in making the broth from scratch. if you have the stock already premade from the soup recipe above, this whole recipe should take much less time. It's a burst of rich flavour with every bite, and the best part is, most of the seasoning comes from the natural flavours with minimal seasonings.
Try out Jeanette's Healthy Living's Turkey Brown Rice Congee recipe.
---
Turkey Dumplings
If you're looking for a warm and hearty dish to use any turkey leftovers, dumplings are a great easy dish to try. Depending on how much time you might have, you can choose to get the dumpling skins premade or make them from scratch. Try this Turkey and Herb Dumpling Soup recipe here or these yummy Gyoza Dumplings With Ground Turkey here.
---
Turkey Fried Rice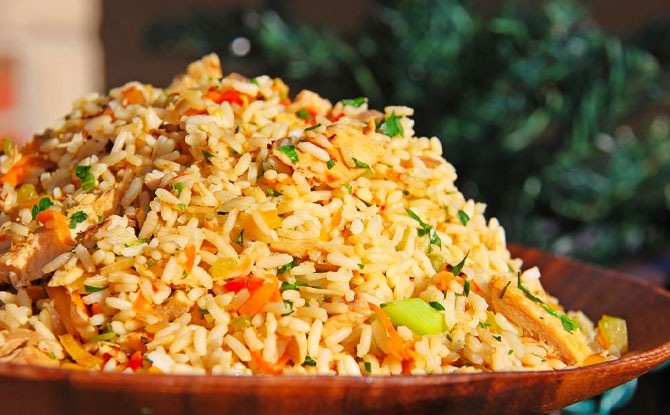 A meal that is quick, easy to prepare and packed with flavour, Turkey Fried Rice is a great dish that can be made using multiple leftover ingredients such as rice, veggies and even other meats such as ham. Try this recipe by Caribbean pot that comes with a video tutorial as well. See the recipe here. 
---
More Leftover Turkey Recipe Ideas & Some Tips
Turkey is actually one of the healthier white meats and has much lesser fat and cholesterol compared to chicken. As a rule of thumb, any other recipe that calls for chicken can mostly be substituted for turkey as well.
To avoid too much leftovers this Christmas, here are some quick tips to keep in mind:
1. Reduction of food wastage always starts before the food is bought. Take into serious consideration how many people the turkey is going to serve before buying enough to feed the whole HDB block (unless you're actually going to be doing that).
2. Food safety is really important to ensure that the leftovers are still edible after the Christmas party. Other than ensuring proper hygiene when serving the turkey, be sure to cover and freeze your turkey at first opportunity to maintain freshness.
3. Remove the meat from the bones before freezing into separate portions so as to prevent the need for refreezing the meat. The removal of bones also makes the preparation easier and the carcass can be used for stock or in our soup recipe above.
4. Our favourite and most helpful tip is not letting tradition define our taste buds. Any festive foods that need to be endured instead of enjoyed should be swapped out for something that makes everyone at the dinner party happy.
Happy feasting!