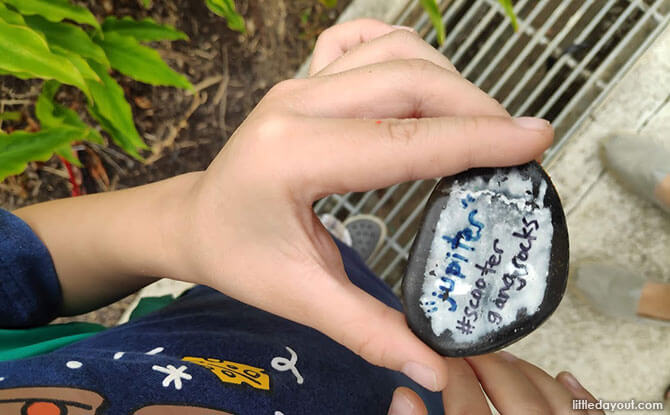 Did you know there is a group of "rockers" in Singapore that "rocks" the parks and playgrounds? We didn't mean loud guitars, drums and crowds gone wild. Instead, there are a band of parents and children stealthily painting, hiding and seeking rocks all over the island. What is this strange phenomenon? How did rocks start showering our lands?
We spoke to SG Rocks founders Susanna Lo and Lynn Loke to find out about this ground-up movement.
---
Tell us more about yourselves and your families.
Susanna: I'm a mum of two (Kit is 8, Evelyne is 6) and we came from the UK but have been in Singapore for 11 years. Oh sorry I forgot to mention the cat! We adopted him here and his name is Tiggy!
Lynn: I'm mother of two children. They are 8 and 5. I believe there's a time to learn, there's also a time to play. So I like to take the kids out to explore and have fun.
---
What are your parenting philosophies and how did it impact the SG Rocks community?
Susanna: I have to say I relied a lot on screens to entertain the kids, especially when work got busy (my husband and I both work). Then we noticed a change in their behaviour, they would get very grumpy without screens. We also noticed our kids would rather sit at home in front of the TV than go outside and run around with their friends. So we tried to find activities that would engage them outdoors. When my friend introduced me to rock hunting in New Zealand, I thought it was the perfect activity to bring to Singapore.
Lynn: Creativity is important.  Painting on a rock and getting the children to hide the painted rocks is a win-win as they get to draw and thereafter enjoy outdoor fun.
---
What would you like to tell parents in Singapore about SG Rocks?
Susanna: SG Rocks is a group bringing together parents and children who want to spend more time outdoors in Singapore's many beautiful green spaces. It's also about creating beautiful rocks, going on an adventure to find hidden treasures and sharing treasures with other kids just for the joy of giving.
---
How does a family participate in SG Rocks?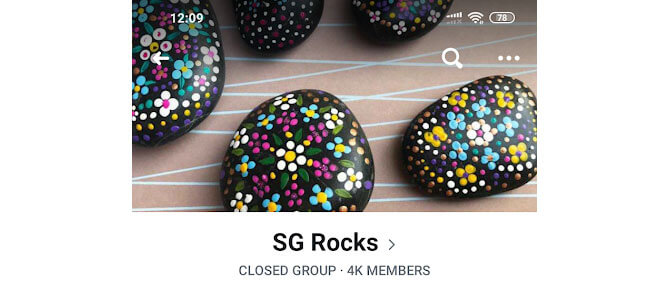 Susanna: Parents can join our FB group where other parents post their rock drops. We also do an Extravaganza once a month where we get lots of rockers together so there'll be more rocks for the kids to find. For the month of October, it is Van Gogh month!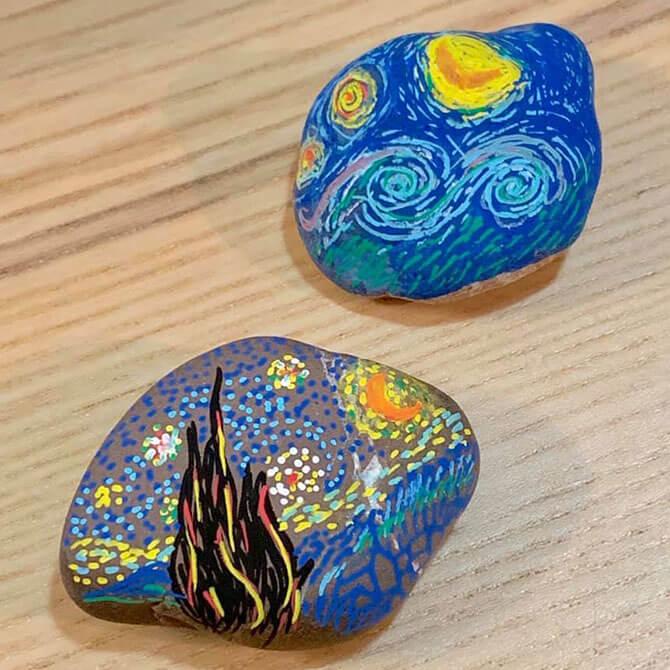 Lynn: Paint, Hide and Post. Come up with your own hashtags, post your rocks' location on the page, mark them with hashtags #rockfind, #rockdrop, #sgrocks and your own hashtag.
---
What kind of materials do you need to get started? Any recommended types of markers, paint and rocks?
Susanna: You just need some rocks (you can find them in parks or get them from garden centres), some paint and some sealing spray to keep the paint on the rock. You can also use paint markers then you don't need a sealant.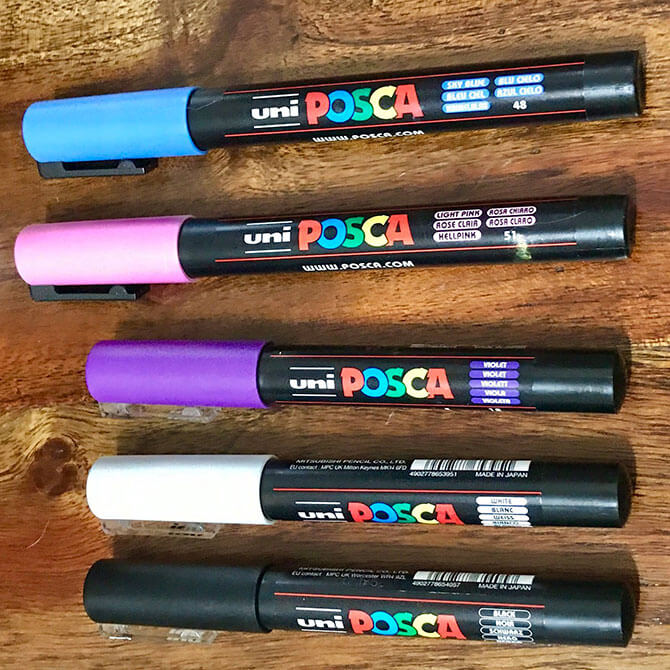 Lynn: Posca markers are still the best. They don't run when in contact with water.
---
Where can we find out more about the process of rock painting?
Lynn: Check out our "Getting Started" album posted on the SG Rocks Facebook page.
---
Do you have any tips for parents with young children who would love to participate?
Susanna: Bring hats, water and spare rocks painted in secret so if your child doesn't find one you can drop one for them to find!
Lynn: Let the young ones explore with paints.
---
What are some dos and don'ts of rock hiding and seeking?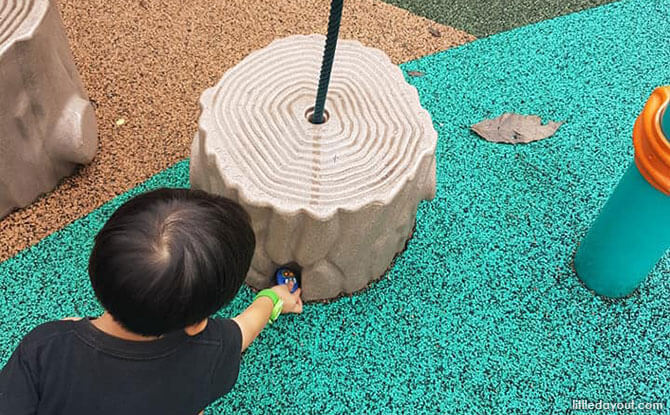 Susanna: We ask our members to be respectful – of the green spaces to hide rocks (so no tramping on flower beds or damage to ornamental gardens) and respectful of other children. While it's fun to collect as many rocks as you can, we ask everyone to keep only a few and re-hide extras so other kids can have a chance to find rocks.
Lynn: Don't hog the rocks you find. And if you do find a rock, please post them the SG Rocks Facebook page.
---
Can you tell us more about the monthly extravaganzas? What are the themes for the next few months?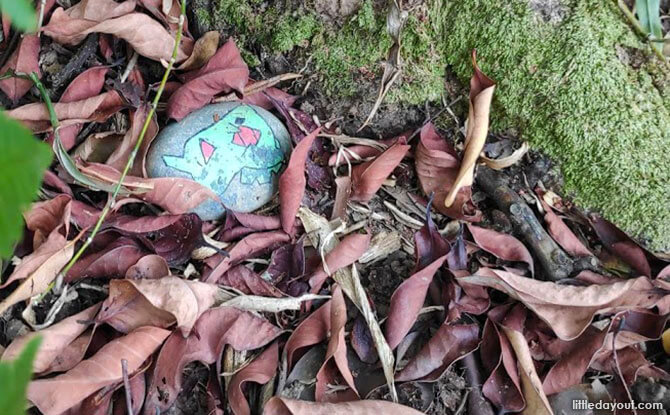 Susanna: The first Saturday of each month is Extravaganza time where we ask members to hide rocks in the same place so there will be more rocks for the kids to find. The theme for November is Mandala rocks. And of course December will be X'mas!
Lynn: While the themes of events have all been planned, we still encourage our rock hunters to do a #rockdrop whenever they feel like it.
Feeling inspired by Susanna and Lynn's sharing? Get some pebbles, paint markers or acrylic paint then get ready to rock the parks! If you prefer to search for rocks, don't forget to post them on the SG Rocks Facebook page and re-hide them.
We think this is one of the best ways to get your child (and you) off the couch and moving in search of hidden treasures. So keep "rocking", folks!