Observation, awareness and an active lifestyle – these are some of the benefits of outdoor activities for kids. Engaging in outdoor activities provides a fun alternative to electronic devices, promotes a healthier lifestyle and also encourages family bonding through shared experiences. It is no wonder that many consider heading outdoor a great way to invest in time with the kids.
So, what are some of the best outdoor activities for kids and families in Singapore? We have rounded up some of the best experiences and activities to be had in Singapore.
However, before we get to the list, we'd like to give a shout-out to Banana Boat sunscreen lotion for sponsoring this feature. With Banana Boat sunscreen, you can protect your entire family against harmful UV rays when outdoors under the sun.
---
-- Story continues below --
Find out more about UV rays and why you should put on sunscreen lotion below.
Outdoor Activities for Kids
---
Animal Encounters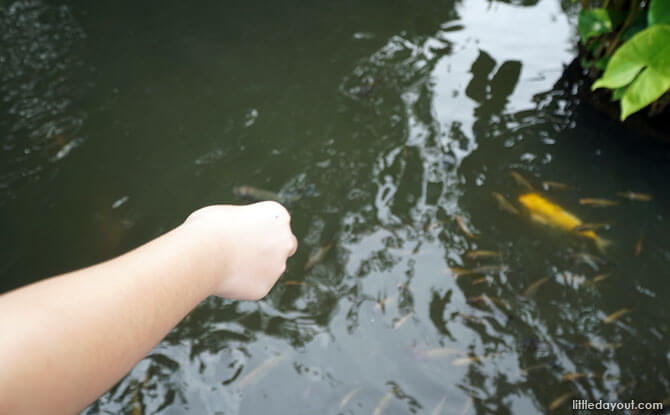 Kids love animals and there are several outdoor places where they can encounter them in Singapore. The Singapore Zoo and Jurong Bird Park are obvious spots – and with good reason. Where else can you find wildlife such as lions, tigers, penguins and owls in Singapore.
Even an outdoor activity as simple as feeding the fish at Singapore Botanic Gardens can be great fun for kids too.
---
Mangrove Madness
One of Singapore's signature ecosystems is the coastal mangrove forest. Several of these are easily visited via boardwalks, for example, the mangrove forests at Pasir Ris Park and West Coast Park. In addition to protecting the coasts from erosion, mangroves ecosystems are also teeming with life.
The best way to get a closer look at the creatures that call the mangroves their home is to head out to the Sungei Buloh Mud Experience where you can see creatures such as mudskippers and horseshoe crabs.
---
Kite Flying
There is something carefree and liberating about flying a kite. At least, that's after you get it up into the air – which comes with its own sense of accomplishment. West Coast Park is a popular spot with those planning to undertake this outdoor activity with kids.
However, the go-to place for kite flying in Singapore is undoubtedly the Green Roof at Marina Barrage. Plus, if you visit at the right time, you may be able to see some seriously amazing kites flown by hardcore kite enthusiasts too.
---
Outdoor Sketching
Outdoor sketching is a great activity to do with kids. It encourages them to hone their powers of observation and creativity. You don't need super-sketching skills either. All that is needed is a sketch pad and a pencil or two. Nature is the perfect subject to get kids sketching.
If you are looking for somewhere more urban, try Singapore's Civic District and Marina Bay which have no shortage of interesting buildings for kids armed with sketch pads to draw. If you are planning to sketch during the day when there is the best light, it can get pretty hot so remember to take along your sunscreen!
---
Nature Photography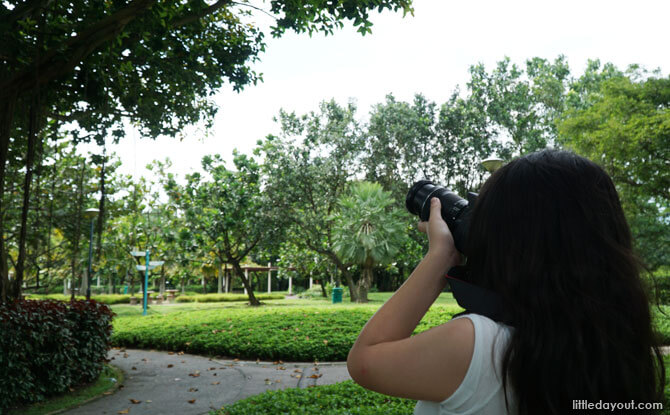 Photography is another exercise in observation. Best of all, with the high-quality cameras found in today's mobile devices, you don't need an expensive DSLR or mirrorless camera to enjoy this hobby too. With older kids, set a theme for their nature photography outing.
Need ideas? How about "Flying" or "Circles". Challenge them to focus on composing their photos and making use of techniques such as the rule of thirds or leading lines. Fort Canning Park has a good mix of nature subjects and manmade objects for an outdoor photography expedition.
---
Playground Sojourn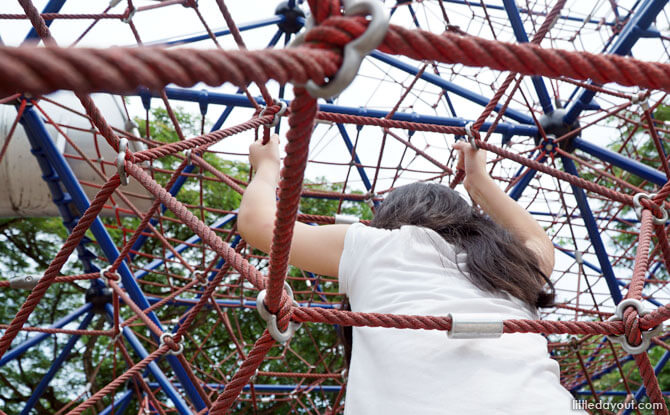 When it comes to fun outdoor activities with kids, playgrounds should definitely be on your list of things to do. Outdoor playgrounds not only offer plenty of fun but help develop a child's confidence and physical skills too.
Best of all, outdoor playgrounds are mostly free! These range from epic playgrounds, such as the Marine Cove or Admiralty Park playgrounds, to conveniently located neighbourhood ones. Hurray for play!
---
Cycling
Kids are unleashed into a whole new realm of freedom once they learn how to cycle. Start them off at kid-friendly, cycle-friendly parks such as Woodlands Waterfront, Chua Chu Kang Park and West Coast Park. Or venture on longer bike trips at Pasir Ris Park, Punggol Promenade and even Pulau Ubin.
With many of the parks in Singapore linked by park connectors, there are dozens of possible routes to explore on a family cycling expedition with kids. If you are going to out cycling, remember to slap on some sunscreen to avoid getting sunburnt.
---
Splish-Splashy Fun
Splashing around in the water is an outdoor activity that children love. It is a chance to cool down in our tropical weather and have a big dose of fun at the same time. Many of Singapore's shopping malls offer free, rooftop water playgrounds.
Plus, there are outdoor water spots such as the water playgrounds at Bishan Ang Mo Kio Park and Lower Seletar Reservoir Park for younger ones too.
---
Adventure Courses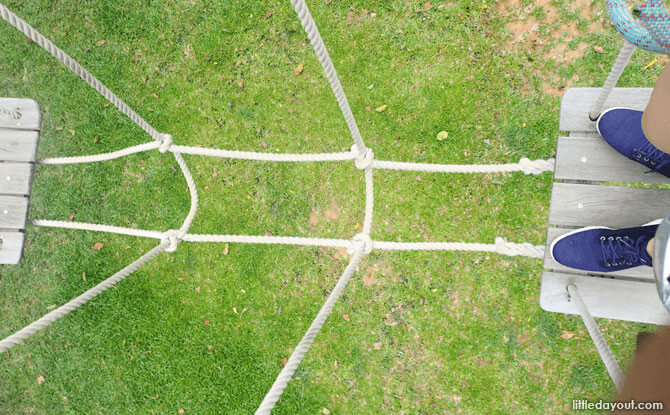 Looking for an outdoor activity with kids that will challenge them? If so, then look upwards – at high-ropes adventure courses. At these adventure courses, kids and adults get to face elevated obstacles and crossings that they have to shimmy their way across.
Cargo nets and wobbly rope bridges are some of the challenging obstacles that help build up confidence and provide a sense of accomplishment afterwards. Parents can join the kids on the high obstacles and make it a family outdoor activity to be remembered.
---
Sand Play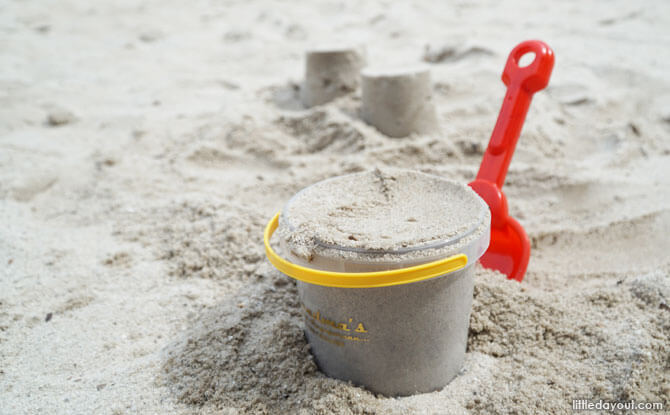 Sand play is a favourite outdoor activity for kids. A kiddy spade and bucket are all the investment needed to get young ones started. Kids can easily spend hours scooping and shovelling once started. Some popular sandpits around Singapore can be found at Punggol Waterway Park and West Coast Park.
And don't think that sand play is simplistic. With a bit of ingenuity and imagination, it is possible to build some amazingly elaborate sand castles out of water and sand! But do remember to put on that sunscreen if the kids are going to be out in the sun for any period of time.
---
Camping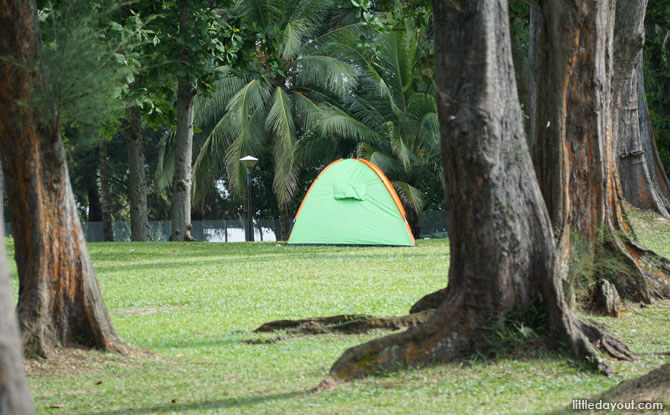 Camping with kids is a fun outdoor activity that lets the whole family experience a different environment together. Pitch a tent by the sea (at permitted camping grounds) and enjoy the cool breeze and sight of waves breaking close by.
You can make camping as glam as you want it to be. Pack a luxurious picnic basket or plan a sumptuous barbecue feast in the park. Just because you are camping doesn't mean you have to rough it out!
---
Nature Trails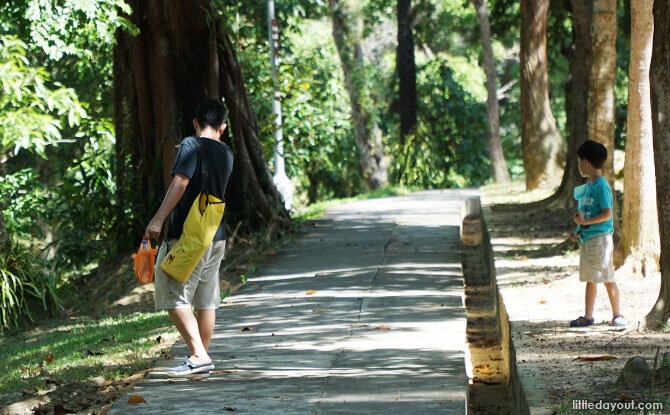 Nature trails around Singapore are wonderful reasons to lace up the shoes and get outdoors with the family. Singapore has no shortage of nature trails and they come in varying levels of difficulty. The Bukit Chermin Boardwalk is an easy walk that stretches out along a rocky coastline.
Or, explore past settlements at Bukit Timah's Kampong Trail. How about an adventurous trek along the trails of the Central Catchment Nature Reserve? Any of these trails will provide a chance to look out for wildlife and gain a better appreciation for nature.
---
Kayaking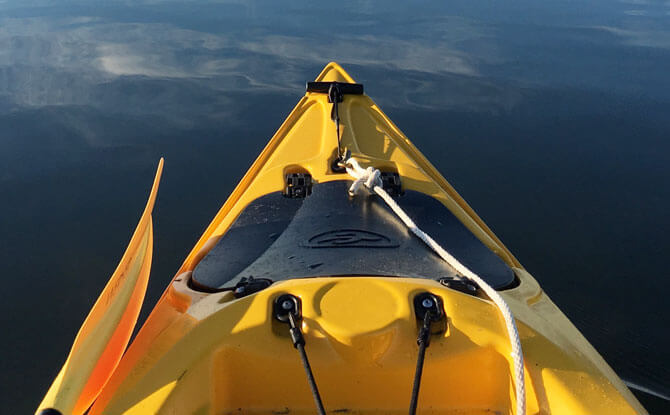 Water sports can be great fun for kids. Interesting options include water skiing with the kids and board sports such as stand-up paddling. If that sounds a bit too adventurous, try kayaking.
Parent and child can kayak together in an open-top, two-person kayak at locations such as MacRitchie Reservoir and the Kallang Water Sports Centre. This water sport offers a balance of fun and adventure in an easy-to-do outdoor activity for kids.
---
Music Appreciation
Outdoor concerts are regularly held at Singapore's parks. Popular venues for these music performances include Singapore Botanic Gardens, Bishan Ang Mo Kio Park and Gardens by the Bay. Take along a sitting mat, some food, drinks and a frisbee and turn the outdoor concert into an outing that combines the family time with exposure to the arts.
---
Farm Visits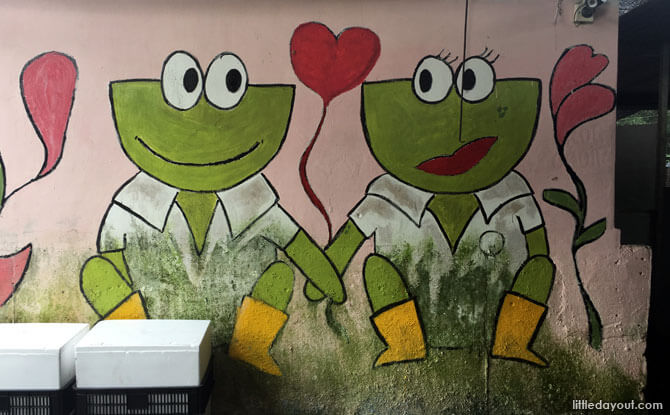 Singapore's farms provide an educational and enjoyable experience for both kids and parents alike. Discover how goats are reared for their milk, how frogs are farmed or how vegetables get from the ground to the table. Many of these family-friendly farms are located in the northwest of Singapore and a visit will be an eye-opening experience for kids.
---
Why UV Rays Are Harmful
Outdoor activities with kids can be great fun. To ensure that kids only take home lasting memories from a day out – rather than an unwanted stinging pain that comes with a sunburn – take precautions to protect little ones (and adults) against the sun's UV rays when outdoors.
UV rays are ultraviolet radiation that comes from the sun. Unlike visible light, UV rays belong to the part of the light spectrum which has shorter wavelengths. This makes it invisible to the naked eye. However, just because you can't see it doesn't mean that it is not there. UV rays are present whenever the sun is out.
There are two forms of UV rays – UVA and UVB.
UVA makes up 95% of the solar UV radiation that reaches the earth. It is present during daytime hours, and because it has longer wavelengths than UVB rays, can penetrate deep into the skin, causing premature skin aging, wrinkles and long-term damage.
UVB rays damage the skin surface and cause sunburn – which results in that blistering pain that comes along with it for days after.
Both UVA and UVA rays can contribute towards skin cancer.
With Singapore's location at the equator, those living here are at a higher risk of the harmful UV rays because of our year-round tropical climate. However, these effects can be managed by controlling factors such as the length of exposure, strength of the light and whether the skin is protected or not.
---
PSA: How Sunscreen Protects Against Sun Damage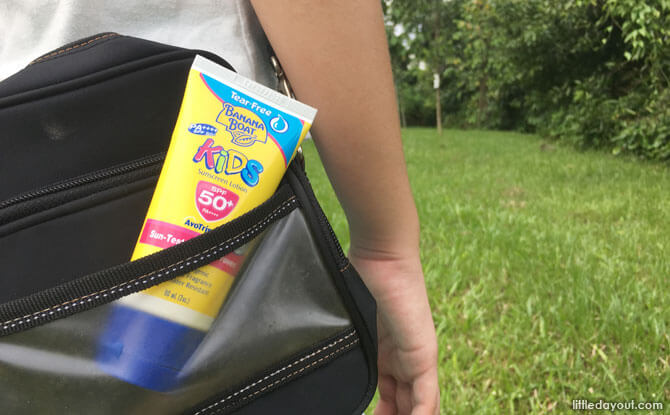 Sunscreen lotion provides a way to protect the skin against harmful UV rays.
You have probably seen the term "SPF" on sunscreen lotion bottles and tubes. SPF stands for Sun Protection Factor.
This is a rating determined in the lab as to how much protection the particular sunblock provides. An SPF 50 rating means that only an estimated 1/50th of UV rays are allowed to get through the sunscreen lotion to the skin. This cuts out approximately 98% of harmful rays. An SPF 100 rating allows an estimated 1/100th of the sun's rays to pass through and shields the skin from approximately 99% of the sun's UV rays.
In a nutshell, the higher the SPF rating, the greater the protection offered by the lotion against harmful UV rays.
In order to work, sunscreen needs to be applied properly to cover the skin. It is also recommended to reapplied the sunscreen every two hours, especially if swimming or sweating.
---
Banana Boat Sunscreen Lotion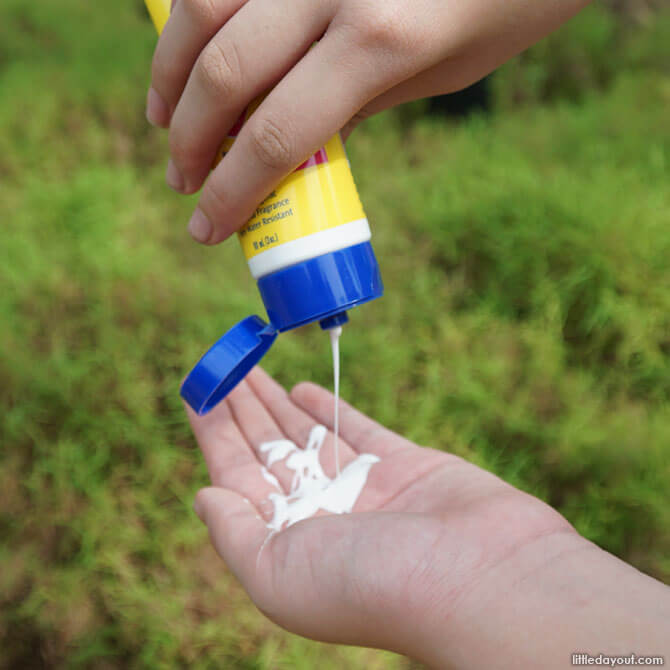 If you are heading out into the sun, protect the family against harmful UVA and UVB rays with Banana Boat Sunscreen
Banana Boat was created back in 1978 when Robert Bell, a lifeguard, overheard complaints by beachgoers about greasy suntan lotion. He went on to formulate his own non-greasy sun protection in a colourful tube and Banana Boat sunscreen was born.
Today, Banana Boat Sunscreen comes in a variety of ranges to protect you regardless of your needs.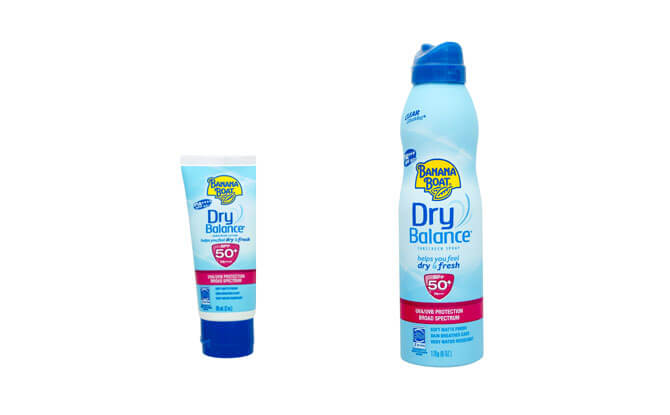 These include a Banana Boat Dry Balance SPF 50 PA+++ formulation which is lightweight and leaves the skin with a non-sticky, matte feel – perfect for moms on the go.
There is also a tear-free, sting-free formula for children that is also available in a spray-on version for hassle-free application on toddlers and children who can't stay still.
To find out more about Banana Boat sunscreen and the protection it offers, visit the Banana Boat sunscreen website.
This feature is brought to you by Banana Boat.