Surrounded by residential apartment blocks, Fu Shan Garden at Woodlands is a typical neighbourhood park, except that it holds a menagerie of dinosaurs, lurking about on the hillock at the centre of the garden.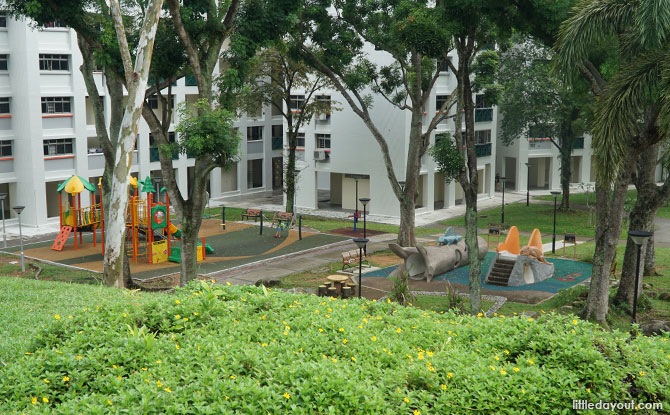 Built in the mid-1990s when the Housing and Development Board was conceptualising of public parks as more sophisticated play spaces, Fu Shan Garden was designed to be a themed adventure land to enhance the play experience for kids.
---
Dinosaurs in Woodlands, Fu Shan Garden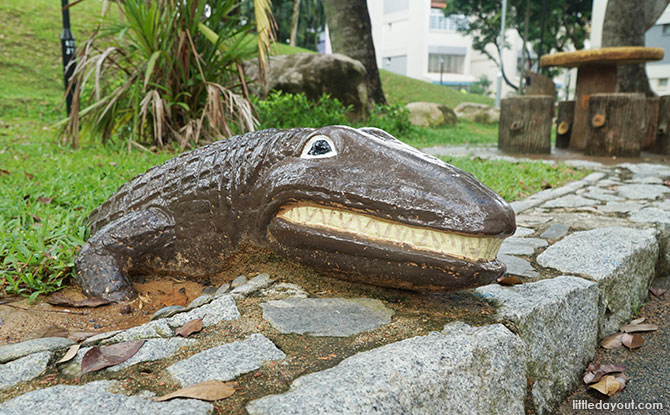 In 1997, the Woodlands Street 81 playground received its dinosaur play sculptures, designed by Hong Hai Arts.
Kids can play on a slide integrated into a dimetrodon's back.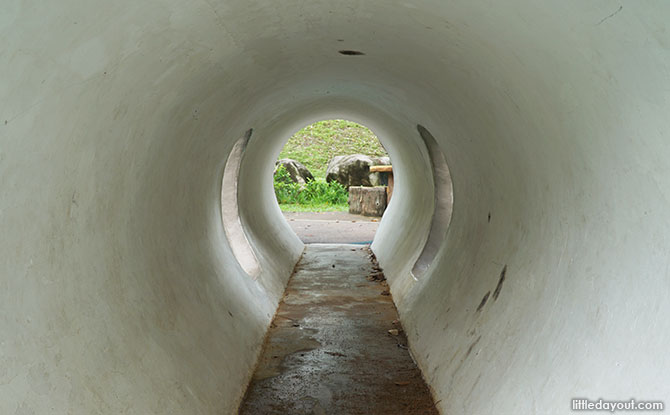 Or crawl through a large pipe disguised as a log.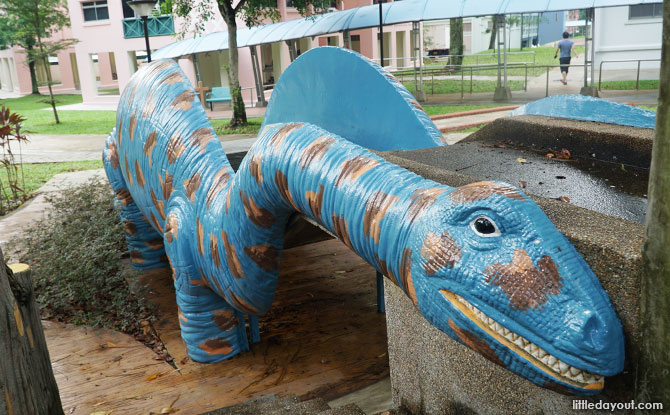 A giant blue sauropod exudes Flintstone-nian vibes. Yaba-daba doo!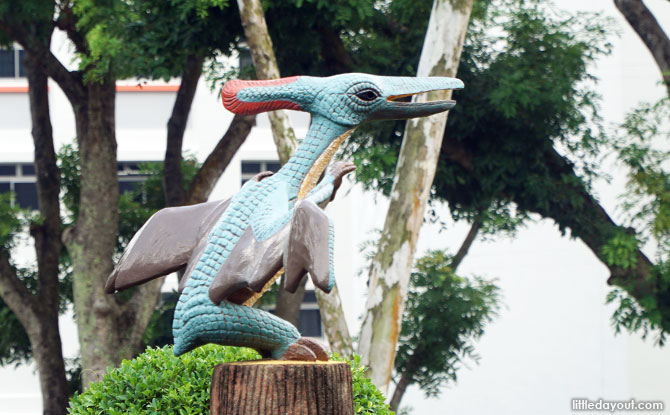 Keep your eyes peeled as you ascend the hill and you may spot a Pteranodon perched on a tree stump, ready to take flight.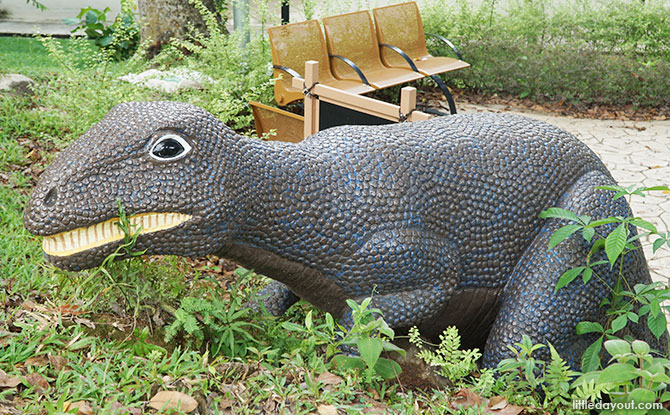 Also on the slopes of Fu Shan Garden is an unusual-looking dinosaur which a sign declares to be a Tyrannosaurus Rex.
These recently installed signs provide bite-sized facts about the various dinos on display at the neighbourhood park.
---
New Dinosaurs at Fushan Garden
Recently, the original dinosaurs at Fu Shan Garden have been joined by some new friends.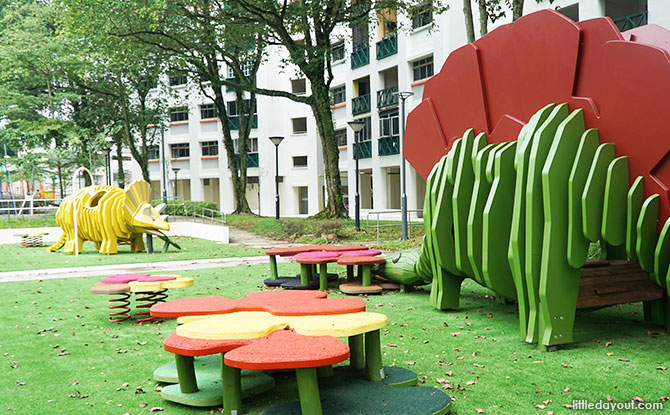 A yellow triceratops stands firmly on guard at his turf while a friendly, green stegosaurus with red armour plates looks on ambivalently from nearby.
This new pair of dinosaurs at Fushan Garden were installed by Playpoint, the same folks behind the Oasis Waterpark @ Nee Soon and the Discovery Slides at Jewel Changi Airport's Canopy Park.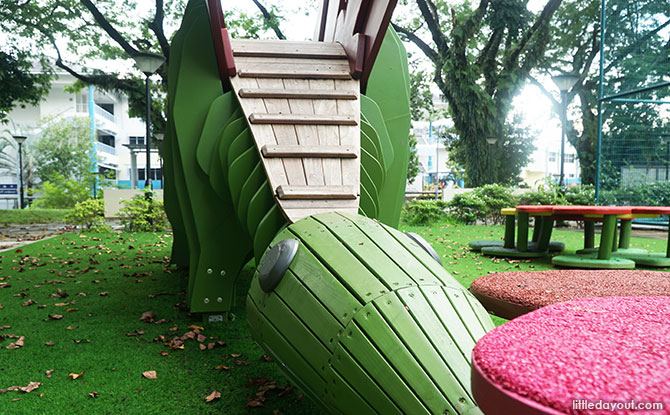 Kids can climb up and over the stegosaurus' back.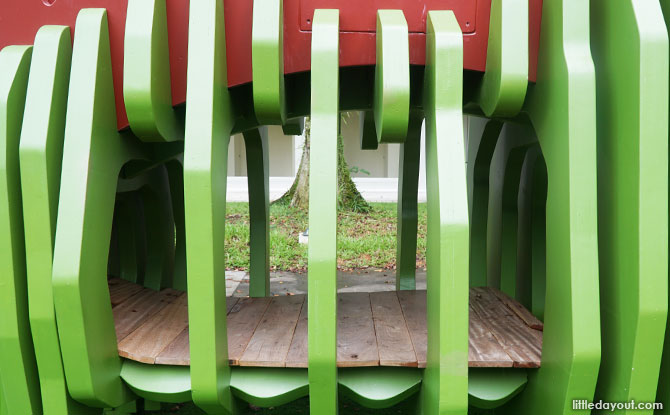 Or venture into the green belly of the stego-beast.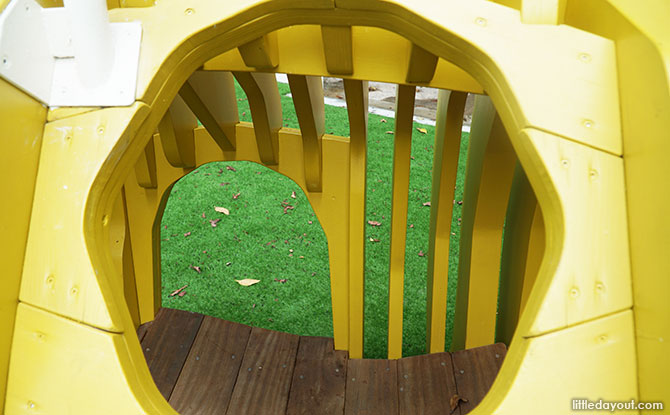 The wooden triceratops has a hiding spot for kids as well.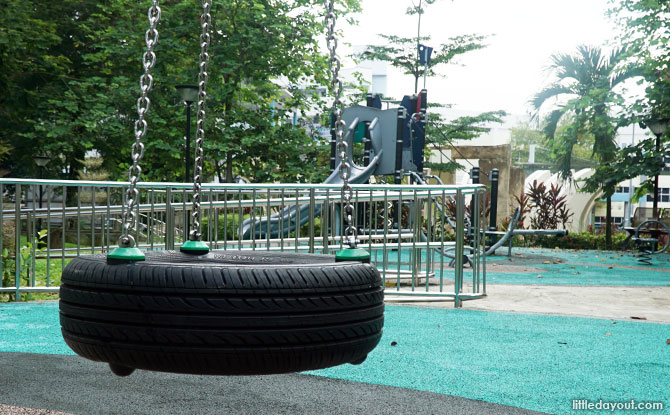 After having had their fill of "Jurassic Park", children can also enjoy the "regular" playground equipment at Fu Shan Garden.
Fu Shan Garden at Woodlands Street 81 is a unique spot in the heartlands; a place where children can have a mini, prehistoric adventure on a little day out.
---
MORE STORIES