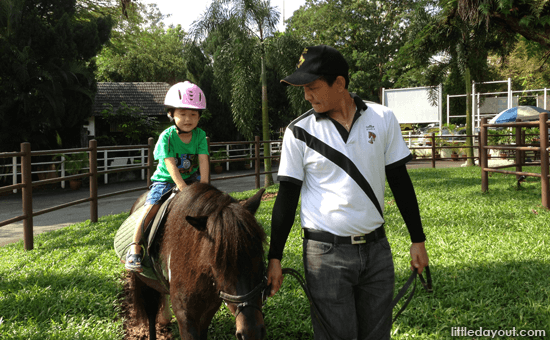 Our family dropped by Horsecity Gallop Stables Bukit Timah for the boys to have pony rides. Asher loves riding Rosie, Singapore Zoo's resident pony, but Gor Gor had always been a little wary, so we wanted to encourage him to give it a try.
We arrived nice and early. The pony ride booth was not open yet as it was before 10.00 am so we strolled the grounds, hoping to catch a glimpse of the horses.
Horsecity Gallop Stables Bukit Timah
A crowd of people had gathered to view the stables but we were stopped at the gate by the Gallop Stables staff. We found out that we are only able to view the horses in the stables if we book with them for a private event.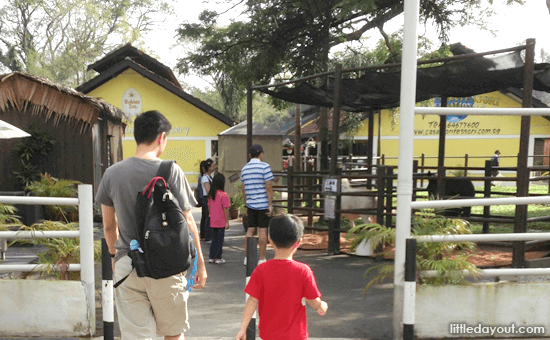 However, we were quite happy to see a handsome brown horse in a stable next to the gate. While we stood there admiring it, Justin and I shared with the boys about the hay that horses eat and how they have to wear "shoes" just like us! We also pointed out the difference in sizes between a horse and the pony they were going to ride.
What HorseCity Gallop Stables Bukit Timah Offers
As we walked by the Gallop Stables office, we picked up some information leaflets about their classes. They offer membership for their Pony Club and there are different achievement badges that children can earn such as "Handling & Grooming" and "Points of the Horse" amongst many others. It all seemed very interesting and for a moment I wished I was a little girl again.
The pony booth opened and we proceeded to get our coupons at $10 a child for three rounds on the grass track. The friendly female staff informed us that the booth only opens on weekends, from 10.00 am to 12.00 nn, and from 2.00 pm to 6.00 pm. She also mentioned to call and check if they are open before coming by, giving me the impression that their opening hours are subjected to change.
After we went home, I saw from their website that they do offer horse carriage rides too but I did not see any when I was there. Maybe we can do that as a family next time because it can take two adults and two children.
Riding the Pony
The boys thoroughly enjoyed the pony rides. I was really proud that Zach mustered up his courage to hop on the pony. Led by a pony handler, I knew the boys were in good hands.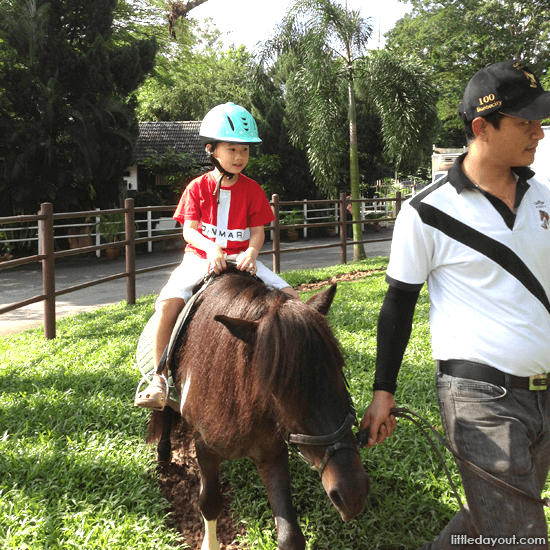 Feeding Prince, the Donkey, and a White Horse
We were also charmed by a donkey named Prince whose enclosure was right by the entrance of the pony ride. I have not seen many donkeys so it was a nice surprise. The boys were also happy to have a chance to see a real donkey.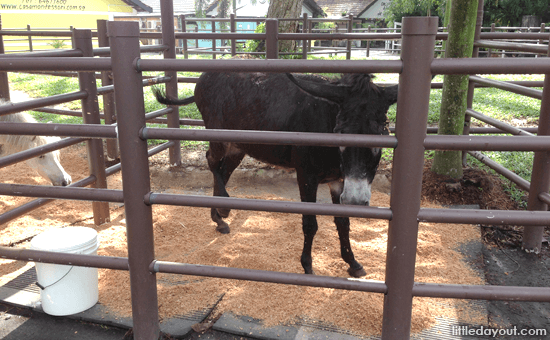 We paid $2 for a pack of chopped carrots to feed the donkey and a pony. I appreciated that they had a small scoop for children and perhaps adults who are squeamish about having animals feed off their hands. There was also a sink and soap for us to wash up thereafter.
I first knew about the pony ride from a friend who wanted to invite our family for breakfast at Picotin, a restaurant, just outside the stables. We checked it out and saw many other young families having their breakfast. It was a nice and peaceful atmosphere and we are tempted to go back again to have an unhurried morning with the boys.
(Note from the Editor: Picotin at Bukit Timah will be closed in July 2013 and a new management will be taking over its premises and has scheduled for it to open a month later. Picotin Express is now at Quayside Isle and another will open soon at Figaro Street in East Coast.)