Anyone who has walked around Singapore's Chinatown would have noticed the Chinatown Murals – colourful paintings capturing scenes of yore on the walls of historic buildings. These colourful street art many admirers who stop to take a picture with them. Some even allow passers-bys to "step into the picture".
Don't want to miss out on these fun photo spots? Here are the Chinatown Murals in Singapore and where to find them.
Chinatown Murals in Singapore
---
1. Mid-Autumn Festival
Alley connecting Pagoda Street and Temple Street; At the rear of Lucky Chinatown.
A scene from the Mid-Autumn Festival decorates the alley behind Lucky Chinatown. The work of Yip Yew Chong (you'll hear his name coming up again and again), the Mid Autumn Festival mural was painted in September 2018.
Traditional and cellophane lanterns hang above the two figures of a man and women. They are enjoying mooncakes and pomelo while looking on at children trying to light a lantern nearby.
As a cute nod to the intersection of tradition and contemporary pop culture, there is a cellophane Hello Kitty lantern – much to the puzzlement of a street cat.
---
2. Chinatown Scenes & Bullcart
Alley connecting Pagoda Street and Temple Street; parallel to Trengganu Street
This Chinatown mural features the exteriors of Chinatown's buildings along with a collage which juxtaposes the historic district against the modern cityscape and a Chinese opera singer.
This set of murals was supported by Nippon Paint.
At the other end of the alley, a mural of a bulls and labourers pulling a cart loaded with Chinatown's buildings pay homage to the district's historic roots.
---
3. Cantonese Opera
Junction of Temple Street and South Bridge Road
Chinese opera was once a popular form of street entertainment. Performers with painted faces and elaborate costumes used to mesmerise the crowds. The spirit of these performers live on at Temple Street in a mural by Yip Yew Chong.
Eager kids and adults watch the performers on stage. There are also glimpses of the backstage action while street vendors flank the Chinese Opera stage, adding liveliness to the scene.
---
4. Detective Conan in Chinatown
Junction of Smith Street and South Bridge Road
Detective Conan, the Japanese manga character, explores Singapore Chinatown's streets and comes across a traditional store selling fruits and dried goods. Durian, the King of the Fruits, gets the thumbs up from him. This mural in Chinatown is also by Yip Yew Chong.
---
5. My Chinatown Home
Alleyway along Smith Street, next to the Singapore Food Street
Smith Street has three murals by Yip Yew Chong. After Detective Conan, the next one can be found in an alleyway between Smith Street and Temple Street. It depicts scenes from inside a Chinatown shophouse.
There are so many details to admire – from the simple wooden platform furniture to the kids playing with a paper sword to the spread of food on the dining table.
The 2019 mural evokes plenty of nostalgia and features many household items that were once common place just two or three generations ago.
---
6. Letter Writer
Junction of Smith Street and New Bridge Road
The third Yip Yew Chong mural along Smith Street is located at the other end of the street. Painted on the wall of New Bridge Centre, it depicts a letter writer plying his trade.
Letter writers played an essential role when the population was illiterate. They enabled those who had come to Singapore to work to maintain links with relatives back home.
The seat opposite the letter writer is perfect for those who wish to pose with the tradesman.
---
7. Chinatown Complex
Smith Street
Chinatown Complex is another hotspot for murals in Singapore's Chinatown. Wandering around the ground floor and you will encounter them painted on pillars and walls. The street art here is a bit more pop art style.
Bruce Lee with a durian and mangosteen proclaims, "Shiok!"
A lucky cat beckons at another corner.
---
8. Welcome to our World – Banda Street Murals
Banda Street
Next to Chinatown Complex, Banda Street also sports various street art, part of the 2015 Colouring Banda Street project by PwC and Tanjong Pagar Town Council.
On the side of a staircase is Welcome to our World. It depicts Samsui women, the hardworking women who carried out construction jobs and helped build Singapore. It also features the Aranda Lee Kuan Yew and Vanda Kwa Geok Choo, a tribute to Singapore's first prime minister and his wife.
---
9. Bridge Over Calm Waters & The Back Lane
Blk 335, Banda Street
Two murals share a courtyard in Chinatown.
Bridge Over Calm Waters honours the resilience of those who have faced hard times. The number nine is represented in the number of koi fish; the Chinese word for nine sounds like "permanence".
The Back Lane is a piece of Chinatown street art that depicts the scene of a family preparing for the Lunar New Year.
---
10. Labour of Love – Chinatown Street Murals
Blk 333, Banda Street
Away from the touristy areas of Chinatown are the Labour of Love Chinatown murals. This consists of street art, painted on to the walls at the block of flats behind Kreta Ayer People's Theatre.
The artworks are Tai Chi Uncle, The Path to Peace and Serenity, The Way We Were, Ageing Gracefully, Chess Mates, Grandma & I and The Window.
Collectively, they provide a nostalgic walk down memory lane – vignettes of the way Chinatown used to be.
---
11. Keong Saik Road Murals
Keong Siak Road
A colourful mural decorates the wall at Keong Siak Street, showcasing scenes of Singapore and our multicultural society.
---
12. Mosque Street
On the side of the Porcelain Hotel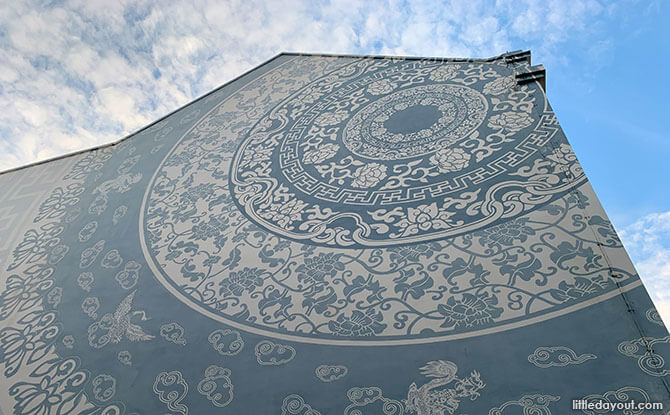 There is one last mural to highlight. Painted on the side of the Porcelain Hotel at 48 Mosque Street is a large blue-and-white mural that looks like the patterns found on a piece of fine porcelain tableware. This brings new meaning to the word "Chinatown".