Walking along Temple Street in Chinatown, you may notice a new mural at Number 25. Painted in the distinctive style of prolific accountant-turned-artist Yip Yew Chong, The Clog Maker is one of this many that brighten up and capture the essence of Chinatown at the same time.
---
Dreams of Chinatown
The Clog Maker is particularly significant because it is the last of the mural series "Dreams of Chinatown" that have come to define the artist to many.
In an Instagram post, Yip shared how, in 2016, he submitted a concept to the Urban Redevelopment Authority for a series of six Chinatown-themed murals that would capture scenes and stories from the past.
This began a seven-year journey that started in 2018 and has now ended in 2023 with the painting of The Clog Maker.
---
-- Story continues below --
---
Yip Yew Chong's The Clog Maker Mural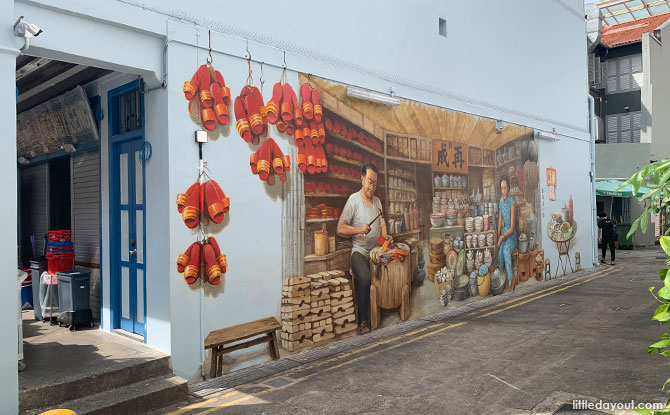 The work features a traditional clog maker, working away at one side of a shop, busy making a wooden, red-painted clog.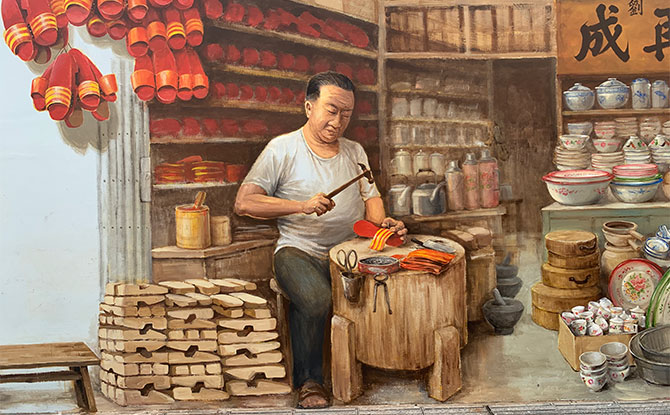 Armed with a hammer, he skilfully seats the nails into the side of the clog while a stack of unfinished wooden clogs remain by his side.
On the other side of the shop is a lady, most likely the clog maker's wife. She is manning the shop, which sells tableware like porcelain bowls along with cookware like steamers, kettles and pots.
On the floor, there are traditional charcoal burning stoves in one corner.
True to his interactive style, The Clog Maker also features stools built into the wall where visitors can pose for pictures with the mural.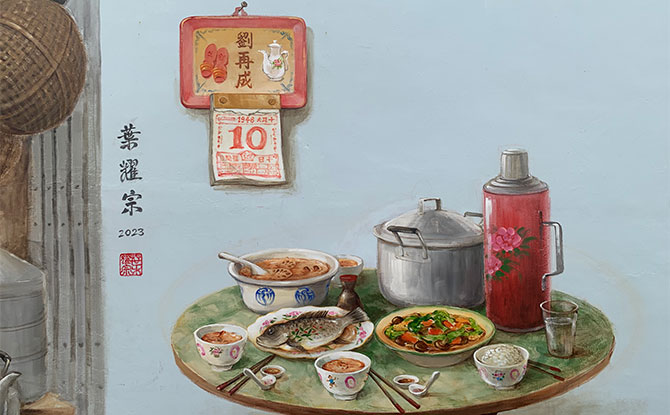 One of these stools is placed beside a table laden with food awaiting to be eaten. A steamed fish, fried vegetables and a bowl of lotus root soup make up the spread.
Three places have been laid out at the table. One of the clog maker, his wife and the last for any visitors who wishes to join them in remembering what Chinatown was like in the past.
---
Chinatown Heritage Captured in Murals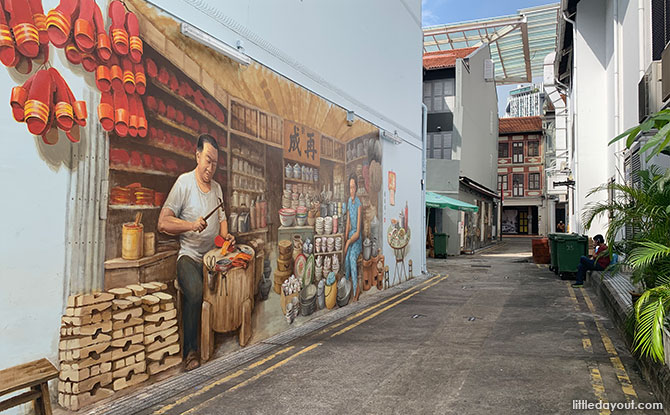 The Clog Maker mural is in good company. Down the other end of the same alleyway is Yip's mural called My Chinatown Home.
Across the road on the other side of Temple Street is his mural of a wet market scene and one of a Street Opera scene can be found at the junction of Temple Street and South Bridge Road.
Next time you are in Chinatown, pay the murals a visit and take a walk down memory lane.
You may also wish to read more about the various Chinatown murals.