Playgrounds are an essential part of childhood. Slides, swings, ladders and ramps provide all the elements needed for kids to build up their confidence and have a healthy dose of outdoor fun.
Playgrounds can be found all over Singapore. And in the HDB heartlands, you are never far from one. These brightly coloured play structures provide a chance for kids to practise their motor skills and even their social skills.
We searched high (literally) and low for some of the best, most unusual and fun HDB playgrounds around Singapore's heartland neighbourhoods and were surprised by what we found.
Here are 22 of the most unusual and fun playgrounds around Singapore's heartlands we discovered for a fun little day out.
Love playgrounds too? Share your favourite playgrounds by tagging #littledayout and@littledayout.com on social media.
Playground at Block 230, Bukit Batok East Avenue 3
Brightly coloured with rope netting and a little triangular trampoline, this HDB neighbourhood playground even has a spinning wheel that kids can crawl into and swish around. It stands on the site of the old seal playground that was demolished in 2013.
Firefly Park, Block 304, Clementi Avenue 4
Firefly Park at Clementi consists of five thematic gardens. The playground here has a high walkway, a mini-obstacle course and, those super-hard-to-find-in-the-heartlands swings!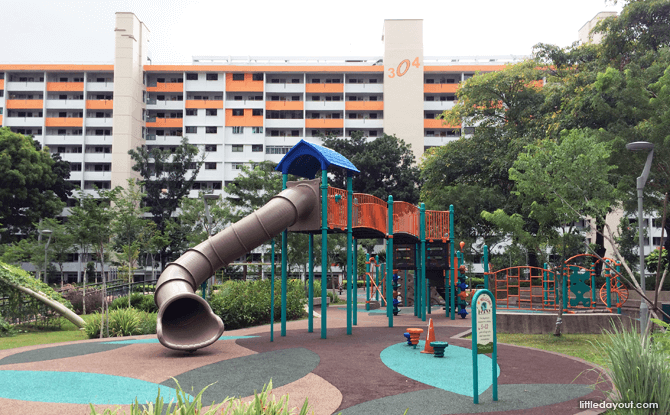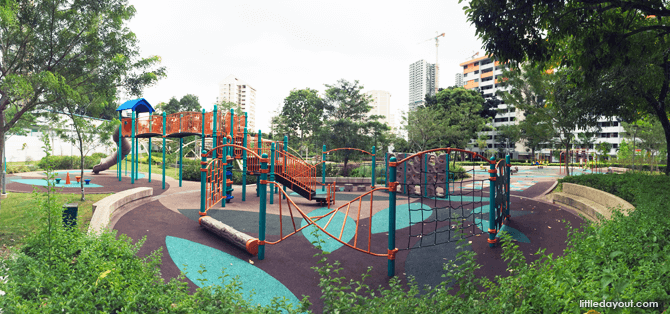 Sea Monster Playground, Block 102, Jalan Rajah
A friendly blue sea monster dips out from the ground at this HDB playground. Make for the nearby pirate ship playground, complete with a secret treasure map to decipher and a globe to plot the way to adventure.
Maze, Telok Blangah Rise
Surrounded by Blocks 39, 40 and 41 is a maze playground that little ones can wander around. Slides nearby lead down this play area.
Alice in Wonderland, Vista Park, Block 582 Woodlands Drive 16
With an Alice in Wonderland theme, complete with a smiling Cheshire Cat, this Woodlands park has two separate play areas. The more colourful play structure has a little climbing net while the other kids can take on the spinning wheel and balance bench at the other play area. Gigantic toadstools and some bent "cards" complete the look at this neighbourhood park.
Dinosaur Playground, Block 827 Woodlands Street 82
Dinosaurs have invaded the hillock at Woodlands Street 82. These weathered sculptures include some with terrazzo slides down the back. Climb up the hill to survey the surrounding area, which includes a regular playground just in front of Block 827. You may also be interested in the dino playground at Block 27, Kim Keat Avenue.
Toa Payoh Sensory Park, Toa Payoh Lorong 5
A pair of parabolic dishes invites auditory exploration at this neighbourhood park. Kids can whisper messages to each other through the telephone tubes at the playground too. Explore the senses at the Toa Payoh Sensory Park. Read more here.
Circle Green Playgrounds, Block 736, Woodlands Circle
This colourful climbing structure can be found at the Circle Green Park. Nearby, at Block 730, there is a hemispherical climbing dome for younger kids too.
Wallholla, Block 160, Bishan  Street 13
Play takes a vertical twist at Wallholla. Inside a steel cage, kids can make their way up the vertical playground while a climbing net and tower with a slide can also be found nearby at this HDB playground.
"Hoop Playground", Block 771 Bedok Reservoir View
With a bridge made out of hoops to climb through, this little HDB playground beckons those who wish to take up a challenge. There is another, more traditional, playground close by at Block 770 too.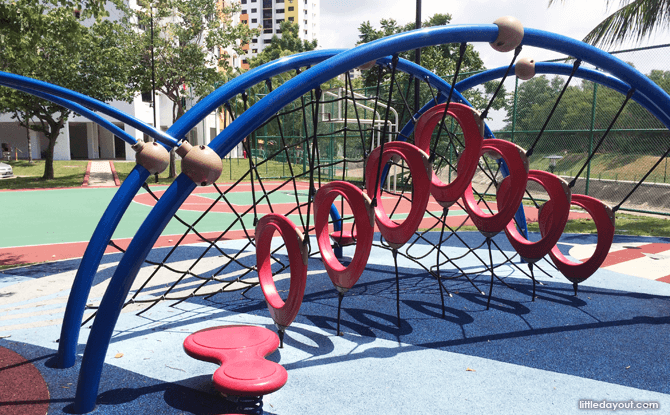 Canberra Park, Sembawang Crescent
Opened in 2015, this inclusive playground is designed to accommodate children with special needs. The playground has ramps and handrails, along with large swings to cater to special needs children.
Animal Kingdom Playground, Block 686 Woodlands Drive 73
A menagerie of white, life-sized animals statues make their home at this unique HDB heartland playground. You can find statues of a lion, ostrich, elephant and even a camel here. It's great for taking photos with kids who love animals!
Yishun Mall Playgrounds, Block 407 Yishun Ave 6
Away from Yishun Central, Yishun Mall is an HDB neighbourhood shopping centre which has fun and unique playgrounds. In front of Block 407, there is a large play area set along a ridge. Scale a climbing net, bounce on a trampoline and go round on spinning wheels here. Raised walkways give kids a different vantage point of the playground below too.
There is also a separate gondola playground in front of Block 407 where kids can take turns cranking each other from one side to another.
Located at Block 411 is a small playground with a drive-through counter, petrol station and traffic lights for kids to play make-believe.
Finally, there is an electronic game playground at Block 419 Yishun Avenue 11 too.
Other gondola playgrounds, similar to those in front of Block 407, can be found at Block 61C, Strathmore Avenue and Block 306B Punggol Place.
Montreal Green, Block 589a Montreal Drive
Montreal Green is designed to provide a natural setting for residents to enjoy and kids to play in. Besides two playground structures, there is also a swaying rope bridge and a sand play area with swings.
Limbang Park, Choa Chu Kang Street 51
This is home to one of the tallest slides in a public playground. Make the climb to the top of this tall orange citadel and slide down its purple tube slides. Other spots to explore in the park include a swaying suspension bridge and zodiac animal statues.
Arboretum, Block 443, Yishun Avenue 11
This quiet corner of Yishun Park, just opposite the HDB blocks along Yishun Avenue 11, has a collection of fun play structures. These include climbing nets, a sand pit, and slides that hug the terrain. Read more here.
See-saw Playground, Block 6 Teck Whye Avenue
Oh my! Is that a seesaw we see? This neighbourhood playground at Teck Whye Avenue deserves mention because of its seesaw. Not the spring-loaded types commonly found at most HDB playgrounds, the seesaw here is similar to the ones from our childhood – but updated with modern materials. Cool!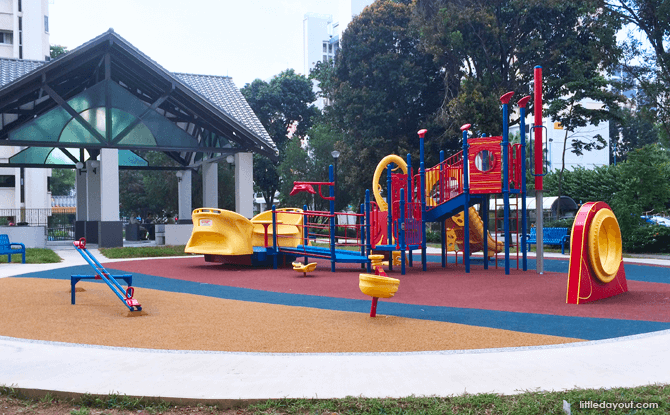 Watermelon and Mangosteen, Block 858, Tampines Avenue 5
An oldie-but-goodie, the Watermelon and Mangosteen playgrounds provide a refreshing contrast to modern playgrounds. The watermelon hides a slide while kids can hide away in the purple mangosteen.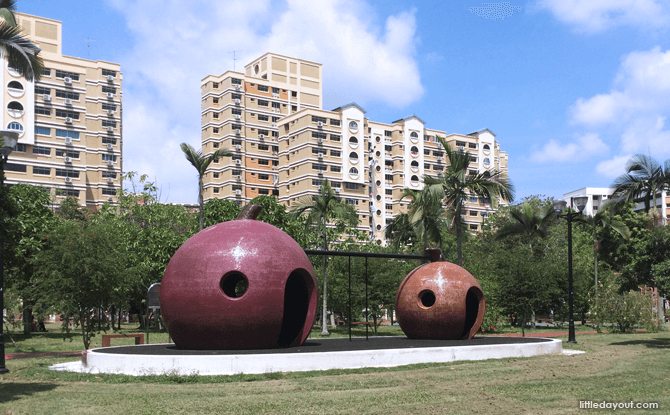 Seal Playground, Block 10, Dakota Crescent
As far as we know, this is the last playground of its kind in Singapore. Sadly, it will soon be no more as the area is slated for redevelopment in 2016. For a tinge of nostalgia, pay a visit to this mosaic and terrazzo playground while you can!
Other heritage playgrounds in the heartland neighbourhoods you can visit include the Dragon Playgrounds at Toa Payoh Lorong 6 and Ang Mo Kio Avenue 3.
Trampoline, Alexandra Canal Linear Park, Block 61A, Strathmore Avenue
Kids can bounce away at the square trampoline found at this playground along Alexandra Canal Linear Park. Telephone tubes and a parabolic dish can be found nearby for some auditory play. Kids can also turn a crank at a wooden gondola playground to ferry themselves back and forth.
Rocking Seesaw, Block 28D Dover Crescent
Like a half-ring protruding out of the ground, kids can hop on to the seats at the two sides of the seesaw and bounce up and down. This is similar to the play equipment found at VivoCity.
Boulder at Pinnacle@Duxton
Probably Singapore's highest playground, the block climbing structure on the 50th floor skybridge of Pinnacle@Duxton provides sweeping views of the Singapore skyline. There is also a play area on the 26th floor skybridge but it is reserved for residents' use only.

Similar boulder playgrounds can be found at Block 304, Clementi Avenue 4 and Block 270 Punggol Field.
Have fun discovering these wonderful playscapes all over Singapore!
BONUS
Yishun River Green's Crooked Houses
Whimsical and imaginative, the interactive playground at Yishun River Green with funny crooked houses was completed in November 2015. In addition to the crazy crooked houses (why in Yishun?), there are hammock-swings, long slides, a tunnel, and more. Get more details here.
Tank and Truck Playground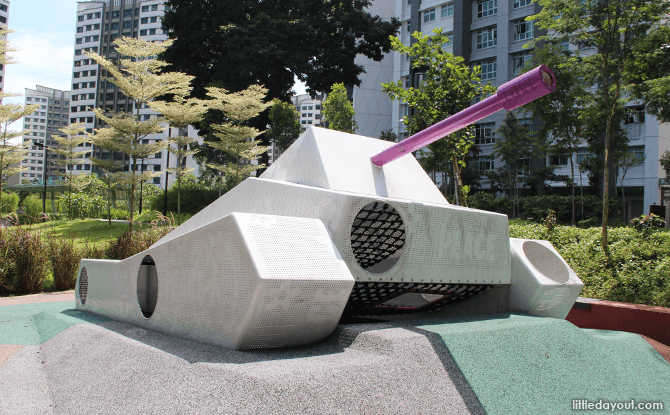 Found among the flats at Keat Hong, the imposing tank and ready-to-go army truck playgrounds offer a way to charge into fun. As an extra, the tank playground has a vertical playground too. Read more here.