Playgrounds are an essential part of childhood. Slides, swings, ladders and ramps provide all the elements needed for kids to build up their confidence and have a healthy dose of outdoor fun. In Singapore, playgrounds can be found all over. And in the heartlands, you are never far from an HDB playground.
Residential HDB playgrounds have come a long way. There are now many interesting heartland playgrounds in residential areas, many distinct from the next. We searched high (literally) and low for some of the most fun and most interesting HDB playgrounds around Singapore's heartland neighbourhoods.
Here are some fun playgrounds around Singapore's heartlands we discovered for a fun little day out at a neighbourhood near you.
---
20+ of the Best HDB Playgrounds in the Heartlands
Woodlands Dragon Playground
This play spot at Woodlands is a new twist to the classic Toa Payoh dragon design. Also close by are climbing nets where kids can exercise their climbing skills. Find out more about it here.
---
Vista Park
The original Alice in Wonderland park was given a revamp in 2020 and now features various play areas with climbing apparatus in an enclosed courtyard which still bears remnants of the Alice in Wonderland theme. Find out more about it here.
---
Fu Shan Garden, Dinosaurs Old & New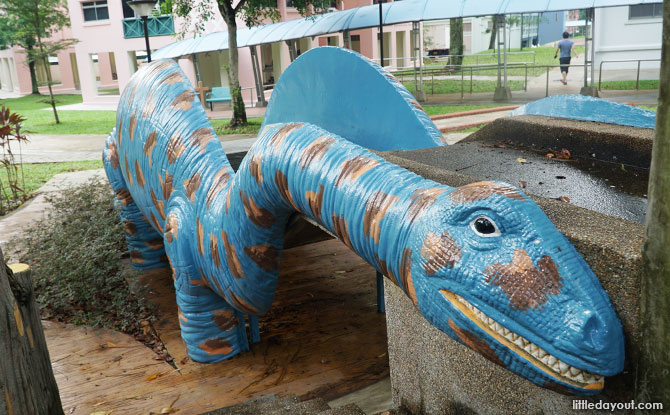 Dinosaurs have invaded the hillock at Woodlands Street 82. The weathered sculptures include some with terrazzo slides down the back. They have been joined by some more modern dinosaurs, creating a unique playground setting in the HDB heartlands. Get more details.
---
Animal Kingdom Playground, Block 686 Woodlands Drive 73
A menagerie of white, life-sized animals statues make their home at this unique HDB heartland playground. You can find statues of a lion, ostrich, elephant and even a camel here. It's great for taking photos with kids who love animals! Find out more here.
---
Ants & Seaweed Playground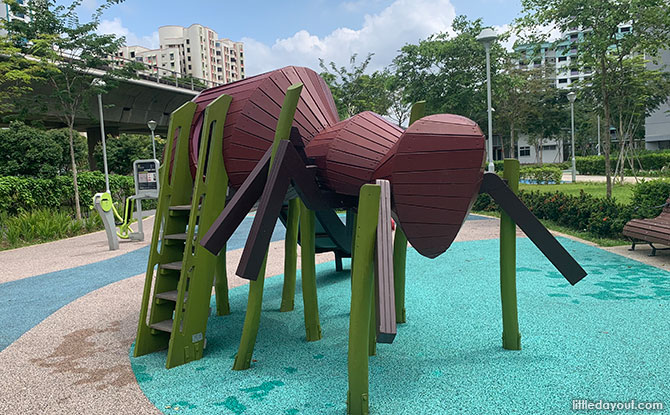 Sun Natura has this unusual playground where kids can climb into an ant! There is also a clump of seaweed which hides a hammock swing too. Find out more.
---
Circle Green Park
Set in the midst of the housing estate in Woodlands is an awesome climbing structure. It is one of three playgrounds at Circle Green Park. Get more details here.
---
Grasshopper Playground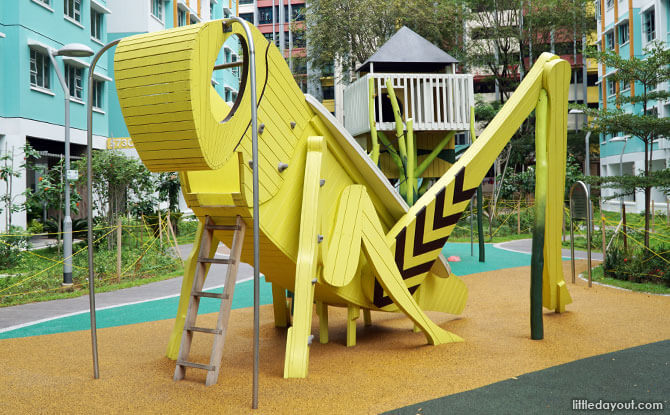 Aesop's fable get played out at a grasshopper and ant themed playground in Woodlands. Get the details here.
---
Canberra Park Playground
Filled with swings and more, Canberra Park offers plenty of space for kids to stretch out and have fun. Find out more.
---
Everspring Park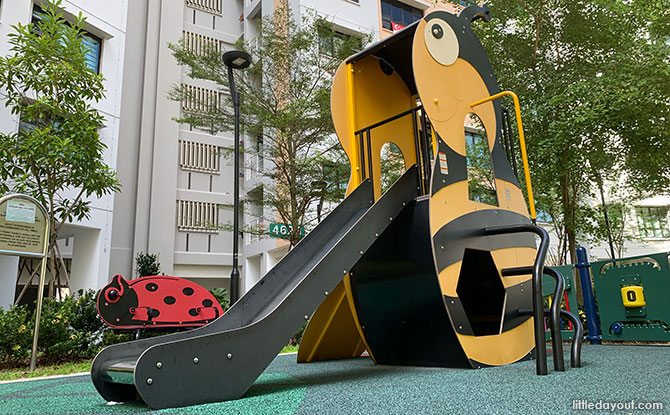 A ladybird, bee and grasshopper, as well a treehouse, can be found at this neighbourhood park in Yishun. Find out more here.
---
Yishun River Green's Crooked Houses
Whimsical and imaginative, the interactive playground at Yishun River Green features funny crooked houses. In addition to the crazy crooked houses, there are hammock-swings, long slides, a tunnel, and more. Get more details here.
---
Oasis Water Park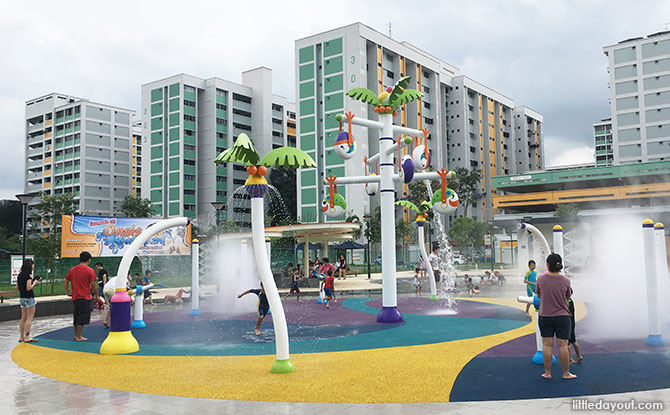 This community water park in the neighbourhood encourages everyone to have splashing fun together. Get the details of this water park here.
---
Origami Playground, Nee Soon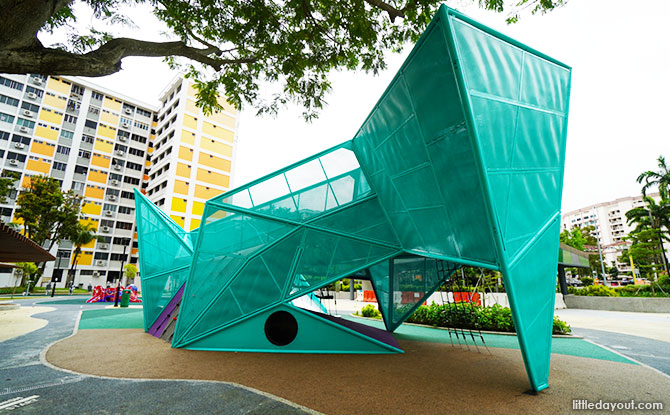 Nee Soon's 3G Park has a playground inspired by origami. Hidden within its folds are various play elements. Get the details here.
---
Buangkok Square Park Village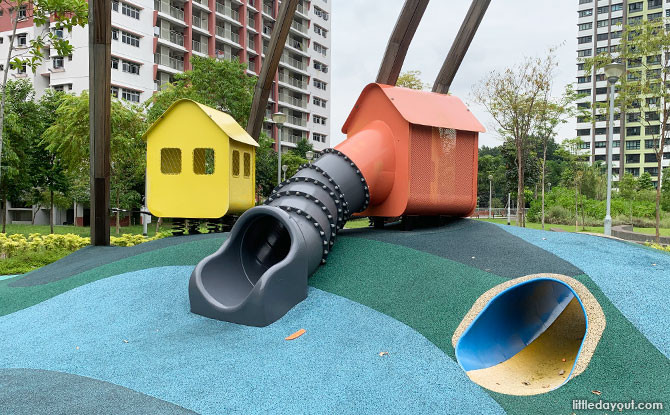 A cute and colourful village playground has sprung up at Buangkok Square Park. There are two sets of huts, one for younger kids and another for older ones. Check out this unique HDB playground here.
---
Canberra Ship Playgrounds
The Canberra neighbourhood is home to not one or two, but a fleet of ship-themed playgrounds. These range from small "sampans" to, our favourite, a large galleon. Check them out here.
---
Shipwreck Playground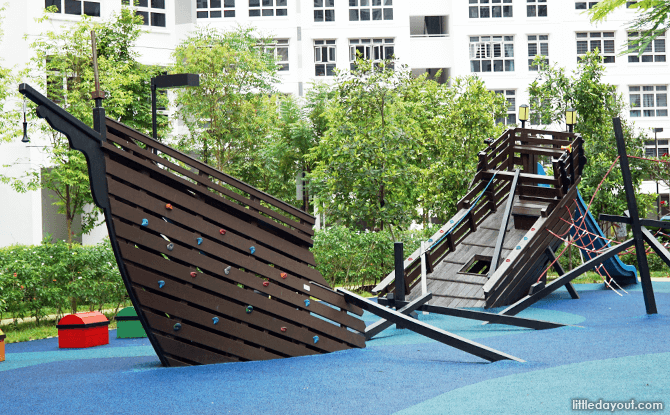 Sengkang's Compassvale Crescent is home to a sunken ship-themed playground.
---
SkyParc @ Dawson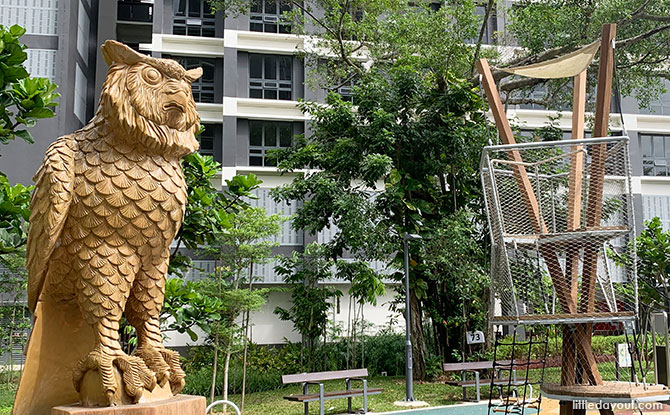 Sporting a woodland-theme, this wooden playground has four native animals perched around the various pieces of play equipment. Check it out here.
---
Wonderland Playground at Dawson Vista
Dawson is home to an Alice in Wonderland themed playground. Say "hi" to the twins and the Cheshire Cat at this heartland play spot. Get more details here.
---
Taman Jurong Park Play Curl
This massive Play Curl playground at Jurong offers plenty of opportunities for exploration for kids. There are multiple entryways into the playground. Nearby, there is also play equipment for younger kids. Find out more.
---
Climbing Towers at Jurong East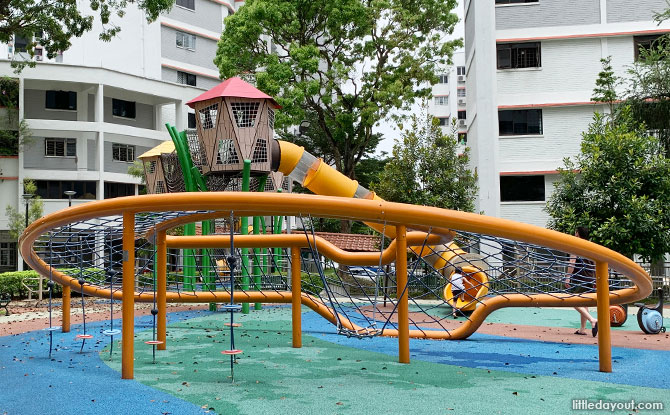 Scale new heights in the midst of the HDB estate at Jurong East Street 24. There are climbing nets too. Find out more here.
---
Hansel & Gretel Playground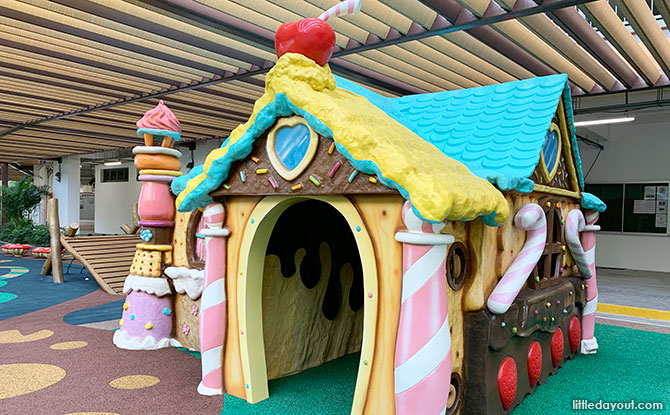 Little ones can go on the Candy Trail at the Hansel & Gretel themed playground at Clementi. There is even a gingerbread house for them to explore. Find out more here.
---
Yung Loh Road Jet Plane Playground
Climb on board and strap in for adventure. The jet plane playground can be found not far from Taman Jurong's Play Curl. It offers a unique play spot in the midst of a housing estate. Find out more.
---
Origami Playground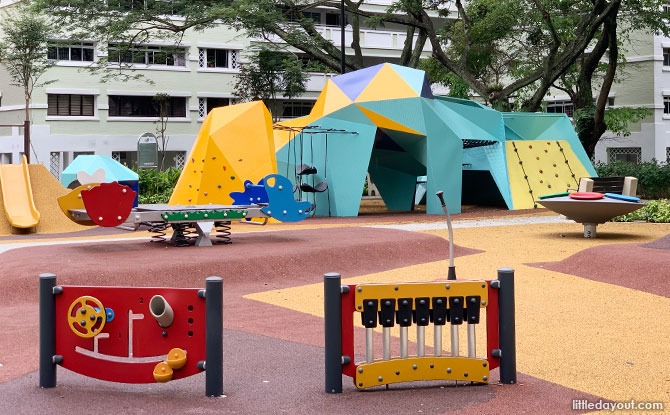 Shaped with folds like those found in a piece of paper is the Origami Playground at Jurong West Park. Hidden within the structure, there are hammocks and a slide. Find out more here.
---
Mothership & Spinning Saucer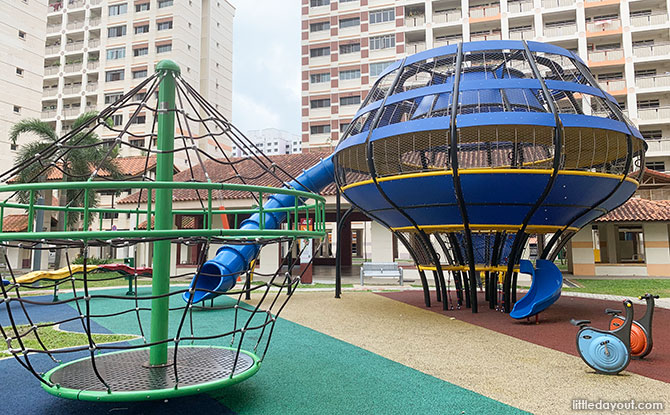 This unique circular playground can be found at Jurong West Street 73. It looks like an alien ship which has landed in the midst of the housing estate. Find out more here.
---
Tank and Truck Playground at Keat Hong Garden & Keat Hong Mirage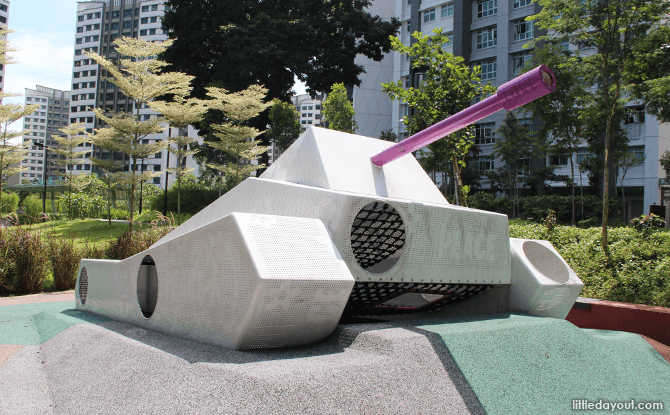 Found among the flats at Keat Hong, the imposing tank and ready-to-go army truck playgrounds offer a way to charge into fun. As an extra, the tank playground has a vertical playground too. Read more here.
---
Bukit Batok Airplane Playground
Kids can imagine they are about to take off at the prop airplane playground at Bukit Batok. Find out more here.
---
Toa Payoh Crest Playground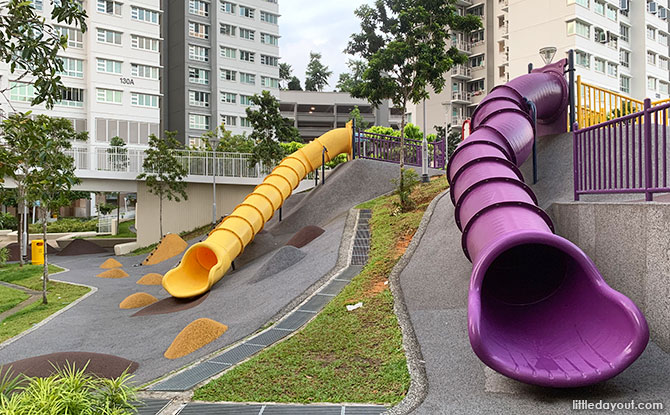 Have fun on the slopes at this terrain-hugging playground at Toa Payoh. Find out more about it here.
---
Alkaff Crescent Playgrounds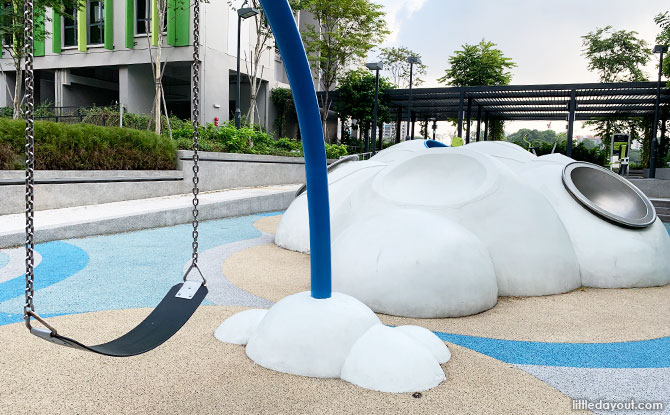 Located on multiple levels are playgrounds based on water, wetlands, mountains and clouds. Check them out here.
---
Tampines Green Forest Park
Scale the heights of the climbing nets at Tampines Green Forest Park. Venture through the sky cabins at this Tampines Ave 8 playground. Get more details here.
---
Tampines GreenEdge Playground
A meteorite has landed in Tampines – at least that's the theme at this neighbourhood playground at the edge of Tampines!
---
Watermelon and Mangosteen, Block 858, Tampines Avenue 5
An oldie-but-goodie, the Watermelon and Mangosteen playgrounds provide a refreshing contrast to modern playgrounds. The watermelon hides a slide while kids can hide away in the purple mangosteen.
Have fun discovering these wonderful playscapes all over Singapore!