All kids have dreamt of living in a treehouse, darting along elevated walkways, high above the surrounding land below. While not exactly treehouses, several tower playgrounds and play spots in Singapore do provide kids the opportunity to take play off the ground and up in the air. Elevated playgrounds consist of towers and bridges. Cargo nets lead from the ground upwards to little hideaways perched above.
These playgrounds are both challenging and fun. They allow kids to expend their energy and, more importantly, build a healthy sense of adventure and self-confidence.
Tower Playgrounds with Bridges, Cargo Nets and Climbing Structures in Singapore
---
Admiralty Road West
Woodlands Waterfront is not only home to one the longest jetties in Singapore but one of the most exciting elevated playgrounds too. "Crows nests" are interconnected by chain-link bridges at this coastal park playground. Rope ladders and climbing nets provide multiple entryways for kids to get to the fun above.
---
2. Marine Cove
1000 East Coast Parkway, Singapore 449876
At the centre of the Marine Cove Playground is a red "lighthouse" play tower. A raised cargo net tunnel is connected to the play tower, providing an alternative route in and out.
---
879A Tampines Avenue 8, Singapore 521879
Scale the hexagonal spaces of a climbing net to get up the towers at Tampines Green Forest Park. This earthy brown playground has sky cabins raised up above ground. Cabins are interconnected by a series of netted bridges.
---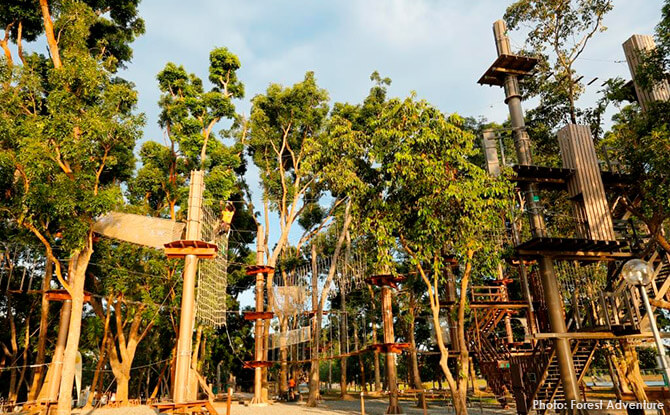 825 Bedok Reservoir Road, Singapore 479244
Experience adventure among the trees at Forest Adventure. This rope adventure course at Bedok Reservoir Park is perfect for both kids and adults to challenge themselves and build confidence. And it comes with an awesome view too.
---
5. Jurong East Street 32 Playground
Block 306 Jurong East Street 32, Singapore 600306 
Two rustic "cottages" sit atop green "trees" at Jurong East Street 32. The two shelters are connected by a netted walkway. Climb a rope ladder up at one end and twirl down the slide at the other.
---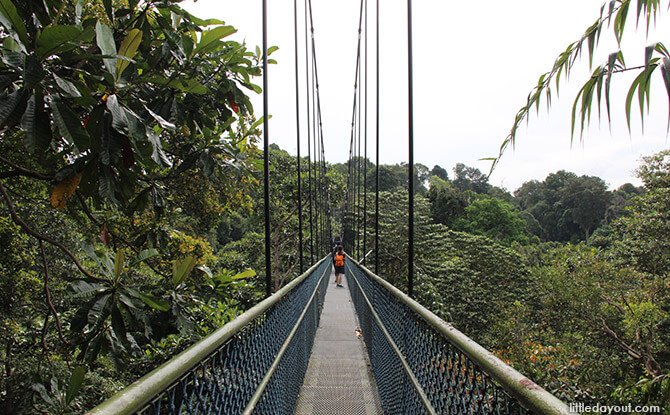 MacRitchie Reservoir, enter via Venus Drive
For a truly elevated perspective on nature, make the trek to the TreeTop Walk at the Central Catchment Area. The 250-metre long suspension bridge connects Bukit Peirce and Bukit Kalang, the two highest points in MacRitchie.