All kids have dreamt of living in a treehouse, darting along elevated walkways, high above the surrounding land below. While not exactly treehouses, several tower playgrounds and play spots in Singapore do provide kids the opportunity to take play off the ground and up in the air. Elevated playgrounds consist of towers and bridges. Cargo nets lead from the ground upwards to little hideaways perched above.
These playgrounds are both challenging and fun. They allow kids to expend their energy and, more importantly, build a healthy sense of adventure and self-confidence.
Elevated Tower Playgrounds with Bridges, Cargo Nets and Climbing Structures in Singapore
---
1. Woodlands Waterfront Park
Woodlands Waterfront is not only home to one the longest jetties in Singapore but one of the grand-daddies of elevated playgrounds too. "Crows nests" are interconnected by chain-link bridges at this coastal park playground. Rope ladders and climbing nets provide multiple entryways for kids to get to the fun above.
---
-- Story continues below --
2. Mega Playground
The Mega Playground at The Arena @ Keat Hong is quite literally taking play in the heartlands to new heights. Head up to a towering treehouse or make the climb up a set of acorns to reach the top of this awesome elevated playground. Find out more about the Choa Chu Kang Mega Playground.
---
3. Tampines Green Forest Park
Scale the hexagonal spaces of a climbing net to get up the towers at Tampines Green Forest Park. This earthy brown playground has sky cabins raised up above ground. Cabins are interconnected by a series of netted bridges. Read more about Tampines Green Forest Park.
---
4. West Plains Playground
Towering in the air are three brown huts with green roofs, interconnected by a series of rope bridges at the West Plains Playground. West Plains playground offers barrels of fun for kids. There are two brown faux-wooden barrels which kids can climb into as they make their way up this elevated playground. Get more details here.
---
5. Jurong East Street 32 and Street 24 Playgrounds
\
Two rustic "cottages" sit atop green "trees" at Jurong East Street 32. The two shelters are connected by a netted walkway. Climb a rope ladder up at one end and twirl down the slide at the other.
Elsewhere in the Jurong East neighbourhood, at Street 24, there is yet another set of elevated playgrounds. This also consists of a set of high towers and net bridges. Get more details about the elevated playground at Jurong East Street 24.
---
6. Tampines Greenview Playground
The Tampines Greenview Playground has a play structure with mini-towers. It is elevated off the ground but it is probably more suited for younger kids. Find out more about the Tampines Greenview Playground.
---
7. Yishun N8 Park Playground
The colourful huts elevated on stilts make for fun make-believe play at the Yishun N8 park playground. It is made from three set of interconnected houses, elevated off the ground. Get more information about the Yishun N8 Park playground.
---
8. Circle Green Park Playground
The highlight of the Circle Green Park playground is the huge climbing pyramid at the centre of the park. The blue-coloured climbing structure has rope nets for kids to ascend as well as a little hut at the very top. Find out more about the Circle Green park playground.
---
9. Kids Walking Roller Coaster
For a different type of elevated play, head over to the Kids Walking Roller Coaster Playground at Heights Park. Kids can make their way up and down the slopes and end off with a slide down one of the two slides. Get more details here.
---
10. Coastal PlayGrove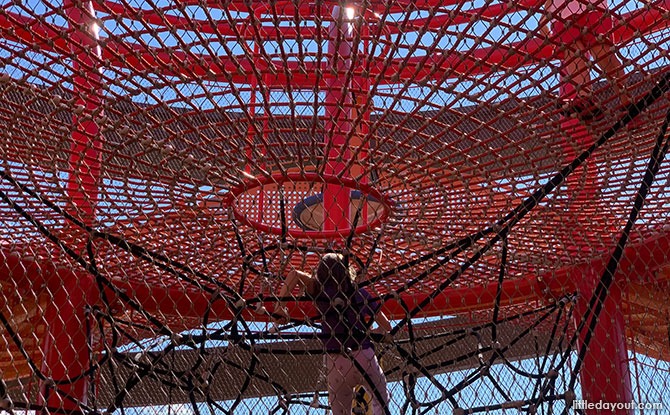 We simply can't leave out the tallest play tower of them all in Singapore. Head over to Coastal PlayGrove to climb up the tower and take the fast way down with the slide. Find out more about the Coastal PlayGrove playground.
---
11. Potong Pasir Tower Playground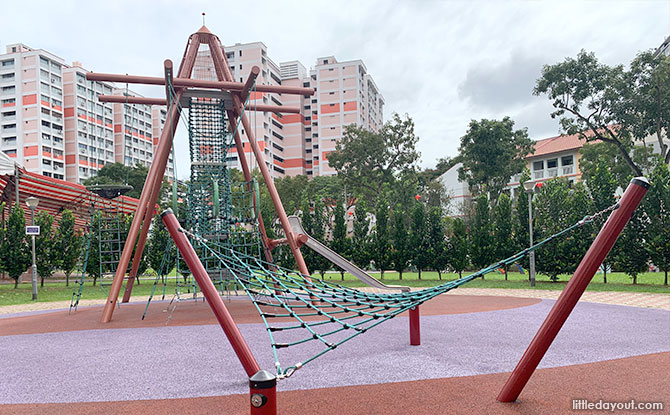 Situated in front of Block 142 in Potong Pasir and next to the Community Club is a playground with climbing nets stretched out across a triangular frame. Find out more about the Block 142 Potong Pasir Playground.
What's Next: Water Play Spots to Splash About in Singapore