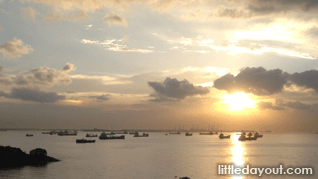 Just where in Singapore can you catch the sunrise or sunset?
You can watch the sun rise out of the sea at East Coast Beach, catch its reflection at Lower Seletar Reservoir, say goodbye to it at Changi Coastal Walk, contemplate its serenity up on Mount Faber and at many more wonderful spots in Singapore.
Dawn and dusk are surreal moments when darkness meets light. It's poignant and doesn't cost a dime. Many places where you can catch the sun rise and set are also surrounded by natural beauty. Take time to enjoy all that is around. Simply put, it's not just watching the sunrise or sunset, but it can be a meaningful and memorable way to begin or end off a day with your loved ones. Be sure to do it at least once in your lifetime with your family!
Where to Catch the Sunrise or Sunset in Singapore
Here are our favourite spots around Singapore where you can catch the:
1. Sunrise
– Lower Seletar Reservoir Park
– Sembawang Park
– East Coast Park
– Pulau Ubin
– Punggol Waterway Park: go to the Sunrise Bridge at the Sunrise Gateway
For a hilltop experience, try these parks to catch the sunrise:
– Fort Canning
– Telok Blangah Hill.
Do something significant the moment the first sunbeam appears in the horizon. Use the moment to share with your kids something important to you.
2. Sunset
– Changi Point Coastal Walk: the last section is called the Sunset Walk for a reason!
– Woodlands Waterfront
– Lower Peirce Reservoir Park
– Punggol Point Park
– Punggol Waterway Park: go to the Sunset Strip and look for the Jewel Bridge
– Labrador Nature Reserve
– Upper Seletar Reservoir Park.
You can also go to the top of Mount Faber or Skyloft, a restaurant above iFly Singapore, Sentosa for a 'sundowner'.
Talk about how the day was as a family and share one thing that each of you are grateful for.
What Time is Sunrise and Sunset in Singapore?
Just remember to prep the kids for the adventure ahead the night before if you're catching the sunrise!
Have a sparkling Little Day Out!