Catching the sunrise and sunset in Singapore is a breathtaking experience that you can enjoy in many places. Watching the rise and fall of the "giant yolk" as it appears or disappears into the horizon can be a wonderfully therapeutic activity, apart from the gorgeous pictures captured for memories.
Dawn and dusk are surreal moments when darkness meets light. It's poignant and doesn't cost a dime. Many places where you can catch the sun rise and set are also surrounded by natural beauty. Take time to enjoy all that is around. Simply put, it's not just watching the sunrise or sunset, but it can be a meaningful and memorable way to begin or end off a day with your loved ones. Be sure to do it at least once in your lifetime with your family!
---
Where to Watch the Sunrise & Sunset in Singapore: Things to Know Before You Set Off
Check the exact timings for the sunrise and sunset from this site.
Ensure the parks are open especially at Sunrise. For instance, the opening hours of Coney Island are between 7am to 7pm daily.
Bring along your cameras for the best shots.
Here is a list of our 40+ favourite sunrise and sunset spots in Singapore, some of them are recommended by seasoned photographers and hikers!
---
North of Singapore
1. Lower & Upper Seletar Reservoir Park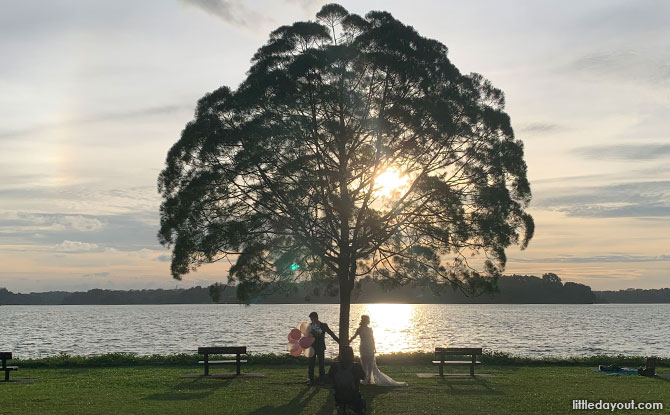 ---
-- Story continues below --
A popular place for viewing sunrise and sunsets, Lower Seletar is a treasured reservoir park visited by many including photographers. Upper Seletar also has the iconic tree too. Sunrise and sunset shots are stunning, highlighting the tranquillity of the waters and the skies.
---
2. Upper Peirce Reservoir Park
Another popular park for sunrise and sunset – Upper Peirce.
---
3. Lower Peirce Reservoir Park
Sibling to Upper Pierce, Lower Pierce offers different views yet gorgeous ones nonetheless.
---
4. Ulu Sembawang Park Connector
Hikers have been flocking to the Ulu Sembawang Park Connector at the break of dawn to catch a glimpse of the glorious sun. This rustic spot cuts through the nature reserve to link the Woodlands (SLE) Park Connector to Mandai Park Connector.
---
5. Sembawang Park
The Northern coast promises a wonderful sight at the start or end of day. Sembawang Park also has a beach for some sand-play or kayaking facilities if you prefer to be out in the waters.
---
6. Punggol Waterway Park
One tip at Punggol Waterway Park is to head to the Sunrise Bridge at Sunrise Gateway!
---
7. Punggol Beach & Promenade
Head to the viewing deck for awesome views from Punggol Point. Food & Beverage spots are just a stone's throw away for some post-sunset meals.
---
8. Coney Island Park
Since you are thinking of visiting Punggol, how about visiting Coney Island Park for Sunset views? Head to the coast to see the setting sun and remember to leave the island before 7pm!
---
9. Rowers Bay
Rowers Bay offers panoramic views of Seletar Reservoir and of course, this is an ideal spot for cyclists and sun-chasers to visit.
---
10. Lorong Halus
The reed beds and the Lorong Halus bridge perfectly frame sunrise and sunsets. This peaceful area is frequently traversed by cyclists.
---
11. Kranji Marshes
Apart from providing refuge to birds and other wildlife, Kranji Marshes is a spot to check out sunsets. It is open from 7am to 7pm.
---
12. Sungei Buloh Wetlands
Sungei Buloh Wetlands Reserve is one park not to be missed, not just for the amazing biodiversity you will encounter but the stunning sunset views.
---
13. Woodlands Waterfront Park
This park nearest to the Causeway has a fantastic playground and close to plenty of nature. Woodlands Waterfront Park is also one spot to visit at dawn or dusk.
---
14. Kranji Reservoir Park
Overlooking Sungei Buloh and Kranji Reservoir, this little gem has pretty low visitorship. If you are looking for a rather quiet spot to soak in the surroundings and the sun, this park should be on your list.
---
15. Yishun Dam
Touted as the best spot for sunrise and sunset, Yishun Dam is right next to Rowers Bay. Take a long look at the majestic skies as the ambers flare up the entire horizon.
---
16. Sky Terrace & Rooftop Garden at Northshore Residences
It is not usually possible to head to a highrise building unless you live in it and stairwells could obstruct views. At Northshore Residences in Punggol, you can enjoy views from the Rooftop Garden.
---
West of Singapore
17. West Coast Park
Many parks are open 24-7 and the best thing is you could camp out at West Coast Park to see the change in the skies and clouds.
---
18. Dawson SkyPark Rooftop Garden
Another high-rise spot open to the public, Dawson Skypark Rooftop Garden is a place to check out for beautiful views. We also heard that this place is known for viewing of fireworks as well.
---
19. Telok Blangah Hill Park
Right next to Mount Faber is a lesser known counterpart called Telok Blangah Hill Park. There are four reasons to check it out aside from hunting the sunrise or sunset.
---
20. Kent Ridge Park
Kent Ridge Park is a park with much historical significance as well as high vantage points. It overlooks the Southern coast.
---
21. Pandan Reservoir
You can also cycle, jog or kayak at Pandan Reservoir and admire the views at dawn and dusk.
---
22. Jurong Lake Gardens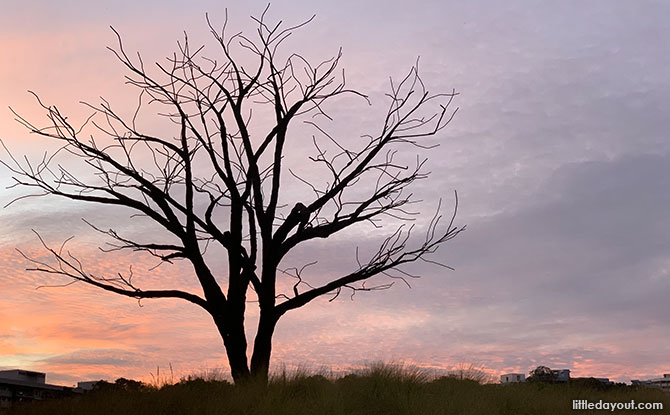 Head to Jurong Lake Gardens for a picturesque view of Chinese Gardens illuminated by the rays of the morning and evening sun. The Lone Tree at Jurong Lake Gardens also makes a great photo spot.
---
23. Raffles Marina Lighthouse (Tuas)
On the extreme West end of Singapore next to the Tuas checkpoint is the Raffles Marina Lighthouse. We hear that the sunrise views are amazing!
---
East of Singapore
24. East Coast Park
East Coast Park is one of the most accessible parks with plenty to see, play and do. This park is also popular because of the beach activities, recreational activities, and the breeze. Of course, catch the sunrise and sunset at this family-friendly park!
---
25. Pulau Ubin
Although Pulau Ubin is less accessible, views from the island are fantastic. Head to Chek Jawa for a treat as this is one of the most beautiful untouched spots left in Singapore.
---
26. Changi Beach
Head to Changi Beach to check out the intertidal zone and also to see the skies.
---
27. Changi Bay
Not far from Changi Beach is the new Changi Bay which offers "Jeju-like" views.
---
28. Tanjong Rhu Promenade, Suspension Bridge, Tanjong Rhu Park Connector
Visit Tanjong Rhu too! Although Tanjong Rhu Park Connector is tucked away near the Kallang Basin, it promises wonderful views as well.
---
29. Gardens by the Bay, Bay East
Cycling or walking to the Eastern part of Gardens by the Bay will let you have a panoramic view of Gardens by the Bay Cloud Forest and Flower Dome as well as Marina Barrage. It's also a quieter area which fewer people frequent hence letting visitors soak the tranquility in peacefully.
---
30. Changi Boardwalk (Sections closed at the moment)
Patiently await the opening of Changi Boardwalk as this walk guarantees gorgeous views of Singapore's Eastern coast coupled with planes flying.
---
31. Pasir Ris Park
Pasir Ris Park is an awesome park for family activities and it boasts a 6km+ long beach! Of course it is a spot to admire the skies!
---
South
32. Merlion Park
Love the skyline as a backdrop for the rising or setting sun? Visit Merlion Park for the city views of Singapore that makes it so unique.
---
33. Marina Bay Sands Skypark or Marina Bay Sands Hotel
Heading to MBS for a staycation? Or visiting MBS Skypark Observation Deck? Time your visit to the pool, rooftop restaurants or the Sky Park for the breath-taking views!
---
34. Marina Barrage
Marina Barrage is a popular spot for photoshoots and the sun is the reason for that. Revel in the rays of the biggest star in our solar system.
---
35. Marina Bay
The Marina Bay area including the Promontory, Olympic Walk, Helix Bridge are all places to catch the sunrise and sunset. Watch how the skyscrapers reflect the light and observe the various hues as the day comes and night falls.
---
36. Marina at Keppel Bay
Visit Marina at Keppel Bay for views alongside the gorgeous yachts. We also saw some sailing off into the sun which would may cause a bout of envy.
---
37. Labrador Park & Bukit Chermin Boardwalk
The Southern waterfront boasts luxurious private housing, views of Sentosa, plenty of historic landmarks which you can access at Labrador Park. Here, you can also see the port, the ships and the WW2 relics still standing. Watch the movement of the sun at dawn and dusk along the coast and we promise you unobstructed views of the horizon.
---
38. Mount Faber
Prefer a view from the top, head to Mount Faber. Better yet, take a cable car ride during the setting of the evening sun.
---
39. Fort Canning Park
Another peak to seek, Fort Canning Park also gives visitors a chance to see amazing sunrise and sunsets. This destination was also an important part of history known as Forbidden Hill where kings and governors ruled.
---
40. Sentosa – Beaches & Cable Car ride
One destination that one cannot miss is Sentosa – think beaches, cable car, SkyHelix. The idyllic island is where we would all love to chill and watch the sun set on the island.
---
Central Singapore
41. Bishan-Ang Mo Kio Park
Prefer somewhere central? Visit Bishan-Ang Mo Kio Park to soak in more Vitamin D.
---
42. MacRitchie Reservoir
It seems like bodies of water are correlated with scenic spots. MacRitchie is of course on the list!
---
Sunrise & Sunset in Singapore – Happening Daily
If you are unable to head to any on the list, simply look up and behold the sight in the skies. While the view can be obstructed, marvelling in the certainty of the sun rising and falling daily is a blessing in itself.
Use the moment to share with your children something to be grateful for and talk about the day as a family. May the sun always shine on you!