Northshore Residences is a block of HDB flats located near the newly opened Northshore Plaza. Other than its convenient location near the Samudera MRT, this residential area has a Sky Terrace with a great place to catch the sunrise as well as a rooftop garden.
---
Sky Terrace: Sunrise Deck at Northshore Residences
Located at Block 409C, visitors can make their way to the 10th floor where the Sky Terrace is located. Upon exiting the lift, they will see signs directing them to the Sunrise Deck.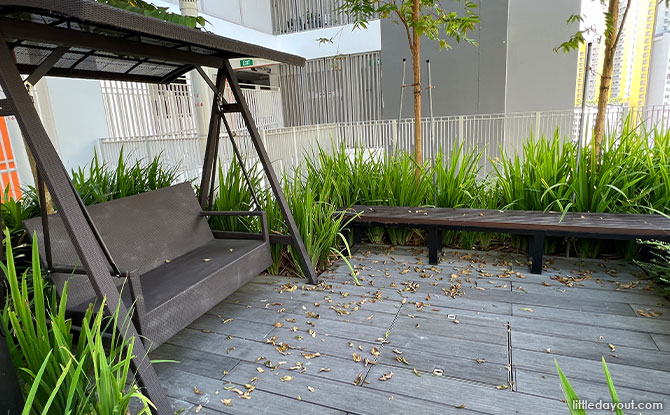 There are outdoor swings and seats that residents or visitors can sit at while taking in the fresh air. There are also regular seats on the deck with benches, tables and plants surrounding the area.
At the inner section of the sunrise deck, there is a wooden rattan chair swing as well as another bench to sit at.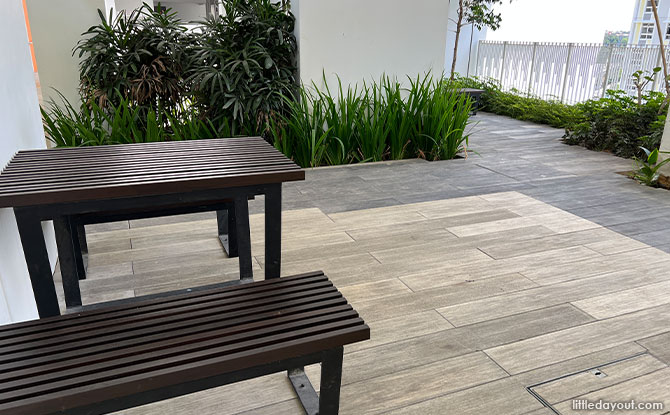 There is also a table and bench set up in the shelter which is a nice spot for residents and visitors looking for a change of environment to study or to finish up some work.
From this section, visitors to this area will get a clear view of the sky, thus making it a good place to catch the sunrise.
---
Roof Garden at Northshore Residences
Another spot that visitors can make their way to is the 19th floor, which is where the roof garden is located. There are sections of plots of land and lots of greenery. There are open-aired benches as well as a semi-sheltered bench and table area.
This is a designated area for residents to have outdoor activities such as barbeques, but due to the ongoing pandemic, such rentals and activities have been paused.
---
Playground at Northshore Residences
Other community areas near Block 409 include the playground at Block 407A and Block 407B. The playground has a play area with slides, teeter-totters and more for kids to play at and enjoy. Read more about it here.