Rustic, idyllic and olden day Singapore is what comes to mind after a little day out at Punggol Point Park. Drive all the way to the end of Punggol Road, past where poultry farms used to exist, and you will be rewarded with more than a vast view of the open sea. Beyond the calm waters, a host of exciting activities and attractions are bubbling to surface at this coastal recreational destination. 
Punggol Promenade & Punggol Jetty
Perch yourself on top of the ship-inspired viewing deck above the jetty, and you will be gazing at Johor's bustling Johor's Pasir Gudang. On your right, you will catch a glimpse of Pulau Ubin and Coney Island.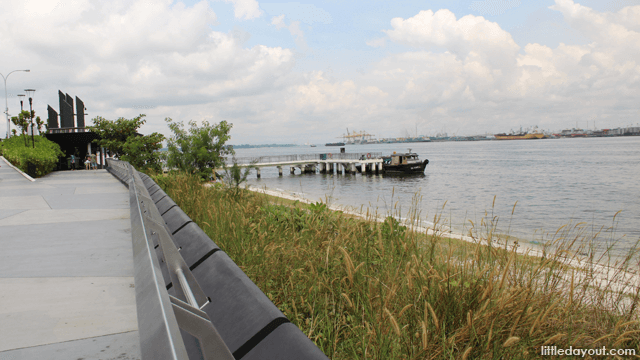 This very spot used to be a popular seafood haunt back in the 1980s and 1990s. Today, this re-developed jetty area is the gateway to the 5 km long Punggol Promenade North-eastern Park Connector network linking you all the way to Punggol Park in Hougang. At this pedestrian connector for the upcoming Punggol Waterfront Town, you can venture from Punggol Point Walk on to the tranquil Nature Walk with fishing points and rest stops, as well as Riverside Walk with its fitness stations and cycling tracks.
On the west of the jetty is Punggol Beach. It was here that 400 Chinese civilians were massacred as part of the Sook Ching Massacre during World War 2 on 28 February 1942. National Heritage Board has marked the area as a national heritage site, with a plaque commemorating and explaining the moment in history. This is a significant place to share this part of our history with the kids.
Punggol jetty should also familiar to those heading to Outward Bound Training at Pulau Ubin
Water Lily Ponds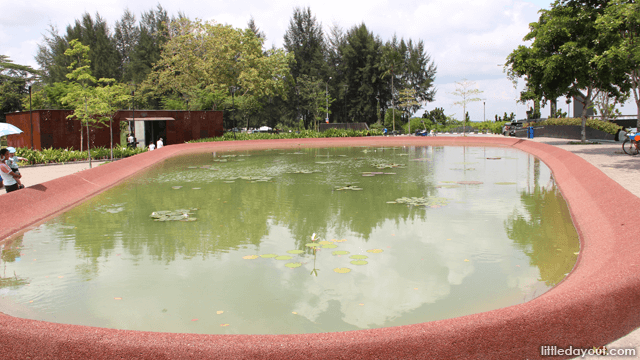 On the east of the jetty area are two huge elevated brown-rimmed barriers. Upon closer inspection, we were delighted to discover that these were actually two large ponds filled with water lilies with big leaves, as well as dragonflies, a few tortoises and lots of freshwater fish.
Sand-filled Playground
There are not many sand-filled playgrounds in Singapore and this one at Punggol Point Park is one of them! Not just that, there are also the good ole swings besides the other fun playground structures.
Cycling Along The Punggol Promenade Coast
Cycling is an easy way of exploring the promenade. Rent one from Jomando Adventure & Recreations just next to the playground area. Estimate how much stamina you have, as you have to return the bikes back at this same shack. However, if you start from Punggol Park, you can leave the bikes at this shack as the bike outlet at Punggol Park is bigger and allows you to do so.
Children's and adult bikes are available at $5 and $8 per hour respectively. The shack is closed on Mondays to Wednesdays and open on Thursdays and Fridays from 2.00 pm to 8.00 pm, and on weekends and public holidays from 9.00 am to 8.00 pm.
Punggol Ranch

An exciting cowboy town ranch is about to burst onto the scene. Once approvals have been obtained, Punggol Ranch, owned by Gallop Stables, will soon be the centre for a hive of activities including:
1. Horse Riding
60 stables have been built and are eagerly awaiting the arrival of horses from Gallop Stable's sister branches at Horsecity Gallop Stables Bukit Timah and Gallop Stables Pasir Ris. New horses could possibly be imported during the later phases. Besides offering the same horse riding activities, Gallop Stables is hoping to offer jungle trail rides at this special location. We look forward to sharing with you more news on this once we get it!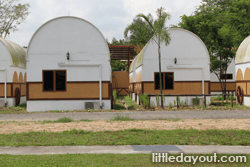 2. The Wagon
Completing the whole cowboy town experience, you can soon stay the night within The Wagon! There are 30 of these wagon-shaped cabins at Punggol Ranch catering to corporates and families, with each large enough to accommodate up to four persons and hold an en suite bathroom. You can barbeque the night away or enjoy some food at the F&B outlet within Punggol Ranch. Rates at The Wagon are expected to start at $150 a night and this will be Singapore's newest chalet-like accommodation with a horsey difference.

Punggol Settlement
Punggol Point is also the location for Punggol Settlement, a spot with restaurants and eateries.