The road to Punggol Settlement is long and winding. The far-flung waterfront destination in the north-east used to be Punggol Jetty, a hot dining spot for seafood in the 1970s.
The newly-opened Punggol Settlement has brought the place roaring back to life, with a good number of restaurants, cafes, bars, a playground, a horse-riding ranch, and outdoor activities like stand-up riding and bike rentals.
If city living is getting to you, make a quick getaway to the idyllic dining destination, where the palm trees sway in the wind and the sea breeze blows into your hair. The night views here are good, too.
Trot along to the Punggol Settlement, and enjoy a beautiful view of the sea as ships slide slowly by.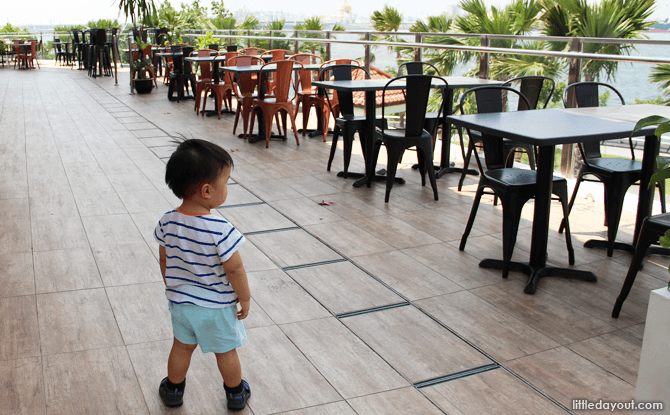 Food and drink dominate at Punggol Settlement. Largely made up of eateries, cafes, bars and a cluster of seafood restaurants, the Settlement has plenty of space for the little ones to run about.
Punggol Settlement's official website offers the listing of its tenants, but no information on opening hours or much else. So you will have to find the information for each eatery, bar, or shop individually by yourself.
Note that the enclave is pretty much closed on weekday afternoons – with the exception of the bike and ride rental shops – but comes alive after 5 pm.
During the weekends, however, eateries open early in time for breakfast or brunch.
See Little Day Out's list of places in Punggol Settlement below, and the best times to visit.
Bars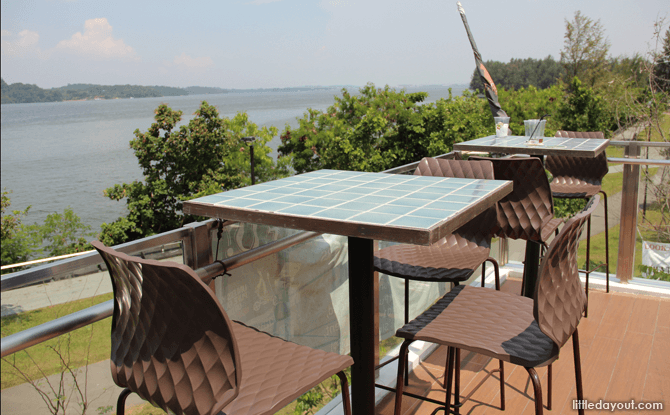 One thing that really works for the bars at Punggol Settlement: The fantastic view, day or night.
Built really close by the sea, Punggol Settlement lines up all its F&B outlets along an outdoor corridor to fully take advantage of the sea breeze and sea views, offering al fresco options.
Georges By The Bay, a laid-back bar with a Balinese theme located right at the end of the building, has bar tables and stools  – as well as long tables with benches – for customers to enjoy the sea view with a tipple. Good for groups.
Don't worry, Punggol Settlement is family-friendly and your kids can run about in the open spaces while you sip a cocktail or beer.
Georges By The Bay
Opening Hours: Sunday to Thursday:  4 pm to 1 am; Friday and Saturday:  4 pm to 2 am; Tuesday: Closed
Tel: 6702 6186
Fur Kicks, a gastropub offering tapas and full-size mains, has a cool, urban vibe.
Hungry? Get the Spaghetti Marinara or the Chicken Cordon Bleu. There is Paulaner beer on tap, or Little Creatures by the bottle.
While Georges By The Bay is earthy and rustic-themed, Fur Kicks is slick and cool as you please, with bar tables that glow a mauve neon at night. Kids will love the glow-in-the-dark tables!
Fur Kicks
Opening Hours: Monday to Friday: 5 pm – 12 midnight
Bistros & Cafes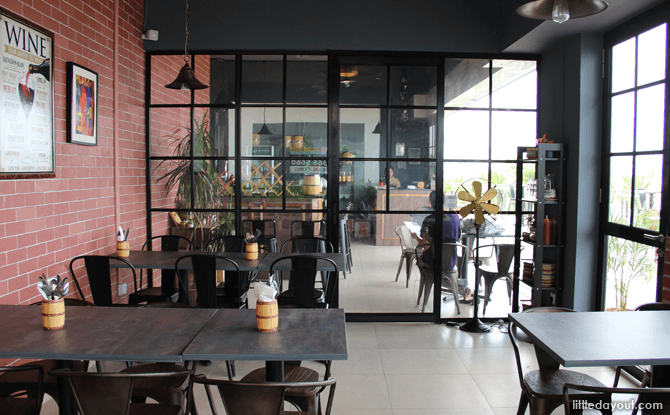 What could be better than enjoying a lazy weekend with a cuppa and some good food with the fam?
Just The Place is a cosy bistro owned by an entrepreneurial couple. The cafe's warm, woody interior makes a great accompaniment to the European offerings on the menu – think pasta, grilled fish, steak tartare, truffle fries, and desserts like crepe, chocolate praline and creme brulee. Staff are friendly and helpful, and high chairs are easily available. On a hot day, an ice-cold mug of apple cider hits the spot.
Just The Place
Opening Hours: Tuesday – Friday: 5.00 pm – 12.00 am; Saturday- Sunday: 10.00 am – 12.00 am
Tel: 6702 7370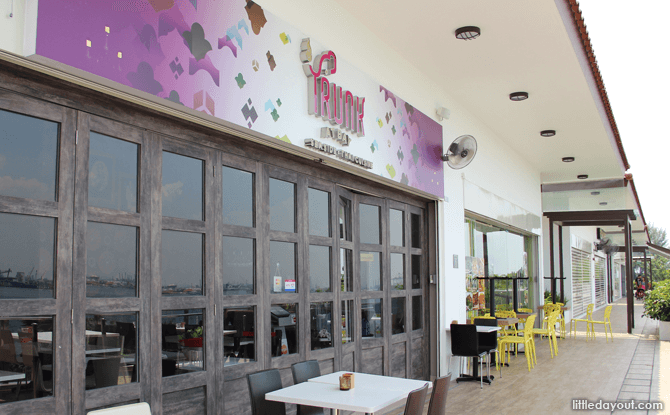 Fancy some Thai? Hop over to Trunk At Bay, a Thai restaurant next door to Just The Place.
Or perhaps some good old homely nonya comfort food at Simple Peranakan.
If the afternoon gets too hot, Wayne's Chill-Out is a cool, air-conditioned oasis. Freshly made ice-cream, hand-made pizzas, ice-cream floats, milkshakes and brewed coffee will leave you spoilt for choice. The owner, Wayne, is also very friendly and will make you feel right at home.
Wayne's Chill-Out
Opening Hours: Monday – Friday: 2.00 pm – 11.00 pm; Saturday – Sunday: 11.00 am – 11.00 pm
Tel: 9828 9987
Catch of the Day
Back in the days when Punggol Jetty was a local seafood spotlight, people travelled far and wide to dig into some hearty seafood.
Old Hock Kee, now known as Ponggol Seafood, was a hot dining spot at Punggol Jetty in the 1970s. When the land was acquired by the Government, the restaurant moved out in 1994.
Now that Punggol Settlement is in place, the seafood restaurant was invited to return to its old stomping ground.
A string of other seafood restaurants on the first storey add to the festive dining vibe, al fresco and by the sea. Your family can also pick seafood restaurants like House of Seafood and Jing Long Seafood, too.
Opening Hours: Monday – Friday: 11.30 am – 2.30 pm, 5.30 pm – 10.30 pm; Saturday – Sunday: 11.30 am – 10.30 pm
Tel: 64488511
Family Activities
A small playground awaits on the second storey – while dad and mum are sipping cocktails or enjoying a good meal, the little tykes and burn some energy here.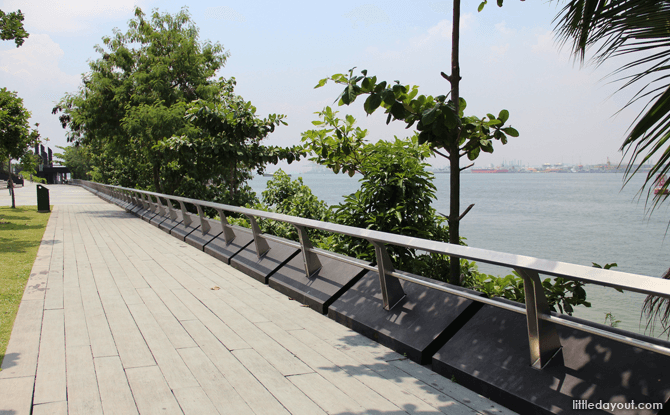 If your family enjoys cycling, this is a beautiful area for some leisurely pedalling.
At the back of Punggol Settlement, the paths link to Punggol Promenade and Punggol Point Park, which is part of the Punggol Park Connector Network.
Jomando Adventure & Recreations offers many types of bikes for rental, including bikes fitted with premium baby seats by Yepp, tandem bikes, and other fun concept bikes.
Don't be shy and be sure chat with Joe, the owner of Jomando. Ask him to best cycling route to take for your needs (the bike shop will give you a map).
If you have very young kids, a biking trip of no longer than 40 minutes is recommended.
Or if you are an avid bike enthusiast, you can take a ride of a few hours. Joe will tell you where the best spots are for a view of the sunrise or sunset.
Jomando Adventure & Recreation
Opening Hours: Monday to Friday: 12.00 pm – 9.00 pm; Saturday to Sunday: 8.00 am – 10.00 pm
Tel: 9850 1813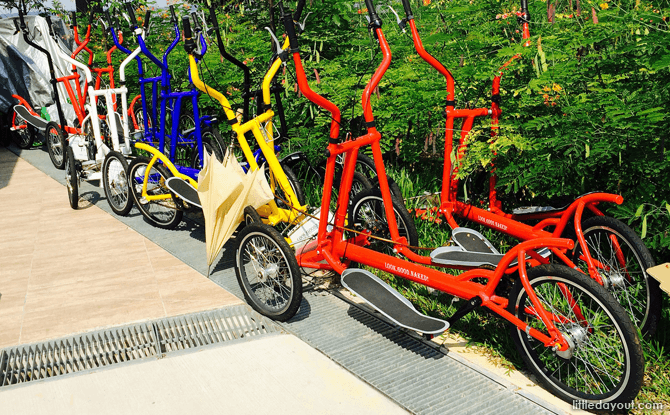 Another fun family activity is stand-up riding, a clever concept for cross-training rides at LOOK.GOOD.NAKED!
Don't be thrown off by the name of the shop, it's actually good family fun.
Yup, the young and old can stand up and just step away on these cool, novel machines. They look a cross between bicycles and kick scooters – but you step and pedal away like it's a cross-trainer at the gym.
Rentals start at $12 an hour.
Opening Hours: Monday to Friday: 2 pm – 8 pm; Saturday and Saturday: 9 am – 9 pm
Tel: 9151 6564
Punggol Ranch
Run by horse riding school Gallop Stable, Punggol Ranch provides horse rides for young kids as well as adults.
Just next to Punggol Settlement, the ranch has about 30 'wagon' chalet rooms where you can stay overnight – but only if you are involved in horse-riding activities – complete with a small garden and a BBQ pit.
Deluxe rooms (2 single beds), which include 2 joy rides, start at $170 a night. Family rooms (1 queen and 1 single bed), which include 3 joy rides, start at $190 a night.
For tots aged 3 years and above, pony or horse joy rides start at $10 for a 100-metre lap, about 3 to 5 minutes.
For kids aged 6 years and above, a 30-minute ride starts at $60. The littlies will be thrilled to hop onto a carriage ride, which is about $20 a ride – but booking is required.
Want to interact with the horses? Kids from 3 years onwards can have some fun with pony feeding. The food packets come at $2 a pack.
Joy rides, carriage rides, and pony feeding are open every day from 10 am to 12 pm, and 2 pm to 7 pm.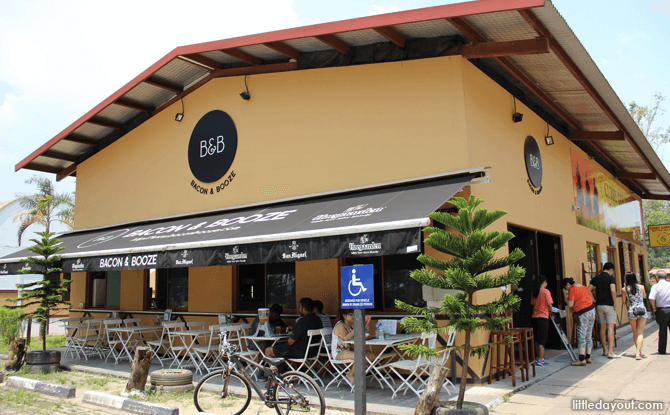 Kick back on a hot day with a beer and some grub at a small cafe-bar at the front of the ranch, called Bacon & Booze Cafe.
Alternatively, there is also an Indian restaurant at Punggol Ranch.