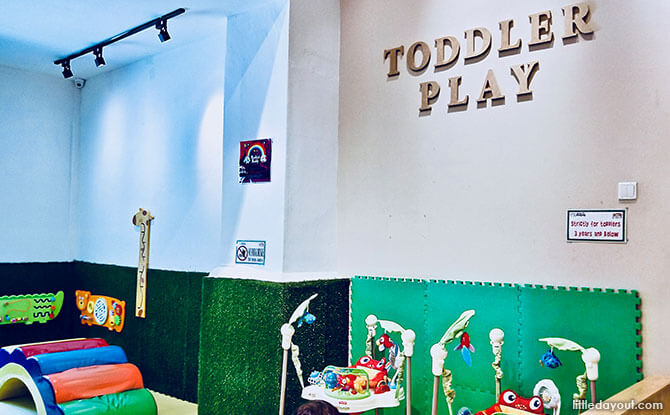 Where can you find indoor playgrounds for toddlers and babies in Singapore? Where little ones can engage in play without feeling overwhelmed? We share our thoughts below.
In the first 18 months of my daughter's life, our days revolved around her naps. As tricky as that was, I made a big effort to get us both out of the house a few hours everyday in a bid to keep sane.
It wasn't all lattes and high chairs, especially since she's not one to stay seated for long. So off we went in search of playgrounds suitable for her, and that I would enjoy too! Here's a little round-up of play areas we hope you and your baby will love visiting!
Indoor Playgrounds For Toddlers And Babies In Singapore
---
Blue House Infant & Toddler Atelier
As pioneers of the Reggio Emilia approach to early childhood education in Singapore, Blue House Infant & Toddler Atelier offers families the flexibility to play in their beautiful Reggio Emilia-inspired ateliers at Bukit Timah and UE Square, via Drop In time slots from Monday to Sunday (except for Bukit Timah).
Not your typical indoor playground, the Blue House Infant & Toddler ateliers are all about sensory exploration. Designed for kids ages 6 months to 3 years, the ateliers are wonderfully sunlit spaces filled with little nooks, mirrored walls, light boxes, natural materials, and ordinary everyday things, like zippers on a table, a wall of plastic bags, and wire baskets hanging from the ceiling!
The Blue House Infant & Toddler Atelier Drop In sessions are lovely for a couple of quiet hours as your little one entertains himself creatively and independently.
---
Buds by Shangri-La Singapore
Spanning over 1,872 square metres in total – 572 square metres indoors and another 1,300 square metres outdoors, Buds by Shangri-La Singapore is one of the best playgrounds around, and caters to both parents and bubs.
The indoor playground is divided up into two main play zones, Explorer and Toddler, and a handful of themed activity rooms.
The Toddler Zone is right by Buds' cafe, Recharge, which is great for parents who want to tag-team! The play space is brightly lit and fully padded, so don't break a sweat if baby trips up. There are toddler-friendly slides and climbing walls, a ball pit, lots of foam blocks, a couple of jumperoos, and even a little floor piano.
The big children don't normally venture into the Toddler Zone, but I have, on occasion, had to ask them to look out for the babies or to just leave the play space.
Buds is usually fairly quiet on weekdays, but it is packed on the weekends!
---
Go-Go Bambini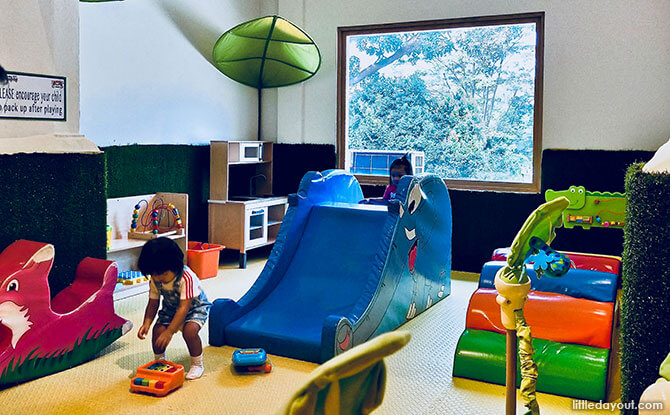 Nestled amongst the cluster of restaurants, cafes, and galleries at Dempsey Hill is Go-Go Bambini, one of Singapore's very first indoor playground.
Toddlers under the age of three have the pleasure of a separate Toddler Play zone tucked safely away from the fast-paced action of the main play area and climbing frame.
The Toddler Play zone is filled with age-appropriate play equipment to engage and challenge crawlers and pre-walkers. There are jumperoos for the babies, a mini foam-padded slide, a play kitchen, and few other bits and bobs.
Securely fenced off from the rest of the indoor playground, the Toddler Play zone is adequately equipped and will certainly not overwhelm babies and toddlers.
There's a little table just by Go-Go Bambini's Toddler Play zone – have a quick coffee and muffin while your baby is still excited by the new and foreign surroundings!
Read more about Go-Go Bambini.
---
The Joy of Toys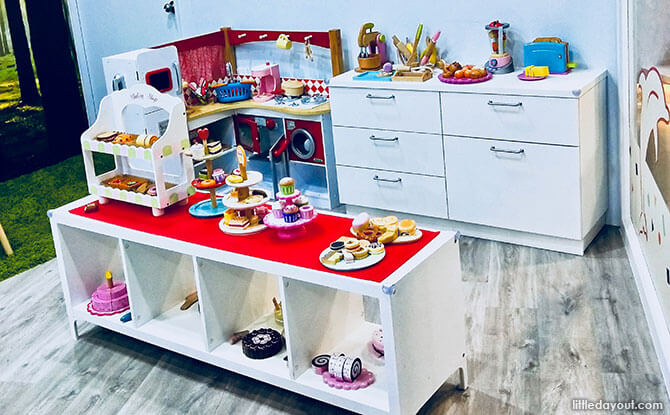 Tucked away on the third floor of Clarke Quay Central, the Joy of Toys is a unique concept which focuses on open-ended play set in relaxing and homely spaces.
Sectioned off into two main play rooms – the Main Play Space and the Toddler Play Space – the Joy of Toys features a wide variety of high quality toys suitable for babies, toddlers, and school-going children.
There are pretend play stations such as a kitchen and a baby's nursery, puzzles, pull-along toys, and even small world set-ups. You and your baby will feel right at home in the Toddler Play Space which is warm and welcoming.
The great thing about the Toddler Play Space is that it is restricted to children under the age of 3 and is in a space all its own, thus making it hard for older children to access without permission.
If you're wondering about indoor playgrounds for toddlers and babies for a baby or toddler play date, I highly recommend the Joy of Toys – lounge on the comfy couches, enjoy some adult chats, and let your babies do their thing without you anxiously hovering around them!
Find out more about The Joy of Toys here.
---
The Petite Park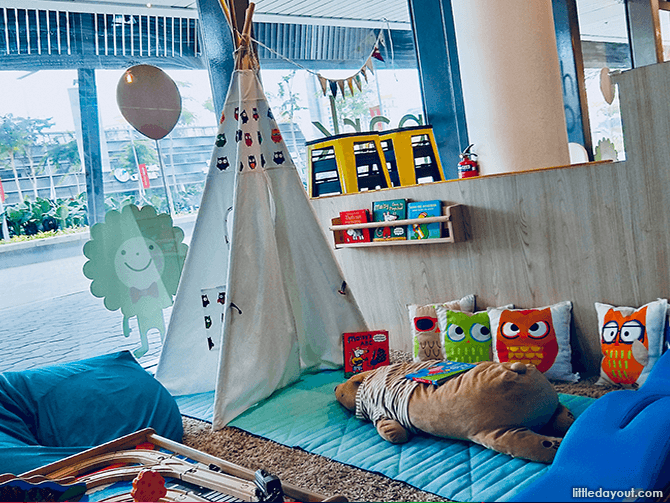 In The Petite Park, crawlers and pre-walkers are safe from far bigger or taller children, since it caters only to children less than 1.3 metres in height, or are younger than 7 years old.
Located at Kallang Wave Mall, The Petite Park has an F1-worthy race track, ride-on cars, baby-friendly bouncy castles, a cosy reading nook, a train table, pretend play stations, and even two mini trampolines. Trust us when we say it'll be hard to get junior to leave The Petite Park voluntarily!
Although food and drinks are not allowed, The Petite Park is still lovely for a weekday play date because mummies and daddies can relax in a corner as the babies and toddlers busy themselves exploring their surroundings.
Find out more here.