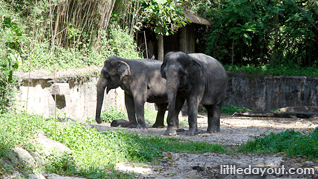 The Singapore Zoo is home to more than 2,800 animals representing 300 species of mammals, birds and reptiles. With so many animals, the Singapore Zoo is well organised into different zones showcasing animals from the plains of Africa to the Australian outback.
But what should you look out for when trying to spot animals indigenous to the Southeast Asian region at the Singapore Zoo?
Here are Little Day Out's pick of the top 7 "local" animals that families and children must not miss on a visit to the zoo.
1. Elephants
A favourite with children, it is difficult to miss them since they are the world's largest land animal. You can catch the elephants at the Elephants of Asia enclosure where they have their own show, as well as climb onboard them during the elephant ride timings. Our favourite time to encounter the elephants at the Singapore Zoo is during their early morning bath where you can watch them take a dip in an elephant-size pool and even get a chance to feed them too!
2. Orang Utan
These primates are an integral part of the Singapore Zoo. You will find them moving about freely between trees near the Ah Meng Restaurant, named after the Zoo's most famous resident, Ah Meng the Orang Utan.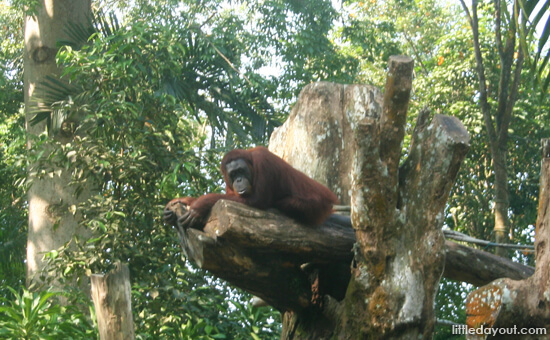 3. Sun Bear
The world's smallest bear can be found behind a glass enclosure at the zoo. These black-furred creatures are named for a golden crest on their chest and until recently, with the introduction of the Giant Pandas, they were the only bears at the Singapore Zoo.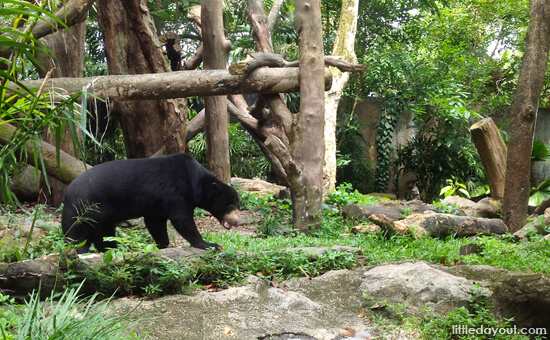 4. Crocodile
There is something mysterious and enticing about these reptiles that lurk beneath the surface of the water. Over at the Sungei Buaya exhibit (Buaya is the Malay word for crocodile), you can stare them down as they lie perfectly still in the water.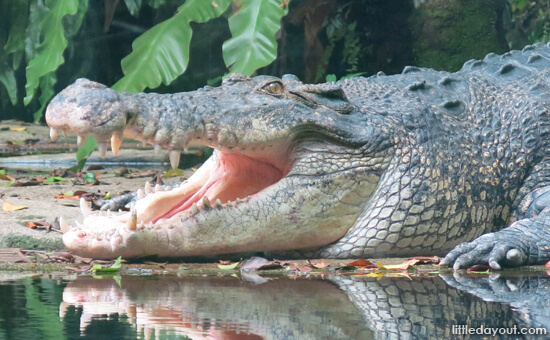 5. Mousedeer
There is a famous local tale about a mousedeer and a crocodile, so after visiting Sungei Buaya, it would only seem appropriate to view the crocodile's worthy adversary, the humble mousedeer. You can do so at the nearby Critters Longhouse but we prefer to encounter these wonderfully charming creatures at the Fragile Forest exhibit where they roam around freely underfoot.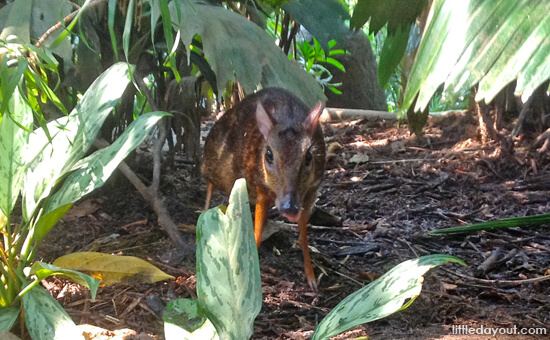 6. Reticulated Python
Snakes are rarely seen any longer in urban Singapore but the reticulated python is one that still occasionally pops up in the parks and nature reserves around Singapore. Thankfully, at the Singapore Zoo, you and your kids can view them within a glass enclosure, along with others of its kind at the Snake exhibit area.
7. Malayan Tapir
This quirky animal looks like a cross between an elephant, a zebra and a pig. In fact, they are more closely related to horses and rhinos. Endangered in the wild, Malayan Tapirs are herbivores and you can catch them munching away on leaves at their home at the Singapore Zoo.