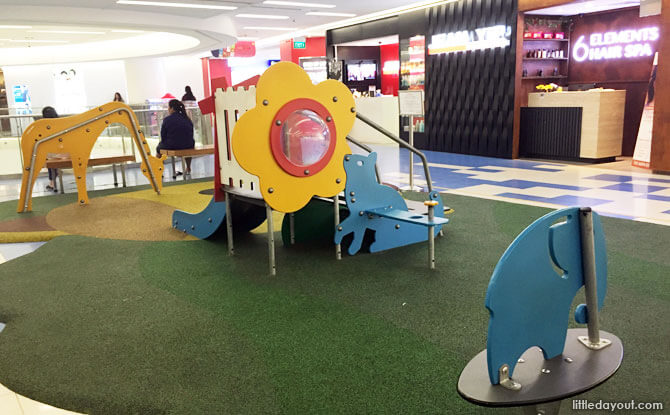 The Clementi Mall Playground on the fifth floor of the suburban shopping centre offers a simple play spot for young kids.
Found on the same floor as other children-oriented shops and establishments such as Kiddy Palace, Popular Bookstore and the Clementi Public Library, the Clementi Mall Playground is well situated.
Simple Play
In itself, the small kids' playground appears rather a bit unremarkable – it consists of just a few simple play structures in an open area along the corridor.
However, when you look at the seats by the side of the playground area for parents and caregivers, you would understand why the Clementi Mall Playground is a big draw for those with kids. It provides an ideal spot for parents and minders to let young kids have some fun while still keeping a watchful eye on them.
---
-- Story continues below --
House and Animals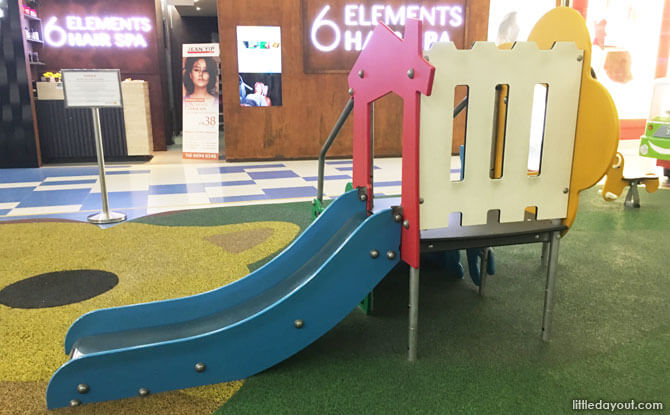 At the Clementi Mall Playground, the main play structure for children is an elevated play platform. The small structure has a red house façade on one side. This house façade opens up to a low, blue slide that is suitable for young children to enjoy.
The other side of the play structure sports a yellow five-petal flower with a clear, bubble window at its centre. A little blue cat sits beside the flower.
Besides the house play structure, there are some teeter-totters available at the playground as well.
Another piece of play equipment at the playground is a yellow giraffe. A few handholds give the giraffe its spots and also turns it into a climbing panel for little ones.
Clementi Mall Playground
The children's playground at Clementi Mall is open from 10 am to 10 pm. It is suitable for children between the ages of two to six years old. Footwear should be removed before entering the demarcated playground area.
Next to the kids' playground at Clementi Mall, there is a row of coin-operated kiddy amusement rides available as well.