From 22 September 2018, visitors can look forward to a reimagined elephant presentation at the Singapore Zoo. Launched in conjunction with Elephant Appreciation Day, the new show is in line with Wildlife Reserves Singapore's shift towards protected contact management for its elephants.
The protected contact management system for elephants means that there will now be a physical safety barrier between the keepers and the elephants. Unlike previous shows where keepers appeared alongside the elephants during the presentation, keepers will now play a supporting role from outside the exhibit.
Revamped Elephant Presentation
The revamped show will feature various enrichment options that elephants can voluntarily participate in. The animals will be encouraged to display their natural behaviours such as lying down in the water or using a log to reach their favourite fruit. The role of keepers will be to introduce the elephants' quirks and personalities to the audience and interpret the elephants' actions.
A new volunteer segment will be incorporated into the show, allowing a chosen visitor to have a close encounter with the elephants.
Dr Cheng Wen-Haur, Deputy CEO and Chief Life Sciences Officer, WRS, said, "The new elephant presentation is a clear departure from the former show where the keepers directed the elephants to perform certain actions. In the reimagined show, the elephants are given free rein to show off their range of natural behaviours and personalities. The idea is that elephants are amazing, engaging and interesting to watch just by being themselves."
Protected Contact Management for Elephants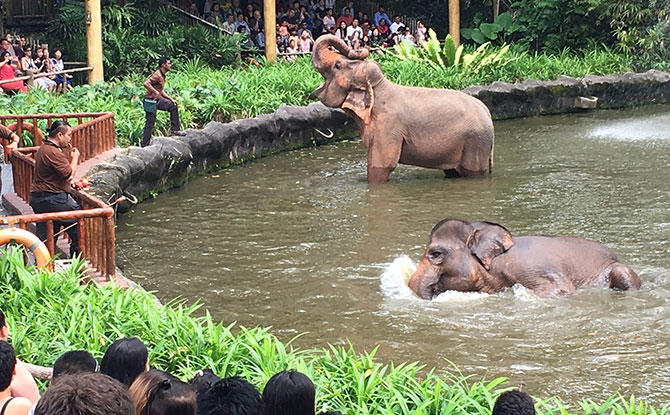 This change to the elephant presentation is the latest in a series of steps that Wildlife Reserves Singapore has been taking to move its elephants towards the protected contact system. Since January 2015, changes, such as the cessation of elephant rides and allowing the pachyderms to free-range in their exhibit and stables at night, have been gradually implemented.
The new elephant presentation at Singapore will take place twice a day at 11.30 am and 3.30 pm with elephant feeding sessions after each show. Additional feeding times will be held at 9.15 am, 1.30 pm and 4.30 pm.