Tokyo, Japan is a big city. It is also an exciting destination with tons of things to see and new experiences. When visiting Tokyo with kids on a family vacation, especially for first-timers, the immensity of the city be rather overwhelming. With that in mind, we have put together some suggestions of itineraries for those who are paying a visit to Tokyo with kids.
Tokyo with Kids Suggested Itineraries
---
2-day Itinerary with kids
Truthfully, two days is a short time for a visit to Tokyo.
The first thing to consider is whether or not you wish to allocate time to Disney. If your answer to that question is yes and your kids are big Disney fans, we would suggest putting Tokyo Disneyland on your itinerary.
In fact, Tokyo Disneyland Resort consists of two Disney theme parks – Tokyo Disneyland and Tokyo DisneySea. Tokyo Disneyland is the more typical Disney theme park while Tokyo DisneySea is the only one of its kind in the world and is slanted more towards older kids and adults.
If your kids have not been to any other Disneyland parks before, Tokyo Disneyland should probably be your first port of call. If they are older, not just toddlers or pre-schoolers, you can consider Tokyo DisneySea because it is such a unique take on the Disney experience.
We don't recommend trying to tackle both parks in a single-day. They would each easily take up the entire day.
On day two, we would recommend exploring the rest of the sights around Tokyo.
You can start off Day Two at the Asakusa district. Here you can pay a visit to Tokyo's oldest temple, Sensoji Temple or sample the wares along Nakamise Dori, the street leading up to the temple.
The other streets in the Asakusa area also invite exploration.
If you are in Tokyo with kids and are not yet tired of amusement rides, pay a visit to Hanayashiki. Located close to Sensoji Temple, it is one of Japan's oldest amusement parks and offers old-school fun during a Tokyo family vacation.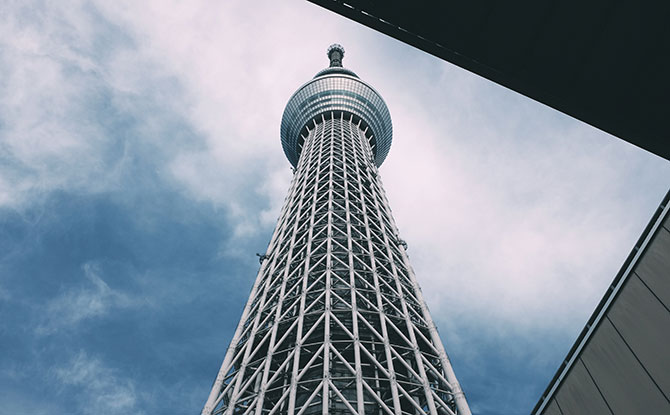 From Asakusa, you can head over to Tokyo Skytree, a 20-minute walk away. This modern structure is the tallest building in Japan and reaches a height of 634 metres. You can choose to ride to the observation deck at the top or have a meal and shop in the complex below, which even has an aquarium.
From Tokyo Skytree, you can make your way to Shinjuku.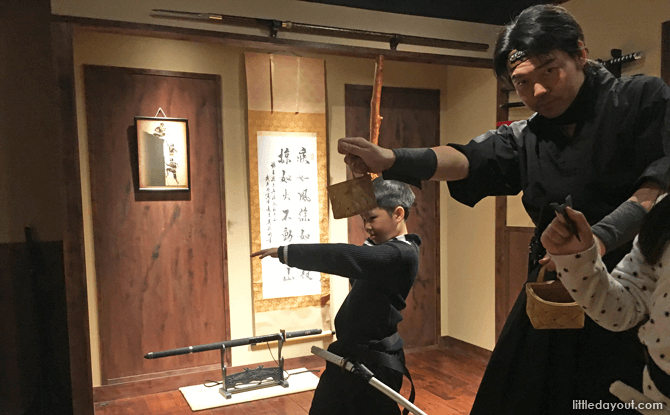 At this bustling district of Tokyo, one interesting activity to do with kids is to pay a visit to the Ninja Trick House. It provides an interesting way to experience an iconic Japanese warrior. Older kids may also enjoy the cultural experience at the nearby Samurai Museum. There is also a Tokyo Toy Museum and owl cafes to visit.
From Shinjuku, you can make your way to Harajuku.
Right next to the station is Yoyogi Park, a popular green space within the city which is also the location of the Meiji Shrine. This can provide some relief from the bustle of the big city when in Tokyo with kids and it is a great place for them to stretch their legs.
After visiting Yoyogi Park, take a walk down Harajuku's famed Takeshita Street and check out the fashions or pick up a Harajuku crepe to munch on.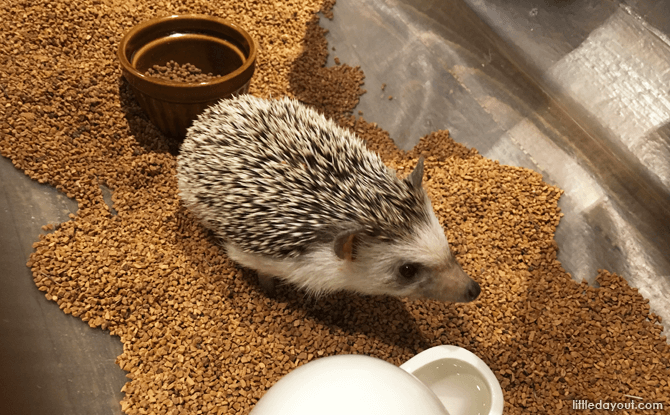 Other things to you can do in the Harajuku area while on a family vacation include visiting Tokyo on a family vacation with kids include stopping by a hedgehog café, visiting the Toy Park toy store and cooking your own okonomiyaki and yakisoba.
If you still have energy, you can head down to Shibuya to take a picture at the famed Shibuya crossing.
Summary
Day 1 – A Disney Park
Day 2 – Asakusa, Tokyo Skytree, Shinjuku – Ninja Trick House, Harajuku – Yoyogi Park and Takeshita Street
---
More Days? Other Mix-and-Match Itineraries with Kids in Tokyo
Let's say you have a few more days in Tokyo with kids. What else can you do?
Here are some additional day itinerary with kids.
---
Ueno Park & Odaiba Day Family Vacation Itinerary
Start off the day with a morning at Ueno Park. This large park on the hill is centrally located and home to the oldest zoo in Japan and a lake where you can go boating as well.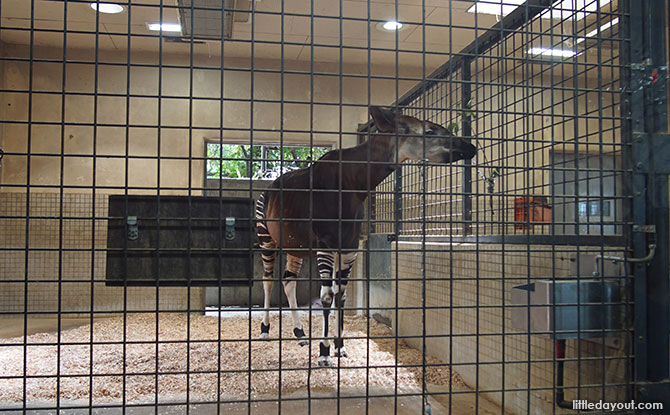 At Ueno Zoo, there are animals like bears and gorillas on display. Our personal favourites are the Okapi and hard-to-spot Aye-aye.
Ueno Park is also home to museums such as the Tokyo National Museum and Museum of Western Art. The most kid-friendly museum at Ueno Park would have to be the Museum of Nature and Science. There are dinosaur fossils on display and even a children's exploration area in the Museum.
From Ueno Park, head over to Odaiba.
Odaiba located in Tokyo Bay is filled with plenty of attractions. For the kids to get a taste of the high-tech, Miraikan or the National Museum of Emerging Science and Innovation is a great place to start.
From there, you can go on to explore the rest of Odaiba with its multiple shopping malls located around the district. You can go gaming at Joypolis, watch the Gundam statue come to life at DiverCity or head over to the Toyota Mega Web at Venus Fort in order to see the latest innovations in cars and concept plans for the future.
Summary
Morning – Ueno Park – Ueno Zoo and Museum of Nature and Science
Afternoon – Odaiba – Miraikan, Joypolis, Gundam and Tokyo Mega Web
---
Slightly-Off-the-Beaten-Path Day Itineary
If you are looking for something a bit more unusual to do when in Tokyo with kids, an alternative day itinerary would be as follows.
Start off the day with a visit to the Tokyo Sea Life Park. This is located at Kasai Rinkai Park, one train stop away from Tokyo Disneyland Resort, and is a relaxing attraction to visit with kids. Our favourite exhibit at Tokyo Sea Life Park is the mesmerising tuna exhibit.
From Kasai Rinkai Park, take a cruise across Tokyo Bay to Odaiba.
At Odaiba, you can pay a visit to the Oedo Onsen Monogatari. Inside, there is an Edo-era style themed area with food and games. Families can also experience an outdoor foot spa together.
From Odaiba, head up to Ikebukuro, a district in the northern part of Tokyo.
For a different experience, you can pay a visit to the Ikebukuro Life Safety Learning Center at the district's fire station. More suitable for families with older children, you can experience an earthquake simulator here. The experience is conducted in Japanese and booking in advance is required.
Alternatively, head over to Sunshine City to go in search for Pokemon at the Pokemon Mega Center or hunt for "ghosts" and gyoza at Namja Town.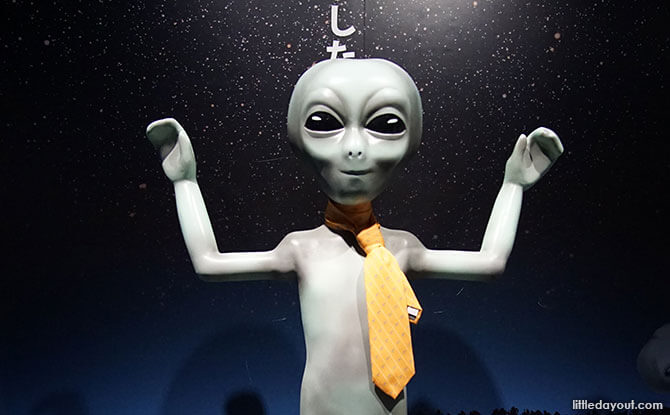 Still got energy? Pay a visit to the Tokyo Dome where you can visit the Tenq Space Museum or hit the rides, including a rollercoaster that zips through a building, at the Tokyo Dome Attractions. There are plenty of eateries at Tokyo Dome for meals too.
Summary
Morning – Tokyo Sea Life, Oedo Onsen Monogatari
Afternoon – Ikebukuro, Tokyo Dome
Need more ideas for your visit to Tokyo or other parts of Japan, visit the Little Day Out Visiting Japan page.