The idea of visiting Tokyo Disneyland and Tokyo DisneySea is sure to get the kids fired up. A day in the magic kingdom promises fantastic fun and entertainment for the whole family. Meet Mickey, Minnie and gang, zip around on thrilling rides, and take in the sights and themed attractions.
Want to get the most out of your visit to Tokyo Disneyland and Tokyo DisneySea? Fresh from our own visit, we offer some tips and things you know when visiting the two theme parks in Tokyo.
1. Know Your Tokyo Disneyland from Your Tokyo DisneySea.
Tokyo Disneyland and Tokyo DisneySea are two separate Disney theme parks located within the Tokyo Disney Resort, a 20-minute train ride from central Tokyo. To get to Tokyo Disney Resort, take the JR Train to JR Maihama station. Here, you can transfer to the resort's own monorail line, the Disney Resort Line. Tokyo Disneyland is also accessible from the JR Maihama station on foot.
The two parks have separate entrances and require separate admission tickets. Bundled admission tickets are also available.
Tokyo Disneyland
Tokyo Disneyland was the first Disney park to be built outside the United States. It opened in April 1983 and has a similar "feel" to other Disneylands.
At the centre of Tokyo Disneyland is Cinderella Castle (Yes, Cinderella not Sleeping Beauty). Surrounding it are the themed lands filled with various attractions. You will find "classic" themed lands such as Adventureland, Tomorrowland and Fantasyland. You will also find classic Disney "dark rides" like It's a Small World, Pirates of the Caribbean and Haunted Mansion at Tokyo Disneyland.
Besides rides based on Disney classics such as Dumbo the Flying Elephant and Alice's Tea Party, there are rides, such as Buzz Lightyear's Astro Blasters and Monsters, Inc. Ride & Go Seek!, based on newer films. Thrill rides at Tokyo Disneyland include Space Mountain, Splash Mountain and Big Thunder Mountain.
Tokyo DisneySea
In comparison, Tokyo DisneySea is a much newer park. It opened in September 2001 and is the only DisneySea in the world.
Tokyo DisneySea is organised into different themed "ports of call". These themed ports include Mediterranean Harbor, American Waterfront, Lost River Delta, Port Discovery, Mermaid Lagoon and Arabian Coast. At the centre of the park is the Mysterious Island, dominated by the towering Mount Prometheus.
Rides at Tokyo DisneySea are catered towards older kids. But that isn't to say that there is plenty for young kids to take in and enjoy too.
Thrill rides at DisneySea include Tower of Terror, Journey to the Centre of the Earth, Indiana Jones Adventure: Temple of the Crystal Skull and a coaster with 360-degree loop, Raging Spirits.
Dark rides include 20,000 Leagues Under the Sea and Sindbad's Storybook Voyage. Other rides include Jasmine's Flying Carpets, Aquatopia, and there is an indoor land for young kids too, Mermaid Lagoon.
Which park should you visit?
Both, of course!
But if you are really strapped for time and have been to other Disneylands around the world before, we would recommend making DisneySea a priority. DisneySea can only be found in Tokyo, Japan and offers a different experience from the "classic" Disneylands.
2. Buy Your Tickets Online
Be sure to buy your tickets online. By purchasing the tickets from the comfort of home, you skip the need to queue at the Park to buy tickets. Instead, you can head straight to the gates and join the queue to enter the Park!
Park tickets can be purchased directly from the Tokyo Disney Resort website. They are available in three categories – Adults (ages 18 and above), Junior (ages 12 to 17) and Child (ages four to 11). Children aged three and under are admitted for free.
There also options for multiple day tickets.
After purchasing the tickets online, you will be able to print them out (from the comfort of home) and present them at the gates to gain admission to the park.
Even after entering the park, be sure to hang on to your tickets as they will be needed to redeem FASTPASSes (more on that later).
3. Visiting Tokyo Disneyland and DisneySea: Visit on a Weekday
Tokyo Disneyland Tokyo DisneySea are hugely popular. And this means one thing is for certain – crowds.
The best time to visit Tokyo Disneyland and Tokyo DisneySea is on a weekday when there are (relatively) fewer people in the park. The numbers swell over the weekends or on National holidays.
You can refer to this website for a forecast of the crowd situation at Tokyo Disneyland and Tokyo DisneySea on any given day.
We also found another Japanese website which provides a crowd forecast. You can tell what the crowd is expected to be like on a given day by the colour of the marker on a date. If you do a Google translate, amusingly, the descriptions range from "people rattle" to "somewhat crowded (painful if not familiar)" to "people violently crowded". It is probably best to avoid the days when "people violently crowded".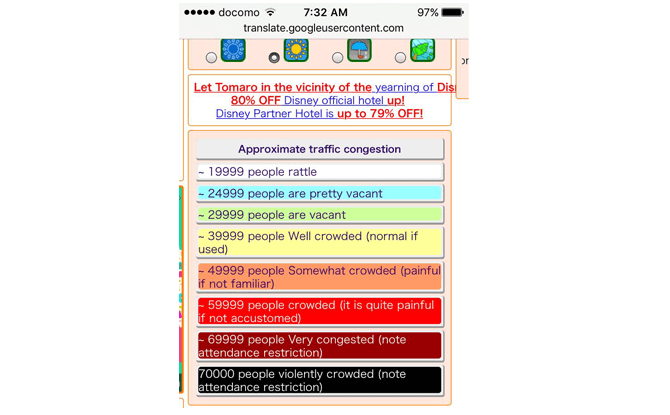 4. Stay at a Disneyland Resort Hotel
The Tokyo Disney Resort has various accommodation options. Closest to the two parks are Disney-branded hotels and the Tokyo Disney Resort Official Hotels.
Disney-branded hotels include Tokyo Disneyland Hotel, Disney's Ambassador Hotel and Tokyo DisneySea Hotel MiraCosta. Take note that there is a fourth Disney hotel, the Tokyo Disney Celebration Hotel, but this is not located within the Tokyo Disney Resort.
Six Tokyo Disney Resort Official Hotels are located within the Tokyo Disney Resort area. These include recognisable names such as the Sheraton Grande Tokyo Bay and Hilton Tokyo Bay. They are accessible via the Disney Resort Line monorail.
Other nearby accommodation options include four Tokyo Disney Resort Partner Hotels. Like the Tokyo Disney Celebration Hotel, they are located close by but not within the Tokyo Disney Resort.
If you are planning to spend two or more days at Tokyo Disneyland or Tokyo DisneySea, consider staying at a hotel within the Tokyo Disney Resort.
This is our rationale – a day at the park can turn out to be a long one. Tokyo Disneyland opens from 9 am till 10 pm while Tokyo DisneySea from 8 am till 10 pm. That's a whopping 13 or 14 hours if you intend to maximise the parks' hours. If you have to travel to and from central Tokyo to the Tokyo Disney Resort, it can quickly turn into a VERY, VERY long day.
If you stay within the Resort, the hotel will be a 15-minute monorail ride away from either Park. You will arrive at the Parks with much more energy and return to your hotel in a better mood.
It would even be possible to head to the Park in the morning, take a breather by heading back to the hotel for a rest in the afternoon and then return refreshed to the Park at night. This makes for a less stressful experience.
5. Plan Your Visit to Minimise Walking
Study the Park maps before you arrive. English versions of the park maps are available online here. You can download them to your phone and refer to them easily.
Inside the Parks, the maps on the counters are mostly in Japanese. If you require an English map, ask one of the Disney staff for assistance.
Decide which are the must-do rides for your visit and take those rides first. On busy days, the waiting times at the regular standby queues can be very long. Rather than trying to take every single ride that you walk past, tackle your list of essential rides first. Once you are done with those, return to do the "non-essential" rides if you have left over time.
We recommend working your way around the themed lands in either a clockwise or anticlockwise direction rather than crisscrossing the Park. Both Tokyo Disneyland and Tokyo DisneySea are very large. Don't spend your energy zigzagging back and forth between the themed lands. Save your energy for the queues instead.
6. Make Use of the FASTPASS system
Tokyo Disneyland and Tokyo DisneySea's FASTPASS system allows guests to pick up a ticket at an attraction to return to the attraction at a later time, bypass (the majority of) the queue and head to the front of the line at an attraction. This is only available for selected attraction within the Parks.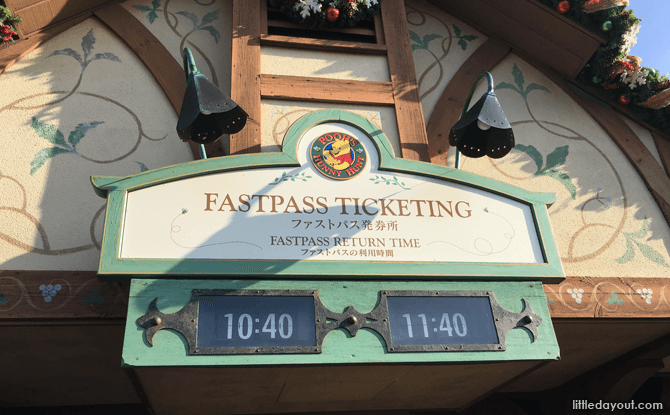 To get a FASTPASS ticket, head to the attraction entrance where a signboard shows the wait time for the standby queue as well as the return timing window (e.g. 10.40 am to 11.40 am) for the FASTPASSes currently being issued. If you are ok with the return timing window for the FASTPASS (i.e. the timing when you can make use of the FASTPASS), head to the FASTPASS machine, scan your park admission ticket and you will receive a FASTPASS ticket.
At the time stated on the FASTPASS ticket, head to the attraction's FASTPASS queue, present your FASTPASS and walk pass the envious throngs of people to the front of the queue.
One thing to take note of is that after collecting your FASTPASS, you can only collect the next FASTPASS two hours later. This stops people from going around and endlessly collecting FASTPASSes.
The FASTPASS is only available at high wait time attractions. Take note that for extremely popular rides, FASTPASSes can go really fast. For example, at DisneySea's Tower of Terror, a FASTPASS collected at 12 pm can have a return time of 7.30 pm to 8.30 pm!
It is a good idea to think about which FASTPASSes you wish to collect. If you arrive early to the Park, you can first collect a FASTPASS, then head to another popular ride, before returning to make use of the FASTPASS later. This allows you to maximise your time on the rides rather than waiting in line.
For example, at Tokyo Disneyland, upon entering the park, we immediately went to Pooh's Honey Hunt to collect a FASTPASS. After that, we took the Haunted Mansion ride via the standby queue (which was very short since the park just opened), followed by Splash Mountain (also using the standby queue) before heading back to Pooh's Honey Hunt to enter via the FASTPASS entrance.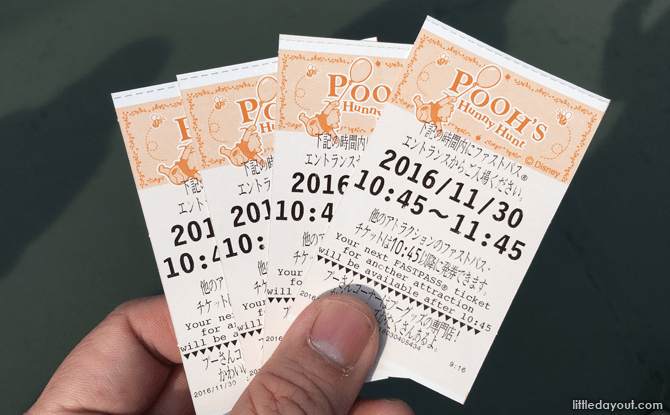 After that, we picked up FASTPASSes for Space Mountain, went on two other rides and  had lunch before returning to Space Mountain. With our FASTPASSes, we skipped the 60 minute standby queue and went to the front of the line via the FASTPASS lane.
7. Devise Queuing Games
Queues are inevitable at Tokyo Disneyland and Tokyo DisneySea but don't let that put you off. The Japanese are very polite and orderly in the queue. You won't experience queue jumping or people trying to shove past you to get ahead in line.
One way to pass time while lining up is to whip out your electronic mobile device and stare at its screen. That's fine, but, if you are with your family or friends, queue time is also a chance to interact with each other.
Here are two queuing games that we played while shuffling along the queues at Tokyo Disneyland and Tokyo DisneySea.
Hidden Mickeys
Disney cartoons are filled with Hidden Mickeys, so why not their Parks too? While in the queue, look at the surroundings and see if you can spot the outline of Mickey Mouse's two ears and head anywhere.
This game turns queuing into a fun treasure hunt and works the imagination as the mind starts turning random patterns into Hidden Mickeys (a phenomenon also known as pareidolia).
Colouring Pencil Colours
For the second game, imagine you work for a colouring pencil company. You have been tasked to name the new shades of colours in the colouring pencil box. Start by picking a colour. Everyone in the group in turn has to come up with a version of that colour. For example, if the colour is green, shades of green can include, lime green, caterpillar green, Ben 10 green, so on and so on.
See where your imagination takes you.
8. Chill Out and Relax
Our final tip is to be sure to enjoy the Parks. Yes, a day at Tokyo Disneyland or DisneySea can be a long and tiring one (for both kids and adults). From the moment you walk through the gates and pass the staff holding up signboards telling the crowds "Please Do Not Run" to the time you have to queue up for a bucket of popcorn in a BB8 container, you may feel that there is too much to do, too many people around and too little time and energy.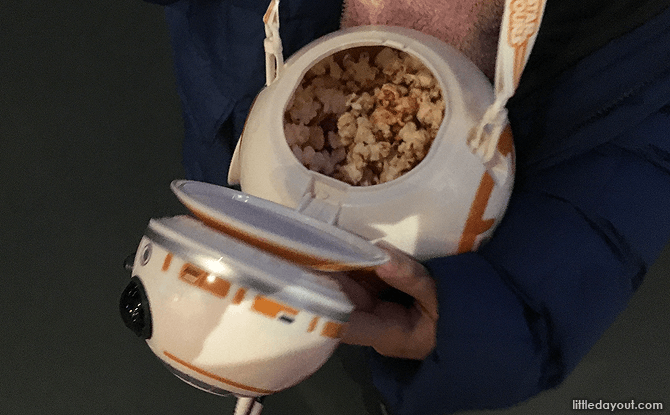 However, our personal philosophy is that there is no need to do it all.
Instead, it is more important to enjoy the experience and walk away with great memories. Take the time to stop and appreciate the fantastic details that have been incorporated into the lands. And what amazing details they are!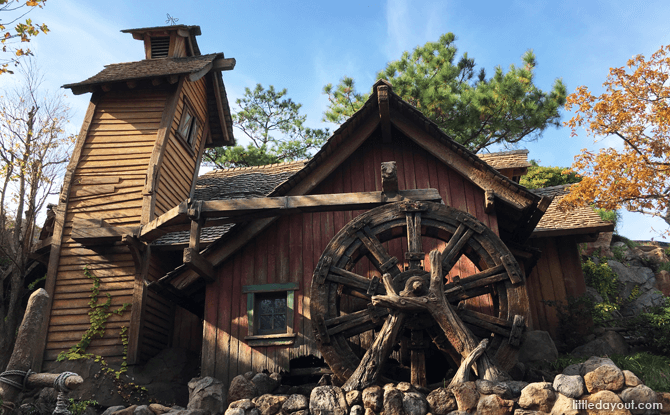 For example, at Tokyo DisneySea, you can move seamlessly from an American dockside to Florence's Ponte Vecchio before entering a medieval seaside fortress.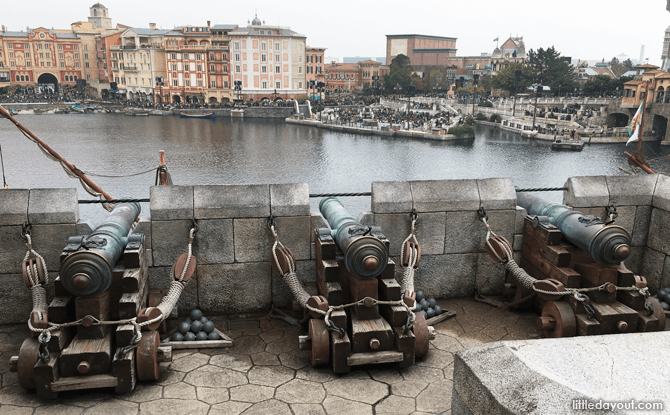 Stepping into the dining hall at the Arabian Coast port-of-call is an experience in itself. The design is perfectly complemented by the narrow streets outside the hall that seem lifted straight out from the pages of Aladdin.
Tokyo Disneyland and Tokyo DisneySea are two wonderful themed parks. Be sure to take time to relax, soak in the atmosphere and enjoy your visit!

---
This feature contains affiliate links.