Good food, great shopping, beautiful parks, and plenty of things to do and see. Tokyo has something to offer for everyone in the family. Visiting Tokyo with kids is especially fun as there are plenty of kid-friendly attractions in Japan's capital too.
But be prepared to walk. A LOT. You will be taking the subway very often – and everywhere else in-between, you'll be working those legs.
We pounded the streets of Tokyo with our toddler and stroller in tow and made use of their efficient, well-linked subway network. Here are the highlights of things to do when in Tokyo with kids!
Shopping, Of Course

Dad and mum love shopping. What is baby to do?
---
-- Story continues below --
Just be sure to make several pit stops for meals and snacks, as well as kid-friendly spots within the malls that you're visiting.
The major shopping malls in Tokyo are usually built around their train stations, and even within the train stations themselves.
Bring your stroller! Kids can nap on the go.
Shibuya

Shibuya Crossing is a famous set of overlapping pedestrian crossings at a major junction near Shibuya Station. It's the subject of many photos, for its jaw-dropping orderly fashion at which the mayhem of thronging pedestrians arrange their moving bodies.
Of note, Seibu Shibuya shopping mall has a six-storey Muji store that will make everyone happy. Head to Movida Building in Seibu, and you'll find Muji.
There's a tranquil indoor playground in Muji, made mostly of wood. When in Tokyo with kids, younger ones will be happy here.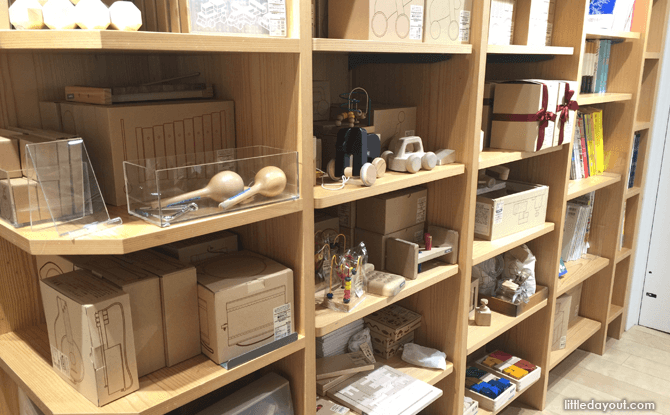 It has a huge section of baby and kids apparel, accessories, wooden toys and educational learning resources.
Much like the Ikea of Tokyo, Muji has a cafe to rest those tired legs and satisfy the munchies.
Of course, plenty of things for mum and dad, from apparel to food and lifestyle goods, and even bicycles for sale!
Besides, Seibu is a huge shopping mall, which includes the Loft tower that avails many cool Japanese labels and brands not found in Singapore.
Don't forget to pay the famous Hachiko bronze statue a visit at one of the Shibuya Station exits (called the Hachiko exit or Hachiko-guchi at the west side) which commemorates the amazing story of a loyal Akita dog that captivated the hearts of the Japanese people.
Nearest station: Shibuya Station
Tokyo Station

It's a hubbub of activity, Tokyo Station. Besides being a major interchange for trains, a stop for the Narita Express train direct from Narita Airport, Tokyo Station is also a major station for the Shinkansen (bullet trains) leaving Tokyo for far-flung locations like Kyoto and more.
That, and there are many shops, malls, and food options here, just inside Tokyo Station itself, better known as Tokyo Station City.
Go gaga over the array of beautiful and affordable takeaway meals in the food section of North Court, South Court, and Keiyo Street within the station. From premium bento meals to French cakes and pastries, you'll be lost for words (and direction as to which to choose).
There are small tables and seats to have your meals, but it's not a place to linger as it gets crowded.
You can do most of your souvenir and gift shopping at South Court, from gift boxes of Japanese snacks and sweets to Japan-made lifestyle goods like handkerchiefs, shawls, apparels, leather goods, socks and more.
Just outside of South Court is a bustling shop peddling only Japanese snacks and sweets, a hotspot for tourists who want to take home beautifully boxed food gifts.
 Head to Daimaru for some shopping. The kids' toy section on the ninth floor will, well, floor the kids and keep them occupied with free-play for an hour or two.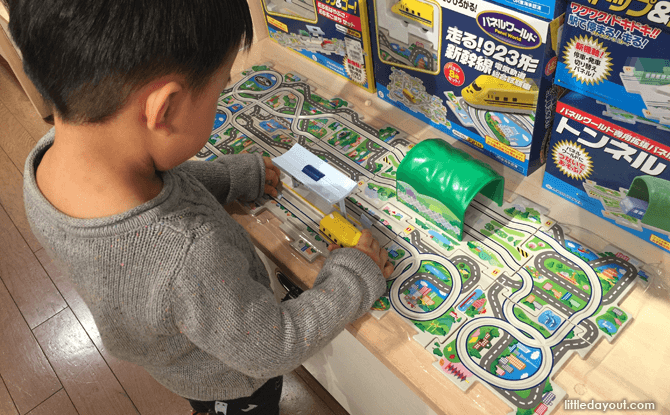 For dad and mum, 14 floors of shopping should suffice, no?
Nearest station: Tokyo Station
Shijuku, Tokyo with Kids

Takashimaya Times Square in Shinjuku will take quite a few hours to explore. From level B1 to level 14, there is a lot to look at.
The kids floor on the ninth level offers many Japanese cartoon characters like Anpan Man, Doraemon and Sanrio's Helly Kitty, as well as well-loved Takara Tomy train sets with Japan trains that are hard to find in Singapore.
Rest your tired legs at child-friendly Cafe Tabatha, on the same floor as the kids' section. Their scrumptious pancakes are a must-try. Here, the airy and spacious cafe with kids' height-friendly chairs offers good coffee, too.
Nearest station: Shinjuku Station
Mitsui Outlet Park

You don't have to go all the way to Gotemba Outlets far away in Hakone to get factory-outlet prices.
Mitsui Outlet Park in Kisarazu is a gem of a family-friendly shopping complex, about 45 minutes from Shinjuku or Tokyo Station.
You get the many Japanese-label goods like fashion, craft, homeware and more that you cannot find in Singapore, at good outlet prices for the off-season pieces.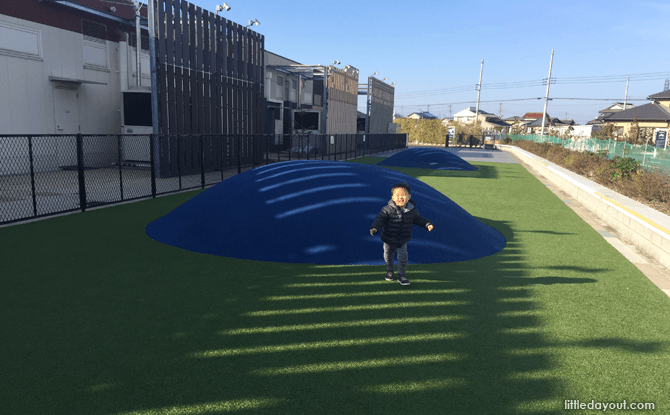 An extremely family-friendly shopping complex, Mitsui offers a cool little play area with two small hills for free play.
Peppered all around the complex, there are details that seem like mini play and rest areas for kids. Like this cluster of little toadstools, for example.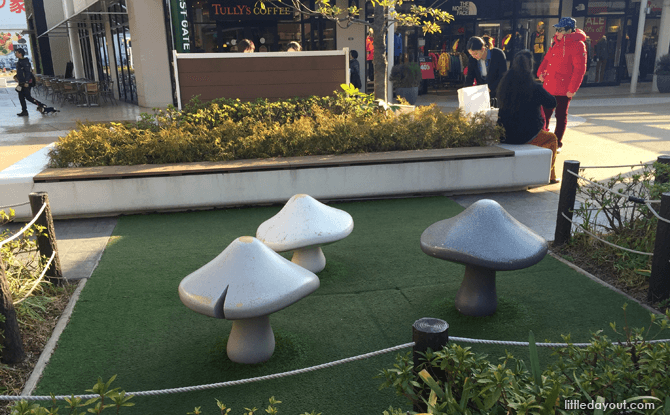 Well-known Japanese brand Combi is here, with a full-fledged range of baby gear and even apparel. There are many other kids' brands here as well.
The food court is a clean, enjoyable place with a wide range of foods. There's a kids' eating area, too.
The toilets are extremely clean (they look like hotel rooms!) with thoughtful signs on cubicle doors for mums who need extra space to park their strollers.
See website for transport details.
Tokyo's Attractions for Kids
THINGS TO DO
Odaiba Palette Town

Mega Web Toyota in Odaiba will make wheel-crazy kids squeal with joy. Even the adults will be entertained.
From vintage Toyota cars and other famous car makes, all the way to the showcase of futuristic vehicles, it's great fun to explore.
You can even try go-karting at the simple go-kart track at Mega Web Toyota. There are go-karts for kids as well, but the last we heard from the staff at the go-kart station, only kids who can understand safety instructions in Japanese are allowed to ride the go-karts. But for the adults, an understanding of English instructions is good enough.
Head to VenusFort at Palette Town for good shopping. The interior of the mall is designed like a European city outdoors, with a dynamic "sky" on the ceiling.
Venus OUTLET on level 3 of the mall houses all the outlet brands.
Venus FAMILY on level 1 is a mind-boggling array of kids' fashion, gear, pet shops, and even an indoor kids' playground. Pets are welcome at this level, and you'll see locals with dogs on a leash and in doggy strollers all around.
Take a 10-minute walk over to Odaiba Seaside Park, which skirts plenty of shopping malls with lots of restaurants that have a great view of the sea and Tokyo's skyline. Very pretty at night.
Nearest station: Aomi Station (1 change from Shinjuku Station) or Tokyo Teleport Station (direct JR line from Shinjuku)
Ueno Park and Zoo

Ueno Zoo is a nice trip for the kids, with a wide range of animals to explore. We visited during winter, so things are kind of topsy-turvy compared to the Singapore Zoo.
Where penguins and polar bears are usually housed in climate-controlled enclosures Singapore, these animals are out in the open in Ueno Zoo, where visitors can see them up close.
Conversely, the pygmy hippos and giraffes are kept safely indoors with heaters on to keep the animals comfortable.
Don't hurry off from the zoo, because it's situated in a breathtakingly beautiful park.
Take time to stroll through the park, fringed by tall trees and foliage. If you're lucky – or really good at planning – time your visit during cherry blossoms and you'll be strolling through a stretch in Ueno Park that's famous for sakura blooms.
Watch the sakura forecast closely!
Also, the National Science Museum at Ueno Park is good for older children, offering both science and natural history with hands-on physics and robotics experiments.
Studio Ghibli Museum

For anime or cartoon fans – or simply fans of Hayao Miyazaki and Studio Ghibli – this museum is a must-visit.
But take note, tickets cannot be bought outside of Japan, unless you buy hotel packages with Singapore tour agencies.
And these hard-to-get tickets should preferably be booked two months in advance because they get sold out pretty quickly.
They can be bought in Japan at Lawson stores. Or you can purchase them online in advance through online stores like Viagogo, and pay a premium for middleman fees.
Be transported into a fantastical world at Studio Ghibli Museum, designed like a European castle, as well as score a behind-the-scenes look at the animation artists' workstations and inspiration.
Photography within the museum is not allowed – you can only take photos at certain outdoor spots.
With fun play areas for kids and plenty of hands-on exploration that will make everyone go ooh and aah, this castle of imagination is worth a day trip.
As Studio Ghibli Museum says, experience the place with your senses (which is why they don't allow photography).
Tokyo DisneySea

If you have to choose between classic Disneyland and Tokyo DisneySea, pick DisneySea.
The Japanese have taken the Disneyland theme park concept further and made it bigger, better, and even more creative.
DisneySea, which licenses Disney characters and themes from The Walt Disney Company, is a place where older kids and young tots will both enjoy. Even the adults, too.
Designed with seven unique areas of nautical exploration, there are many rides available for very young kids. There are a couple of rides with height restrictions, but the place has enough for the tots, despite this.
Here's a tip: Consider leaving your stroller behind, and rent one of DisneySea's cute Mickey-themed strollers instead. There are quite a number of rides where you have to leave your stroller (sometimes unattended) outside.
Nearest station: Maihama Station
Top Tips

The train network
Tokyo's subway system is an efficient, well-linked beast with a life of its own. Even the locals tell us they sometimes get lost in the intricate maze of underground and aboveground linking pathways.
Really, the train network is a frightful inter-connected tangle of train lines owned by various rail companies.
And, to complicate matters further, there are many exits and entrances.
At major stations, there is a travel service centre (for example, the JR EAST Travel Service Centre) where staff are knowledgeable, very warm, and speak good English to help you with directions – especially the major JR train stations like Shinjuku.
Bring the stroller
Be prepared to walk. A LOT. Just take the subway trains, like the locals do. The good news is you can eat a lot and walk it all off!
We, too, have read many reviews of travelling in Tokyo that suggest that it's a better idea to ditch the stroller and use the baby carrier instead. This is because many train stations do not have elevators, and you might have to lug the stroller up and down stairs.
But having a stroller especially for long naps and long walks will save your back. And besides, major train stations like Tokyo Station and Shinjuku Station usually have elevators.
So, bring your stroller!
Don't walk and eat
The locals have a culture of not eating on the go. Even if they buy food at takeaway counters, they will stand or sit in a corner and finish eating there.
It's an issue of manners (respect for food and dining) as well as civic-mindedness (it's easy to dirty someone else's clothes in super-crowded Tokyo and litter the floor with food crumbs or wrappers).
Don't let your kids run around on the train
Noisy kids running amok on trains will be frowned upon.
Passengers are not allowed to talk on mobile phones and are encouraged to keep their phones on silent mode, out of consideration for others.
There are signs everywhere on the train that remind people about this. And locals follow these rules very closely.
Needless to say, you can't eat on trains.
The locals are friendly and accommodating and will give up seats to parents with young children readily.
Don't be dismayed if you get lost
Just hang on tight, keep walking, and ask for directions! The locals are helpful and very polite. Those who can help, will!