Part car showcase, part amusement centre and part automobile museum, Toyota Mega Web at Odaiba, Tokyo is a must-visit car theme park for motoring enthusiasts of all ages.
Toyota Mega Web lives up to its name by being a large facility that spins together varying facets of the automobile. From heritage pieces to concept cars for the future, you will find them here at Mega Web.
In fact, the concept at Toyota Mega Web is to allow visitors to "Look", "Ride" and "Feel" the cars. This is done through three different sections of the attraction.
"Feel" at Toyota City Showcase
The Toyota City Showcase is heart of Mega Web and has two floors dedicated to cars.
---
-- Story continues below --
On display on the first floor are sixty of Toyota's recent car models at the Line-up Zone. Here, you can kick the tires, get inside the cars and try them out for size.
After browsing through the cars in the Line-Up Zone, visitors with the requisite driving license can register to test-drive a car around a 1.3 km long circuit. This test drive section is known as Ride One and is open from 11 am to 8 pm. This experience is chargeable.
Even if you don't want to take a car out on the road, you can savour the thrill of driving a car driving – a rally car – on a simulated circuit at the GR Zone.
On the second floor, the Global Discovery Zone is a great area to view Toyota's concept cars, learn about underlying technologies being used to power automobiles and to try out various fun simulators.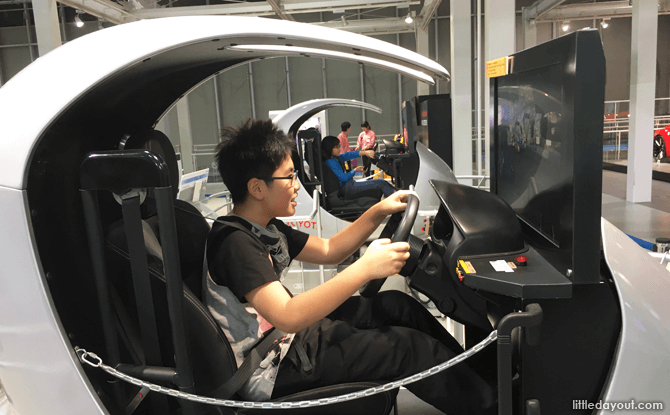 Get into a Toyota race car or learn about safety behind the wheel of a car simulator.
The Toyota City Showcase at Mega Web is open from 11 am to 9 pm. Entry to the Toyota City Showcase is free.
"Ride" at the Ride Studio
The Ride Studio is designed especially for children to experience the fun of driving for the first time.
It consists of a 230-metre course, Indoor Ride One, for children between six to 18 years old. Younger children between three to five can try out a mini course, Petit Ride One, instead.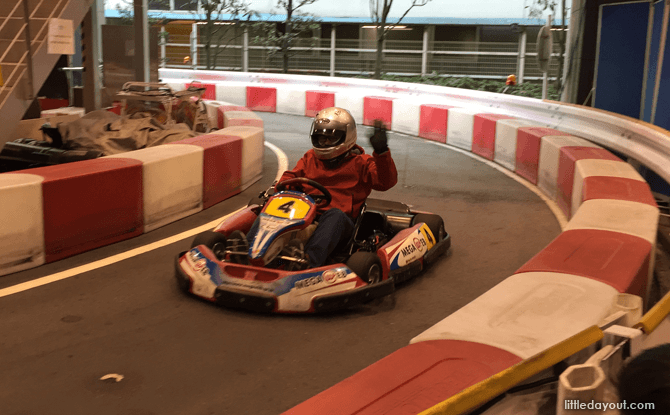 There is an outdoor E-Kart Ride too.
Ride Studio is open from 11 am to 7 pm.
Take note that the Ride Studio is officially open to people who understand Japanese only.
"Look" at History Garage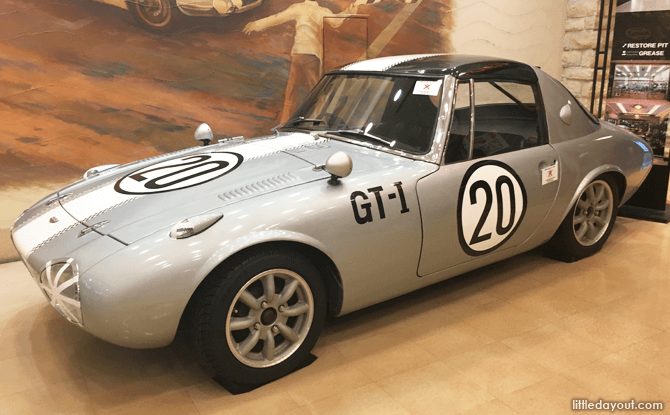 The Toyota Mega Web History Garage is a museum dedicated to automobiles and motorsport racing. The focus of the museum is on car from between the 1950s to the 1970s.
At the History Garage Collection, there are about 20 classic cars on display.
Head over to the Motor Sports Heritage gallery to view motorsport rally cars.
For the motorsports enthusiast, the History Garage provides a fascinating look into the world of cars.
How to Get to Toyota Mega Web?
Toyota Mega Web is located at Pallet Town in Odaiba, Tokyo. The Toyota City Gallery and Ride Studio is found next to a giant Ferris wheel. The History Garage is located within the Venus Fort shopping centre.
The closest train station to Toyota Mega Web is Aomi station on the Yurikamome Line. It is a 10 to 15 walk from Odaiba DiverCity.
Toyoto Mega Web – City Showcase, Ride Studio & History Garage
Address: 1-3-12 Aomi, Koto-ku, Tokyo 135-0064
Website