Venus Fort is currently under renovation as of October 2022
Venus Fort is a shopping mall in Odaiba, Tokyo that will make you feel as if you have been transported to a medieval European town.
In contrast to the futuristic Gundam-laced shopping mall nearby, Diver City, Venus Fort provides a decidedly old-world European atmosphere. More specifically, it feels like an old Italian town, complete with piazzas and a bubbling fountain.
Shopping In Style
Consisting of three floors of retail stores and restaurants, the first floor of Venus Fort at Odaiba, known as Venus FAMILY, is geared towards families. Notably, it has a large pet store towards the rear which sells both pets and pet accessories. The second floor, Venus GRAND, is where you will find a mix clothes, accessories and cosmetics stores. The third floor is focused on outlet shopping and has food court towards the back.
Even if you are not in the mood for shopping, if you are at Odaiba, you may still wish to stop by Venus Fort for its atmosphere.
---
-- Story continues below --
Under A Medieval Sky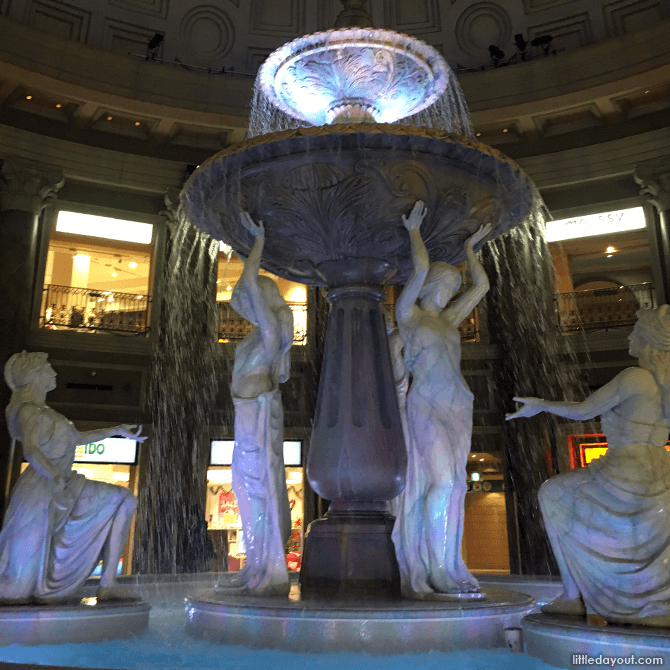 On the second floor of the shopping mall, there are popular scenic spots within the Venus Fort for photo taking. The Fountain Plaza is the largest space in Venus Fort and features a large water fountain reminiscent of those found in Italy.
Another scenic spot is the Church Plaza, a large space at the rear of Venus Fort adorned with the façade of a medieval-style church.
Adding to Venus Fort's atmosphere is its ceiling which is painted to resemble the sky. Those who have been to the Grand Canal Shoppes at The Venetian in Las Vegas would find this type of sky-ceiling familiar.
The Sky Feature Programme showcases a changing sky to entertain shoppers walking around the mall. Approximately one-hour long in its entirety, you can watch as the sky turns different shades of blue as you browse along the European town-style "streets".
The shopping mall is part of the Palette Town complex at Odaiba, Tokyo. This is marked out by the giant Ferris wheel. It also houses the Historic Garage section of Toyota Mega Web Car Showroom and is next door to the City Showcase section.
[Toyota Mega Web closed in December 2021]
Venus Fort, Odaiba
Address: 1 Chome-3-15 Aomi, Koto, Tokyo 135-0064, Japan
Website
Venus Fort is currently under renovation as of October 2022