Hedgehog Cafe Harry in Harajuku, Tokyo, is a spot where you can meet cute little hedgehogs, play with them and feed them too.
Meet the Hedgehogs
For lovers of cute little animals, Hedgehog Cafe Harry is heavenly bliss. Patrons get to sit around containers that hold the precious little creatures. This allows visitors a private audience with their very own set of hedgehogs for the duration of the visit.
In case you wondering how hedgehogs can fit into table-sized containers, the ones at Hedgehog Cafe Harry are African Pygmy Hedgehogs, aged between two to five months.
And they are nothing but adorable.
Ticket to Quill
After purchasing an admission ticket from a vending machine and sanitising your hands, you will be shown to a seat with the hedgehogs in front of you.
Staff at Hedgehog Cafe Harry provide a short briefing on the dos and don'ts of handling the hedgehogs, and then you can play with them. For example, they should only be scooped up gently from underneath.
While you can handle the hedgehogs with bare hands, gloves are also provided for those who wish to use them.
Pick up the hedgehogs with two hands and be sure to handle them over the container.
You can also purchase an admission ticket with a snack – for the hedgehogs.
The snack consists of yummy (to hedgehogs at least) mealworms. A pair of tweezers are provided to feed the mealworms to the hedgehogs.
The hedgehogs' quills are made of the same material as our fingernails. They can be stroked without pricking your hands.
Unlike porcupines, hedgehogs do not shoot out their quills. Instead, as a defensive measure, they curl up and stand up their quills. However, the hedgehogs at Hedgehog Cafe Harry are so accustomed to human contact that they don't do that.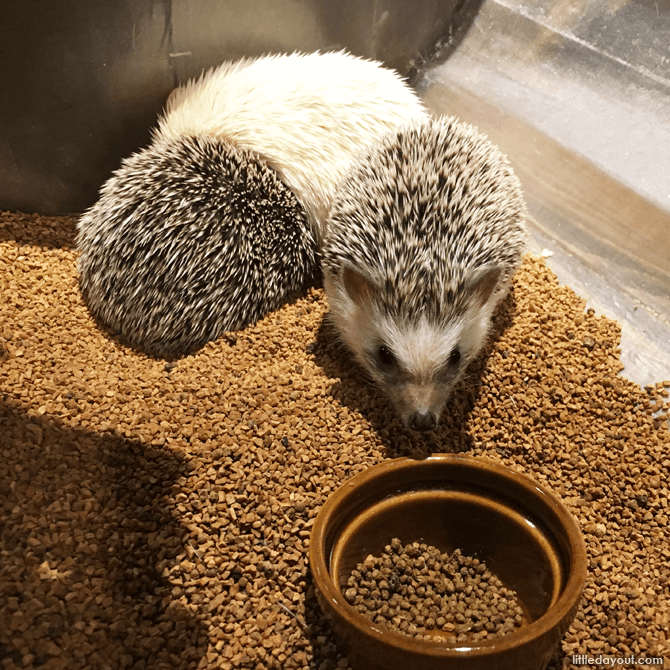 According to the cafe's staff, hedgehogs are routinely rotated out from the guest area to a rest area at the back of the cafe. This is to ensure that they do not get tired out by all the human interaction.
Lovers of little creatures will not get tired out the hedgehogs either. They have little paws and excited, twitching noses. Some may try to burrow their way out of your hands, while others may even fall asleep in your hands.
Before you know it, the half hour of interaction that a walk-in ticket buys quickly passes by.
Hedgehog Cafe Harry also functions as a pet shop. Locals can bring a hedgehog home for around 50,000 yen.
How to Get to the Hedgehog Cafe, Harajuku
Hedgehog Cafe Harry is located a short walk from the Harajuku train station.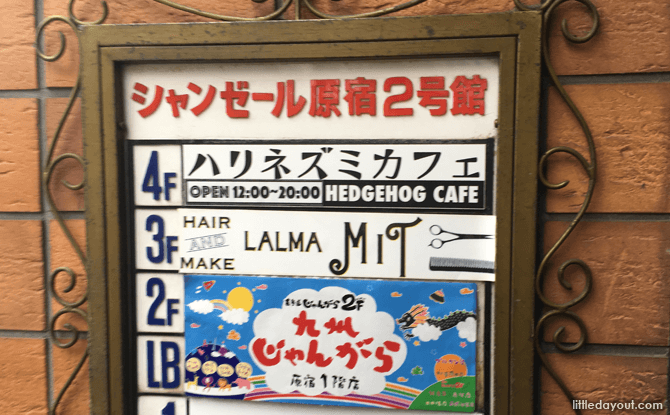 It is on the 4th floor of the building so keep a lookout for the hedgehog sign at street level to find the cafe.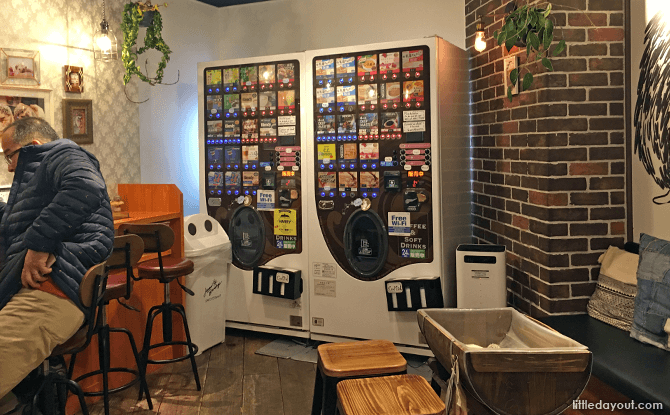 Each 30-minute admission includes a free drink from the cafe's vending machine
Harry's also operates another little animal cafe nearby with otters and chinchillas.
Hedgehog Cafe Harry
Opening Hours: 12 pm to 8 pm
Address: 
Tokyo, Shibuyaku, jingumae 1-13-21 (One minute walk from JR Harajuku Station)
Seating at the cafe is available in 1/2 hour blocks
30 minutes costs 1,400 yen per person
30 minutes with mealworm snack for hedgehogs cost 1,630 yen
Children under 12 years old need to be accompanied by an adult.
---
---