Singapore is an amazing place for a family holiday. It is safe to move around and its compact size makes it a breeze to get about. Filled with kid-friendly attractions and sights, a holiday spent visiting Singapore with kids is sure to leave you with many wonderful memories.
If you are planning your itinerary for a family holiday in Singapore, here are some of the best sights and activities to do when visiting Singapore with kids.
What to Do When Visiting Singapore with Kids
Singapore Zoo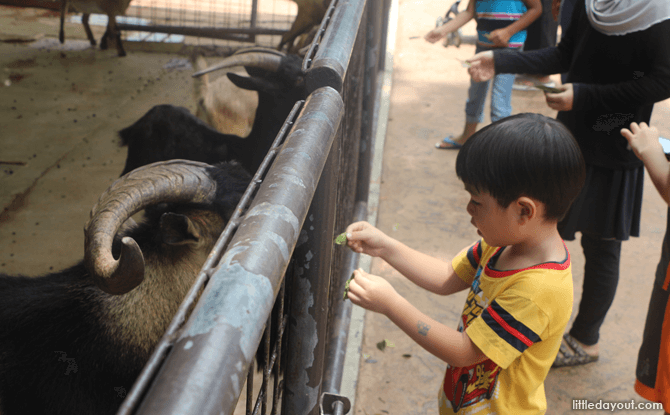 A visit to the Singapore Zoo is often on the itinerary of those visiting Singapore with kids – and for good reason. The Singapore Zoo has an amazing collection of animals that will mesmerise kids of all ages, from toddlers to older children. Watch animal shows like Rainforest Fights Back and Elephants at Work and Play to see the animals at their best and take part in animal feeding sessions held throughout the day.
Time you can expect to spend here: One full day.
River Safari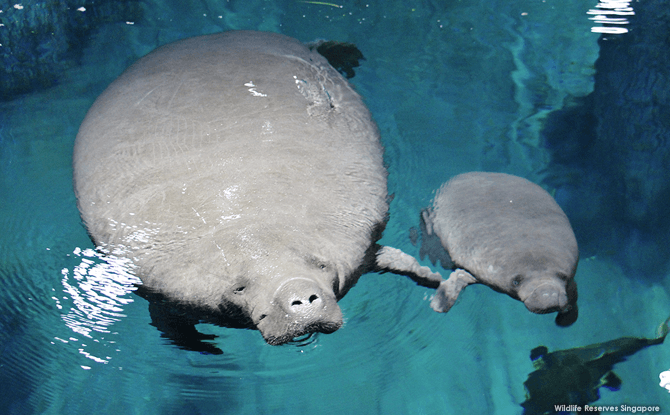 Next to Singapore Zoo is the River Safari. This wildlife park focuses on the animals found along the rivers of the world. A highlight of the River Safari is the Giant Panda Forest where visitors can view Kai Kai and Jia Jia, the two Giant Pandas on loan to Singapore from China. Another highlight is the Amazon Flooded Forest exhibit where you can watch manatees swimming gracefully through a huge viewing panel.
Time you can expect to spend here: Half day. Pair it with a visit to Singapore Zoo.
Night Safari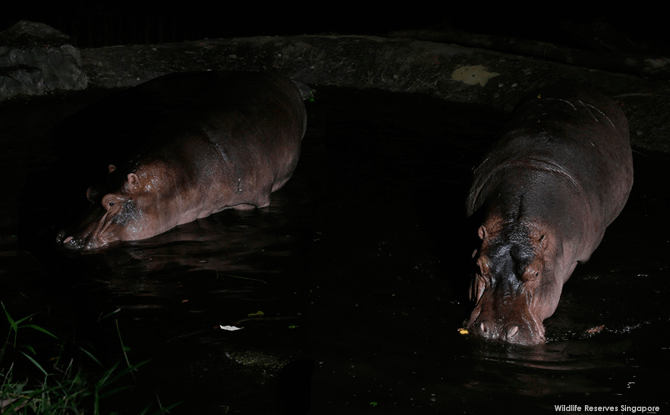 Located close to the Singapore Zoo and River Safari is the Night Safari. As the name implies, it is only open in the evenings and provides a fascinating look at animals that are active at night. Take the tram around the Night Safari or set out on foot around the walking trails. At the Creatures of the Night show, you get to meet an African serval, a Binturong or bearcat, and other nocturnal animals. The Night Safari is one of the best nighttime activities to do when visiting Singapore with kids.
Time you can expect to spend here: One evening.
Sentosa
If your kids love swimming and the beach, Sentosa island is one stop that you'd like to make. You can easily spend the entire day on Sentosa. Palawan beach and Siloso beach have sheltered lagoons and are popular for those looking to soak in the sun. A bit further away is Tanjong beach where you will find fewer people and more space for the kids to play.
Other activities at Sentosa include the Skyline Luge Singapore where you can zip down a hill on a luge. Even kids can enjoy this ride with those below six years old or under 110 cm tall able to ride tandem with an adult.
Slightly older children will have fun exploring an old British military base, Fort Siloso and its tunnels and gun emplacements.
Resorts World Sentosa, one of Singapore's two integrated resorts, is also found at Sentosa. Among the attractions at Resorts World Sentosa is the S.E.A. Aquarium where you can view 100,000 marine animals from across 800 species. An interactive attraction that is great fun with kids is the Trick Eye! Museum. Here, you can take amazing and unbelievable photos with 3D artworks that will leave the folks at home doing a double take.
Time you can expect to spend here: One full day or more.
Universal Studios Singapore
Those with older kids will definitely want to pay a visit to Universal Studios Singapore. You can easily spend the entire day here and get lost amongst the many rides and shows throughout the theme park. Those with toddlers will want to read our guide to Universal Studios Singapore with Toddlers to decide if you would like to visit the park.
Time you can expect to spend here: One full day.
Adventure Cove Water Park
More suitable for older children, Adventure Cove Water Park at Resorts World Sentosa is also a full day's worth of fun. Among the fun water slides is a high-speed hydro-magnetic water coaster that swoops you up and down on a water-blasting ride. At the Rainbow Reef, you can snorkel among reef fish, and you can also book a manta ray feeding session or dive with sharks too. Take note that if your kids are too young, they may not be able to go on the water slides and you may find yourself floating around the lazy river all day.
Time you can expect to spend here: One full day.
Visit Singapore's Ethnic Neighbourhoods
Singapore has three distinct areas which still retain their strong ethnic flavour. These are Chinatown, Little India and Kampong Glam. Visiting all three with the kids may be a bit much. It is better to choose one to explore if you have limited time.
Chinatown is lined with shophouses and has a pedestrian mall. This may make it easier to explore with kids. Even though it is known as Chinatown, the neighbourhood has an Indian temple and mosque, making a convenient place to get an all-in-one experience of multi-cultural Singapore.
Time you can expect to spend here: Half a day.
Gardens by the Bay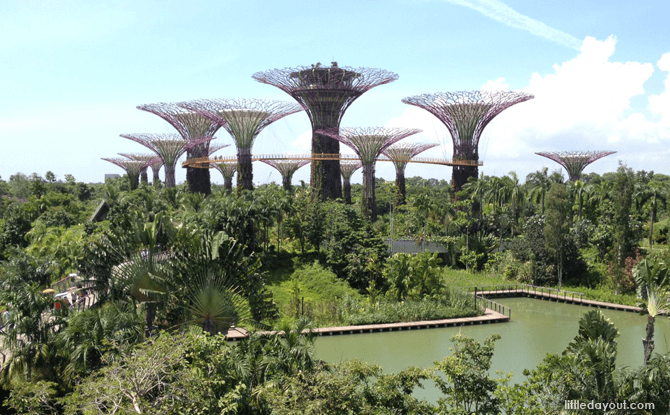 Gardens by the Bay is an expansive park found at Singapore's central business district. The highlight of Gardens by the Bay are two of the world's largest cooled conservatories. These conservatories are known as the Flower Dome and the Cloud Forest Dome. The Flower Dome showcases a range of plants and flowers from temperate countries. The Cloud Forest Dome simulates the environment of a temperate mountain with an impressive indoor waterfall. Starting from the top, of the "mountain", you can make your way down the mountain and see the varying flora at different levels.
Both the Flower and Cloud Forest Dome are suitable for those visiting Singapore with kids, even for toddlers in prams.
For a complete guide to the many other spots around Gardens by the Bay, click here.
Time you can expect to spend here: Half a day.
ArtScience Museum's Future World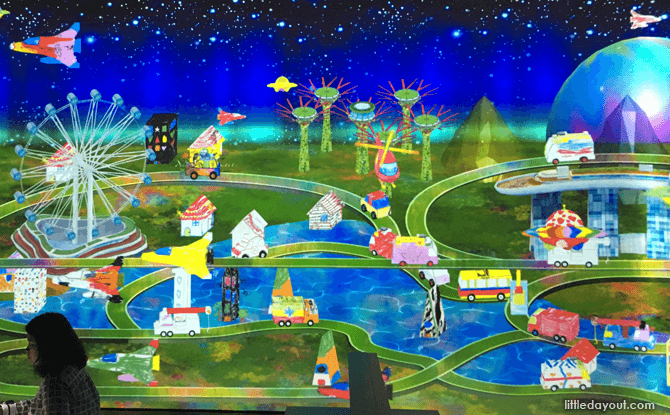 The Future World digital interactive exhibition for children at Marina Bay Sand's ArtScience Museum brings together futuristic technology with an element of play. Kids get to immerse themselves in a digital city and see their drawings appear on a big digital projection screen. They can play with little digital people wandering around a table. The waterfront at ArtScience Museum is also a perfect place to admire Singapore's Marina Bay and city skyline.
Time you can expect to spend here: One or two hours.
There you go. These are our picks for those visiting Singapore with kids for the first time. They will provide you with a flavour of the modern metropolis that is Singapore and a great and enjoyable time for your kids too.
Other spots that you can consider when visiting Singapore with kids include Jurong Bird Park, National Museum of Singapore, Singapore Flyer and Singapore Botanic Gardens.
Have a great visit to Singapore.