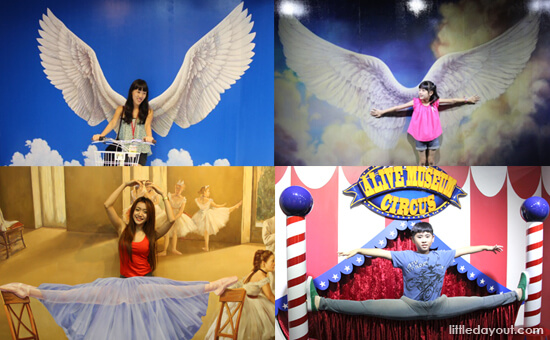 [Editor's Note: Alive Museum is closed.]
Your eyes aren't playing tricks on you, or are they? Not one, but two Korean Trick Art museums with works of art based on Trompe-l'oeil (trickery in French) have entered Singapore's shores within the month of June 2014.
This new phenomenon first took Korea by storm in 2009 and changes the way we look at art by giving us a three-dimensional experience through the use of shade and shadow, and perspective painting techniques as well as special paints with high transparency.
Trick Eye Museum officially opened on 8 June 2014. Alive Museum Singapore opened for trade previews that same week, and will be officially opened by Korean stars in September this year. While Trick Eye Museum is over at Resorts World Sentosa, Alive Museum Singapore has taken over the retail space on the third floor between Towers 3 and 4 at Suntec City.
As a welcomed change, both are "please touch" museums where kids can go ahead and touch the artwork, strike a pose and come up close with the art pieces. With their highly interactive elements, families will enjoy the pleasure of being deceived at both Trick Art Museums.
Both museums offer 2D backdrops that look 3D (some are even similar). Both charge the same rates for these photo opportunities. As the battle of the Korean imports heat up, Little Day Out scrutinizes both Trick Art museums.
Tale of the Tricks – Trick Eye Museum vs Alive Museum
Trick Eye Museum
Alive Museum Singapore
Background
Trick Eye opened in December 2010 in Hongdae, Seoul. Today, there are seven Trick Eye Museums (South Korea, Hong Kong, China and Singapore).
Trick Art Museum opened in June 2009 in Jeju Island. Branded Alive Museum in 2013. Today, there are 15 Alive Museum branches (South Korea, Vietnam, China, Thailand, Turkey and Singapore).
Catchphrase
First in Singapore
Largest in Singapore
Size
800 sq m (8,611 sq ft)
929 sq m (10,000 sq ft)
Number of Art Pieces
About 100

More than 80

Type of Trick Art Pieces
Paintings and optical illusion installations
Trick Art, Digital Art and Object Art
Layout
Cramped spaces, divided into six thematic zones, titled World of Masterpieces, Safari Kingdom, Stars of Circus, Dreams of Fairytale, Love in Winter and Adventure Discovery. Unique with its Korean theme.
Bigger spaces, with narrow painted corridors leading to different rooms through one-way doors. Covers world famous paintings and personalities, superheroes, animals, and action fun
The Singapore Element
Merlion Boat, Horse Racing, S.E.A. Aquarium
Merlion, Marina Bay Sands, Gardens by the Bay, Singapore Flyer
Overall Impression of Artwork
Stronger and more vibrant colours used, more depth in paintings
Digital and object art enhance the interactive elements
Lighting
Brighter and cheery
Dimmer, and at some of the spots, you will need to find the correct camera angle to avoid the reflection of the spotlights
Ticket Prices
Adult: $25Child (4 to 12 years old): $20

Senior (60 years old and above): $20

Adult: $25

Child (3 to 12 years old): $20

Family Value Pack (2 adults & 1 child): $60, each additional child: $10

Accessibility
Higher car park fees and entrance fee to Sentosa
Easily accessible
Opening Hours
Daily: 10 am to 9 pm
Daily: 10 am to 10 pm
Website
www.trickeye.com/singapore
www.alivemuseum.sg
Location
Waterfront, Resorts World Sentosa
Suntec City #03-372 (between Towers 3 and 4)
Families with young children will find it more relaxing to wander around Alive Museum, try out and interact with the art pieces at a more leisurely pace. On the other hand, teenagers and couples will find the bright and cosy atmosphere coupled with the Korean themed zone at Trick Eye Museum a good place for more artistic action shots.
Tips for Your Time at the Museums
Look out first for the signages on the walls next to the Trick Art to get ideas on how to pose. Some even come with explanations and directions.
Stand at the Photo Points when taking your photographs.
Strike a pose and immerse yourselves into the scene.
Alive Museum has a room with mirrored walls and floor. Ladies are advised to wear pants during a visit to Alive Museum.
Both museums make fun outings for the entire family. Ready your camera, check your inhibitions at the entrance to be prepared to strike a pose!