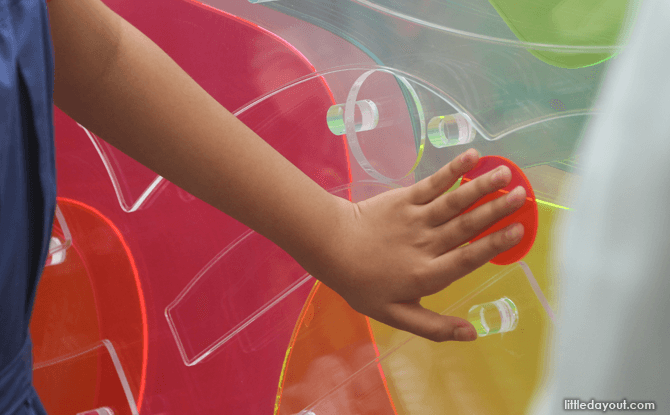 If you feel that 2015 passed by in a jiffy, you're not alone.
We relive the best of the year's highlights, just so we can remember all the fun we've had – and also because we recognise that history is being made as we go along.
Singapore is a great place for young families, and we're so glad to have discovered so much along with you!
From fun new places and activities, to the top spots for nature lovers and history buffs, as well as world-class theatre productions, here is the best of 2015.
FOR FUN
Bubble Bump Soccer and other Quirky Sports

Bubble Bump Soccer provides an inflated twist to the beautiful game of football. Players put on round, bouncy suits, and chase after the ball in a game of mayhem with some semblance to soccer.
When players bump into each other, they fall down like gooseberries, legs waving in the air, while still staying safe inside the equivalent of a gigantic cushion of air.
For a challenge, try our list of unusual sports for the family like unicycling, stand-up riding, and bossaball.
Or maybe a spot of longkang fishing?
Perth Holiday with Kids


For a holiday that the kids will love, Little Day Out explored family-friendly Perth, a short five-hour flight from Singapore.
From fun places where the kids can feed and cuddle kangaroos and farm animals, to a chocolate maker's dream and dolphin-spotting, here are some really fun things to do as a family.
D'Resort @Downtown East Opens


Welcoming its first guests on 1 July 2015, D'Resort @Downtown East is a nature-inspired resort integrated with the Wild Wild Wet waterpark next door.
The all-new 387-room resort by NTUC Club has nine different room types catering to different budgets and occasions.
Settle down for the night in a jungle-themed room, or take the plunge into an underwater-themed room. Find out more here.
FOR HISTORY BUFFS
SG50: Year of Nostalgia
Singapore celebrated its jubilee year in a big way, paying tribute to 50 good years of prosperity, progress, and shared history.
Little Day out looked back to a time before Singapore was a shiny metropolis. From pre-war kopitiams to neo-heritages cafes, nostalgic designer trinkets to vintage playgrounds and games, our Top 50 list of awesomeness included nostalgic things and places to eat, play, and remember our humble beginnings.
Also, there was our fun-packed Ultimate SG50 Jubilee Activity Guide for families in the days leading up to National Day and beyond.
The iconic Changi Airport celebrated Singapore's 50th birthday with 50 larger-than-life attractions that reflect Singapore's landmarks, favourite local dishes and milestones.
Toy bricks giant LEGO released four SG50 Limited Edition Singapore Icons Mini Builds in July at selected locations in Singapore. The Cable Car, Car, Ice Cream Bike, HDB Flat and Dragon Playground became immortalised in a detailed mini-sculpture of toy blocks.
As the nation celebrated the year of golden jubilee, it also mourned the passing of founding father Mr. Lee Kuan Yew.
Permanent Galleries at National Museum of Singapore

After being closed for a year, the revamped National Museum of Singapore's permanent galleries opened on 19 Sep, 2015.
The new, theatrically-designed galleries are a breath of fresh air. Information on the walls provide in bite-sized trivia.
With subtle sound effects, judicious use of multimedia projections, and even olfactory cues, the new permanent galleries provide visitors with an immersive museum experience.
For more, read our story here.
Lee Kong Chian Natural History Museum
For history of a different kind, visit the Lee Kong Chian Natural History Museum. Marvel at the biodiversity the world has to offer and you are of course welcomed to gawk at the three towering dinosaur fossils too. Read more about the Lee Kong Chian Natural History Museum.
FOR ARTS' SAKE
National Gallery Singapore's Keppel Centre for Art Education

Launched on 24 Nov 2015, National Gallery Singapore's Keppel Centre for Art Education is a space filled with colour and imagination.
Our walkthrough of the immersive learning facility revealed a space designed for young ones to experience, encounter and be enriched by art.
Playeum Children's Centre for Creativity

The very first of its kind in Singapore and Asia, Playeum is an award-winning non-profit organisation that started six years ago championing play and creativity in children through innovative experiences and novel programmes.
This isn't exactly an indoor playground – though it's fair to say it partly is.
Playeum's sun-drenched, high-ceilinged space at the Gillman Barracks allow children to have lots of fun with unstructured, unbridled creativity with its unique combination of art and play.

World Class Theatre

It has been quite a year for theatre productions.
Inter-galactic tale of wonder The Way Back Home landed in Singapore in September, created by Big Wooden Horse and Theatre Royal Winchester, presented by I Theatre.
Audiences took home "jewels" or moral gems from I Theatre's Asian production Jewels in the Tale in August, which was also warmly received during its tour in Korea.
I Theatre's third rendition of the beloved Gingerbread Man was loads of fun, with new costumes and puppets. Take a peek at the man behind the star puppet character of Gingerbread Man.
SPOT and CASA at Octoburst 2015 entertained young audiences with a stage light and a dozen pipes.
And if you still aren't convinced, here are 10 pressing reasons why you should take kids to the theatre.
FOR NATURE LOVERS
Botanic Gardens named UNESCO World Heritage Site

The only English-style garden in the tropics, Singapore's beloved Botanic Gardens was awarded the status of UNESCO World Heritage Site on 4 July 2015.
It is Singapore's first World Heritage Site.
Coney Island

Once a millionaire's island and wakeboarder's paradise, Coney Island used to only be accessible by boat.
From 10 October 2015, this has changed with the opening of two bridges connecting the 50 hectare island to mainland Singapore, making it accessible to the general public.
Despite being just 500 metres away from Punggol Settlement on the western end of the island, Coney Island Park still feels like a world away from urbanity.
Here are 10 things you should know about Coney Island Park before paying a visit.
Orto: Fun Leisure Garden in Yishun

Nature lovers, food lovers, fishing and prawning lovers can find lots to do at Orto, formerly known as Bottle Tree Park.
The large privately-operated leisure park re-opened in February, sprawled over 51,500 square metres of land up north in Yishun.
Bt Timah Hill Re-opens
Singapore's "Mount Everest" stands just 163.63 metres tall. Bukit Timah Hill and its surrounding nature reserve are popular with trekkers and nature lovers of all ages.
The "Tin Hill" was closed by NParks from Sept 2014 to carry out maintenance works on the nature reserve's trails in order to ensure the safety of visitors.
In April this year, the Summit Trail leading to the top of Bukit Timah Hill reopened to the public on weekends.