Settle down for the night in a jungle-themed room, or take the plunge into an underwater-themed room at the new D'Resort @ Downtown East.
Welcoming its first guests on 1 July 2015, D'Resort is a nature-inspired resort integrated with the Wild Wild Wet waterpark next door.
D'Resort @ Downtown East Rooms
The all-new 387-room resort by NTUC Club has nine different room types catering to different budgets and occasions.
These range from chalet-style rooms with barbeque pit access for large gatherings to hotel-style Rainforest rooms and suites for those seeking a quieter getaway.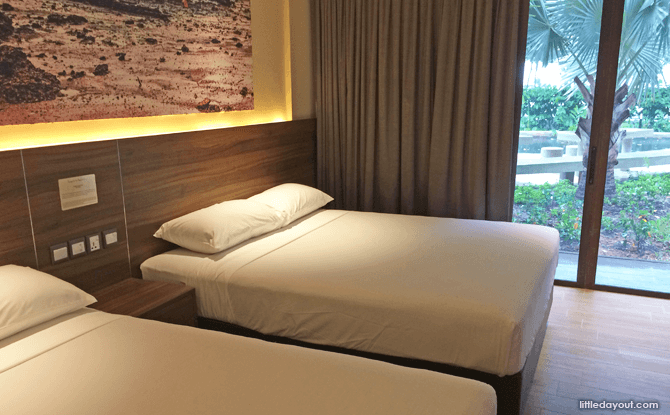 Chalet-style Room with BBQ pit access.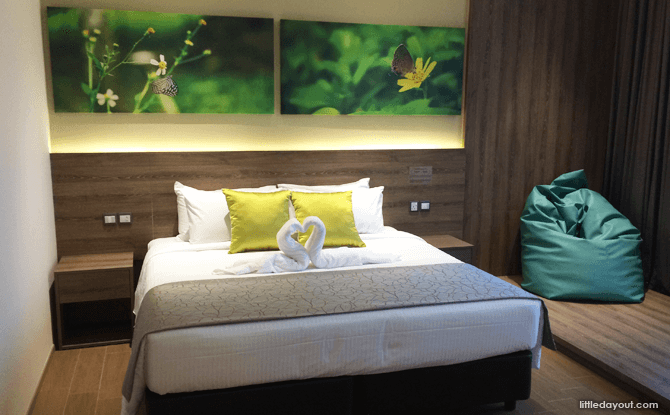 Rainforest Executive Room.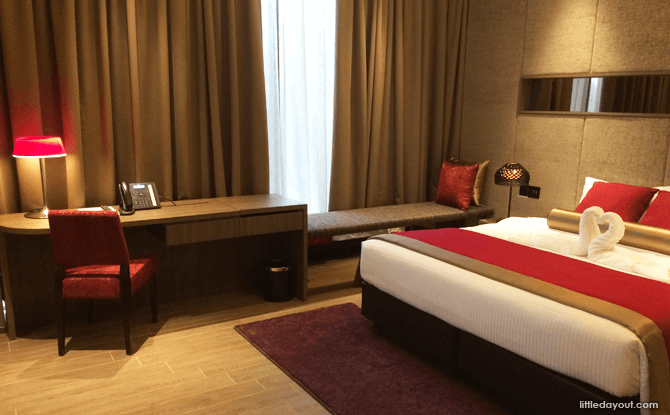 Rainforest Suite.
With the aim of bringing the outdoor indoors, each room is nature-themed and bespoke photographs of the surrounding Pasir Ris Park decorate the walls. A small plaque in each room provides information on the photograph and the photographer.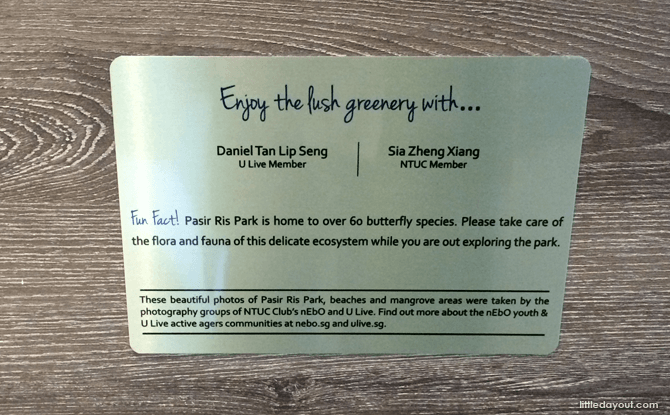 Plaque providing information on photograph on display in the room.
Family Rooms at D'Resort @ Downtown East
D'Resort has 12 family rooms available. Six of these are jungle-themed, five underwater-themed and one M&M-themed. Each 28-square metre family room comes with a queen-sized bed and a bunk bed that sleeps two kids.
Jungle-themed room.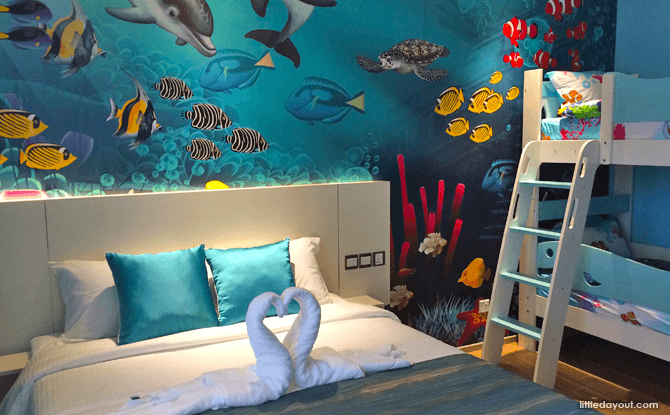 D'Resort's underwater-themed room.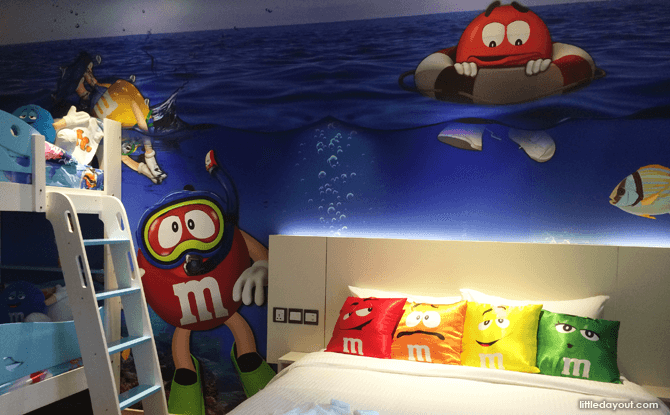 M&M-themed room at D'Resort.
Box of surprises for kids at the family-themed rooms.
Room rates at the D'Resort @ Downtown East vary depending on the dates and how early they are booked. Park View rooms, exclusive to NTUC members, start from $118. Rainforest Family rooms start from $150.
Future Developments at Downtown East
The opening of D'Resort @ Downtown East marks the completion of Phase One of the Downtown East Refresh Project that began in 2012.
In Phase Two, new F&B and retail experiences will be introduced at Downtown East and Wild Wild Wet will be expanded to double its current size. Phase Two is expected to be completed end 2017.
"Singapore's workforce has evolved over the years and we have become a truly global city. I am heartened that NTUC Club strives to ensure that they continue to meet our workers' expectations in their lifestyles facilities and offerings, and hence, NTUC Club undertook a $200 million project to upgrade Downtown East back in 2012. I am pleased to be launching D'Resort as the first part of the project, with a whole new range of rooms and experiences. The response has been positive and encouraging with many families who have already planned a staycation with D'Resort and others have expressed interest to do so," said Mr Zainal Sapari, Assistant Secretary-General at NTUC, who was the Special Guest at D'Resort's launch.
Get more information from the D'Resort website.