What does a stage light and a dozen pipes have in common?
Plenty, if you add a dash of child-like imagination.
That is exactly what the team from La Baracca – Testoni Ragazzi, a children's theatre company from Italy, did when they came up with the shows, SPOT and CASA.
Designed to engage children from two to four, the two shows conjure up a world filled with imagination, wonder and possibilities. Young audiences in Singapore can catch both SPOT and CASA next month as part of Octoburst! A Children's Festival 2015 at Esplanade – Theatres on the Bay from 9 to 11 October.
Throw a Spotlight on Play
SPOT centres around a playful spotlight. Through the magic of theatre (and some computer programming), this otherwise inanimate object comes alive and shares the stage with actor Andrea Buzzetti.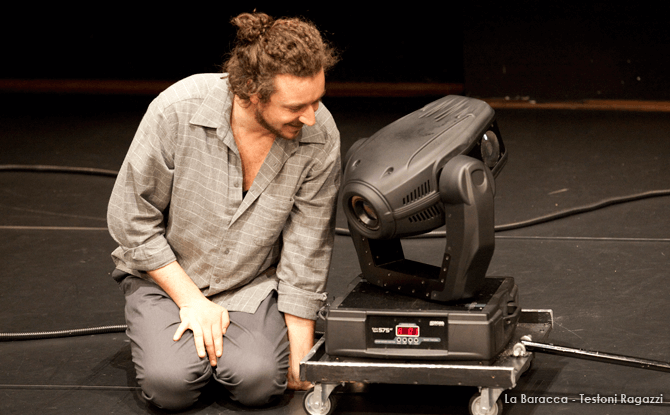 According to Andrea, the idea for a show involving a stage light came to him while attending a rock concert. The show's lighting design made him think "it could make a good show to tap on young children's imagination."
From that light bulb moment, the idea evolved into SPOT, a show that makes use of a stage light to tell a story through physical theatre, colours and shapes.
To give Spot a personality, more than 200 hours of programming was required. This taught the light how to move, what colours to cast and what shapes to show. Its physical movements needed to be coordinated with Andrea's live acting and this all got strung together as a delightful story.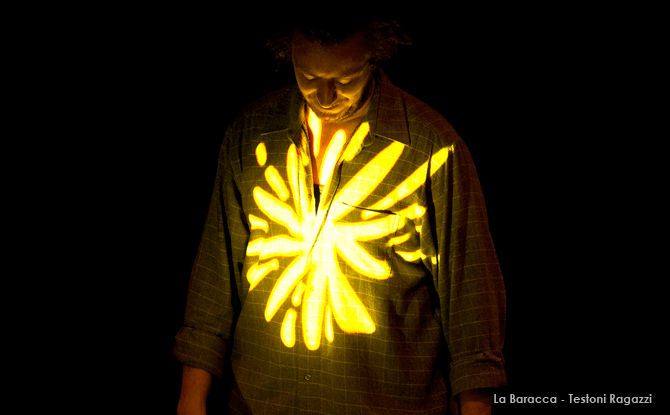 Recounting SPOT's debut in front of a young audience, Andrea said, "The first time I presented Spot to the children at the nursery school, the children were very, very scared."
Learning from the experience, he changed the way Spot was introduced on stage by making Spot scared of the children instead! As a result, he now has to coax a very coy Spot to meet the young audience instead of the other way around.
But just like a shy child who is let out of his or her shell, Spot's playful nature shines during in the rest of the performance.
Casa, Sweet Casa
In contrast to the hi-tech wizardry of SPOT, CASA relies on simple plastic pipes to tell a charming story every child and adult can relate to.
"We started from our will to talk about the meaning of Home. Home as a house, a building, and home as a space that is inside and outside a child," explained Andrea.
Using some pipes they found in a warehouse, CASA (Italian for 'Home') was carefully fitted together. Performed by Andrea with fellow actor Carlotta Zini, CASA centres on a grown-up and a child who meet each other, get to know each other and begin to build. The act of building turns into play and, through play, they create a structure and a house.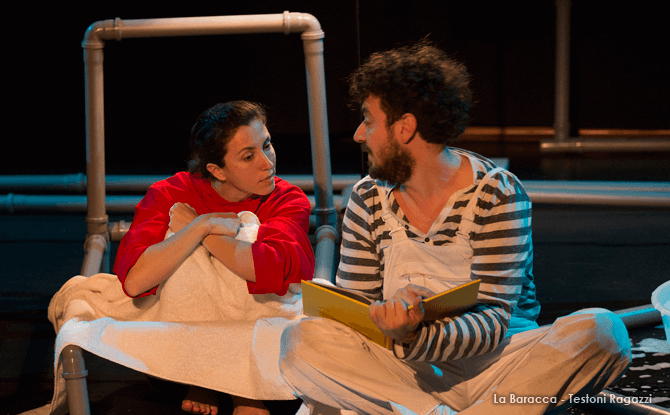 CASA evokes the playful nature found in all of us. During the performance, the 'child' sometimes plays-pretend as the adult, and the 'adult' also changes roles with the child.
Even though only simple props are used in CASA, sometimes the simplicity itself can present challenges too. In one scene involving a bouncing tomato, Andrea recounts, "We rehearsed a full afternoon trying to make the tomato jump on the table sheet without falling down."


The rehearsals must have worked out well for CASA as it has received the EARLY YEARS AWARD at the International Children Festival "100, 1.000, 1.000.000 stories" in 2014. It was recognised for "a strong story structure with profound meaning for both children and adults about the importance of home and leaving home."
Octoburst! Celebrate Children's Day
Catch both SPOT and CASA when La Baracca – Testoni Ragazzi perform at Esplanade – Theatres on the Bay from 9 to 11 October. Tickets are on sale now.
Many other family-friendly events will take place in celebration of Children's Day at Octoburst! A Children's Festival 2015. Get more information here.
Esplanade Presents | Octoburst!
SPOT
9 October: 11 am & 4 pm
10 October: 11 am
11 October: 2 pm
Esplanade Theatre Studio
CASA
9 October: 2 pm
10 October: 4 pm
11 October: 11 am & 4 pm
Esplanade Recital Studio
40 minutes, without intermission.
Tickets at $20.00 each.
Recommended for children aged two to five.
Tickets are required for all, including infants-in-arm.
Twin Package: Catch SPOT and CASA with a minimum purchase of four tickets at $18 each.
Find out about the other exciting, free and ticketed programmes taking place at Esplanade from 9 to 11 October as part of Octoburst! 2015 – A Festival for Children at Esplanade.