It is probably fair to say that last week's events were unprecedented in Singapore's history. The passing of Mr. Lee Kuan Yew was a time of sadness for many Singaporeans and yet, it also brought out the best in us as we came together to pay respects to a giant of a man.
It was the end of an era.
For some parents, it must have felt like a chance to share with the next generation what Mr. Lee and his generation had done in order to make Singapore to be what it is today.
For some parents, queuing in line with their children at Parliament House or at community tribute sites around the island was a small price for the hope that the kids would one day look back and understand the significance of the events taking place.
Two ongoing exhibitions currently pay homage to Mr. Lee's life.
Over at the National Library Building at Victoria Street, Tribute to Lee Kuan Yew is a small exhibition that captures key milestones in Mr. Lee's life. Short quotes are presented in hard folders for visitors to flip through while the striking sound of his fiery speeches from the video presentation reminds visitors of his force of will.
At the National Museum of Singapore, In Memoriam – Lee Kuan Yew displays artifacts such as the wooden rostrum from which he delivered National Day Rally speeches, his barrister wig and memorabilia from his early political career. (Editor's update: The 'red box' described by Mr Heng Swee Keat in his Facebook tribute to Mr. Lee has been put on display at the exhibition.) Information panels recount his early political years and visitors can also pay their respects at a tribute wall.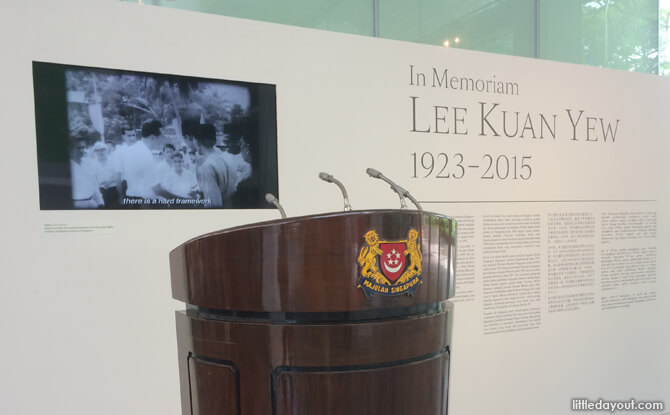 In truth, both these exhibitions may well go over the heads of young ones.
Instead, there is probably no need to head down to these exhibitions to draw lessons for the kids. Instead, the best lessons can be found all around us.
The modern Singapore our children have the privilege of growing up in is a testament not only to Mr. Lee's vision, but the grit and determination of tens of thousands of ordinary Singaporeans who were determined to build a better life for themselves and their children.
While there are many lessons that can be drawn upon from that generation, there are three that stand out for us as parents to share with our children. These are not to take things for granted, to dream beyond ourselves and to strive to live up to the legacy of grit and determination handed down to us. Hardly simple nor easy lessons to learn, but important ones nonetheless. Important because they hold promise for the future and for a generation that will eventually create the future.
Indeed, the last word rightfully belongs to Mr. Lee.
"The sky has turned brighter. There is a glorious rainbow that beckons those with a spirit of adventure. To the young and not-too-old I say, look at the horizon, find that rainbow, go ride it." – Lee Kuan Yew, 1996.
In Memorium – Lee Kuan Yew
Glass Atrium, National Museum of Singapore
Till 26 April 2015 (Editor's Note: This exhibition has been extended till 24 May)
Tribute to Lee Kuan Yew
National Library Building, Victoria Street
Till 22 April 2015